Whenever I'm hosting a vegan brunch at my house, I try to prepare everything the day before, so I just have to finish it and put it out. Then it doesn't get stressful and I can hang out with my guests instead of cooking in a different room.
Of course I also have vegetarian and omnivore friends and relatives. But these brunch recipe ideas without eggs and dairy are good for entertaining everyone, not just vegans.
Everything here can be prepared well in advance and is also easy to bring along to a potluck, outdoor brunch or a party at work .
I always suggest making too much food rather than risking running out of it mid-brunch. Almost all these things are still great the next day or you can freeze them. Or you can make a doggy-bag for your guests. I know most people think they'll never eat again when rolling home from a buffet feast, but soon they'll be happy about the tasty snack in the fridge and getting to enjoy the yummy vegan brunch all over again.
As brunch is a combination of breakfast and lunch, basically anything is an option here. So what is best for a DIY perfect vegan brunch?
I have a standard menu list and some of the top dishes from my fusion kitchen for you!
1. The classic breakfast as we serve it in Germany
Bread
Homemade bread is always a winner, for example these savoury fluffy pretzel pastries. You can prepare them the day before, just put them in the fridge after the second rise. Before the brunch, you just apply the baking soda and salt and bake them.
Bagels
These full grain spelt bagels with hemp seeds are tasty and healthy. You can easily prepare the bagels the day before, keep them in the fridge after the second rise, then before the brunch just apply the plant cream and the hemp seeds and bake.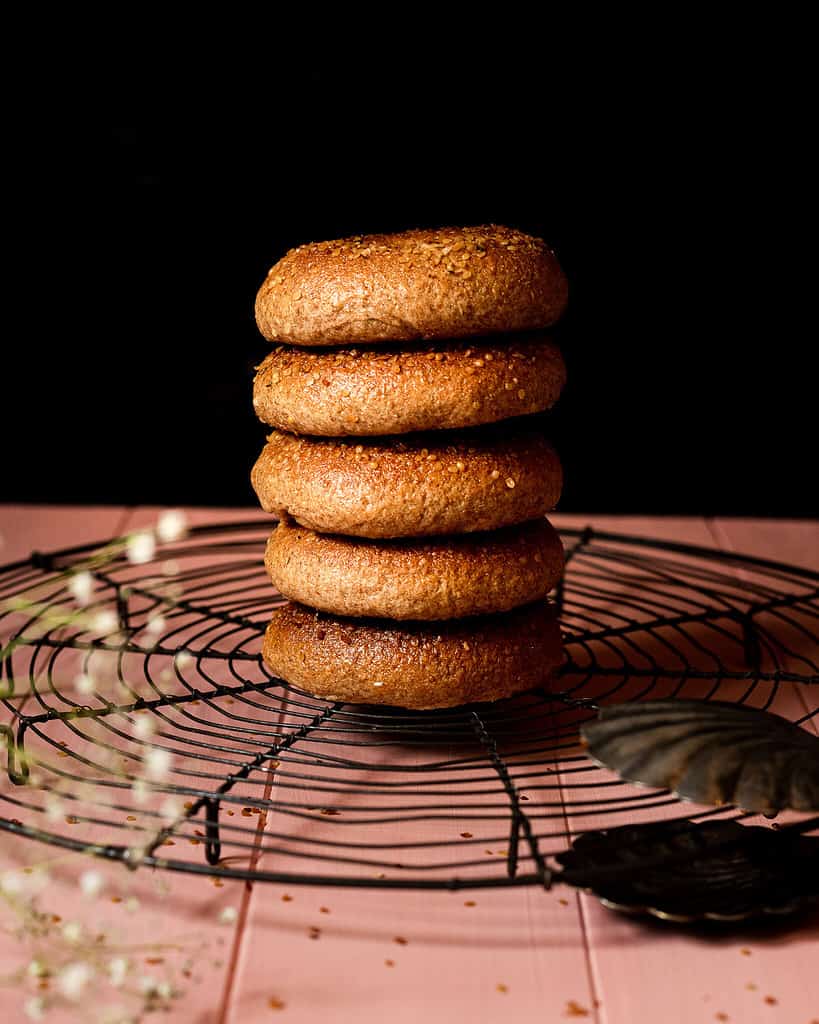 Pastry
If you're into pastry, my quick and easy pretzel pain au chocolat might be just right for you: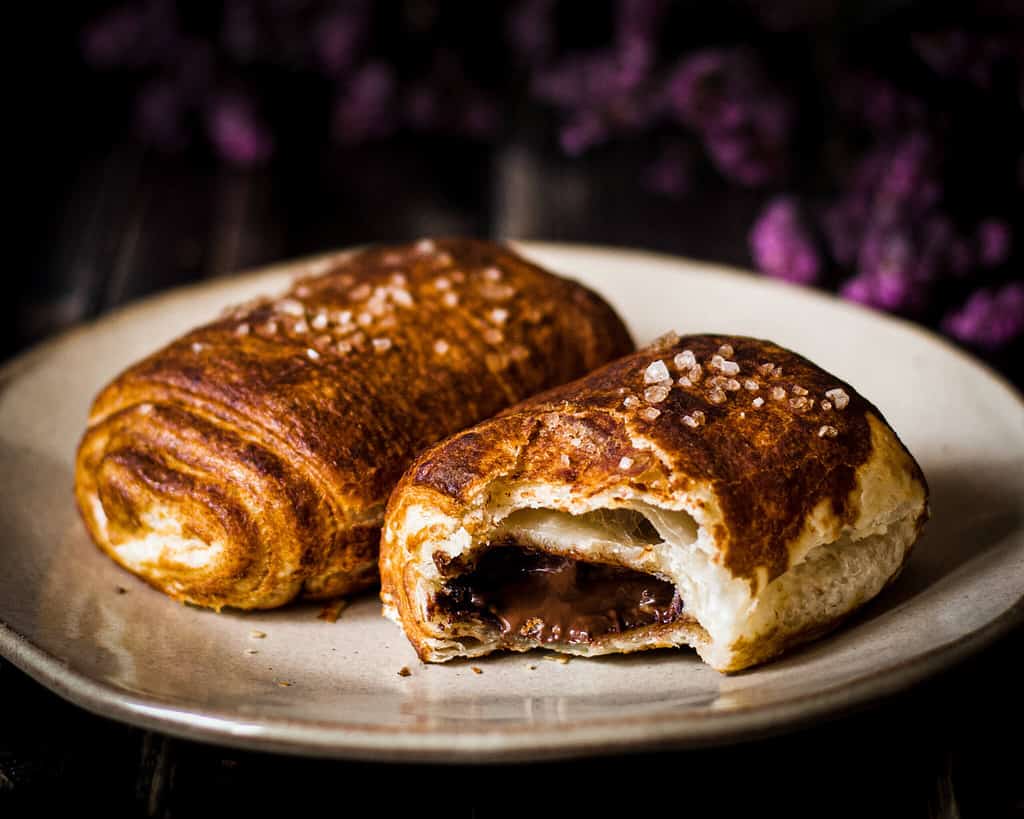 Pretzel Croissants
Making delicious pretzel croissants is actually much quicker and easier than you'd think! You know that croissant dough from tins in the refrigerated section? It's usually vegan! So you just open the tin, roll up the little croissants, mix one tablespoon of boiling water with one teaspoon of baking soda and apply the mixture. Sprinkle with sesame and flaky salt, bake according to instructions and serve warm.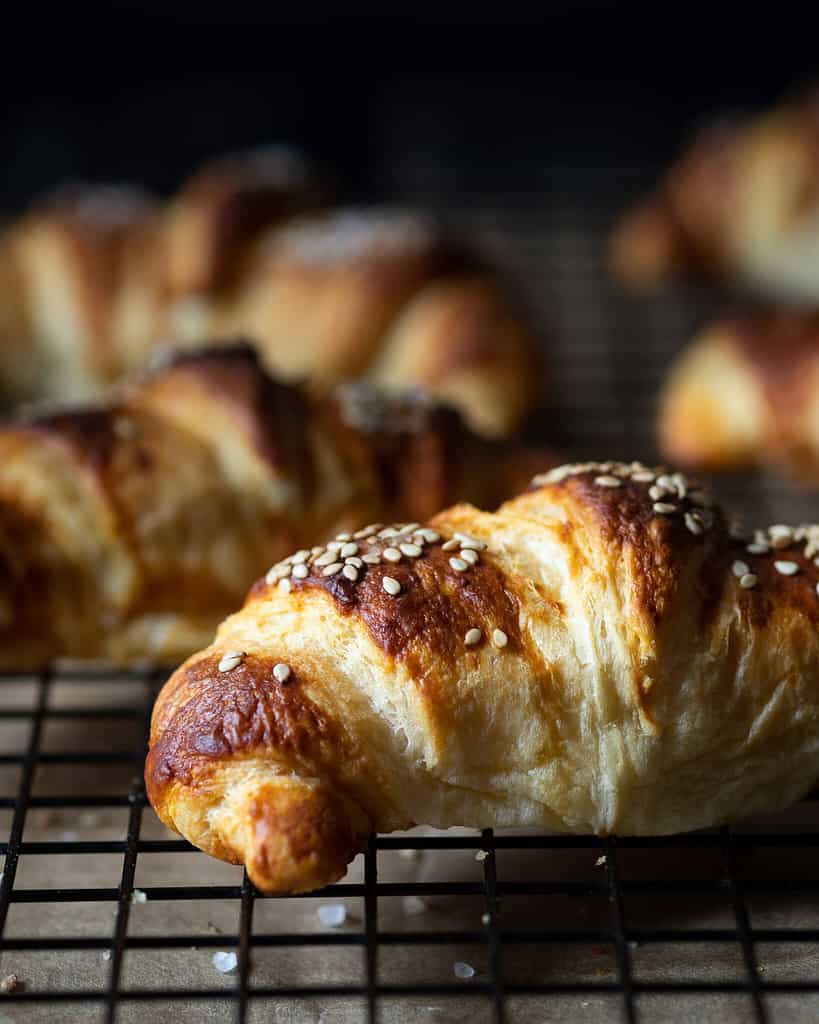 What to put on the bread?
Vegan butter and spreads are widely available in shops nowadays. You can also buy mixtures to make vegan omelette or scramble, but something like that can also be made from chickpea flour and tofu in minutes with my vegan scramble recipe. The mixture can be prepared and kept in the fridge, and turned into nice vegan scrambled eggs or an omelette before the brunch in 10 minutes.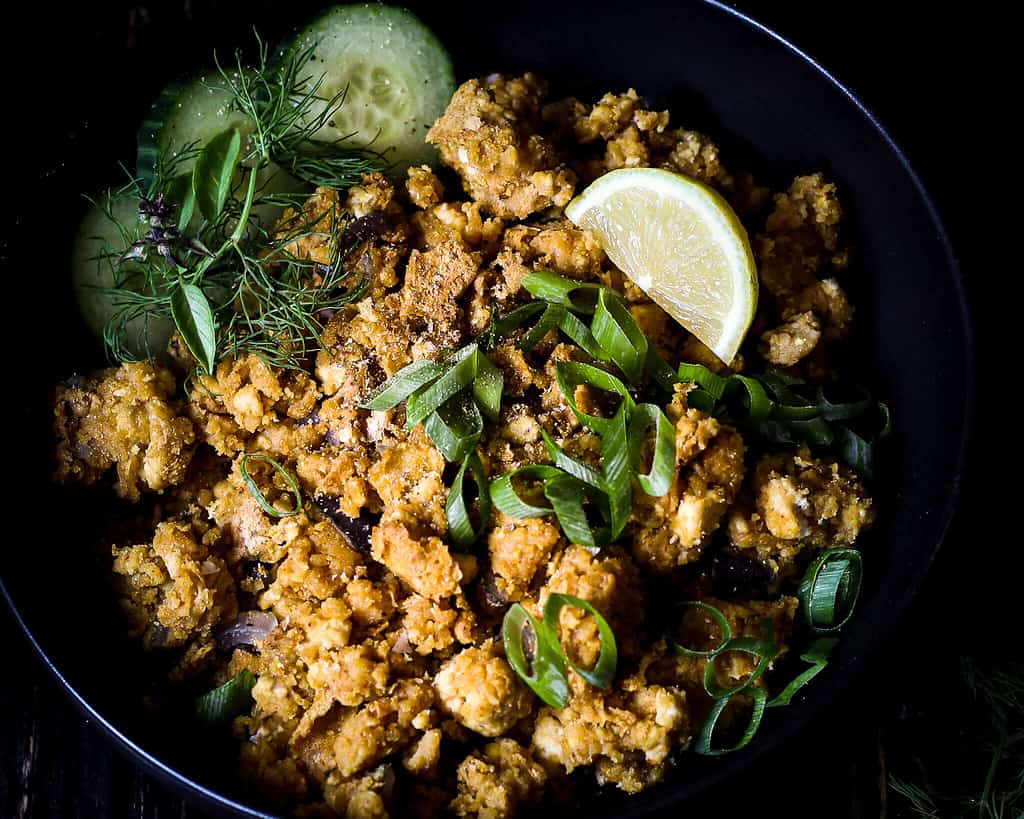 A vegan plate of cold cuts and cheeses, garnished with some grapes and fresh herbs are part of a brunch for many. If you're in Germany, check the amazing selection available at Vantastic Foods*. You can set the language to English.
I'm a big fan of smoked tofu, fried or just like that. With lots of mustard. I particularly like my healthy sauerkraut sandwich with fresh sauerkraut, gherkins and dill.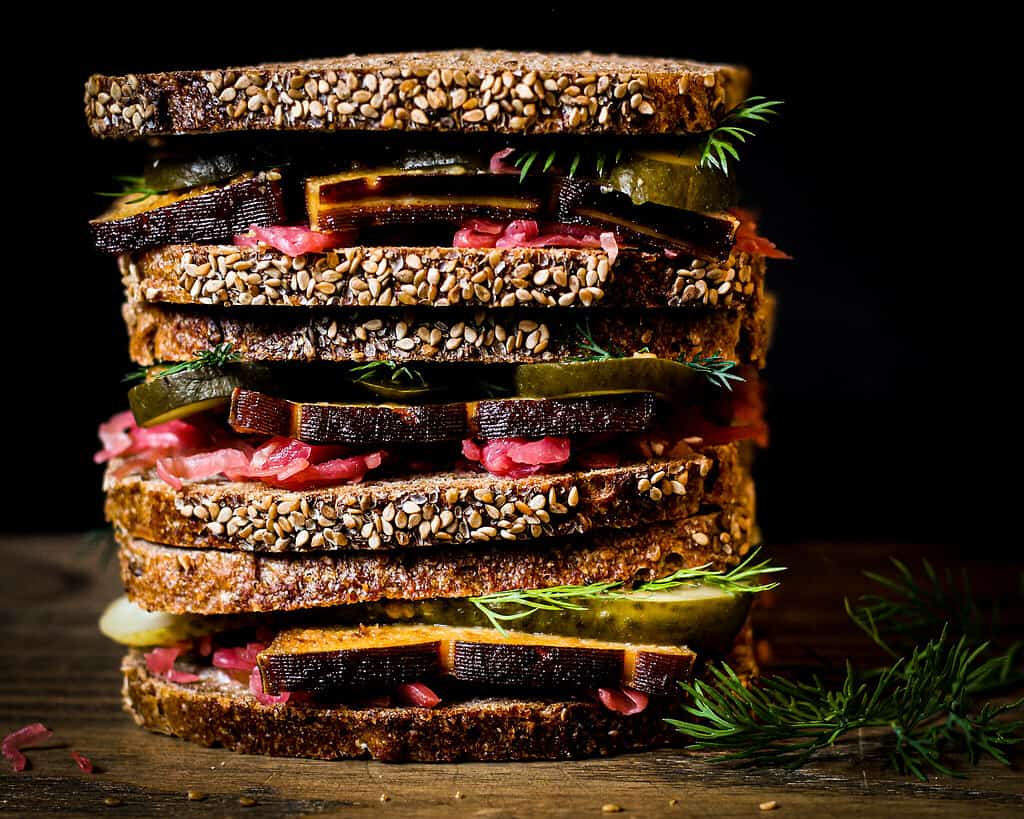 Or with other vegetables like avocado and sprouts.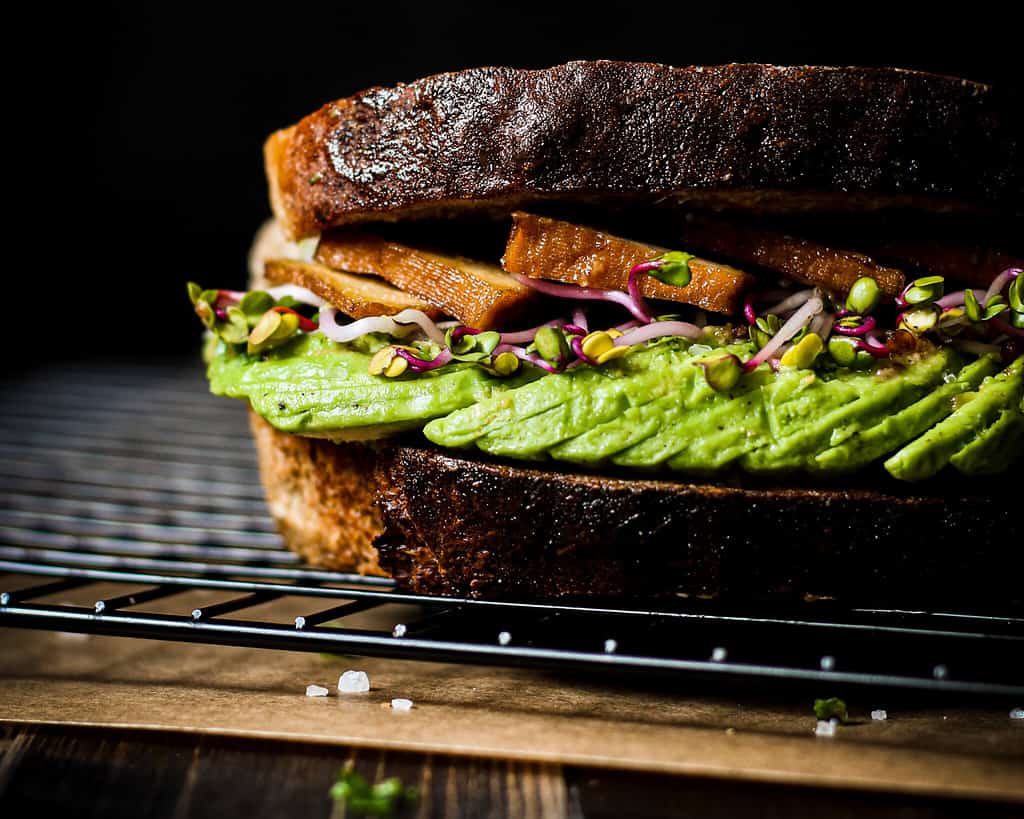 Fried smoked tofu is really nice on a BLT. You'll find the vegan BLT recipe here.
Hummus always works well. I like red bell pepper hummus best, especially with roasted chickpeas and I highly recommend this recipe by Aline Made. You can store them overnight in separate airtight containers and put the chickpeas on the hummus before serving, so they stay crispy.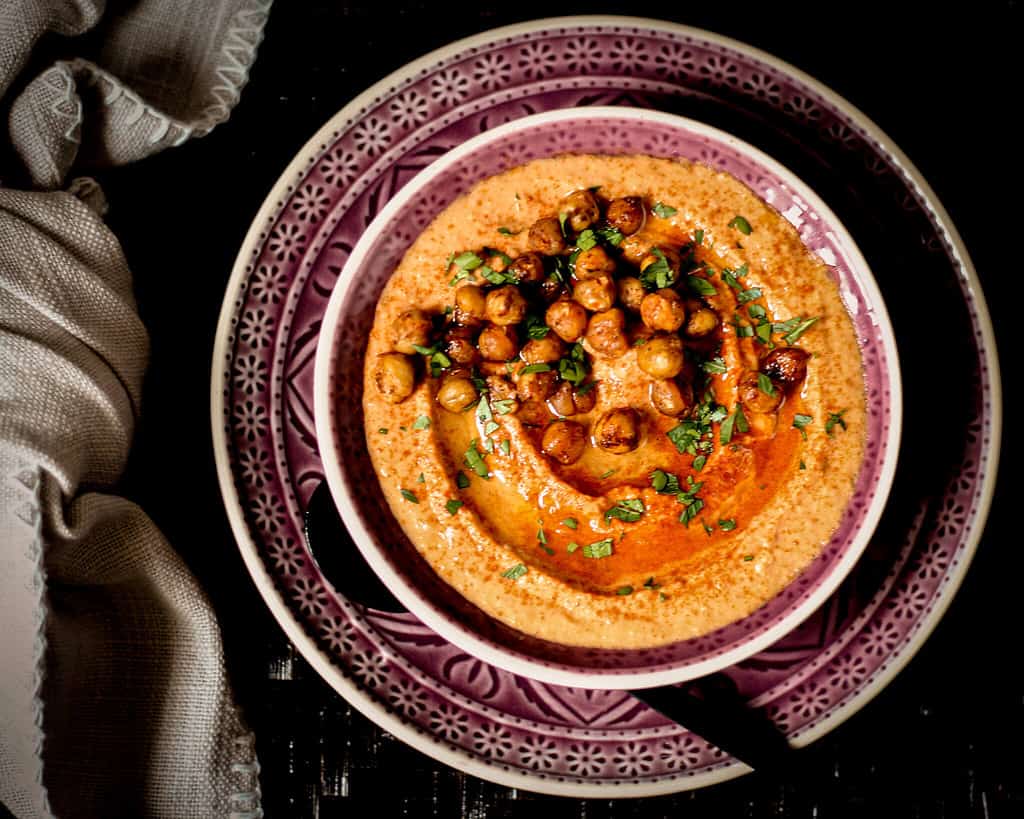 Caprese is an Italian starter salad and an absolute must-have on German brunch. Tomatoes, mozzarella, fresh basil, olive oil, salt and pepper are the most important ingredients, and I usually add loads of balsamic glaze. You can make creamy vegan almond mozzarella yourself the day before.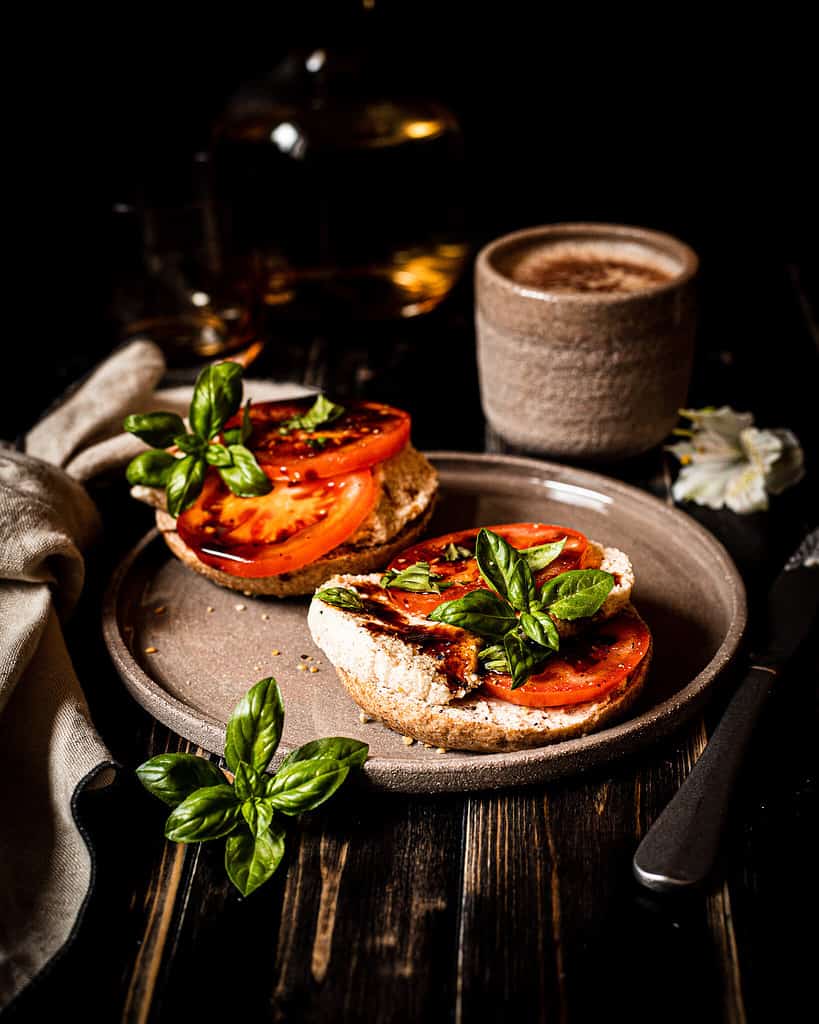 Another delicious cheese recipe is my fermented blueberry cashew cheese. Prepare it the day before and just roll it in the spice mix before serving.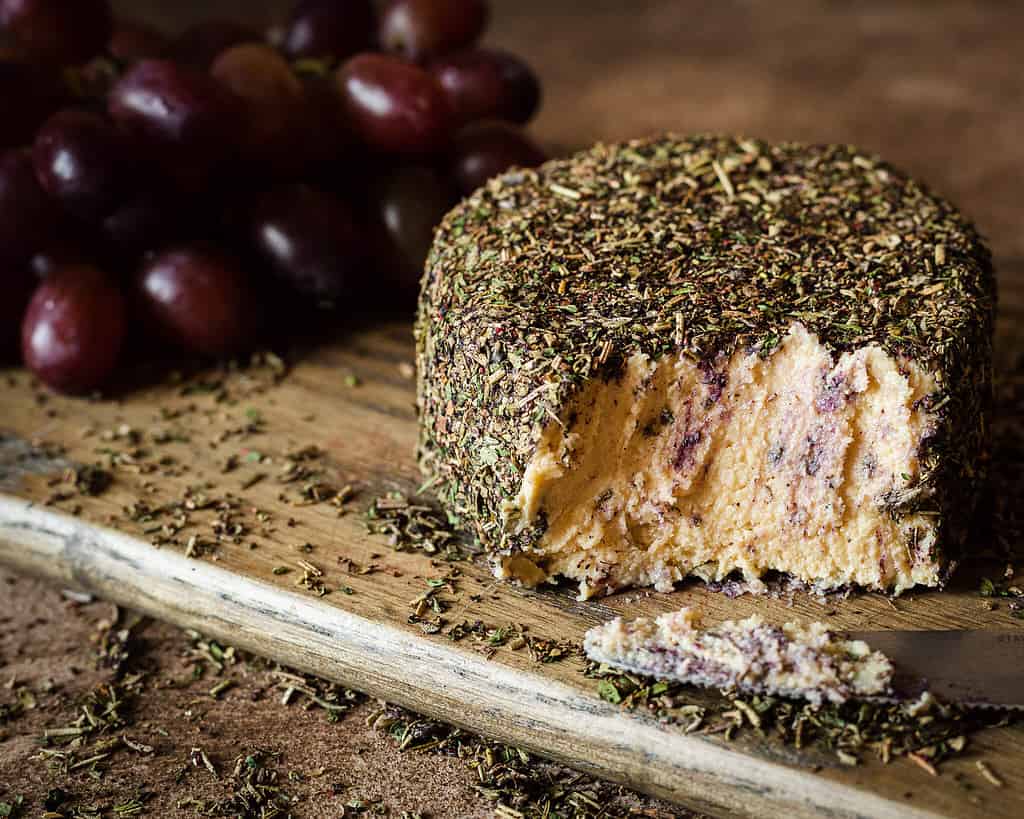 Another option would be some nice pumpkin bruschetta: You can roast the pumpkin slices and open the pomegranate the day before. Just toast the bread and heat up the pumpkin in a pan, then asssemble the bruschetta before the vegan brunch.
Fried apples
Or how about some fried apples with a tasty spice mixture? You'll find the recipe for the fried apple here.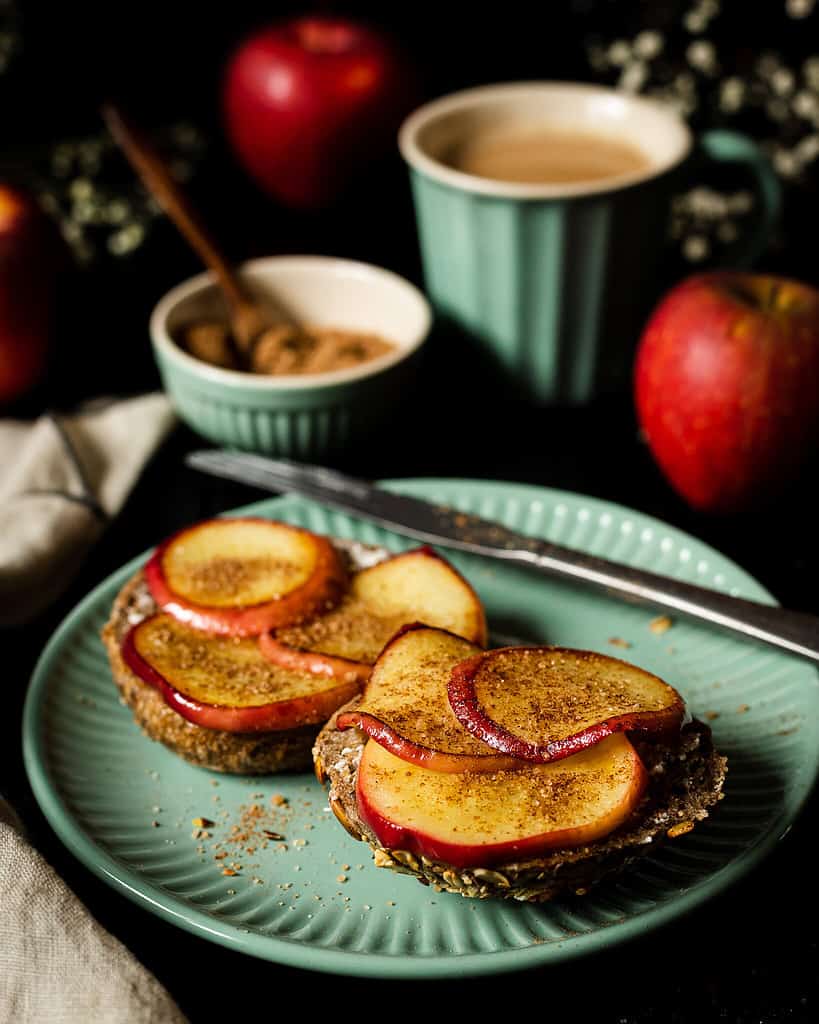 Jam
The ultimate combination in my opinion: pretzel baked goods with jam!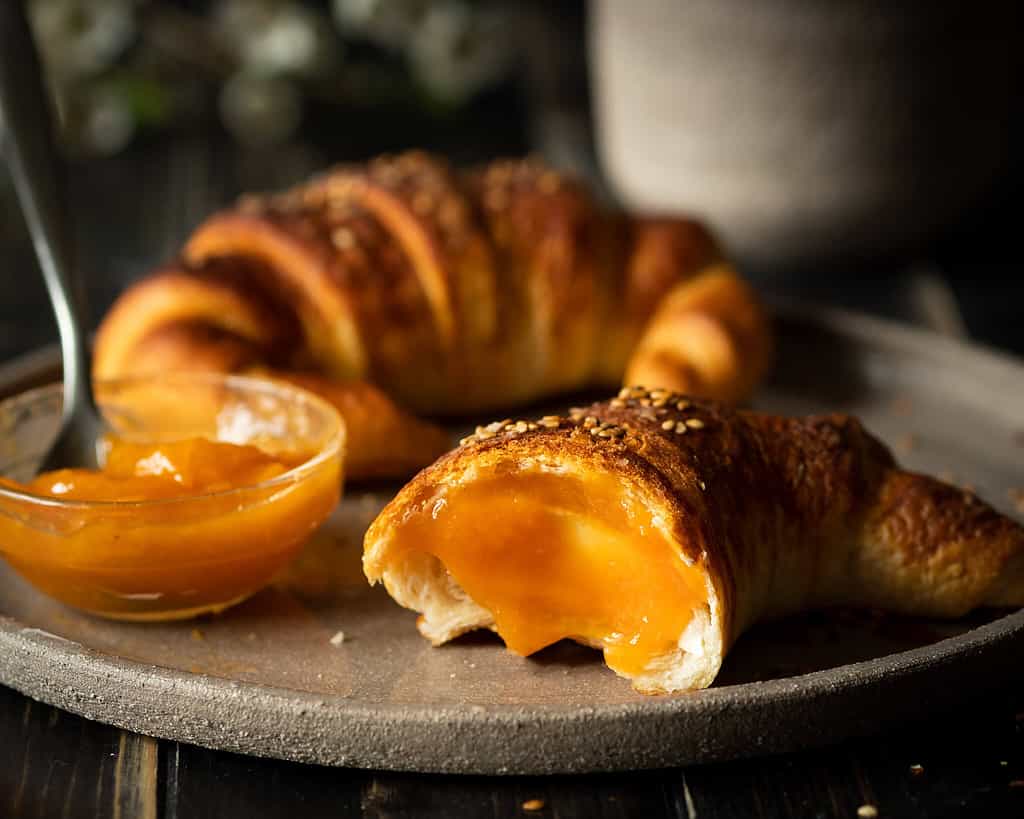 This is a store bought apricot jam, but did you know you can make a really quick homemade jam with chia seeds? It works with a lot of fruits.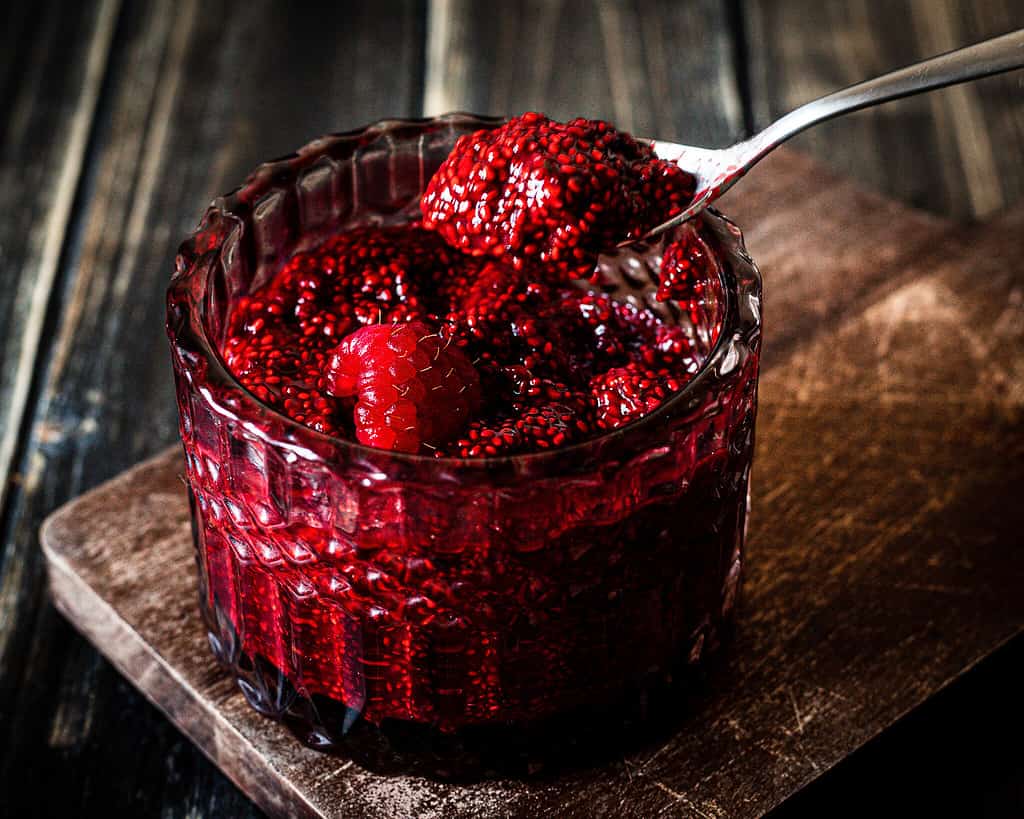 Fruit
Another essential on a vegan brunch is fresh fruit, some lovely apricots or whatever is in season.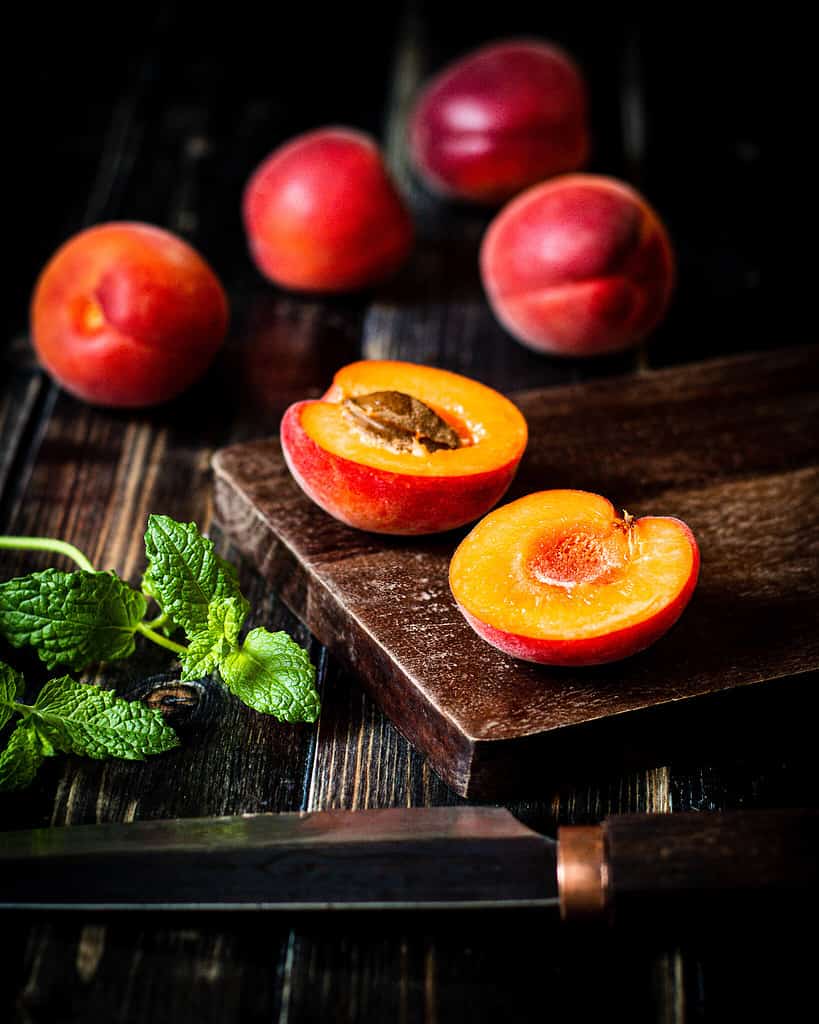 You could also little smoothie bowls with fruit toppings to choose. This is a really easy smoothie bowl made of vegan vanilla yogurt and frozen raspberries, and optional bananas.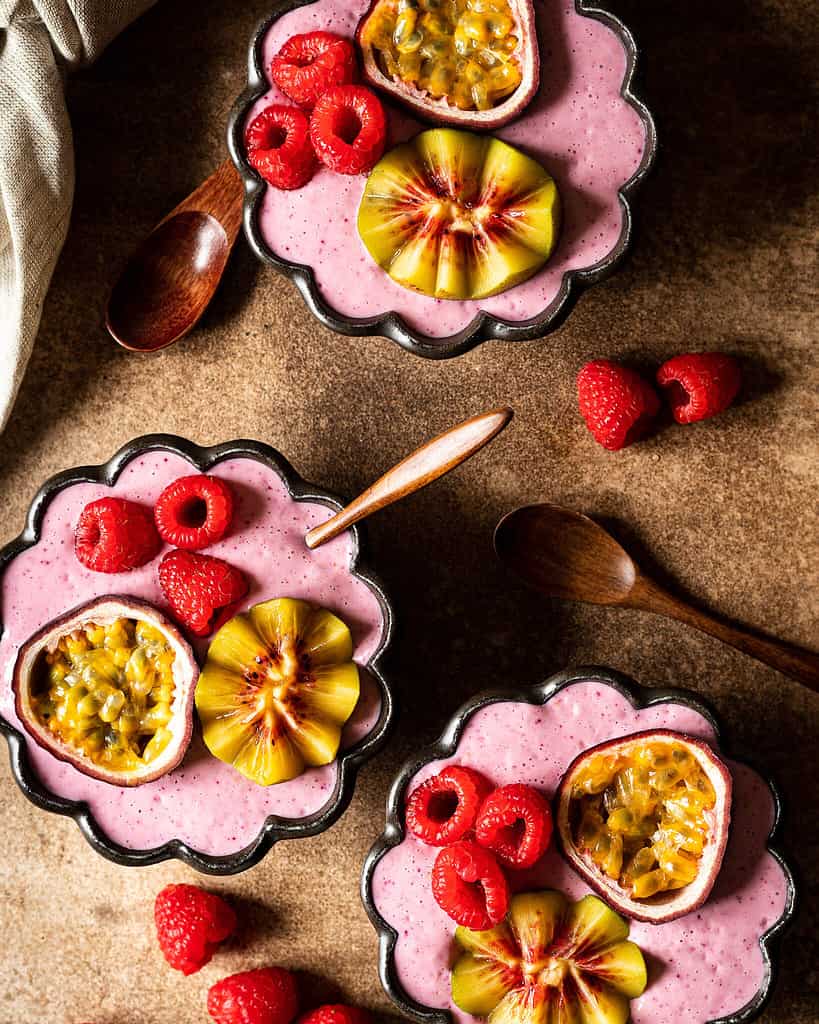 Homemade granola works well as a topping too.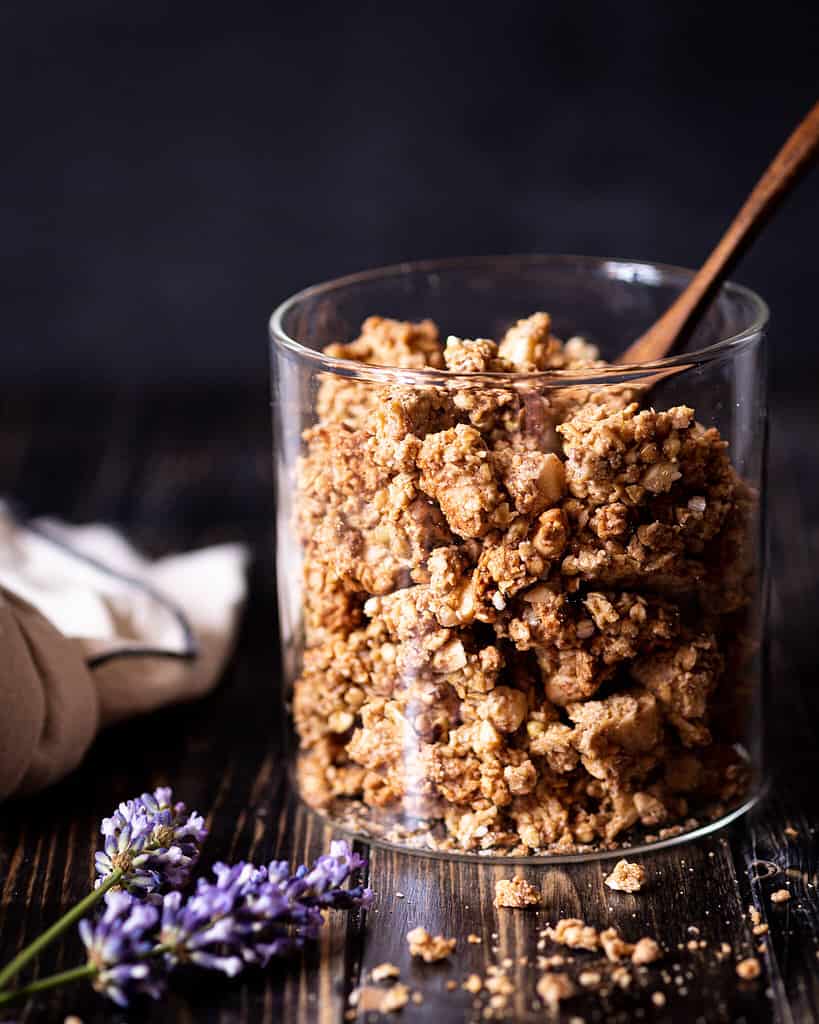 Or how about a grazing platter with fruit and vegan cheese?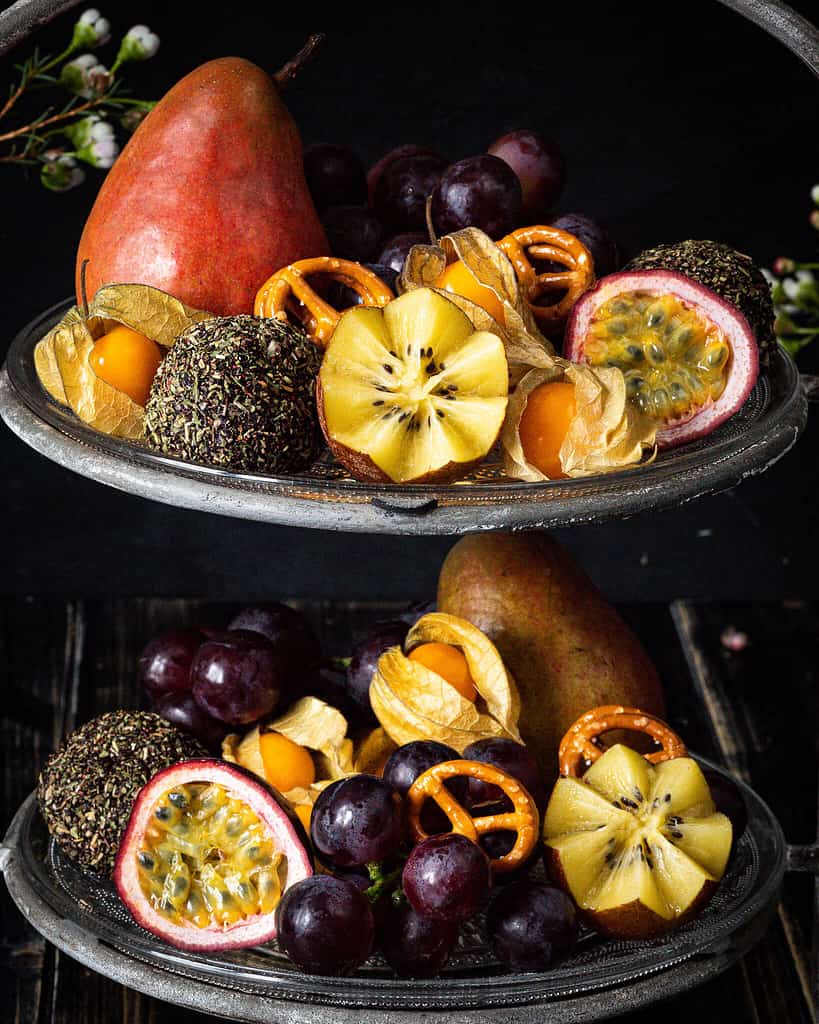 Pancakes
The classic brunch sweets, right? There are countless vegan pancake recipes online, or you can simply get this mixture from Vantastic Foods* and make the perfect pancake stash in 10 minutes with maple syrup, coconut yoghurt and fresh fruit.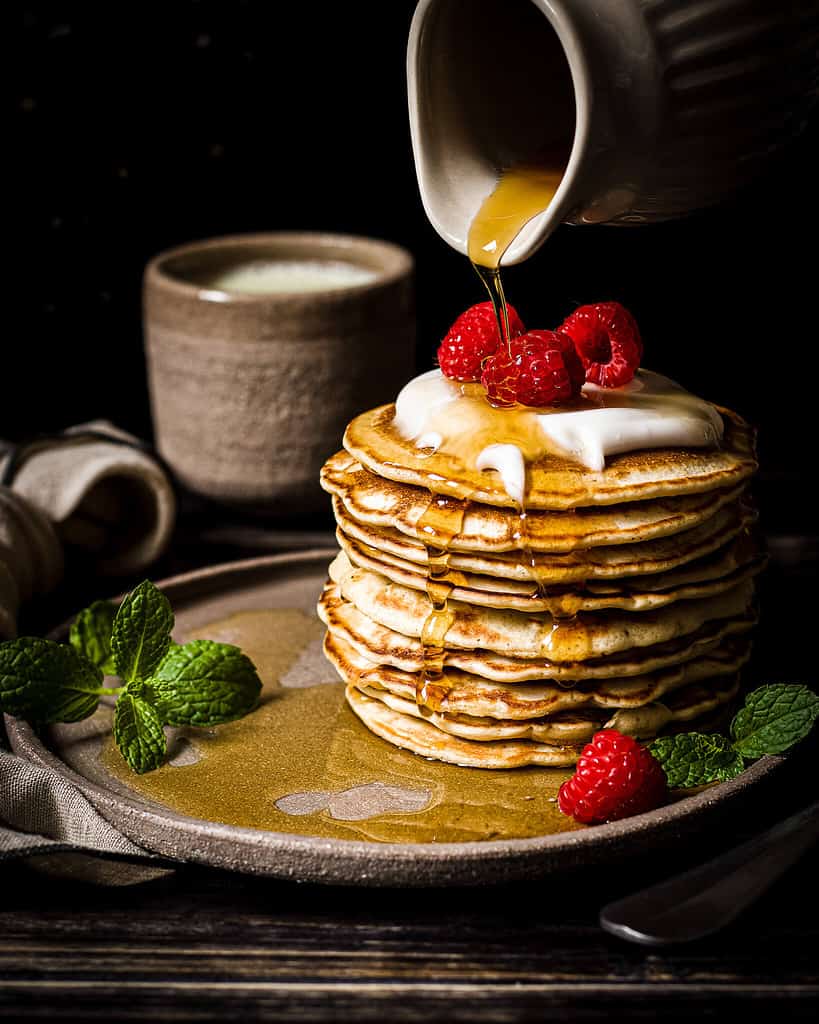 Drinks
Many people love a glass of prosecco or juice with their brunch. Luckily many of these products are labeled vegan these days, so we're good.
The most important thing for me is a beautiful latte macchiato with nicely frothed barista oat milk or alternatively a matcha latte, maybe even a lion's mane matcha latte.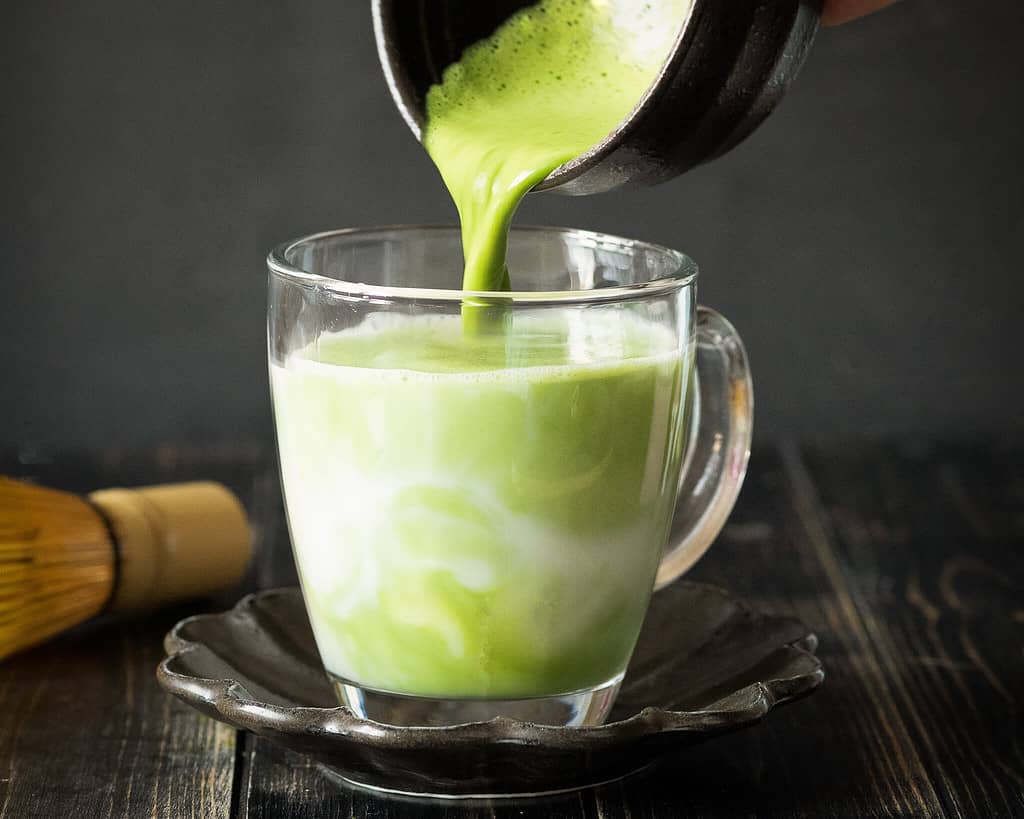 A nice alternative is also a chagaccino …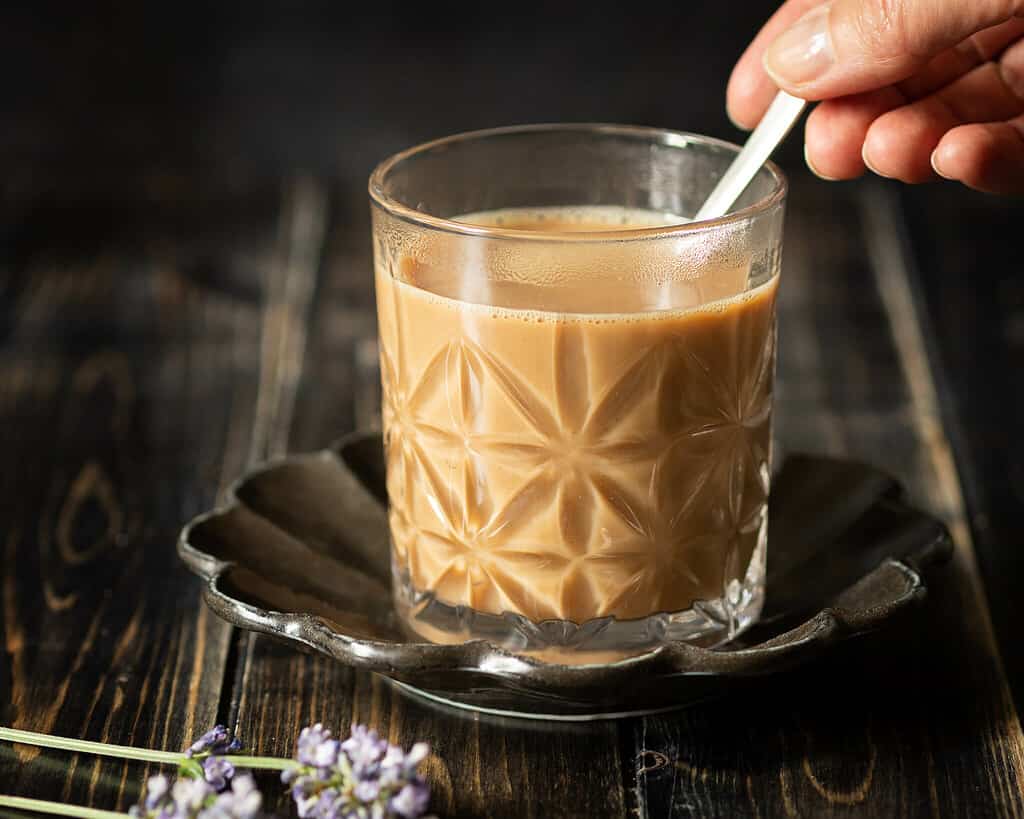 … or a hojicha latte!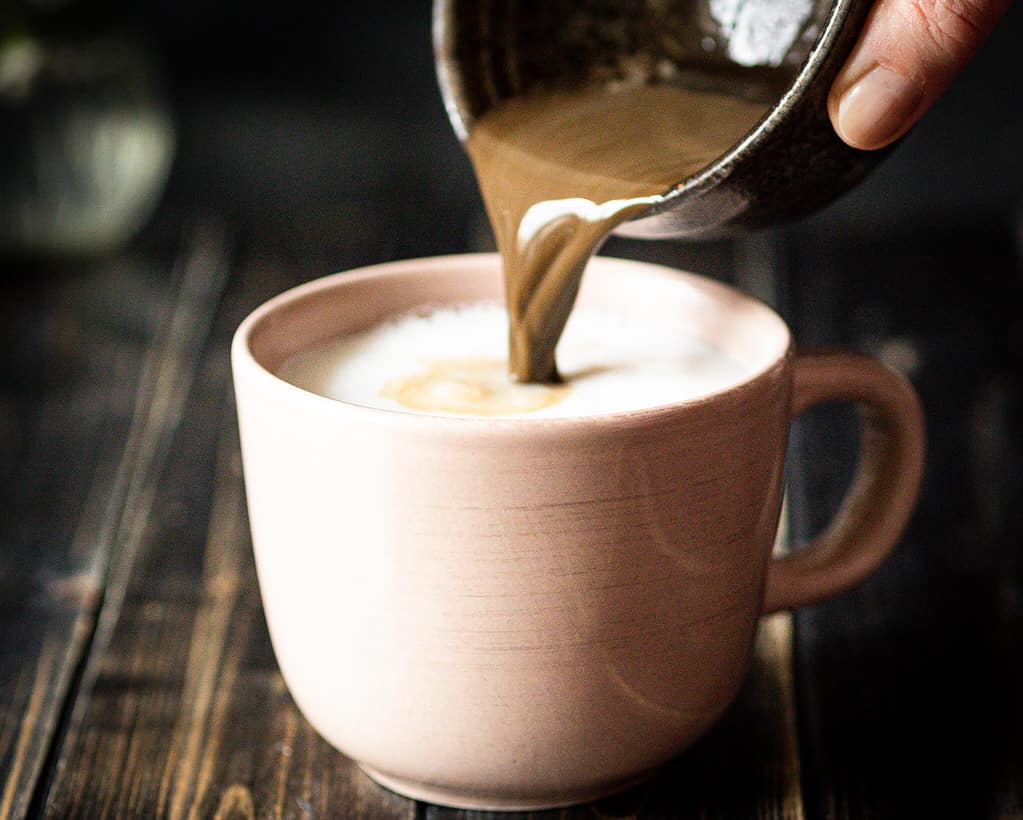 2. Vegan brunch for party animals
Those who partied the night before and show up for Sunday's vegan brunch at 1.30 p.m. all knackered, need something decent to wake them up!
I have hearty homemade wraps for them filled with my sweet potato skillet with black beans and minced veggie meat. On top of that is apricot-mustard-sauce or vegan sour cream. And that delicious wrap comes with a snickers shake with a double espresso.
You can make the wraps the day before. I usually produce them in large amounts and freeze them, so I always have some at hand for a quick breakfast or lunch. They just need to be warmed up in a pan and you immediately have a soft warm tortilla to fill with anything.
The sweet potato skillet can also be prepared in advance and spend the night in the fridge in an airtight container. Then you just warm it up – if you want to – and top it with rocket salad.
The sauce only takes 5 minutes, but tastes much better cool from the fridge. Same goes for the snickers shake.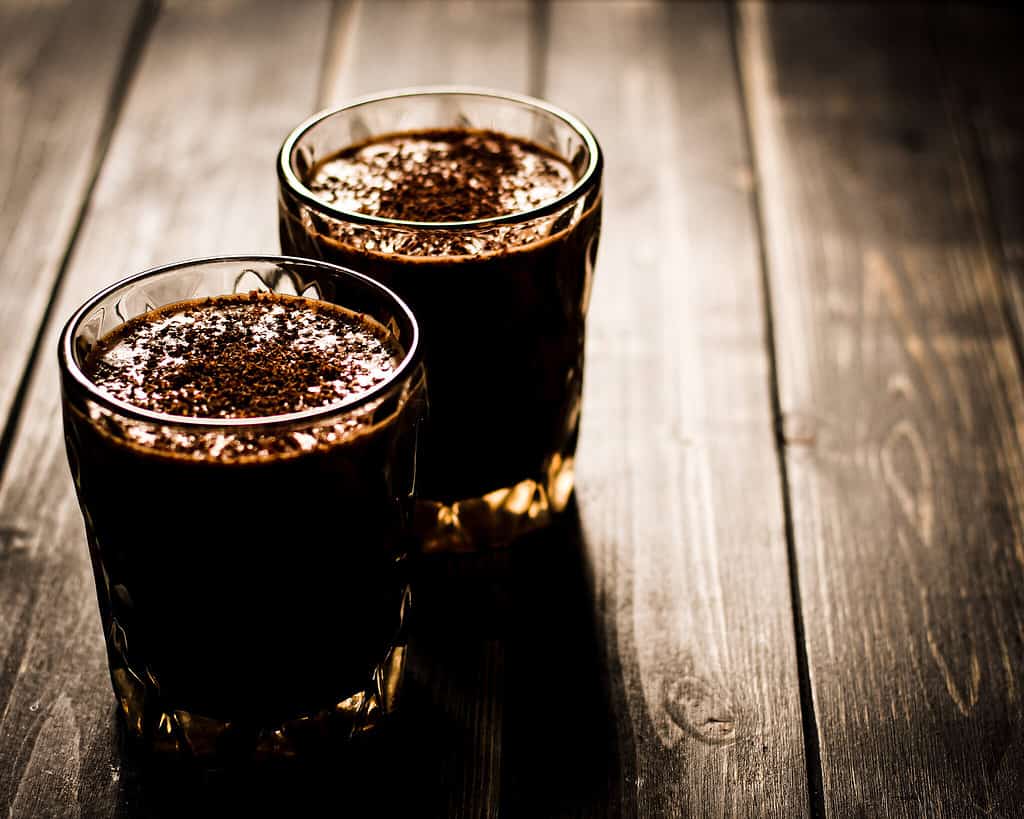 3. South European inspired vegan brunch
Sometimes a little more sun is an important ingredient as well!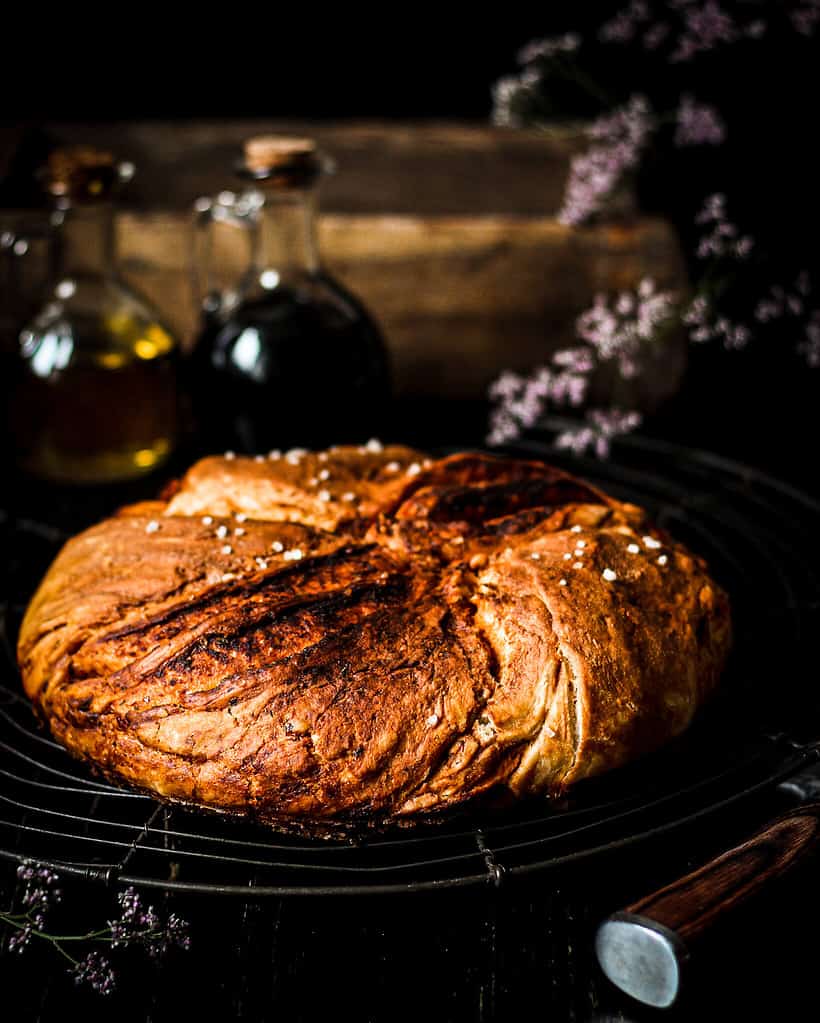 A spectacular pizza-twist-bread with a pretzel crust and pasta salad with juicy tomatoes, spinach, pine nuts and balsamic glaze do the trick for me.
You can put the pizza bread in the fridge overnight after the second rise, then only apply the baking soda and bake it right before the brunch. The pasta salad is ready in 20 minutes anyway.
A delicious Caprese with creamy almond mozzarella will always find friends too:
Amaretto Madeleines go very well with this: They are quick to mix and bake. Just let them cool off a bit and dust them with powdered sugar.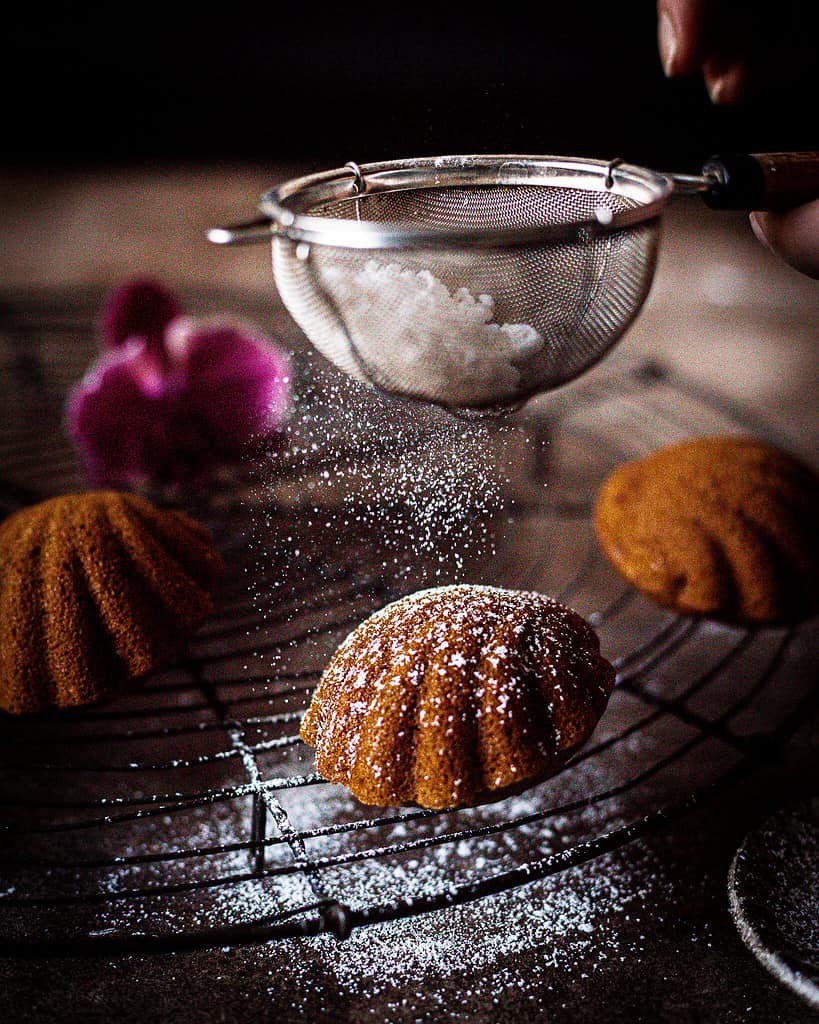 4. English inspired vegan brunch
Baked beans from a can are warm in minutes (check if vegan), and mushrooms can be fried just as quickly. Simply put them in a pan with olive oil at high to moderate heat and fry until brown and crisp. When they're almost done, add salt and some fresh herbs like oregano. Then fry up some veggie sausages and pour some tea with oat milk 🙂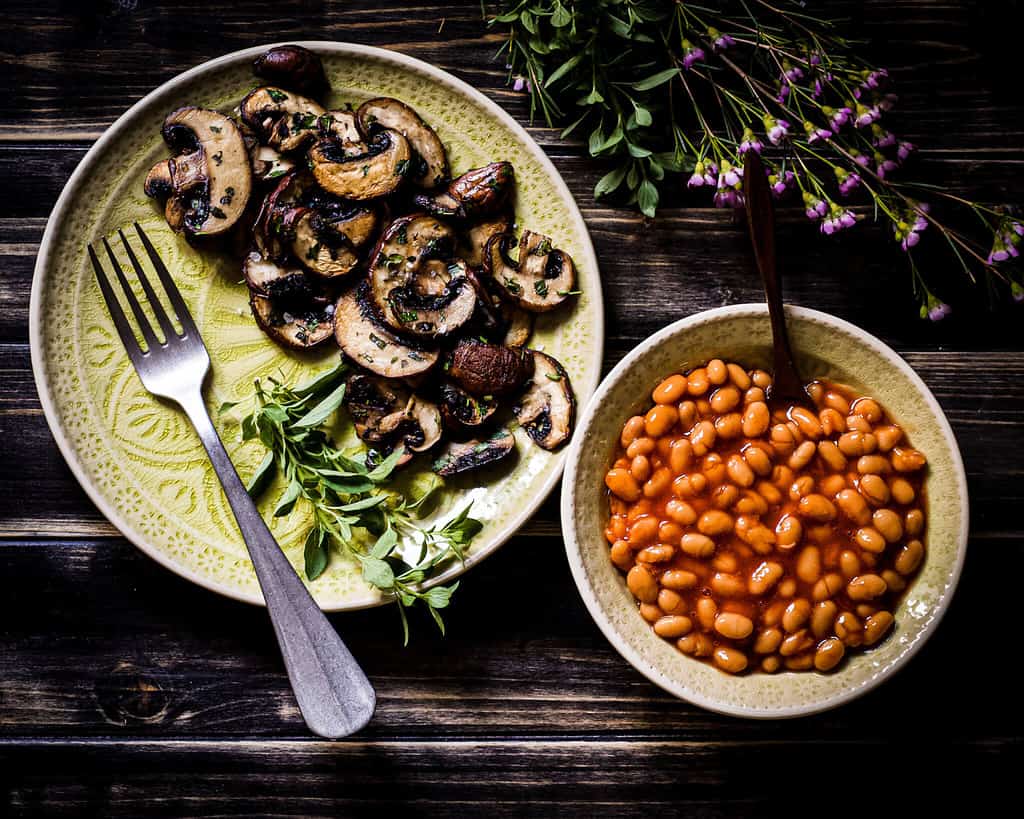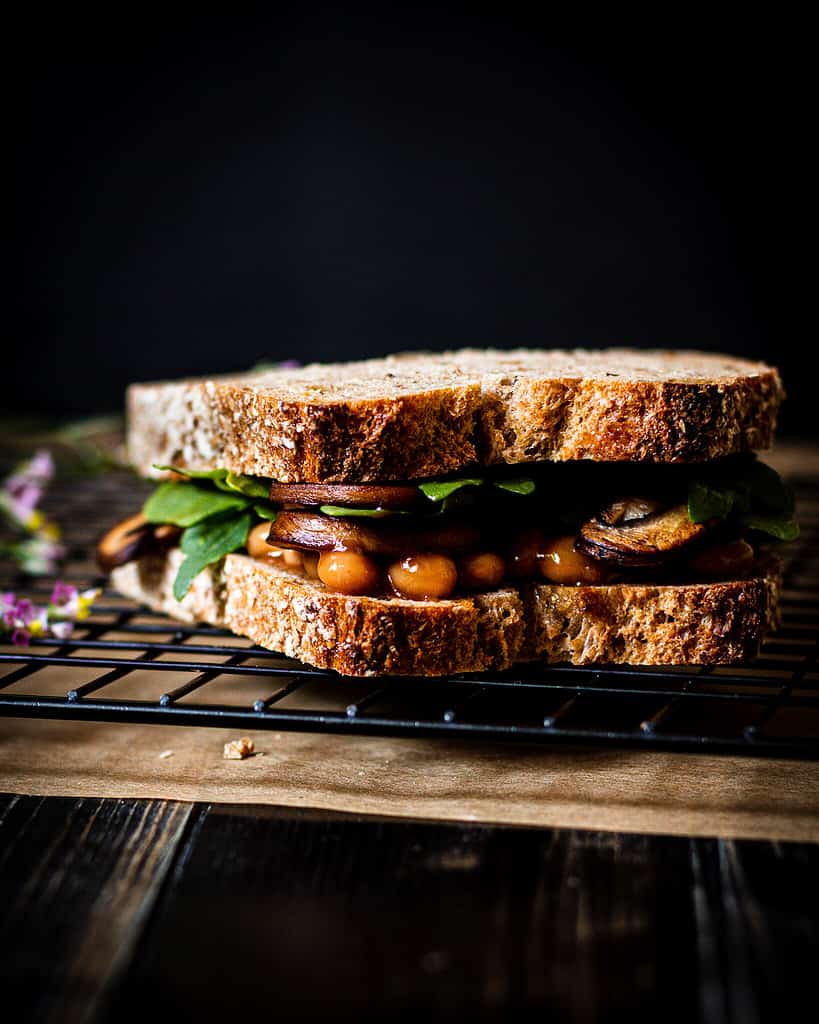 Another English specialty I really like are crumpets. They are little pan breads and quite easy to make. I like this recipe by RecipeTin Eats. You need rings like these to make them. You can make them the day before and just put them in the toaster before serving.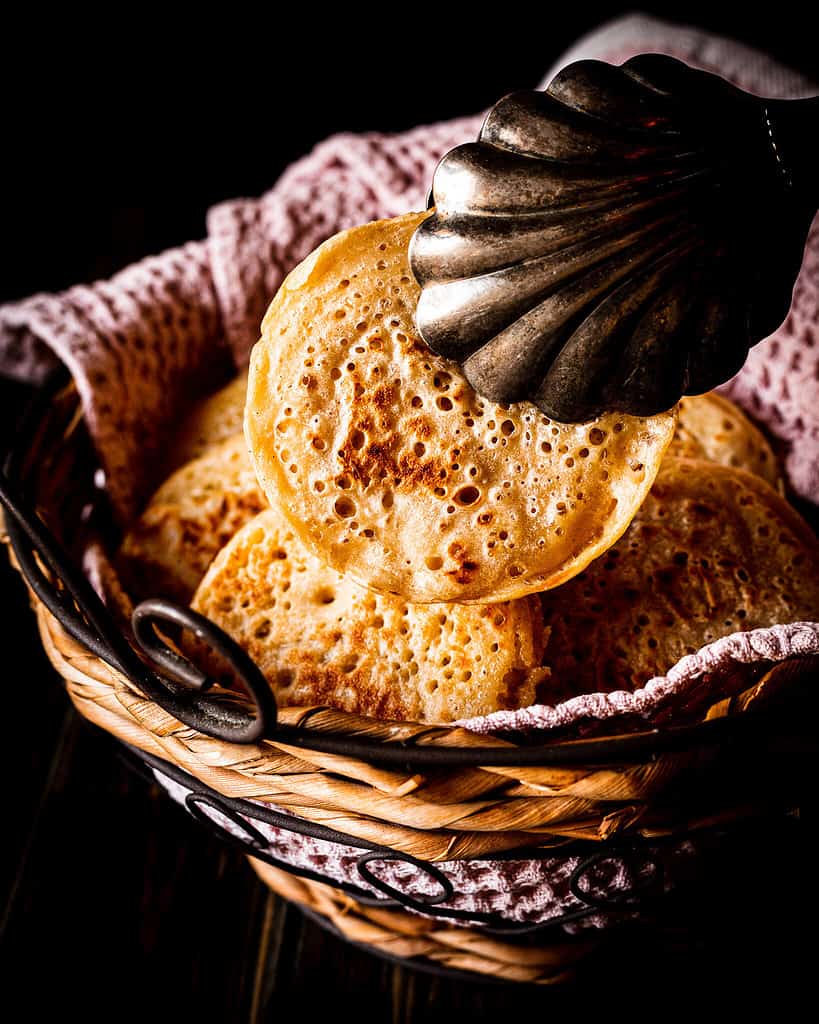 And as for something sweet, how about some earl grey loaf cake with uplifting bergamot essential oil? You can prepare the whole cake quickly the day before and put it back in the fridge fully glazed in the loaf pan and some cover foil. The recipe for the earl grey loaf cake is here.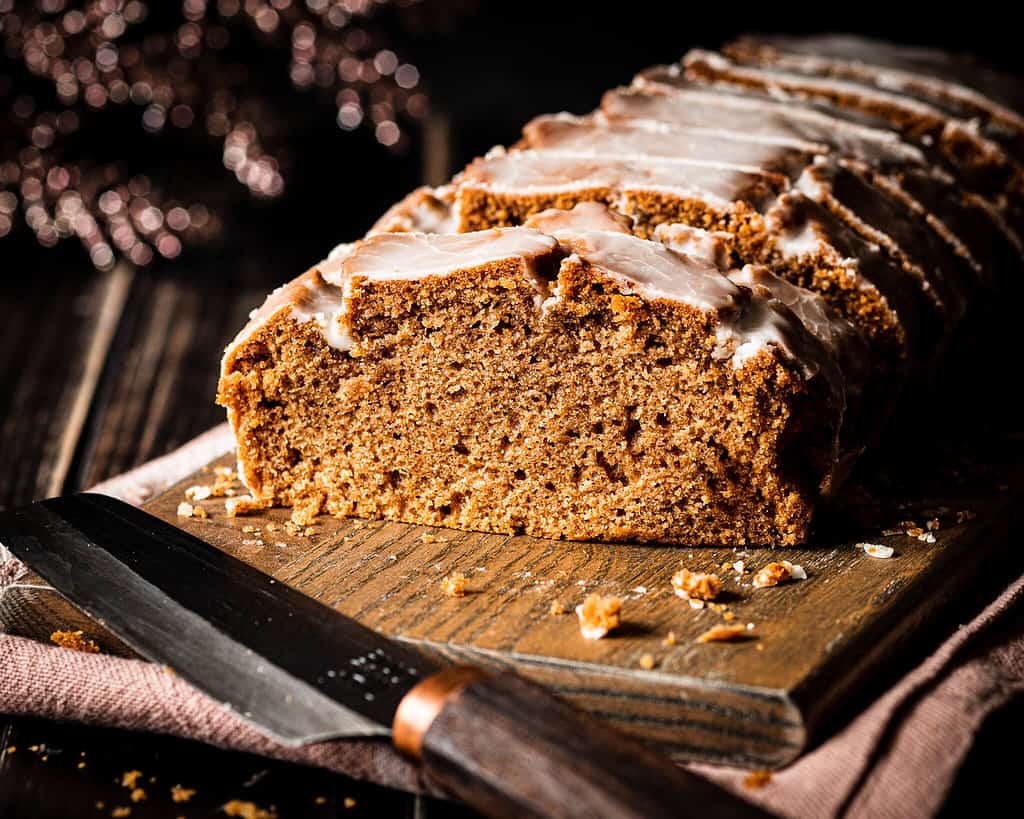 5. Southeast Asian inspired vegan brunch
Some of my Southeast Asian inspired recipes are great brunch options as well: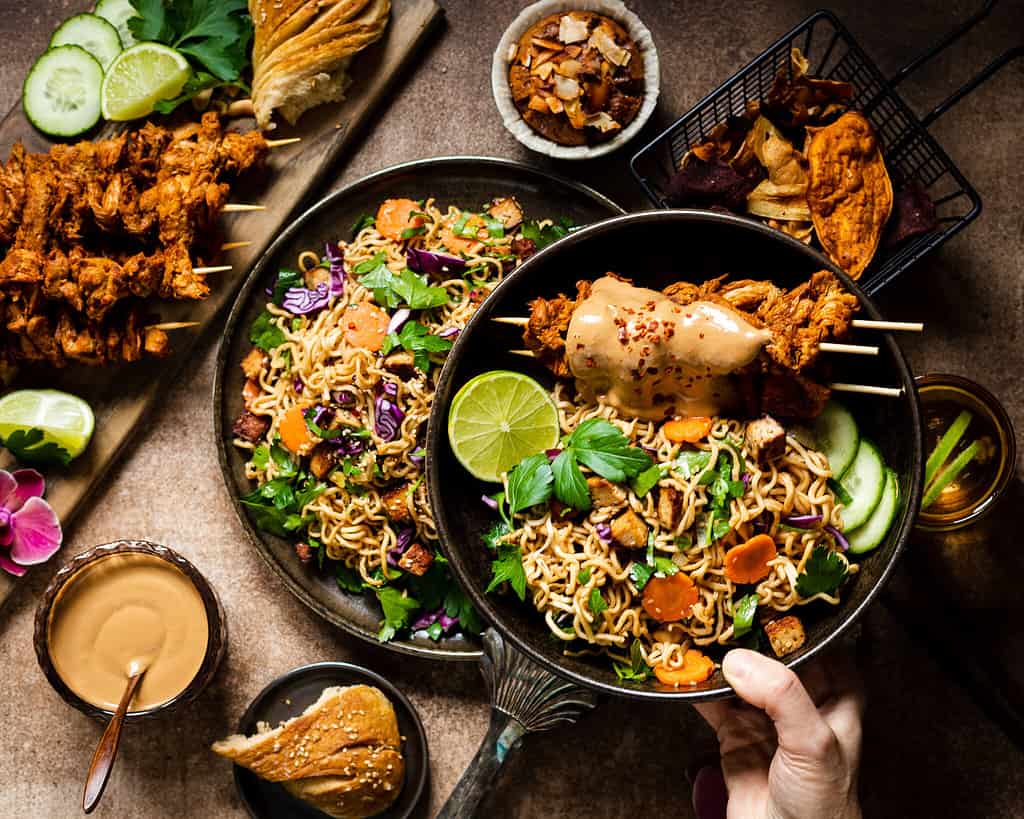 Satay skewers with spicy peanut sauce and sesame noodles with smoked tofu, for example! These can be made completely the day before and served cold. Only the red cabbage and parsley should be added right before serving.
You could also make bahn mi sandwiches. You can use readymade baguettes that just need to be baked, while you fry the tofu and put the other ingredients on the brunch. Then everyone assembles their own sandwich: more fun and choice for them, less work for you.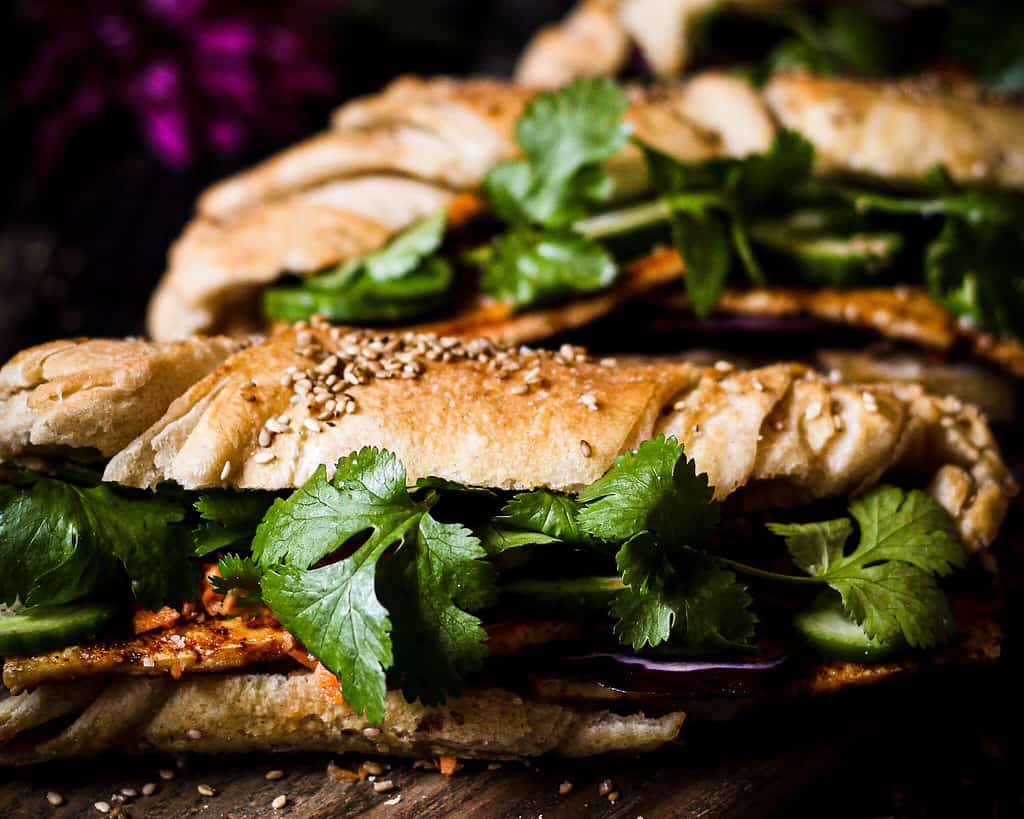 And for dessert I would suggest some coconut bacon muffins. They are not really Southeast Asian inspired- the inspiration came from the vegan donut place round the corner from my house- but I think they fit in well.
You can make the muffins, the frosting and the coconut bacon the day before and keep all three in airtight containers in the fridge. They can be put together in 5 minutes before the brunch.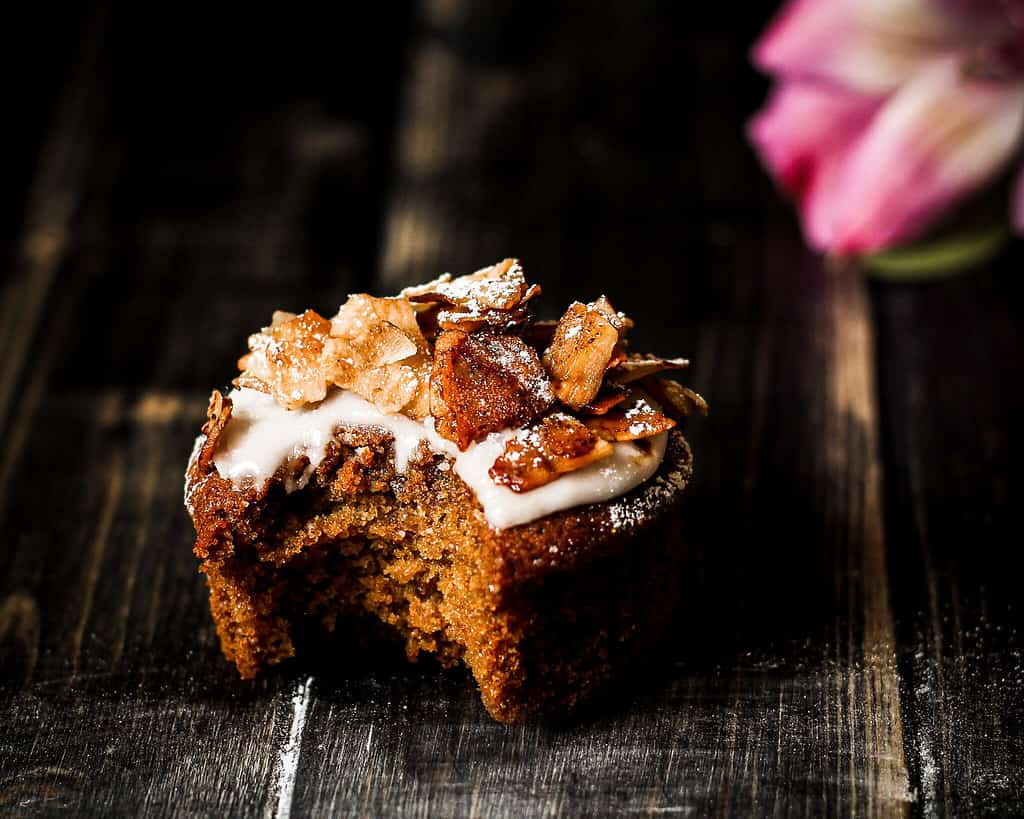 6. Gluten free options for your vegan brunch
If you also have guests that eat gluten free, this potato omelette with rosemary, spinach, sour cream and pomegranate might make them happy.
You can prepare the vegetables, the "egg" batter and the pomegranate tendrils the day before and keep everything in the fridge in airtight containers. Then prepare it in a pan in just a few minutes and assemble before serving.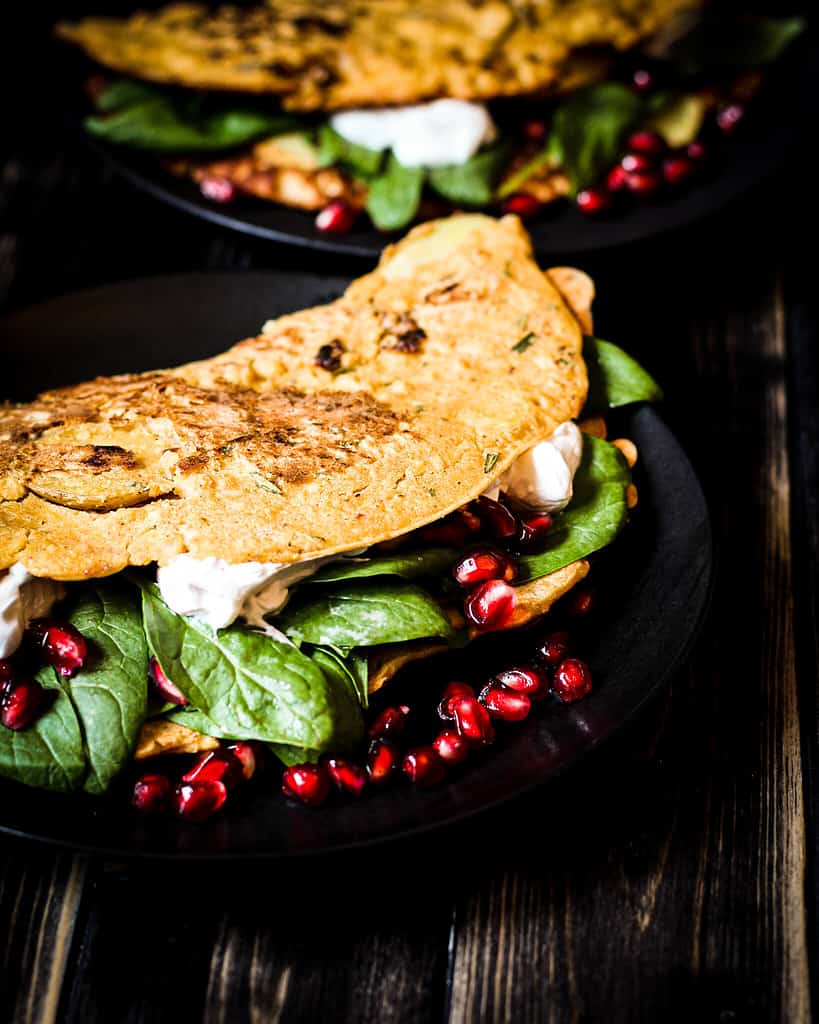 Or how about a superfood potato salad with apples?
And how about some homemade gluten free snickers ice-cream or matcha popsicles? You can make them the day before and just take them out of the freezer a few minutes before serving.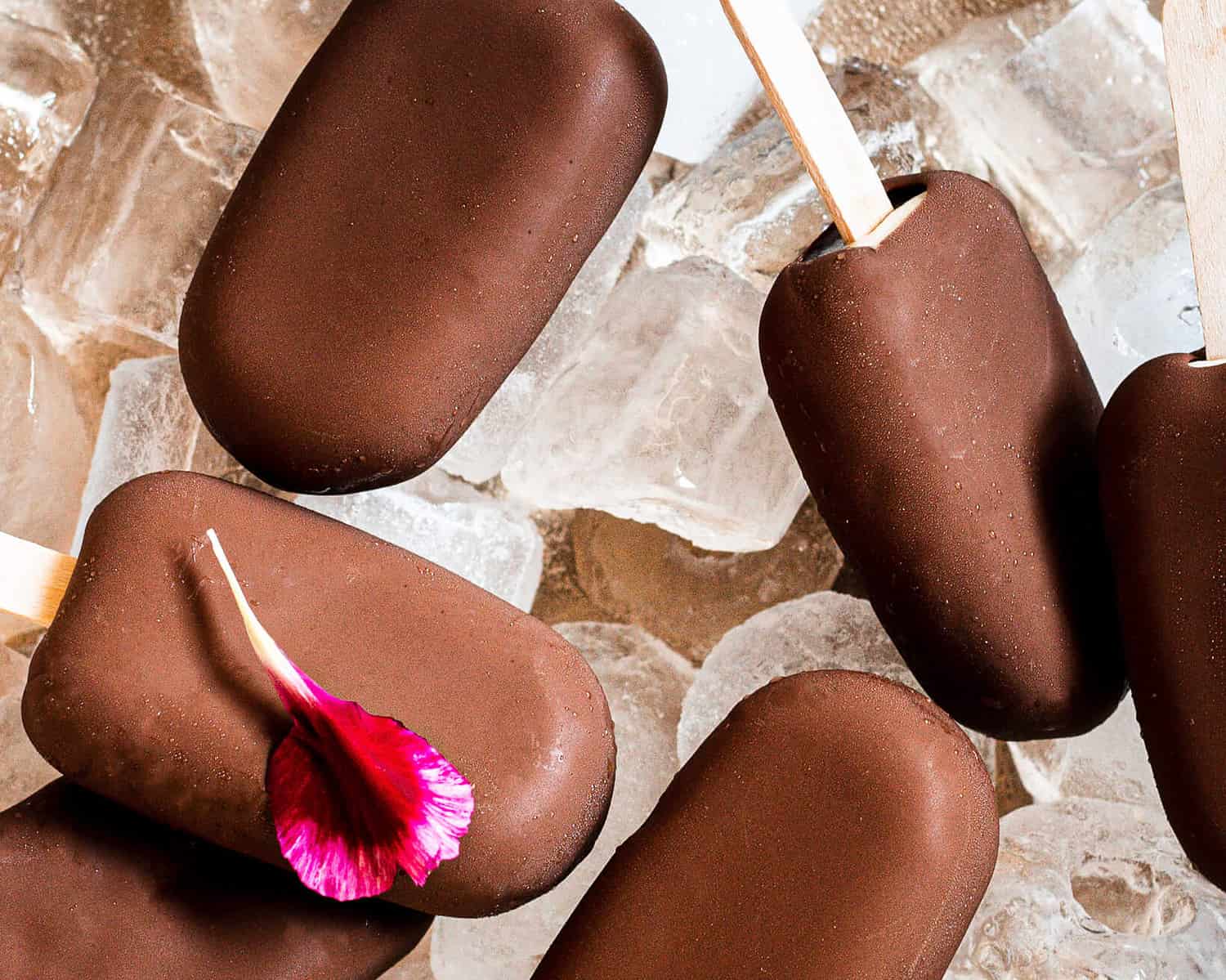 7. Spring or summer brunch or other special occasions
Or maybe a mother's day brunch? Mother's Day in Germany usually coincides with the start of strawberry season! And they are best served as strawberry cake: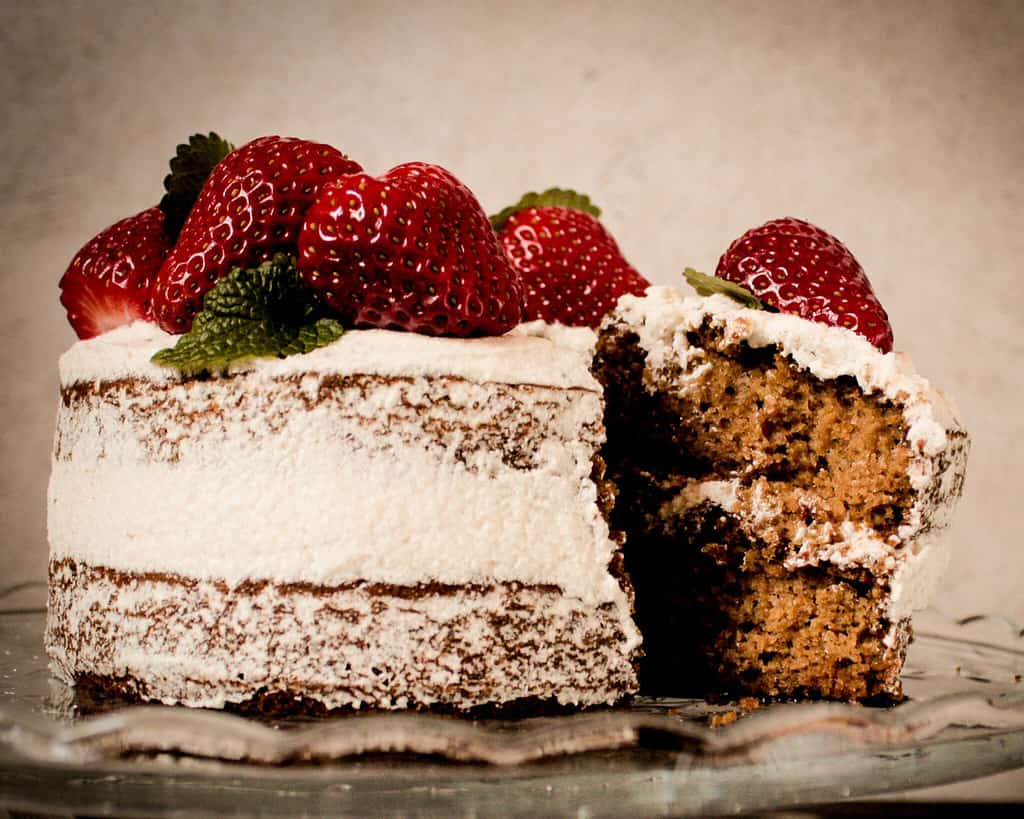 You can bake the two cakes and make the frosting the day before and keep them in the fridge in airtight containers. Just assemble them before the brunch and add the strawberries and herbs.
You can make a cute tiramisu Easter lamb cake for the Easter brunch buffet.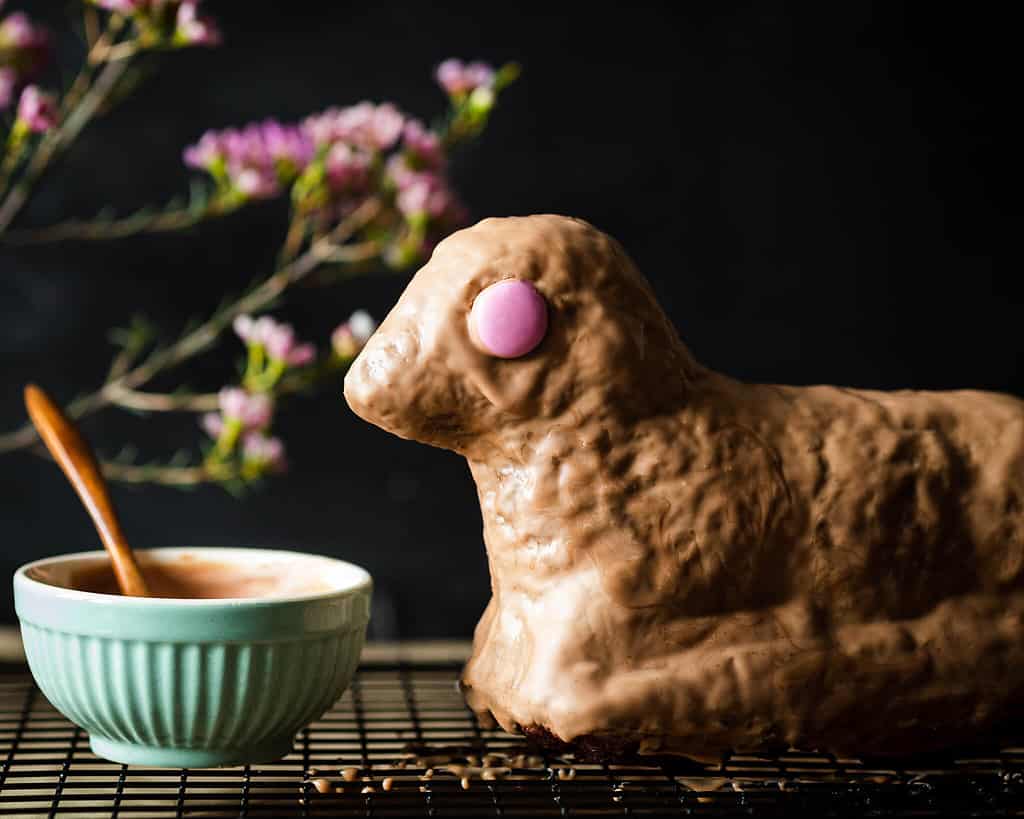 A focaccia with sweet potato cherry blossoms and pink pepper is also great for Easter!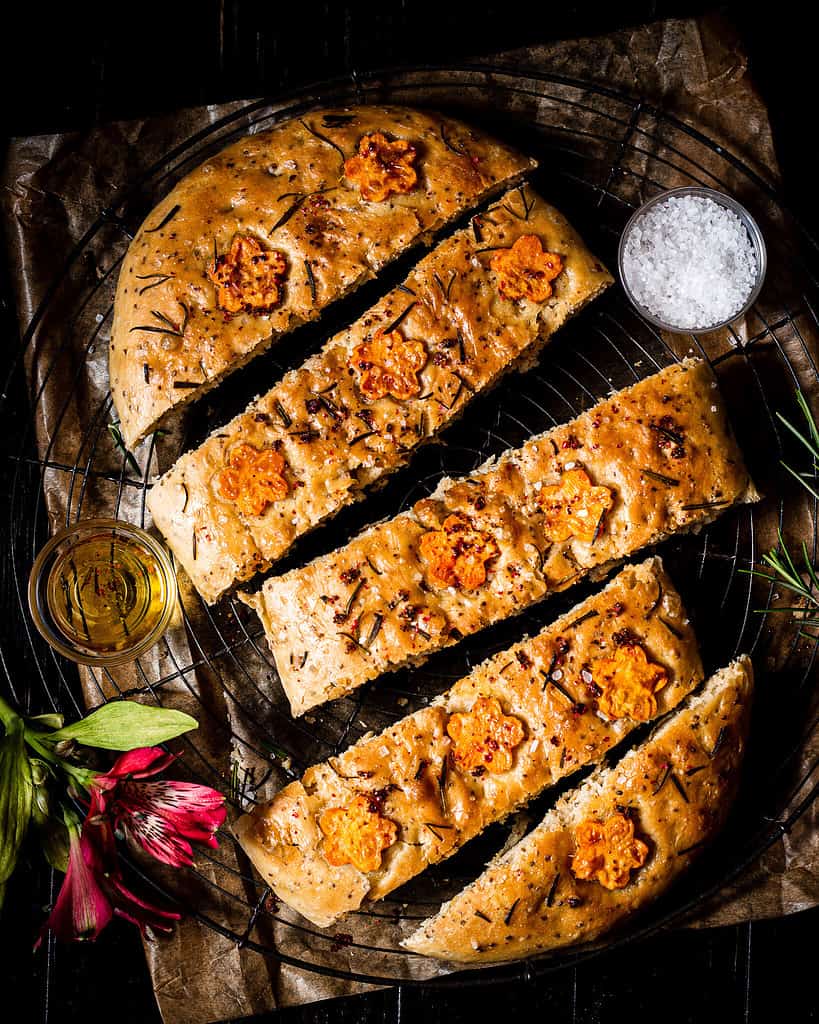 Or a nice fall recipe: pumpkin focaccia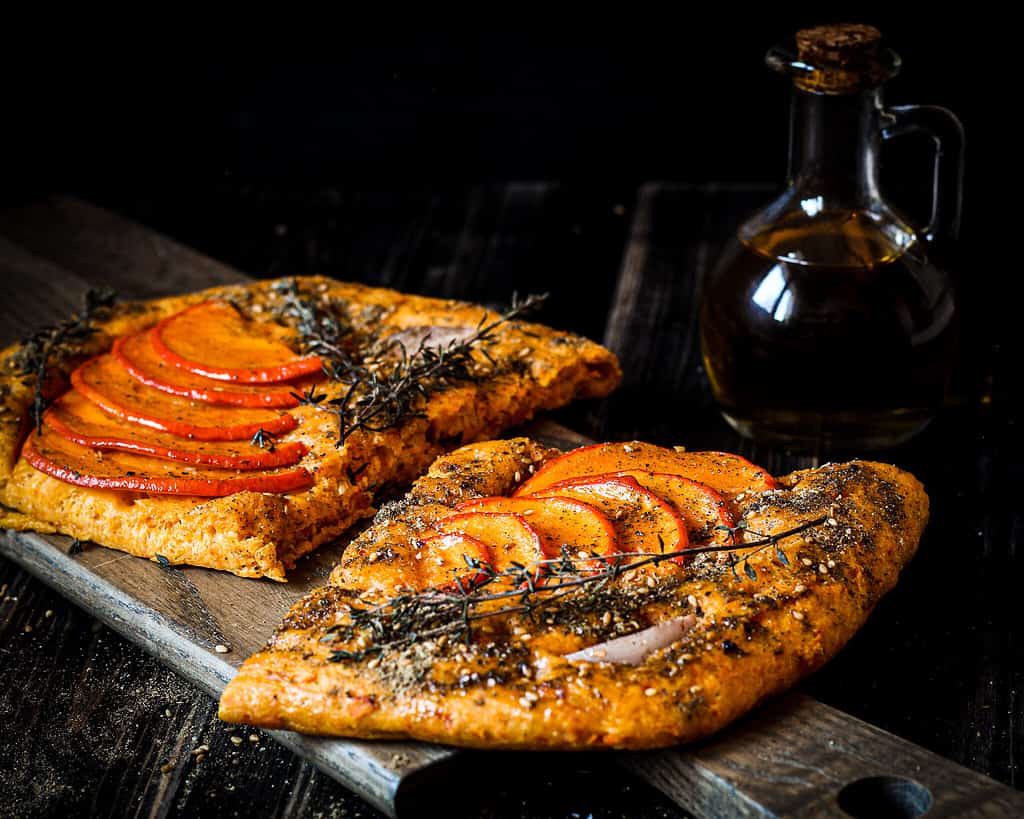 Another nice fall recipe are my pumpkin spice CBD cake pops. These can easily made the day before and kept in the fridge, and guarantee a chill afternoon. Of course you need to point out the CBD oil, in case someone doesn't want that.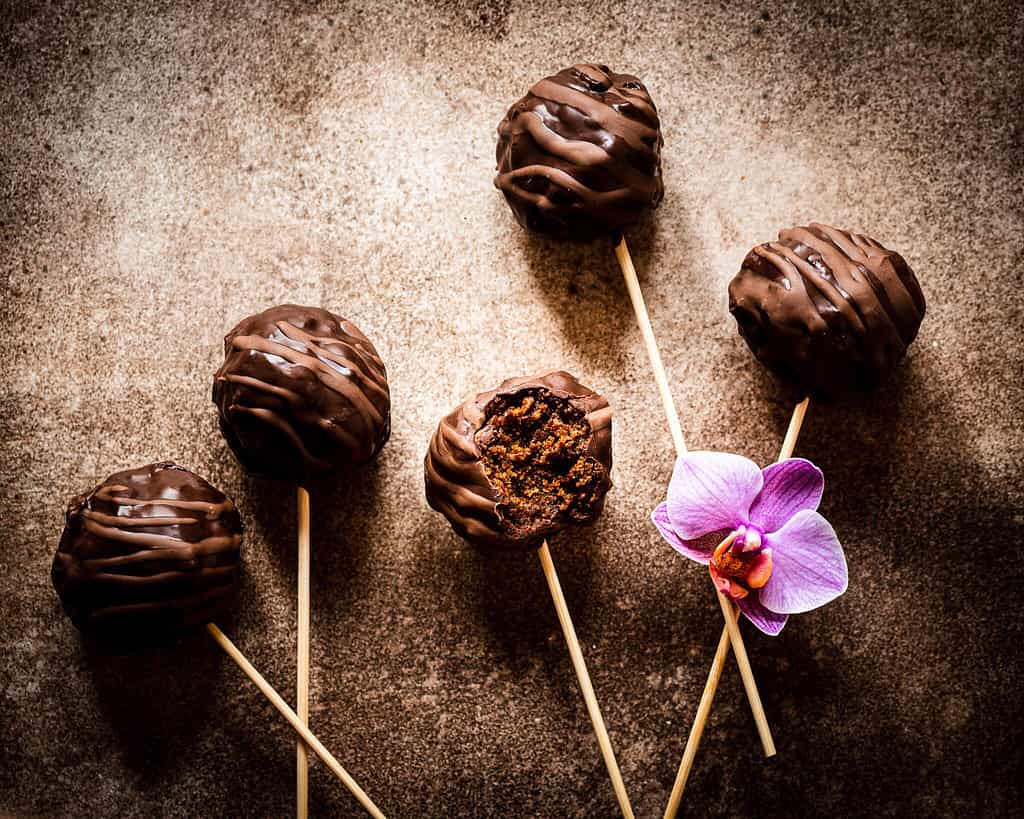 For a birthday brunch I like to put a bottle of homemade vegan baileys on the table: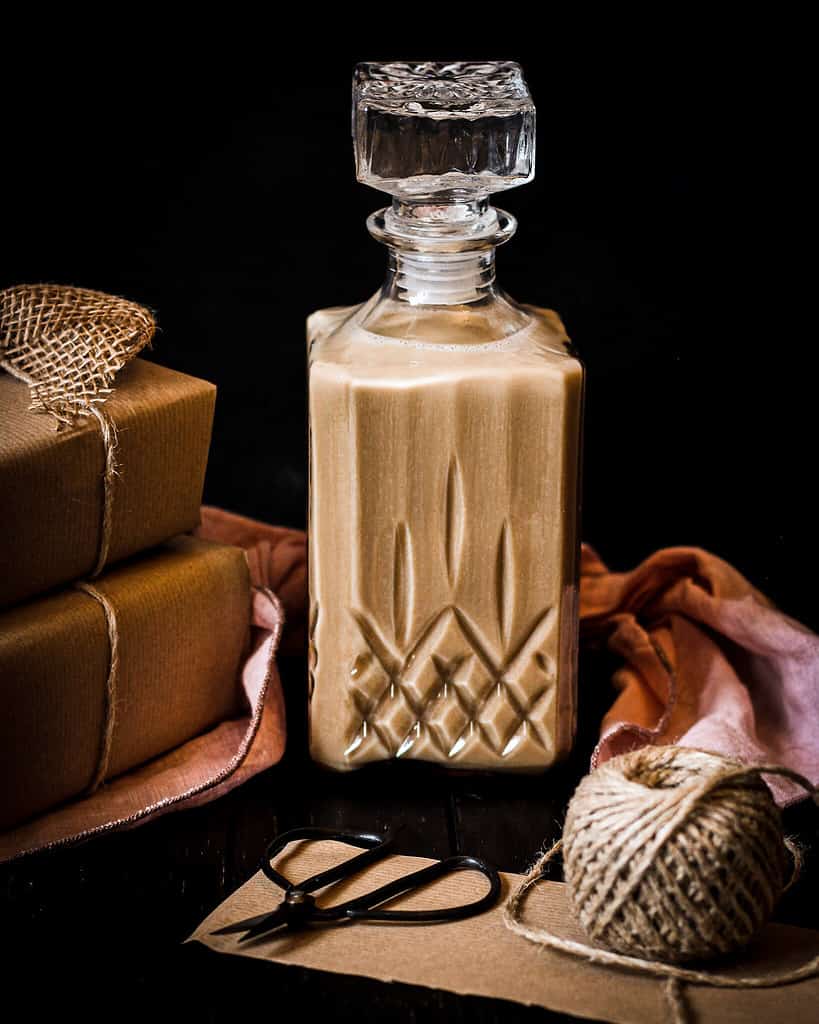 For a Christmas or winter brunch, how about chai madeleines with white chocolate?
These can also be prepared the day before: bake the madeleines, make the glaze, store them in airtight containers. Just warm the glaze and apply before serving.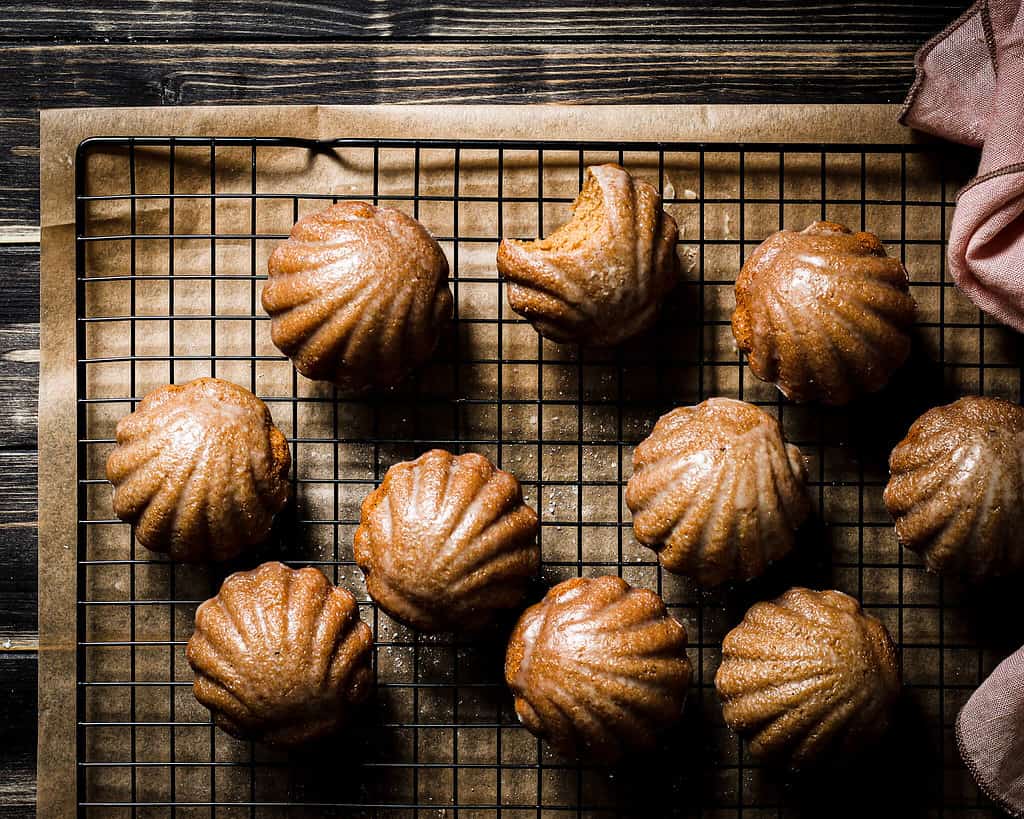 Your vegan brunch is a buffet? You'll find more ideas in my blogpost
15 ideas for your perfect vegan party buffet
Would you like a few more tips on how to make food look its best?
You'll find them in my Foodstyling 101 tutorial
What do you think? Do you love vegan brunch too? What's the most important thing for you? Tell me in the comments!
Did you like this article? Feel free to share it via the buttons below and sign up for my newsletter, so you don't miss anything new 🙂
Sign up for my newsletter and get my checklist for traveling vegans!