(Cooperation with Vantastic Foods)
Satay is originally from Indonesia, but is served in many Southeast Asian countries in regional variations, for example in Japan as Yakitori. The grilled meat skewers are often dipped in peanut sauce.
In the colonial era, the dish became part of Dutch cuisine and is extremely popular in the Netherlands.
That way I got to know satay as a child and have worked a lot on vegetarian and later vegan versions. I already have a delicious seitan satay on my blog, but many of you find seitan too much hassle.
So here is my soy satay! Much easier, quick and tasty. The sticks can also be prepared in advance and taken to a barbecue. I also like them cold from the lunchbox.
When you use Tamari or gluten free soy sauce, this recipe is also gluten free.
German vegan online shop Vantastic Foods.com*, who I am an affiliate partner of, have provided me with the soy medaillons that I used for this recipe. I used half the bag to make 6 sticks, which were perfect for Tom and me.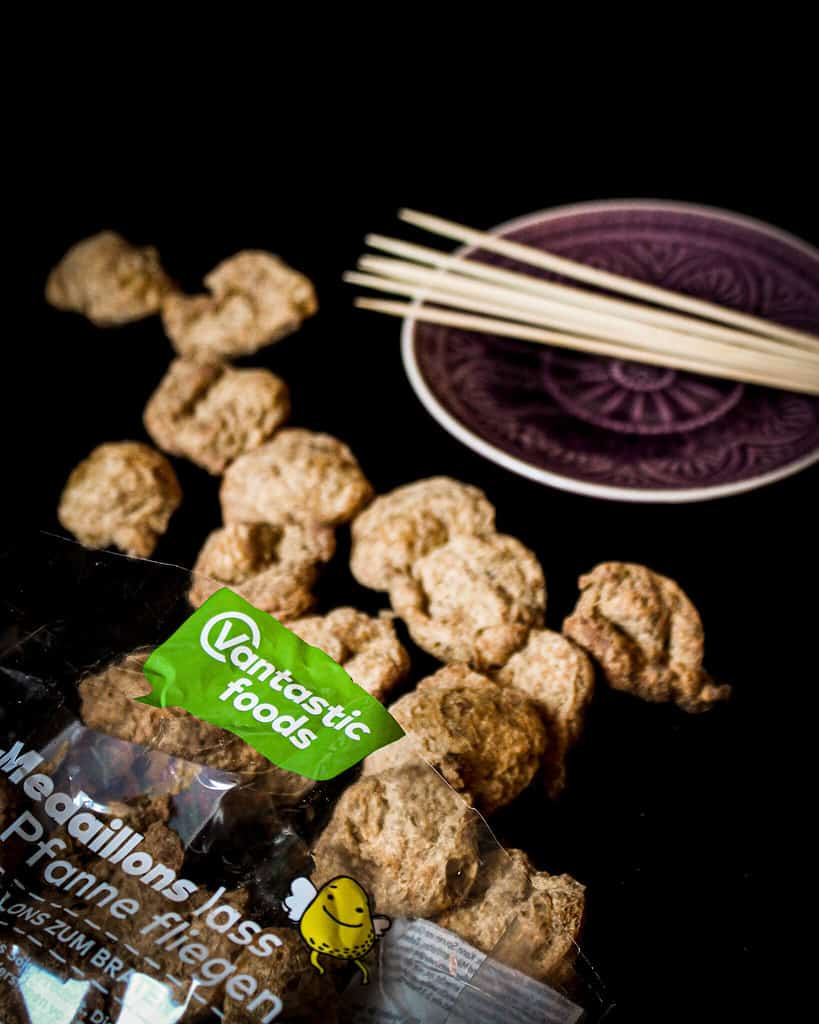 You probably know textured soy protein, right? If you don't, this is the perfect recipe to try this amazing meat replacement. Check them out here.*
Those wooden skewers are sold in most supermarkets.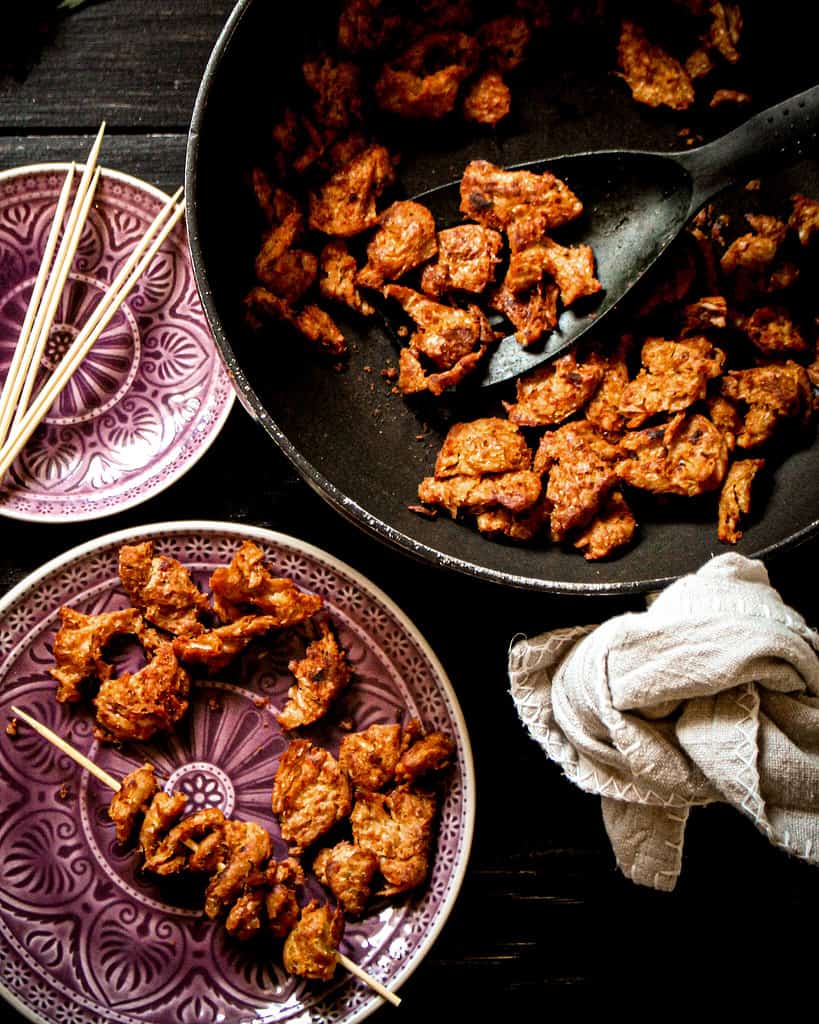 Soy satay with spicy peanut sauce
That is of course the best combination. You can find my quick spicy peanut sauce recipe here.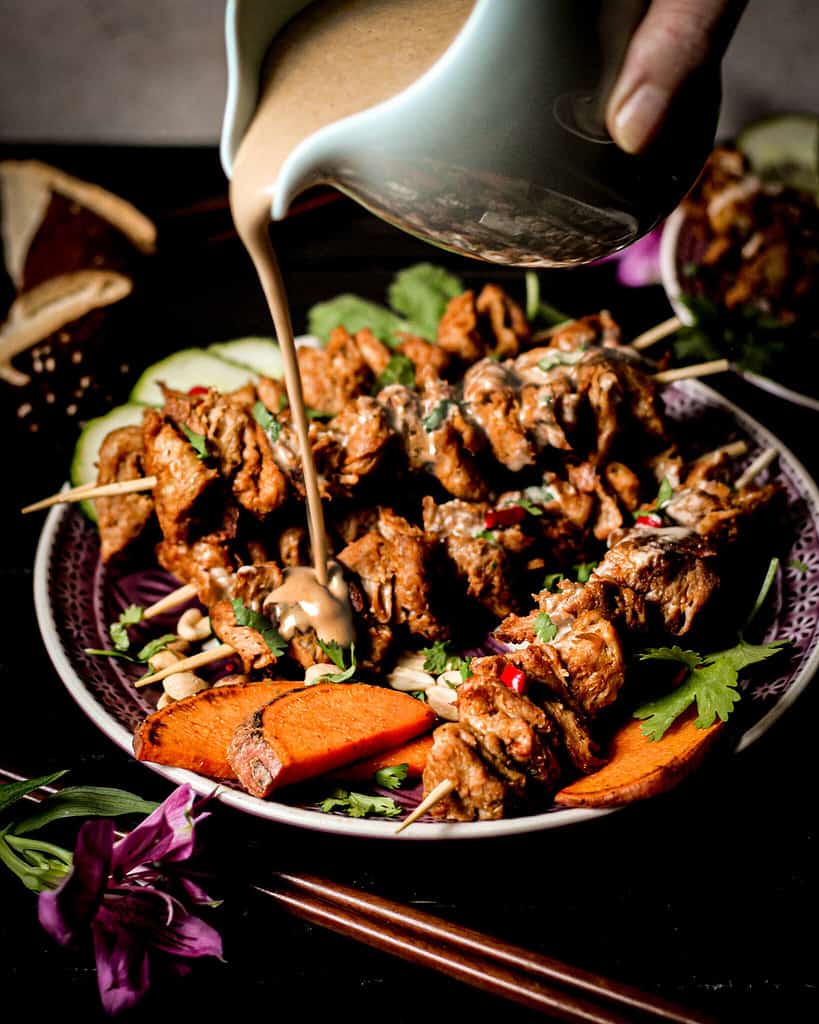 What goes well with soy satay skewers?
Indonesian noodle dish Bami Goreng is perfect with it of course.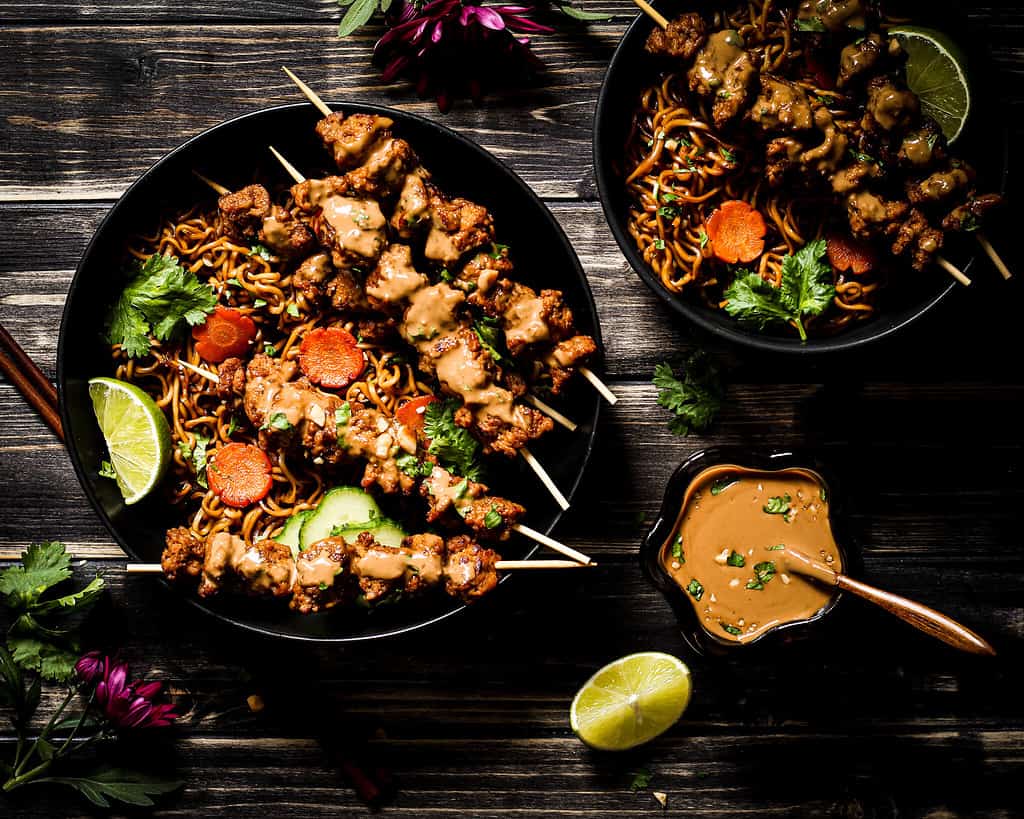 It's also delicious with "egg" fried pineapple rice: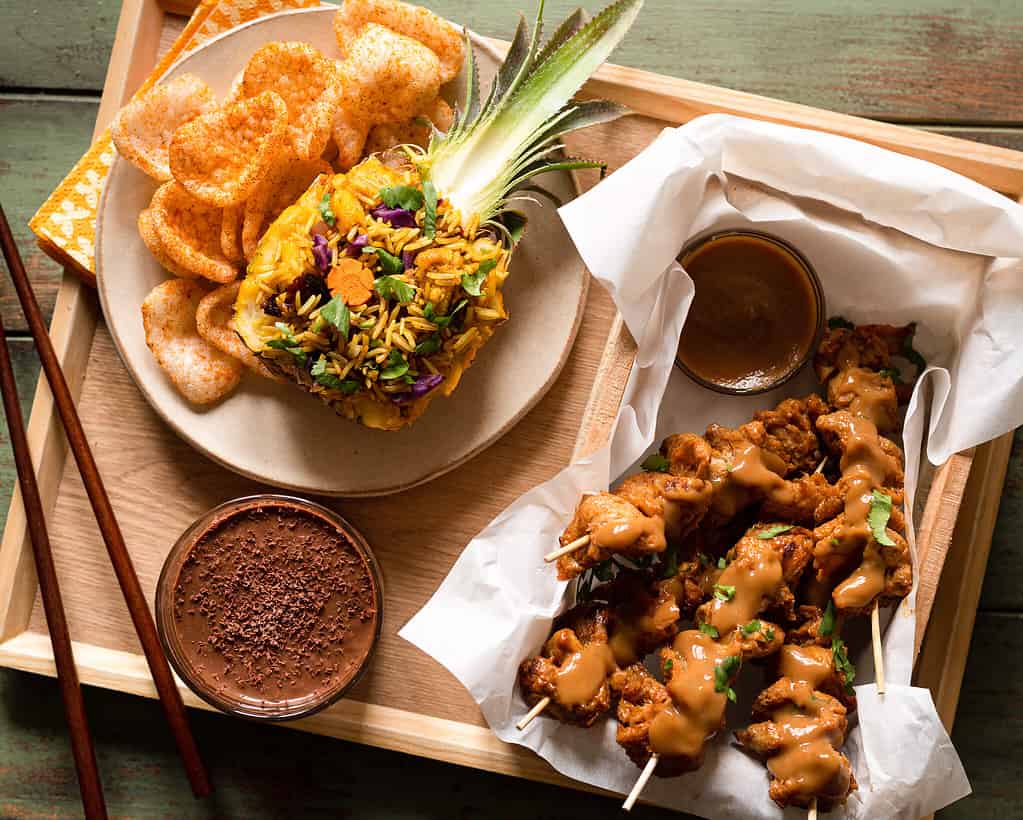 Or with sesame noodles: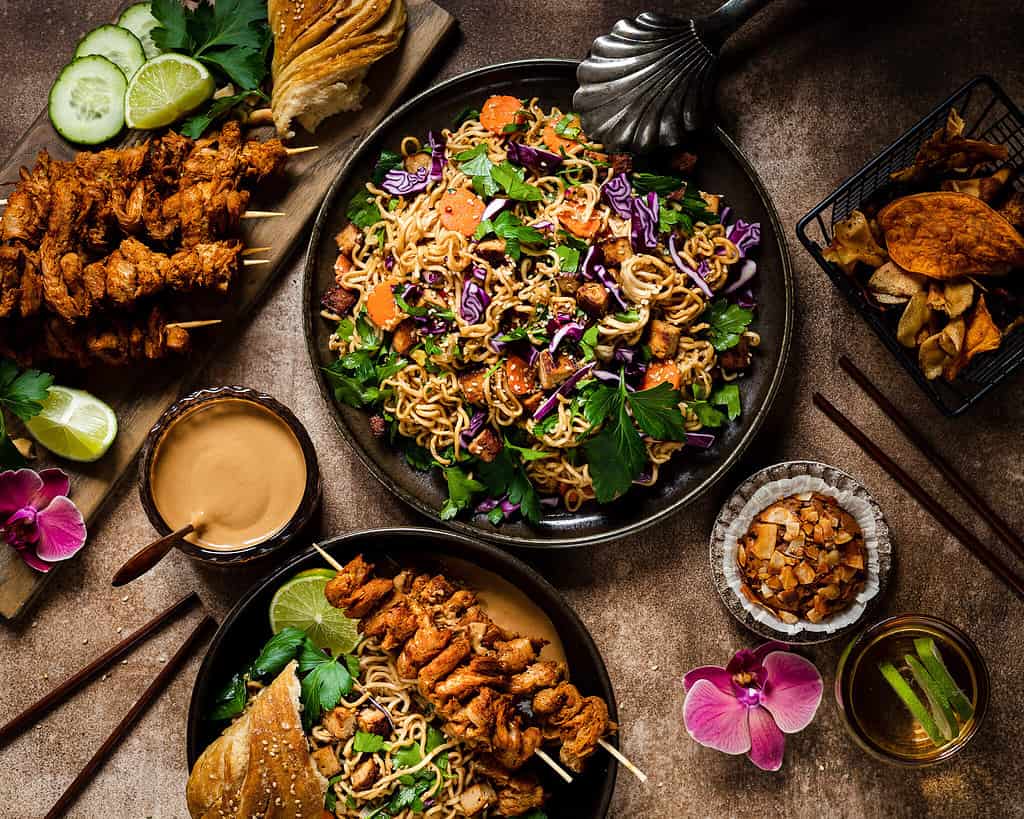 And with lemongrass noodles: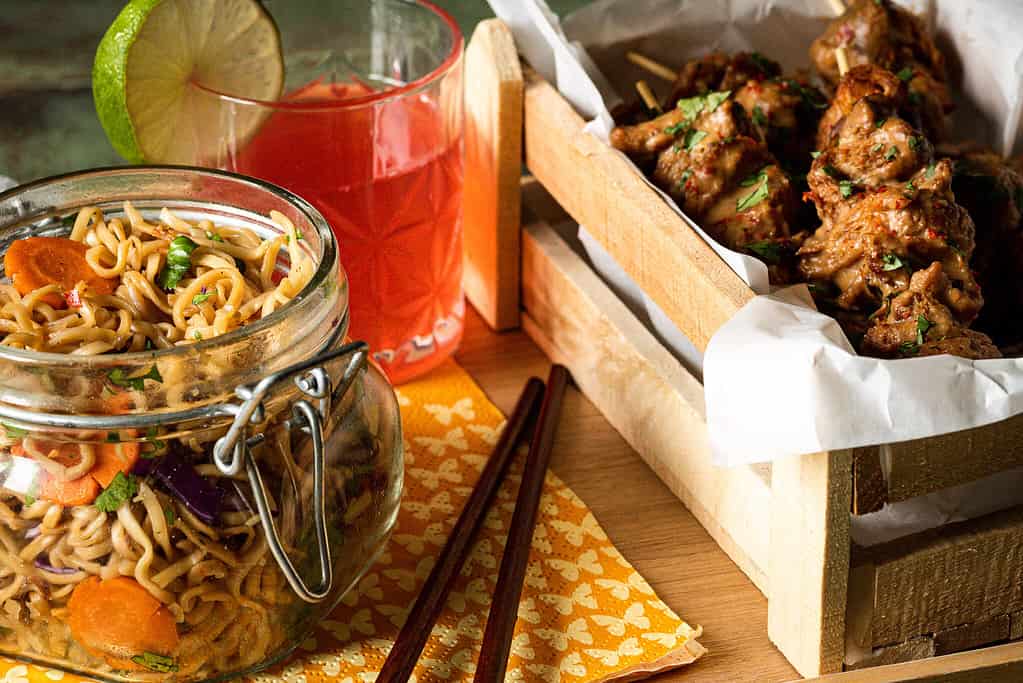 The skewers are amazing on any buffet! Have you seen my 15 ideas for your perfect vegan party buffet?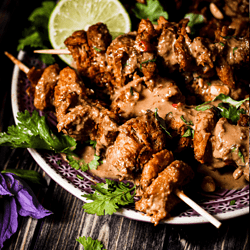 SOY SATAY
Supereasy, quick and tasty: the satay sticks can also be prepared in advance and taken to a barbecue or in your lunch box
Ingredients
100

g

(3,5 oz.) textured soy protein chunks or medallions

480

ml

(2 cups) veggie broth

1

teaspoon

soy sauce

1

teaspoon

ginger powder

1/4

teaspoon

onion powder

1/4

teaspoon

garlic powder

1/2

teaspoon

smoked paprika

1

teaspoon

soy sauce
Instructions
First, gather all your ingredients and prepare them in the right amounts. That makes it so much easier and more fun and you're less likely to forget anything. 

Simmer the soy protein in veggie broth with soy sauce and ginger powder for about 10 minutes, then let them cool off and squeeze out as much moisture as possible. The more moisture is squeezed out, the firmer and more tasty the satay.

Rip them in 2-3 pieces each. Roast them in a skillet with onion powder, garlic powder, smoked paprika and soy sauce. Then put them on skewers as soon as they're ok to touch.

You can serve the soy satay right away with spicy peanut sauce, cilantro and fresh lime or throw them on the grill later.
Did you enjoy this recipe?
A 5 star rating would mean the world to me and I always love to see your pictures on instagram @flymetotheveganbuffet