These vegan sesame noodles were inspired by a cold packed Asian sesame noodle salad that I once got at a little shop in New York for my flight home, and I liked it so much I took a picture of the label with the ingredients to experiment with them at home until I had the noodle salad we liked best. I also added smoked tofu and red cabbage to my recipe.
The final result turned out amazing and has become my number one enjoy warm or cold easy to transport crowd-pleaser. I'll bring it whenever I'm invited somewhere, like a picknick or party buffet. Or just as a work lunch.
If I produce double or triple the amount to later put it on the cold buffet, I don't put the noodles in the frying pan. I rinse them with cold water, mix them with the sauce, and add the contents of the pan. Then I put the large bowl in the refrigerator or on the balcony in winter. Before serving, I mix everything with red cabbage and parsley.
What do you need for the sesame noodles?
ramen noodles
tahini
soy sauce
maple syrup
sesame
smoked tofu
chili
parsley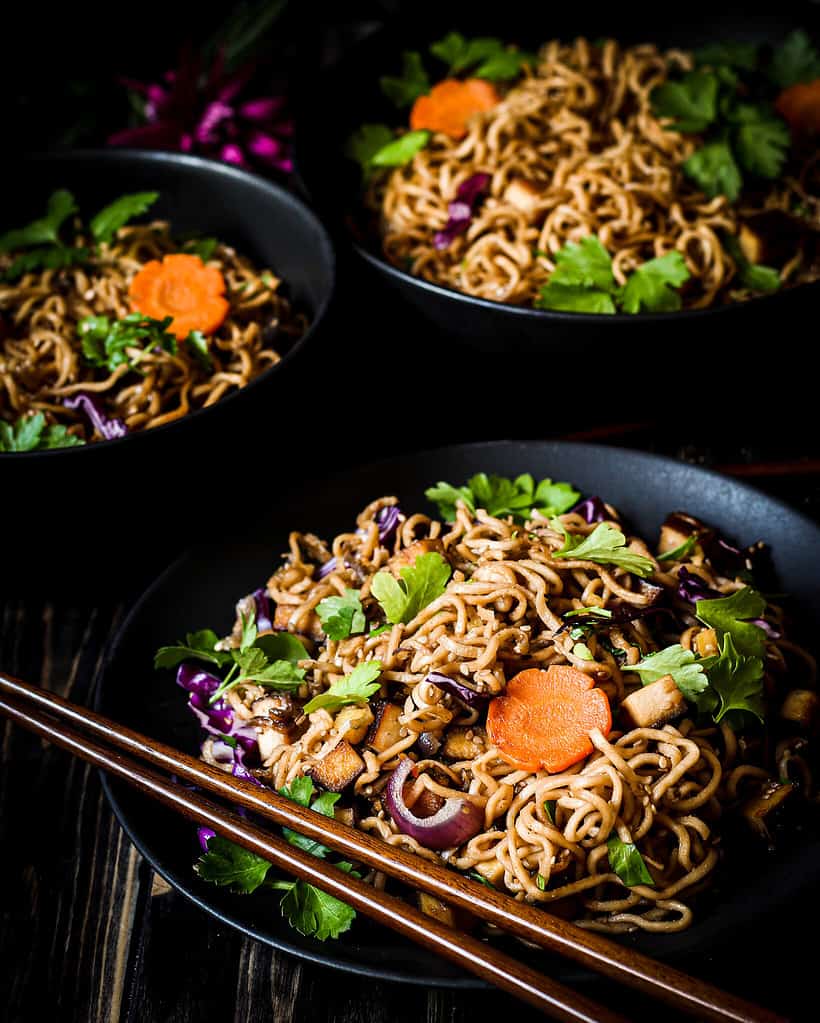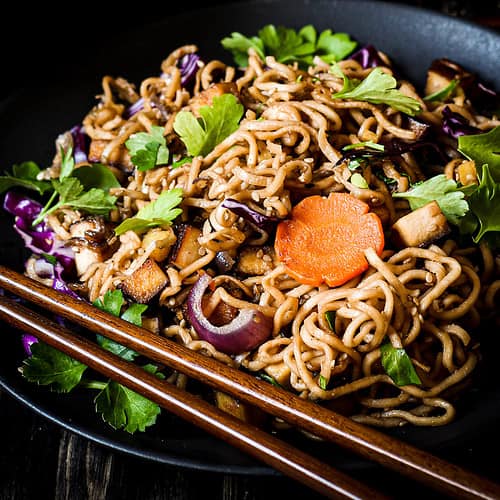 SESAME NOODLE SALAD
Delicious vegan sesame noodle salad with carrots, red cabbage, tofu and fresh herbs – to be enjoyed warm as a quick dinner or cold on a buffet or as a packed lunch
Ingredients
1

onion

1

piece of ginger

1

garlic clove

1

carrot

1/2

smoked tofu

handful of

red cabbage

parsley or cilantro

3

tablespoons

soy sauce

2

tablespoons

maple syrup

1

tablespoons

tahini

9

oz.

/ 250 g mie noodles

some plant oil

1-2

tablespoons

sesame seeds

pinch of chili
Instructions
First, prepare all the ingredients in the required amounts for the recipe and some little bowls for the chopped vegetables. This will make cooking much more relaxed and you won't forget anything 🙂

Chop onion, ginger and garlic. Slice the carrots and dice the tofu into small cubes. Chop the red cabbage and the parsley.

Heat water in a saucepan with salt for the noodles.

Mix together soy sauce, maple syrup, and tahini in a large bowl, which is best done with a whisk.

Add the noodles to the boiling water and cook according to the package instructions.

In a large pan, fry the tofu and carrots in some vegetable oil over medium to high heat for about 3 minutes, stirring occasionally. Then add the onions and ginger.

Drain the noodles, add them to the sauce in the bowl, stir well, and set aside.

Add garlic, sesame, and chili flakes to the pan and stir again.

Then add the noodles and mix everything together very well.

Now garnish with red cabbage and parsley or coriander, and you're done!
Did you enjoy this recipe?
A 5 star rating would mean the world to me and I always love to see your pictures on instagram @flymetotheveganbuffet
MerkenMerkenMerkenMerkenMerkenMerkenMerkenMerkenMerkenMerken
What goes well with sesame noodles?
I like to serve them with satay skewers and peanut sauce.
You enjoyed the sesame noodles? Feel free to have a look at my 5 quick and easy noodle dishes.