At birthdays, new year's eve or a nice summer BBQ picknick, a delicous buffet with salad, snacks, fingerfood and desserts is always a hit. Here you can find lots of ideas for your perfect vegan party buffet, and easy tasty recipes for dishes to bring along to omni buffets.
Of course I also have vegetarian and omnivore friends and relatives, But these veggie recipe ideas without eggs and dairy are good for entertaining everyone, not just vegans.
Everything here can be prepared well in advance and is also easy to bring along to a potluck, outdoor picknick or a party at work .
I always suggest making too much food rather than risking running out of it mid-party. Almost all these things are still great the next day or you can freeze them. Or you can make a doggy-bag for your guests. I know most people think they'll never eat again when rolling home from a buffet feast, but soon they'll be happy about the tasty snack in the fridge and getting to enjoy the yummy vegan party buffet all over again.
What should be on a vegan party buffet?
Fingerfood
Satay Skewers
These satay skewers made of soy or seitan with spicy peanut sauce are the perfect fingerfood and my guests always love it. You can prepare them the day before and keep them in the fridge, they are almost better when they are cold.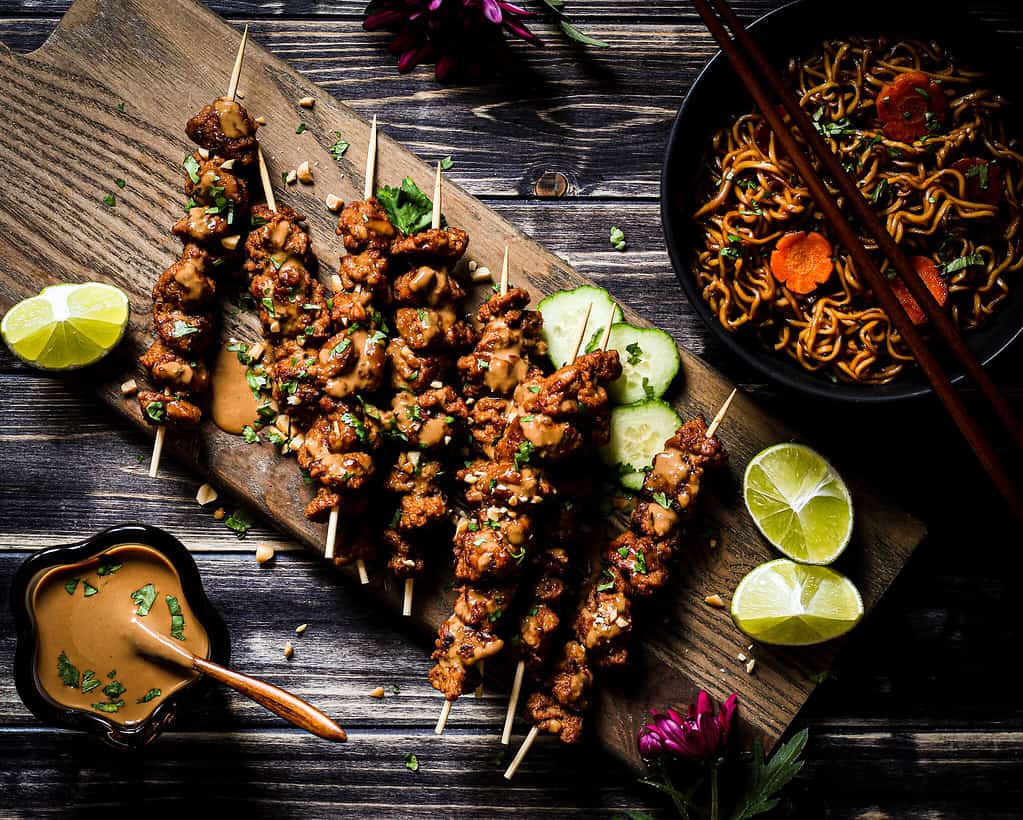 Pumpkin bruschetta
Crispy roasted baguette, a pinch of garlic, buttery baked Hokkaido pumpkin, sweet and fruity pomegranate tendrils, aromatic basil and a spicy umami sauce are a taste explosion! They are great as hors d'oeuvres. You can find the recipe here.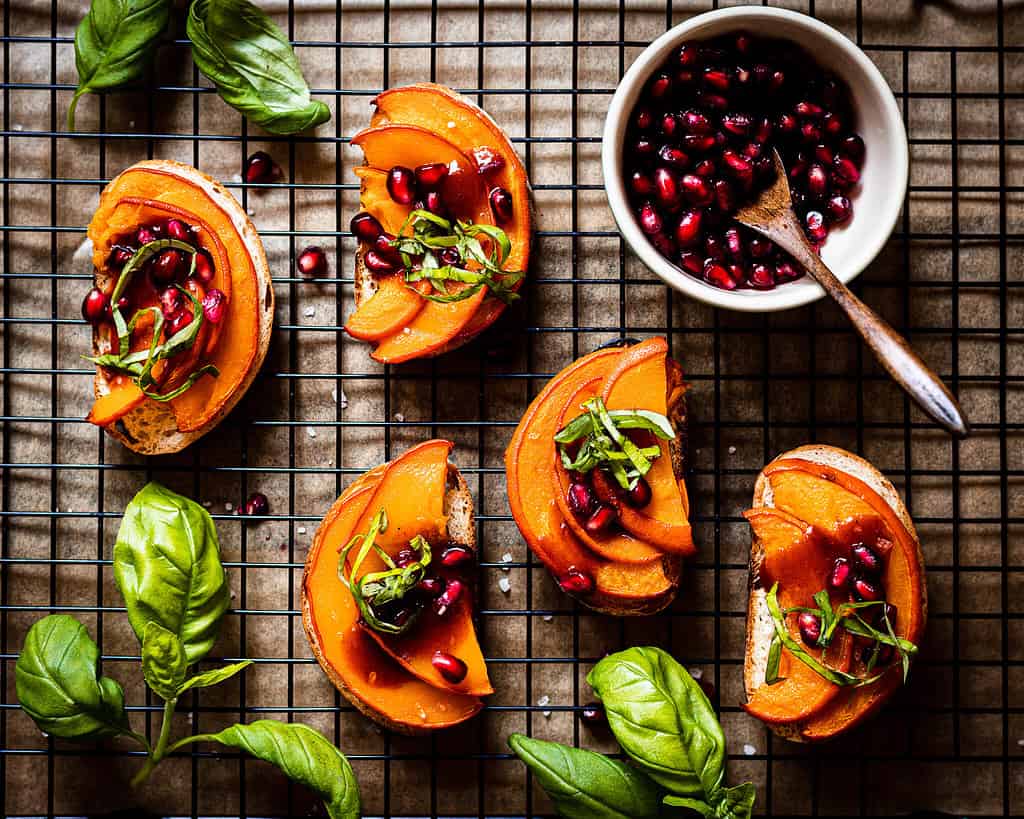 Wraps
If you want your vegan party buffet a bit more interactive, you can also serve a pile of homemade wraps and a hearty filling made of sweet potatoes, black beans and veggie mince with tasty apricot mustard sauce or vegan sour cream and rocket salad. You can also use a butternut curry – cooked a little longer so it becomes a bit thicker- and salad and delicious chutney.
You can make the wraps the day before. I usually produce them in large amounts and freeze them, so I always have some at hand for a quick breakfast or lunch. They just need to be warmed up in a pan and you immediately have a soft warm tortilla to fill with anything.
The sweet potato skillet or the curry can also be prepared in advance and spend the night in the fridge in an airtight container. Then you just warm it up – if you want to – and top it with rocket salad. The sauce only takes 5 minutes to make, but tastes much better cool from the fridge.
Salad
Sesame noodle salad with smoked tofu
This noodle salad can also be prepared the day before the party, I would only add the red cabbage and parsley last minute.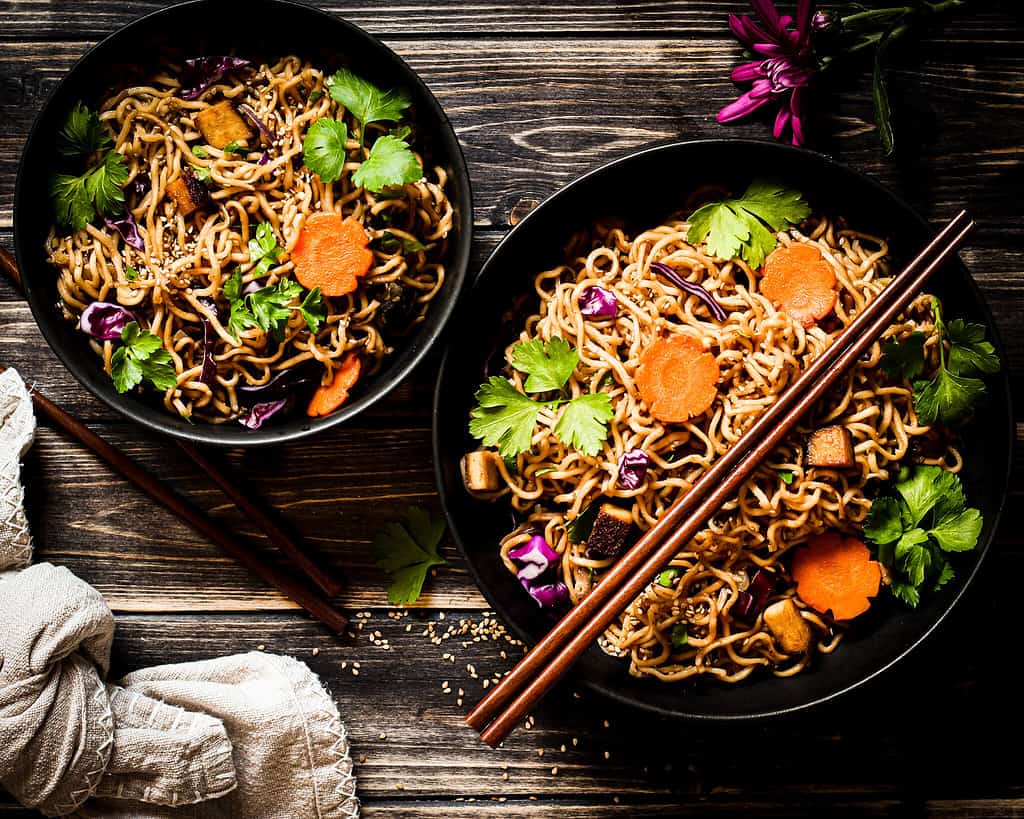 Pasta salad with balsamic glaze
Would you like a quick and easy pasta salad with juicy tomatoes, spinach or rocket salad, pine nuts and sweet and sour balsamic glaze? This pasta skillet is ready in 20 minutes, but it's also delicious cold from the fridge.
Bread
Pretzel twist baguettes
Homemade bread is always a nice addition to a vegan party buffet, for example these pretzel twist baguettes. They are easy to prepare the day before. You only need to brush the baking soda on and bake them before the guests are coming.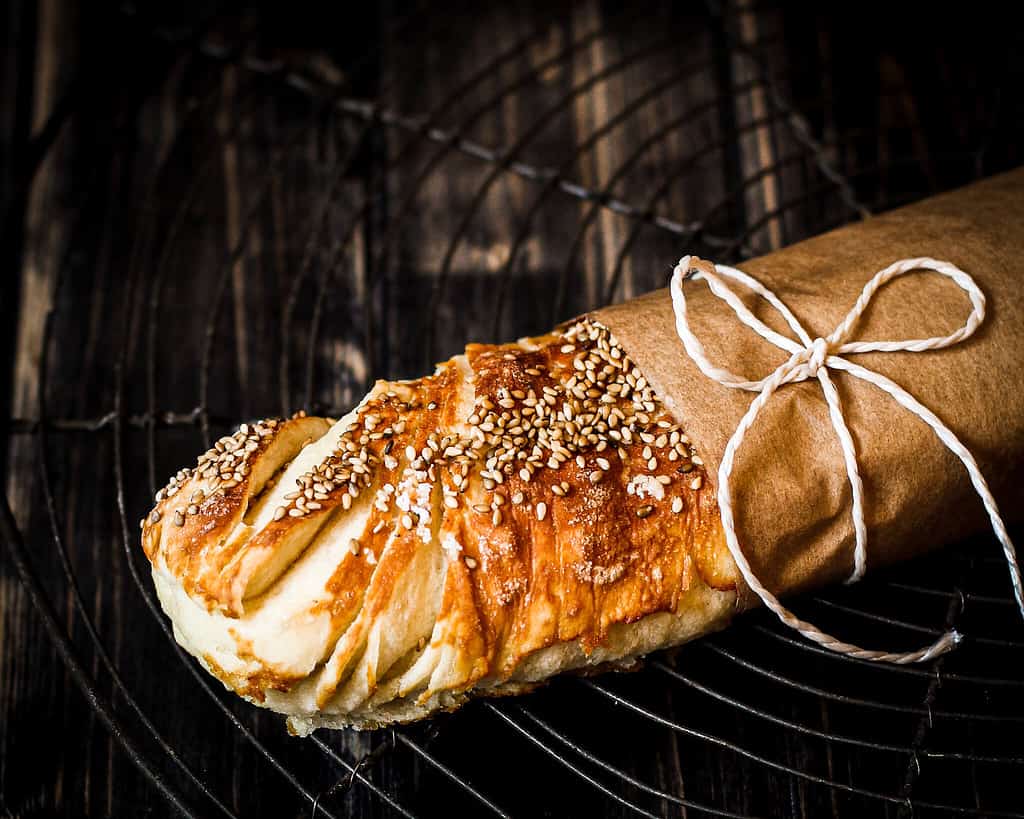 Sweet potato focaccia
A tasty and pretty sweet potato focaccia with fresh rosemary and pink pepper is also a good idea. You can prepare it the day before as well, keep it in the fridge and put it in the oven when your guests are coming.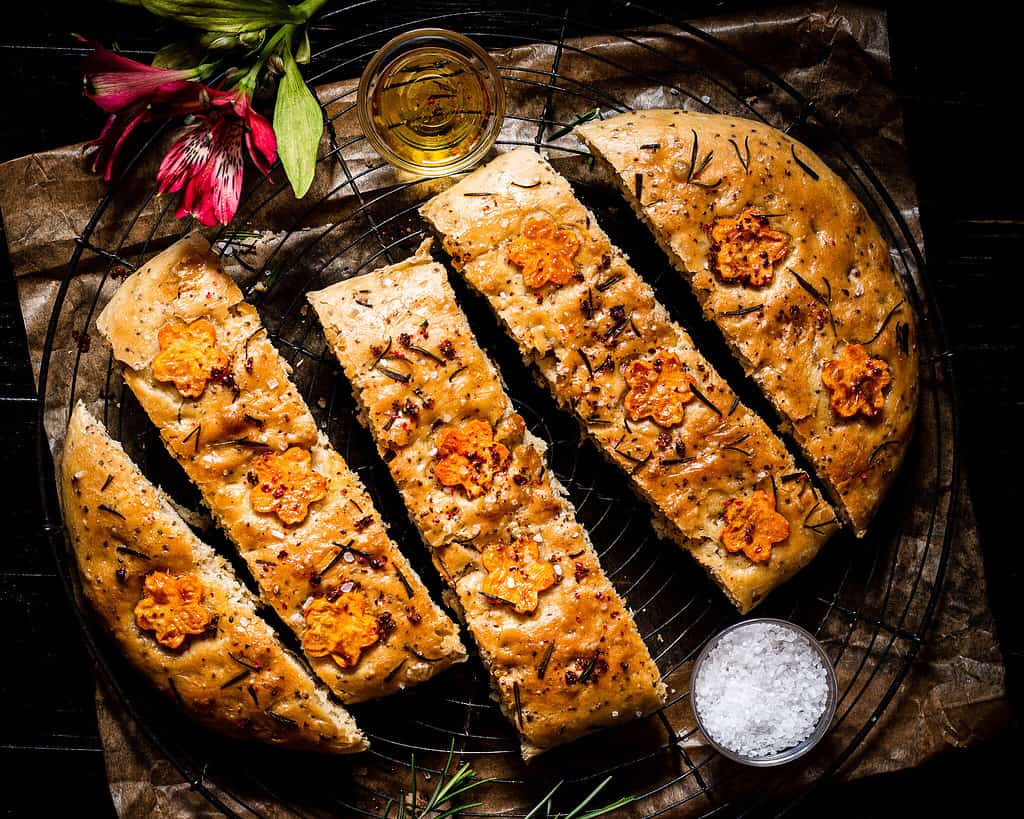 Pizza Twist Bread
Or how about a pizza twist bread with a pretzely crust? You can also prepare that the day before and bake it just before the guests arrive.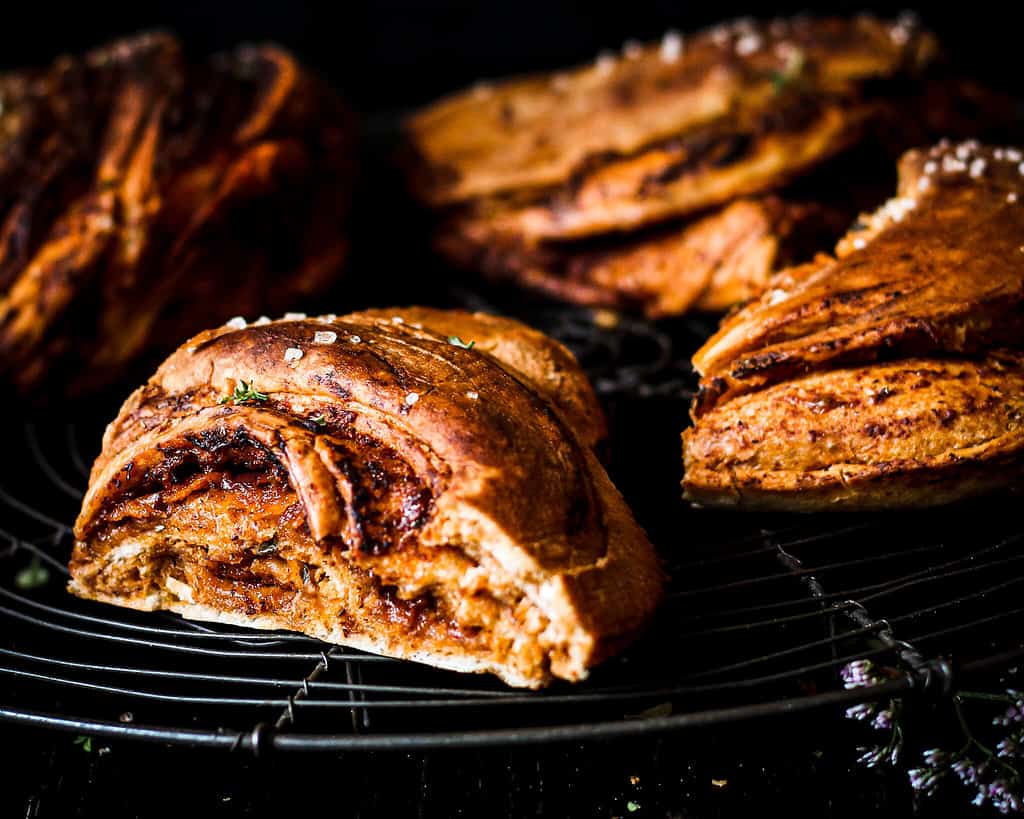 Homemade dips like hummus are a perfect match with the bread. There are a lot of recipes and I really like this one. I garnish it with olive oil, pomegranate tendrils and fresh cilantro.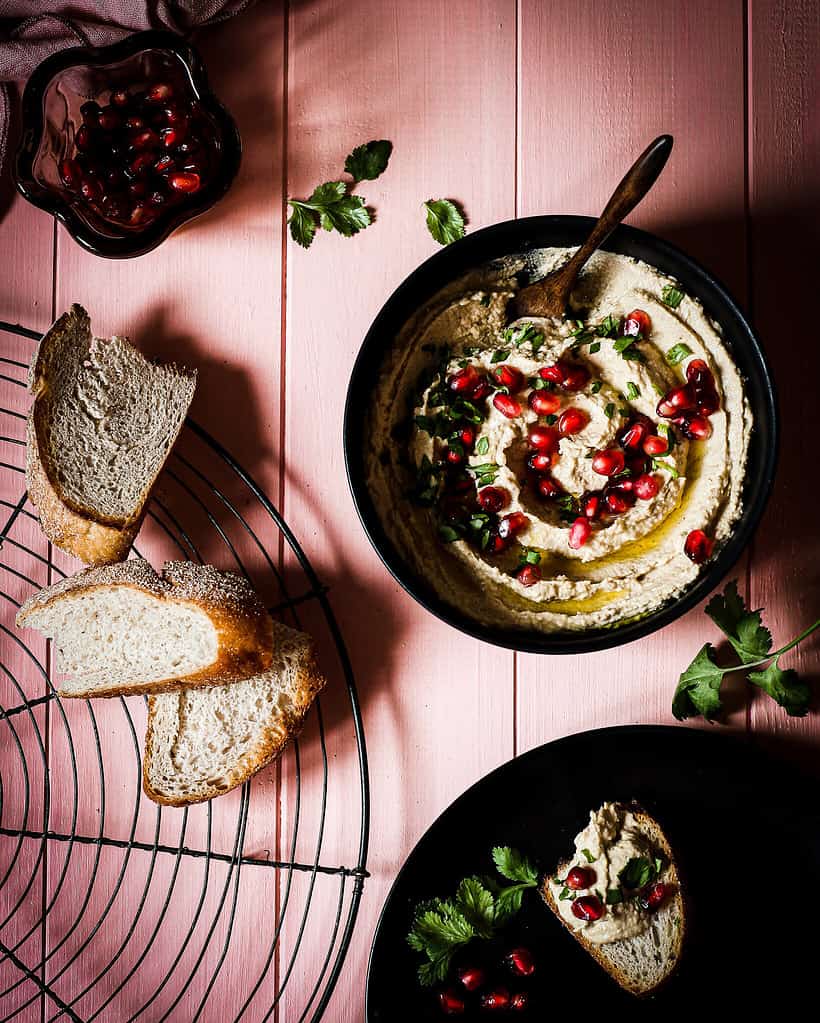 Soup
If you'd also like to serve something warm, I recommend a pumpkin soup. It's easy to keep warm and goes well with lots of other things. It's also gluten free.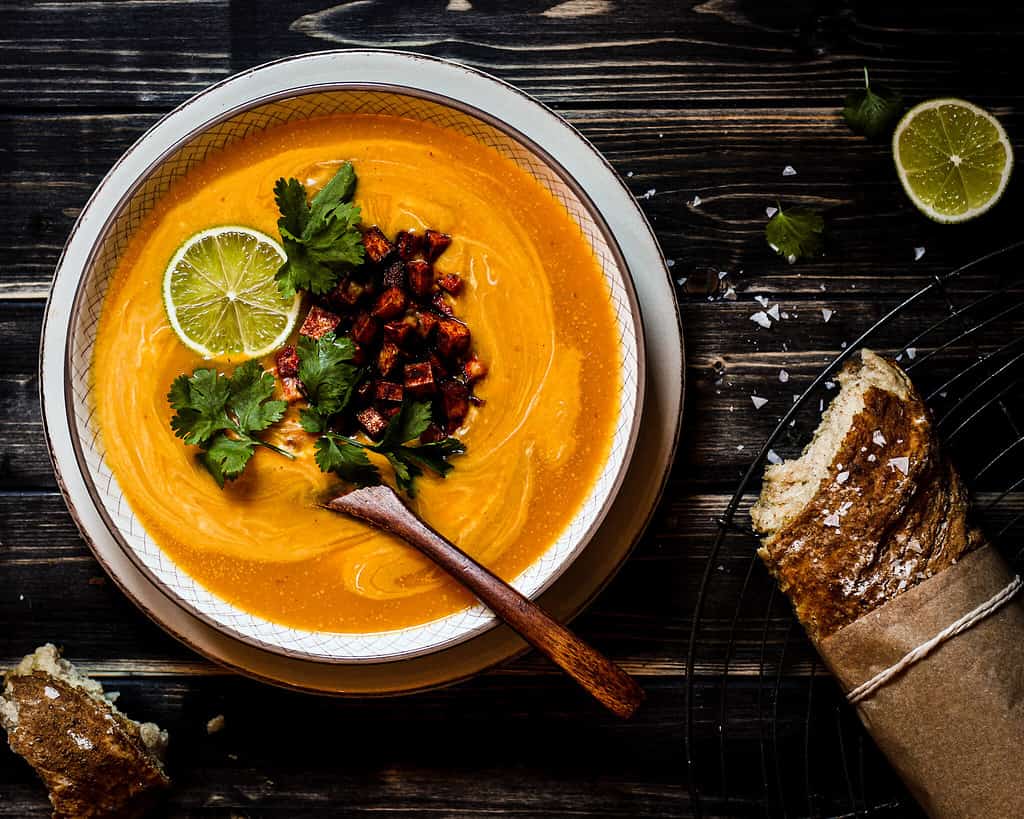 Sweet snacks
Coconut maple bacon muffins
These fluffy muffins with crispy vegan coconut bacon are quick to make and so special!
You can make the muffins, the frosting and the coconut bacon the day before and keep all three in airtight containers in the fridge. They can be put together in 5 minutes before serving.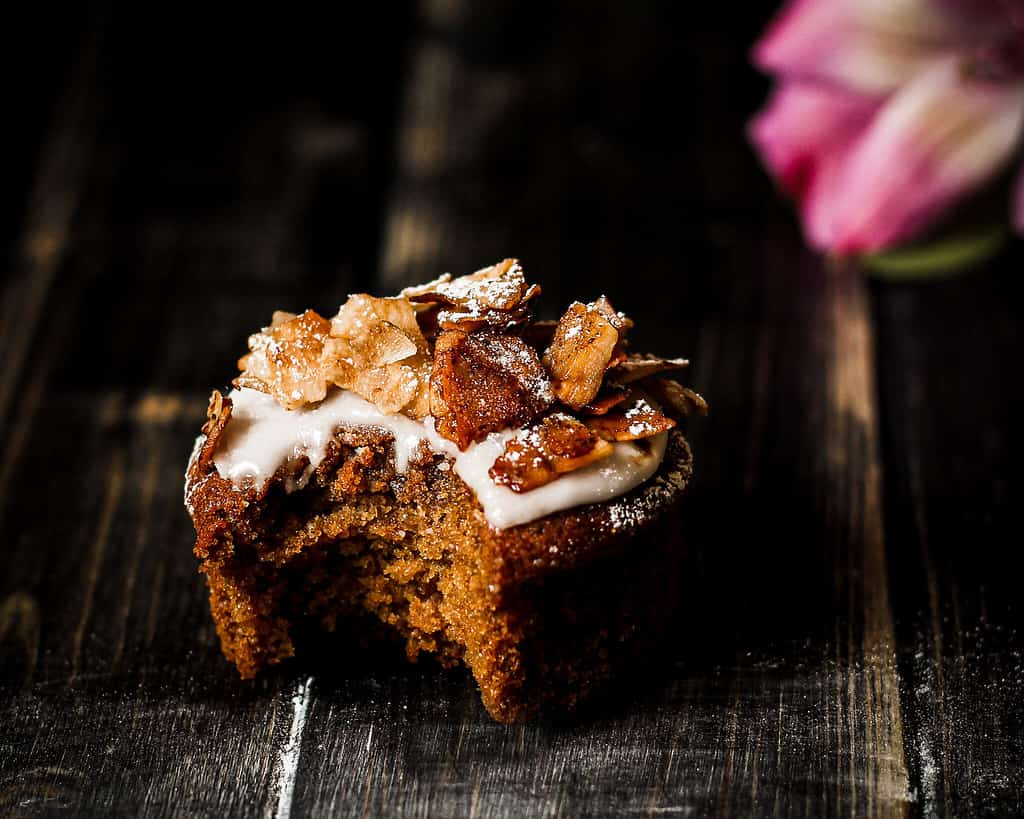 Raspberry banana cake with white chocolate
This wonderful raspberry banana cake can also be baked the day before and garnished before serving with for example powdered sugar, white chocolate, almonds and fresh raspberries.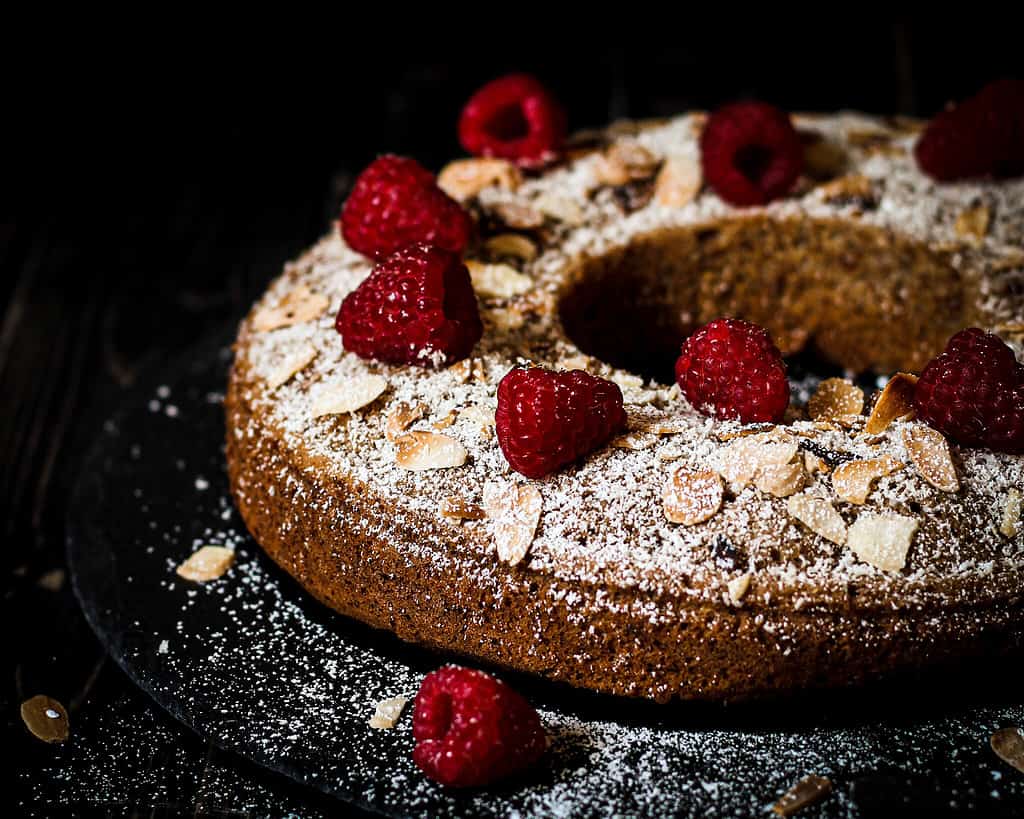 Vegan Baileys
I guess I don't have to say much about vegan baileys, right? Meanwhile you can buy it in a bottle, but my guests and I like the homemade one even more. The recipe is here.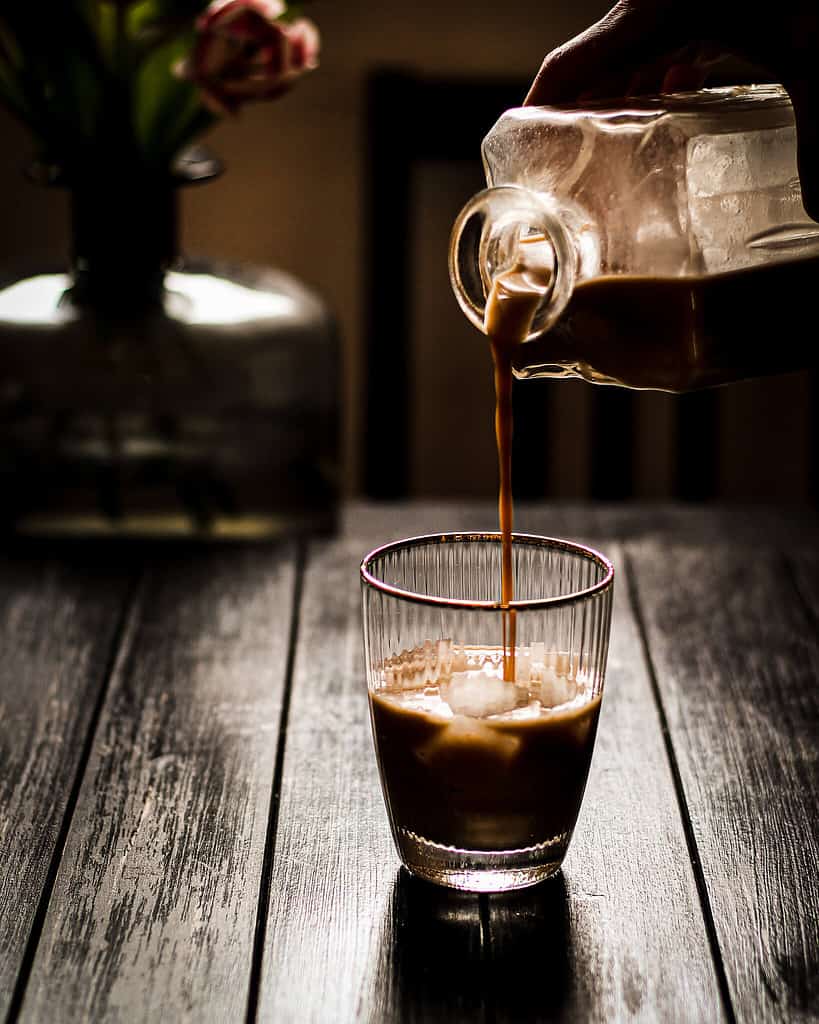 Your vegan party buffet is a brunch? Then you'll find a lot more inspiration in my blogpost "7 ideas for your perfect vegan brunch buffet."
Would you like a few more tips on how to make food look its best? You'll find them here.
Did you like this article? Feel free to share it via the buttons below and sign up for my newsletter, so you don't miss anything new 🙂
you might also like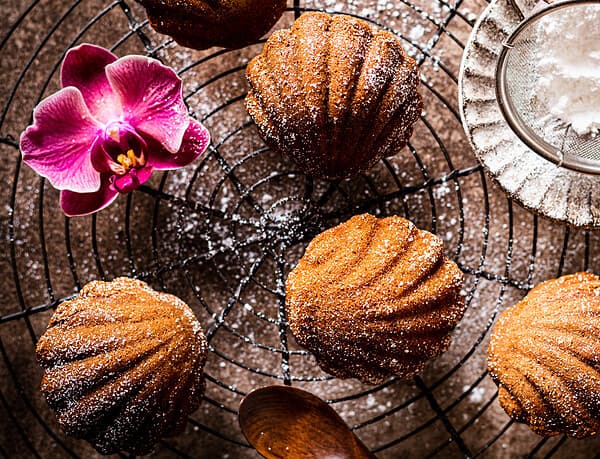 For these tasty vegan amaretto madeleines, you'll only need 9 or 10 ingredients and…
23. January 2022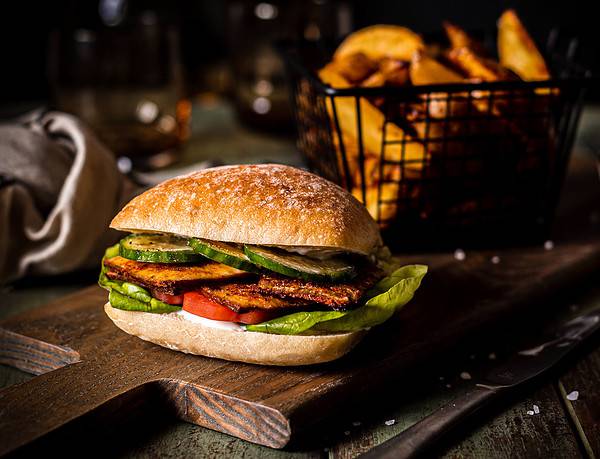 There are many ways of veganizing this sandwich classic, and there are lots of…
20. January 2022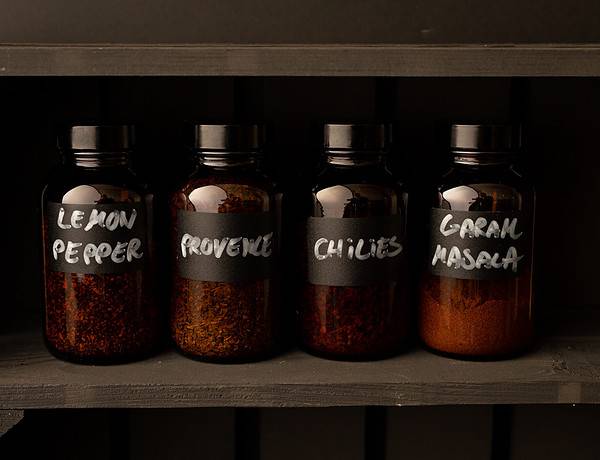 Cooperation with Sunday Natural Even before my cooperation with Sunday Natural, I have ordered…
16. January 2022