My favourite dinner for the cozy season is nourishing oven veggies with a delicious sauce and a fresh salad. Yes, oven veggies take a while, but the actual preparation is quick, so you can get all kinds of thing done while they are roasting.
You can also boil the potatoes in the morning and keep them in the fridge. That creates resistant starch which makes our good gut bacteria happy. When you come home in the evening, you only need to mix everything and put it in the oven.
What do you need for the miso maple sauce?
My miso maple sauce is made of only 3 ingredients and ready in two minutes. You need maple syrup or rice syrup and rice vinegar and a good, preferably unpasteurized shiro miso.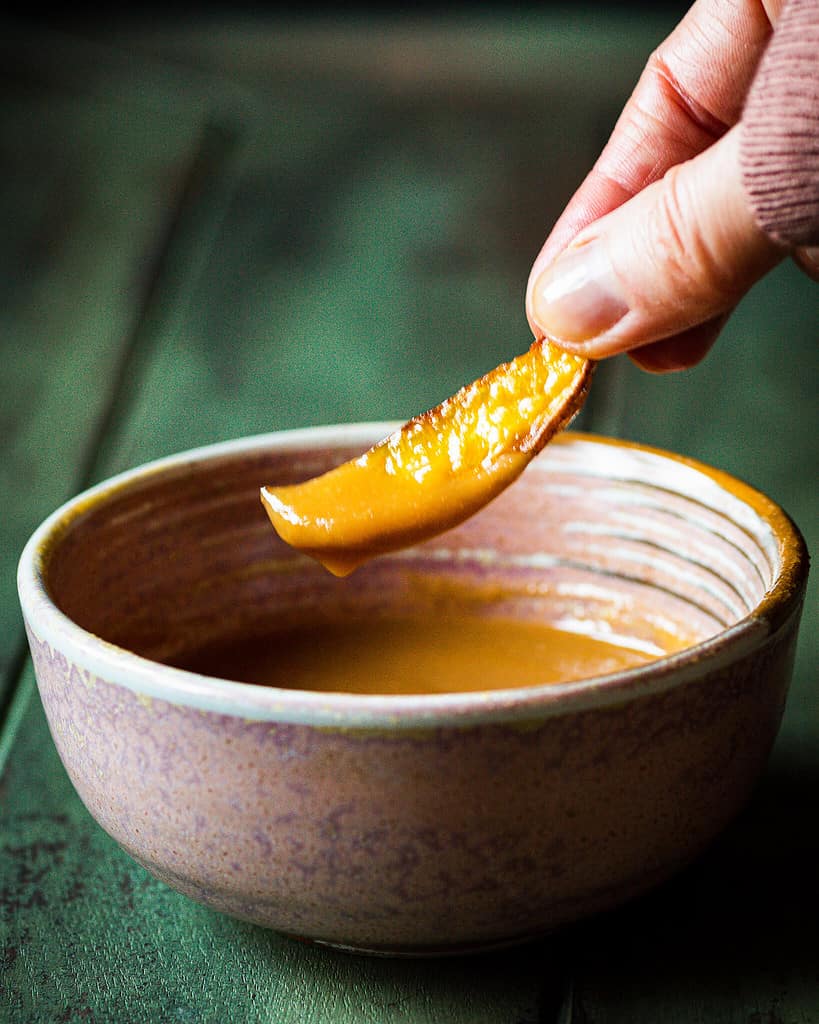 What is miso actually?
Miso is a fermented umami paste made of soybeans and an important part of Japanese cuisine. It contains helpful bacteria that our gut likes, also enzymes, vitamins, protein and other beneficial things. There are different kinds of miso, with different ingredients and different fermentation times.
I always use shiro miso for my recipes. That's a miso paste that only ferments for a short time and has a very mild taste. I recommend unpasteurized miso, because the bacteria die when heated too high.
You can find shiro miso in vegan and health food stores and in Asian stores.
What can you serve it with?
I like to serve oven veggies with miso maple sauce.
You can make them like this:
Ingredients:
800 g potatoes
100 g green string beans
200 g carrots
3 tablespoons olive oil
1/2 teaspoon salt
Instructions:
Preheat oven to 200°C/ 400°F. Heat salted water in a medium sized pot for the potatoes. Cut the potatoes into wedges and boil for 10 minutes.
Wash and dry the carrots and beans, cut the carrots in slices and trim the beans. Drain potatoes and set aside. Combine the potatoes and the vegetables in a big bowl with olive oil and salt and stir well. Put them on a baking sheet lined with parchment paper and bake for 20 minutes in the middle part of the oven, then stir and bake for 10 minutes in the upper part.
Sprinkle with parsley and serve with miso maple sauce.
I also like to add a fresh green salad with a simple dressing made of 1 tablespoon vinegar, 1 tablespoon olive oil, 1 teaspoon mustard, 1 teaspoon maple syrup and some salt and pepper.
The miso maple sauce is also really nice with smashed potatoes.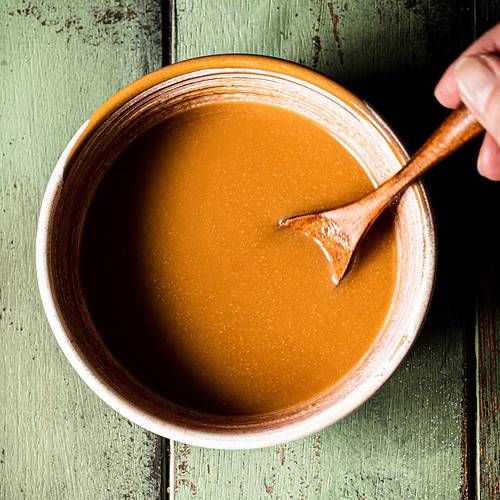 QUICK & EASY MISO MAPLE SAUCE
This delicious miso maple sauce is made of only 3 ingredients and ready in 2 minutes. It's best served with tasty crispy oven veggies.
Recommended Equipment
Ingredients
2

tablespoons

Shiro Miso*

2

tablespoons

maple syrup

2

tablespoons

rice vinegar
Instructions
Mix miso, maple syrup and rice vinegar well in a small bowl. Ready.
Notes
You'll find a delicious recipe for oven veggies in the blogpost. 
Did you enjoy this recipe?
A 5 star rating would mean the world to me and I always love to see your pictures on instagram @flymetotheveganbuffet
What else can you use miso for except for the miso maple sauce? Have a look at my fermented blueberry cashew cheese or my Japanese tantan soup.