German food today, super easy recipe: a hearty plant based sauerkraut skillet with potatoes and crispy fried smoked tofu.
It is loosely adapted from the amazing Schupfnudeln by Eat this! I wanted to make them the other day but got distracted, then realised I was too hangry to go through with it and just threw everything into the skillet, didn't even peel the potatoes and hoped for the best.
But sometimes the universe knows more than we do and the result was this satisfying easy meal. We loved it! And it's become a staple dish in our kitchen. It's also gluten free and of course vegetarian.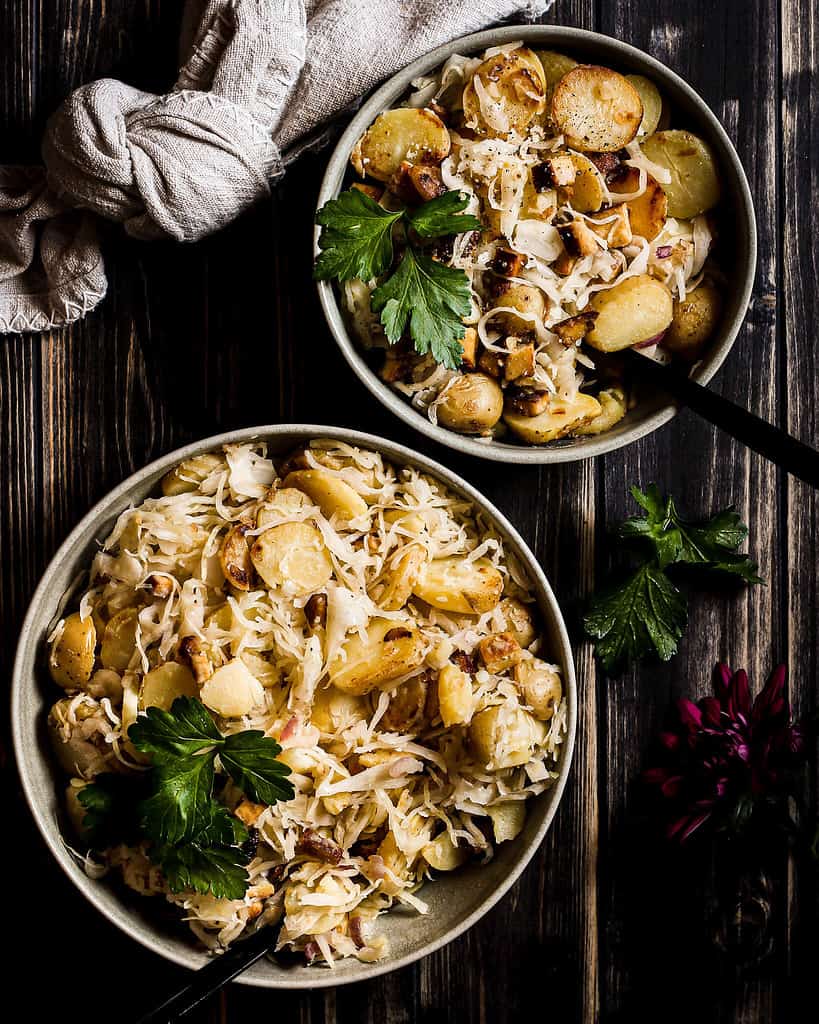 What do you need to make the sauerkraut skillet?
I definitely recommend fresh sauerkraut because our microbiome loves this fermented cabbage. Not the processed canned version from the discount store that lasts for years, but raw, unpasteurized sauerkraut with live bacteria. These strengthen our gut and contain a lot of B vitamins and vitamin C.
You can find this superfood at the produce section of organic stores or at the farmer's market. You can also easily make it yourself, there are lots of recipes and tutorials online.
Sometimes, I also buy pink sauerkraut made from red cabbage, which you can also use for this sauerkraut skillet.
Cooked and cooled potatoes
When cooled, potatoes form resistant starch that feeds our good gut bacteria and improves our blood sugar levels. They are also very filling and full of vitamins and minerals, especially B and C vitamins, potassium, and antioxidants that keep us healthy and beautiful. And with regular consumption, they can apparently permanently increase our serotonin levels and improve our mood.
Just bring the potatoes to a boil in cold salted water and cook them for 15 minutes a few hours earlier or the day before, and set them aside to cool off. Keep them in the fridge until you gather the ingredients for the sauerkraut skillet.
You can easily peel the potatoes when they have cooled off, or you can just leave the peel on if it looks ok, I usually do that. If the peel is very dirty or has many spots, I also peel them, especially if they have sprouted or have green spots. It's better to cut those off. If there are many and long sprouts, I would discard the potato.
Parsley is rich in chlorophyll, which can help the body eliminate toxins and heavy metals. The essential oils also have a stimulating effect on the reproductive organs, which is why parsley was considered an aphrodisiac in ancient times. In large amounts, they may apparently even induce labor, so pregnant women should not overdo it with parsley.
Onions contain all sorts of nutrients and antioxidants, with red onions containing twice as many. They also contain prebiotics, which are indigestible fibers that feed beneficial gut bacteria and promote the health of the important gut flora and immune system.
That's why this sauerkraut skillet is a treat for the gut!
Smoked tofu is a good plant-based source of protein and gives this dish its oomph. But you can also use sliced vegan sausages instead of meat substitutes, which also works very well. If you're not a fan of meat substitutes at all, small mushrooms may be an option for you. Just fry them golden brown like the tofu, remove them from the pan, and add them back in with the sauerkraut later.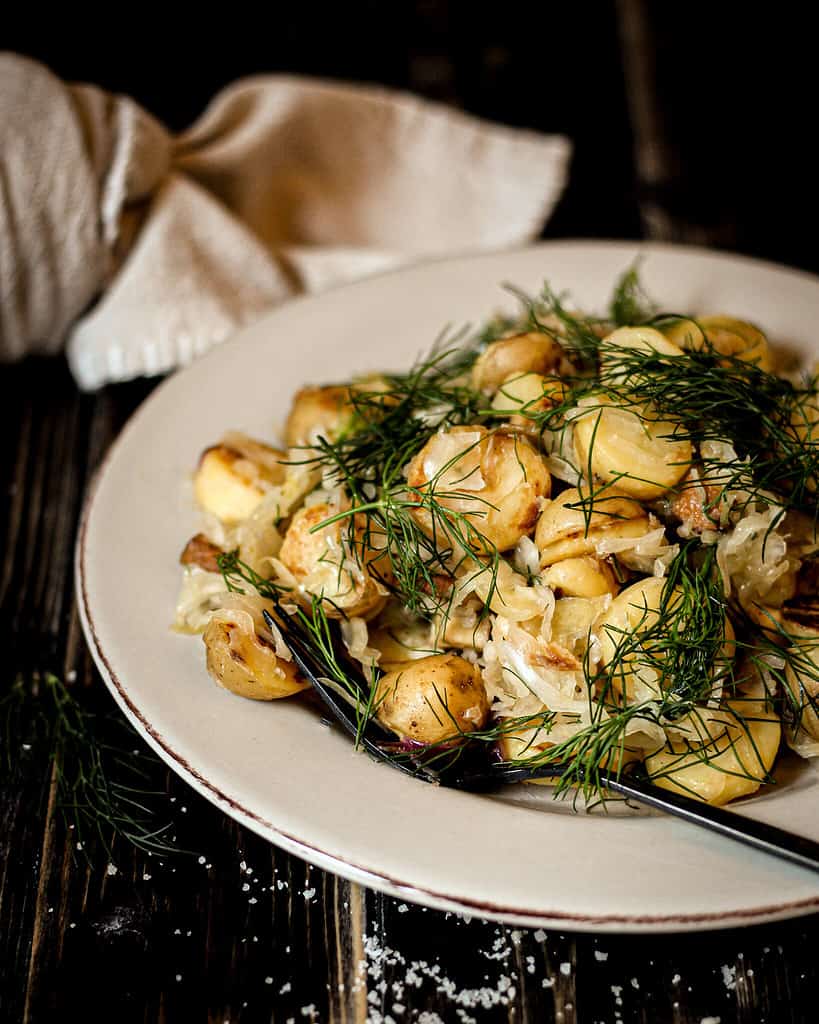 Also very tasty: making this sauerkraut skillet with dill instead of parsley!
Btw, if you're into quick recipes with fresh sauerkraut and smoked tofu, you might also want to check out my Superyummy sauerkraut sandwich with pink sauerkraut.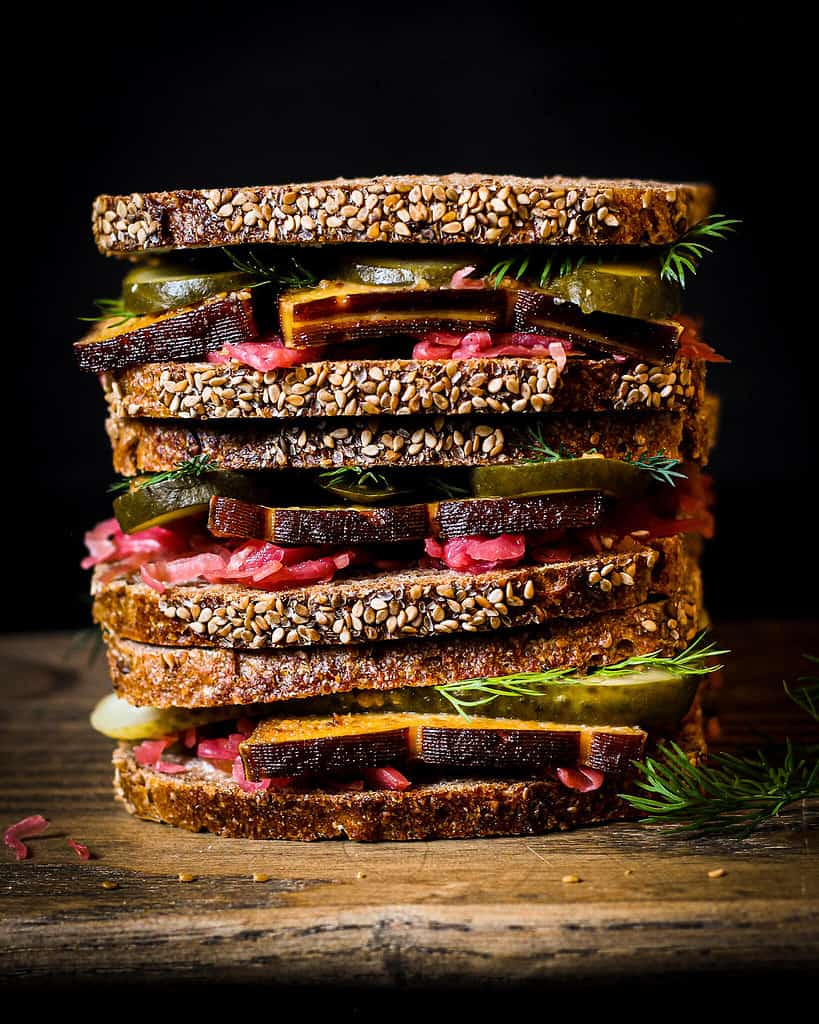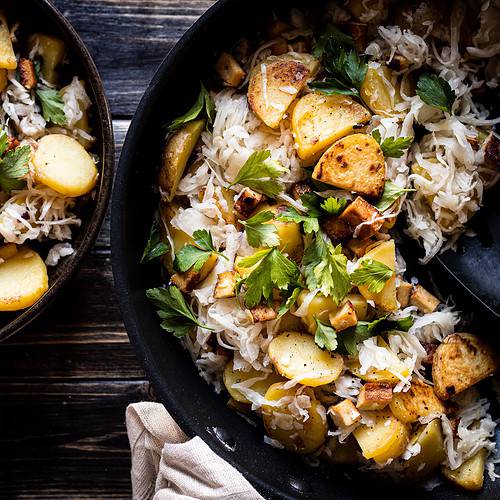 SAUERKRAUT SKILLET
My hearty and healthy sauerkraut skillet recipe is super easy and quick to make. You'll love the vegan German "Hausmannskost"!
Ingredients
2

tablespoons

olive oil

1

smoked tofu

cut into little cubes

1

onion

chopped

600

g

potatoes (3,5 cups)

cooked and cooled off, sliced

1/2-1

teaspoon

of salt

pepper

400

g

of fresh sauerkraut

about 2 cups

parsley
Instructions
First, gather all your ingredients and prepare them in the right amounts. That makes it so much easier and more fun and you're less likely to forget anything. 

Fry smoked tofu with 1 tablespoon of olive oil in a big skillet at medium to high heat for about 3 minutes, then add onion, the other tablespoon of olive oil and the sliced potatoes.

Add about 1/2 teaspoon of salt, and some pepper to taste, and cook for about 10-15 minutes on medium heat, stirring from time to time.

Add fresh sauerkraut, stir and serve right away. You want the sauerkraut to just get warm, not hot, to keep the good bacteria alive.

Garnish with lots of fresh parsley and enjoy 😋
Did you enjoy this recipe?
A 5 star rating would mean the world to me and I always love to see your pictures on instagram @flymetotheveganbuffet
Do you already have my free checklist for traveling vegans? Subscribe to my newsletter and get it now 🙂