I first noticed lemongrass in a stir-fry at vegan restaurant MyThai in Boston and I was blown away by the wonderful zesty, citrusy, aromatic fragrance of the lovely lemongrass noodles I ate there. Back home I started working on my own version of this delicious comfort food right away, combining lemongrass with ginger, lime and maple syrup.
Now I love my simple recipe. This works as an easy weeknight meal or a nice side dish, and the lemongrass noodles taste great hot or cold. Perfect to take with you in a mason jar.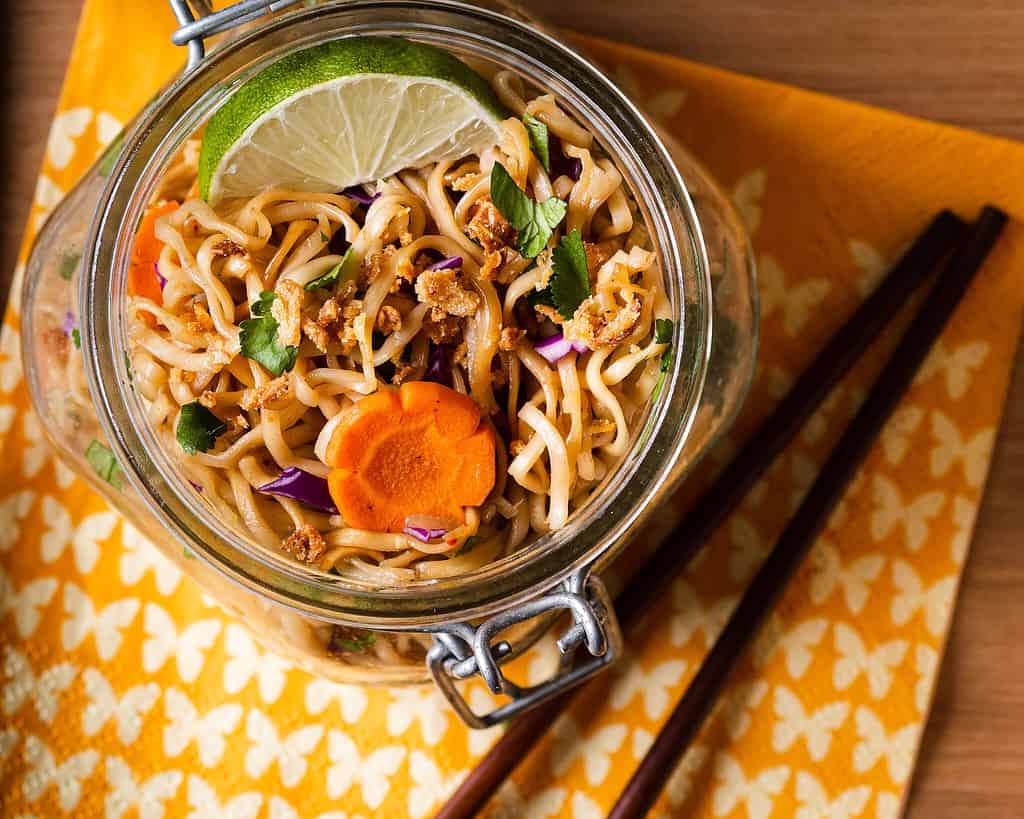 What is lemongrass?
The thin long green stalks we know from the Southeast Asian Cuisine contain essential oils that are said to have a lot of health benefits. You can buy them in Asian grocery stores and bigger supermarkets.
You can add the whole stalk to curries or soups and take them out before the meal.
Or you can peel and chop the lemongrass, which is what we do for this noodle dish. I remove the root, the green part and the tough outer leaves, then slice the bulb's white part with the purple rings into very fine slices and chop them up.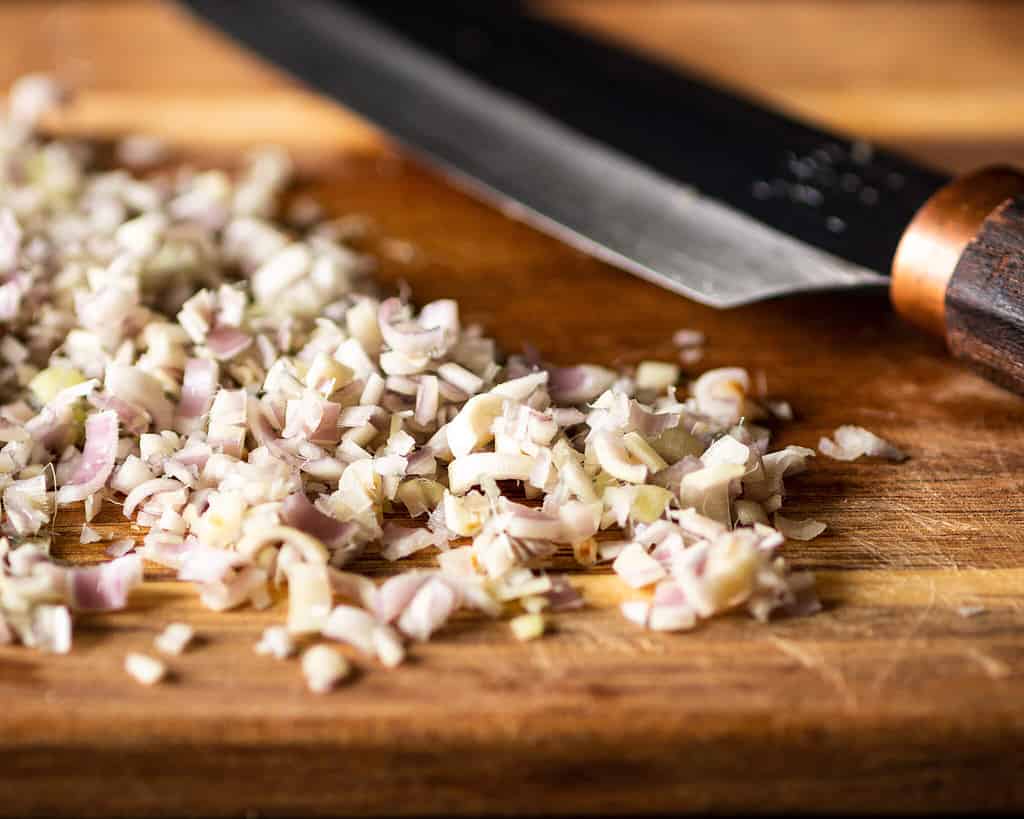 What can I add to the lemongrass noodles?
smoked tofu (sauté for a few minutes at the very beginning)
cooked black beans or edamame (add before the noodles)
vegan "egg" as I use it for my pineapple rice (prepare before and add after the noodles)
meat substitutes (prepare and add according to instructions)
fresh spinach (add after the noodles)
chopped red or white cabbage (add with the lemongrass)
a little sesame oil, julienned cucumber and chopped lettuce when you enjoy them cold (add after lemongrass noodles have cooled off)
substitute Thai basil for cilantro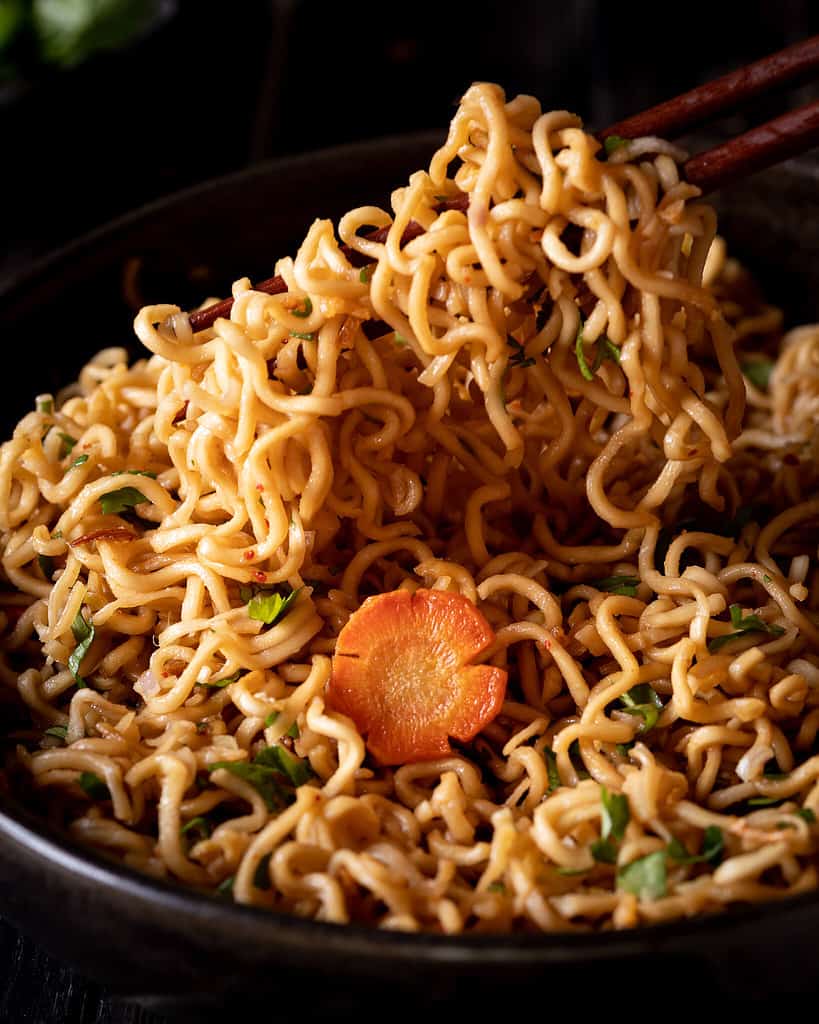 What other dishes go well with the lemongrass noodles?
With their bright and fresh taste, they make a really nice side for my satay and peanut sauce, also for spring rolls or summer rolls.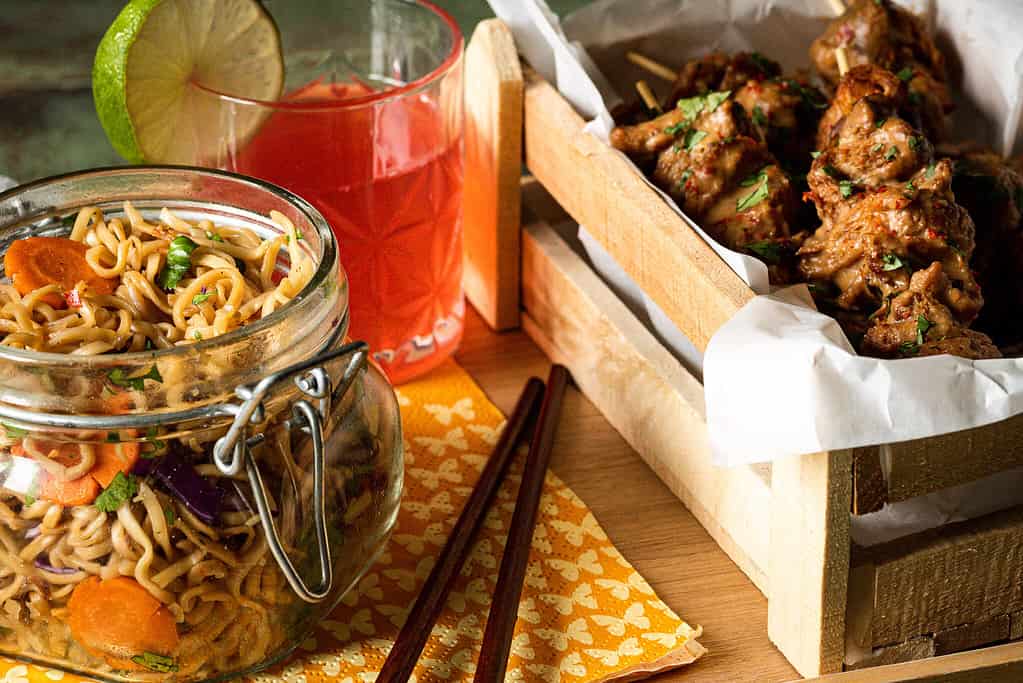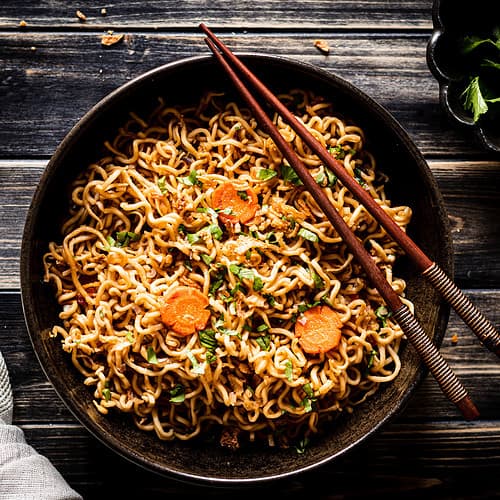 LEMONGRASS NOODLES
This quick and easy vegan lemongrass noodles recipe with lime, ginger and cilantro can be enjoyed warm or cold, and as a main or side dish.
Ingredients
2-3

stalks lemongrass

250

g

(9 oz.) noodles

3

tablespoons

soy sauce

1

tablespoon

maple syrup

pinch

of

chili flakes

1-2

carrots

sliced

1

onion

chopped

1

piece

of ginger

chopped

1-2

garlic cloves

chopped
Toppings
cilantro

chopped

1

lime

cut in halves

1-2

tablespoons

fried shallots
Instructions
First, gather all your ingredients and prepare them in the right amounts. That makes it so much easier and more fun and you're less likely to forget anything. 

Cut lemongrass: cut off root, green part and hard outer leaves. Chop up the white part with the purple rings and set aside.

Cook noodles according to instructions.

Combine maple syrup and soy sauce and chili.

Sauté carrot slices in a little plant oil at high to medium heat, then add onion and ginger. Stir well. Then add garlic.

Mix sauce with drained noodles and add to the pan. Stir-fry at moderate heat for a few minutes.

Now add the lemongrass and stir again.

Serve with lime for squeezing, cilantro and fried shallots.
Did you enjoy this recipe?
A 5 star rating would mean the world to me and I always love to see your pictures on instagram @flymetotheveganbuffet