Cooperation with Sunday Natural
It was time for an update of my spelt bagels with crunchy, nutty hemp seeds, as I now prepare them slightly differently. They are still very easy to make and full of nutrients, but they are now bigger, softer, and even more delicious.
What is special about bagels?
Bagels are a type of bread roll that originally come from Jewish cuisine and are now very popular in many countries worldwide. What makes bagels special is their unique shape, texture, and preparation.
Bagels are round and have a hole in the center, which gives them their characteristic appearance. They are made from a yeast dough that is typically sweetened with malt, giving them a sweet taste. In this recipe, however, I used coconut blossom sugar instead of malt. The dough is boiled before being baked, which gives it a dense and chewy consistency. Bagels are often sprinkled with grains, and in this recipe, I used peeled hemp seeds for my spelt bagels.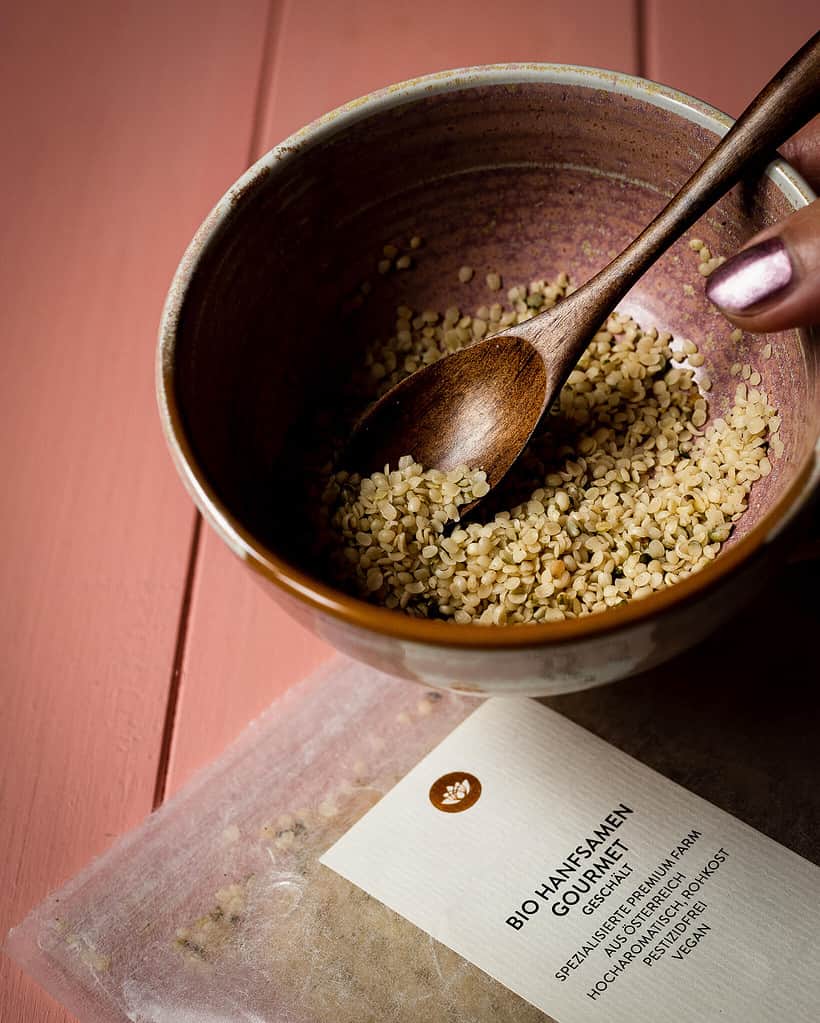 What do you need to make the hemp spelt bagels?
The company Sunday Natural provided me with their peeled organic hemp seeds for my spelt bagels. Hemp seeds have many health benefits that make them an excellent food.
Did you know that hemp seeds contain all nine essential amino acids? They are also very high in protein, fiber, and valuable omega-3 fatty acids, which can reduce inflammation in the body and support the cardiovascular system. Hemp seeds are also a good source of vitamins and minerals such as iron, magnesium, and vitamin E. They can be used in various ways, such as in cereals, smoothies, or salads.
By the way, they do not contain THC, so you can safely eat them for breakfast or serve them for brunch 🙂
Sunday Natural also provided me with coconut sugar.
I use spelt flour for the bagels. You can also replace some of it with wholemeal spelt flour, but I wouldn't replace more than half as it changes the consistency quite a bit. It doesn't have to be spelt flour; you can also use wheat flour 405 or 550. You may need to adjust the flour-water ratio slightly. But since flour is a natural product, you might have to do that anyway.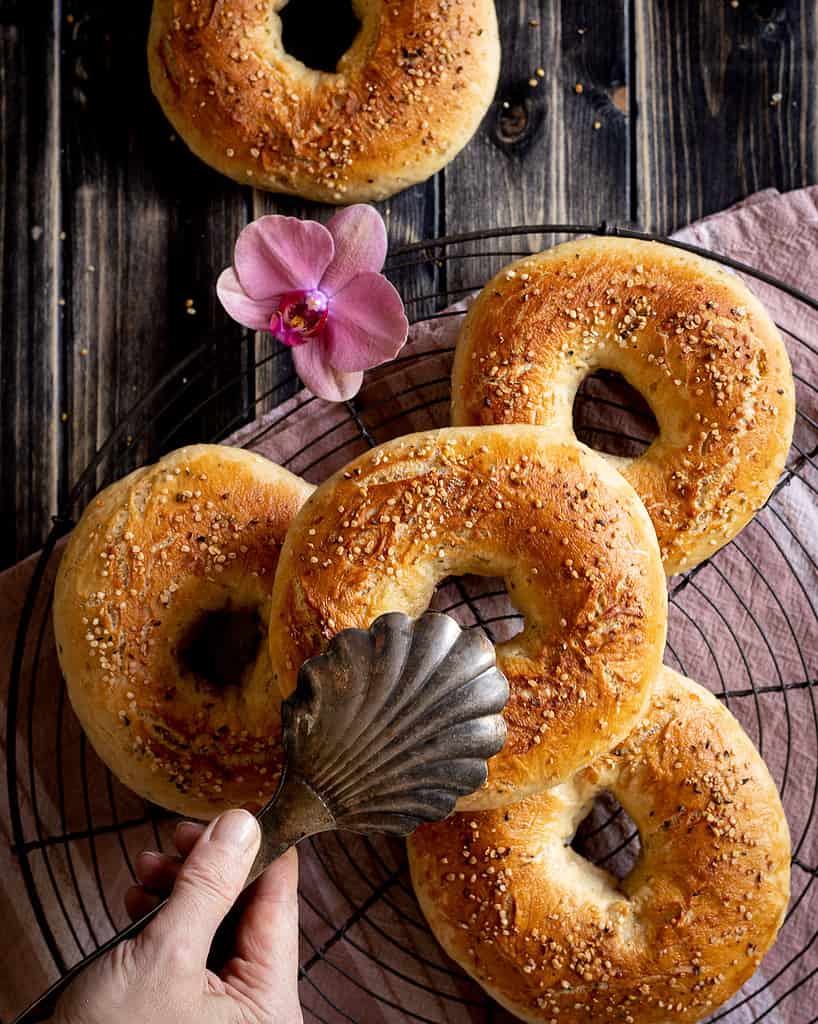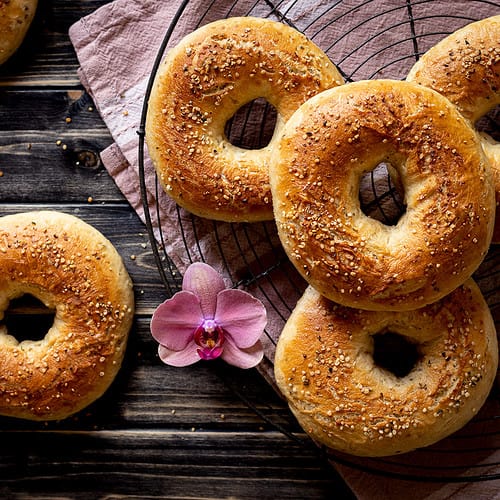 SPELT BAGELS WITH HEMP SEEDS
Homemade spelt bagels with hemp seeds! So delicious, easy to make and so packed with nutrients.
Ingredients
100

ml

lukewarm water

half

a cube of

fresh yeast (or 1 packet of dry yeast)

1

tablespoon

coconut sugar

500

g

spelt flour

2

tablespoons

hemp seeds

1

teaspoon

salt

200

ml

plant milk

60

ml

plant oil

2

teaspoons

plant milk

2

teaspoons

maple syrup

1

teaspoon

hemp seeds
Instructions
Mix yeast with lukewarm water and coconut sugar in a small bowl and set aside.

Combine flour, hemp seeds, salt, plant milk and plant oil in a bowl, add yeast mix and knead for about 10 minutes by hand or with a machine at medium speed. You want a nice elastic dough. Just add water by the tablespoon if the dough is flaky or flour by the tablespoon if the dough sticks to the bowl.

Apply a little oil to a big bowl and your hands, place the dough in the bowl to let it rise for at least 1 hour. I usually cover it with a damp towel and put it in the warm, switched-off oven. The temperature should be around 30°C/ 85°F. Temperatures over 40° kill the yeast.

After at least an hour, the dough should have doubled. Punch it down to release the air. Knead again for a moment, then form 6 balls.

Poke a hole in the middle of each of them and make it bigger with your fingers to form bagels. Cover with the towel again and let rest for another 20 minutes.

In the meantime, preheat the oven to 200°C/ 392°F, prepare a baking sheet with parchment paper and bring a saucepan with water to a boil.

Place the bagels one by one in the boiling water for about 20 seconds and then put them on the baking sheet. That works well with a strainer spoon.

Mix the 2 teaspoons of plant milk and maple syrup and brush the mixture onto the bagels, then sprinkle with hemp seeds. Bake for 22 minutes and serve warm.
Did you enjoy this recipe?
A 5 star rating would mean the world to me and I always love to see your pictures on instagram @flymetotheveganbuffet
If you like my spelt bagels with hemp seeds, you might also enjoy my other recipes in collaboration with Sunday Natural: