Collaboration with Sunday Natural
You probably know vegan superfood truffles in similar form as energy balls or bliss balls.
You can quickly and easily make them yourself and they are a perfect snack for a quick energy boost, for travelling or a sweet treat with your coffee.
Ingredients for the superfood truffles
My easy basic recipe consists of one part nuts, one part dates, one part almond butter and one part superfood powder. One part dark chocolate for garnishing is optional , the truffles are tasty just like that as well.
These are the ingredients I have used for these truffles:
Dates contain lots of vitamins und minerals, especially potassium, magnesium, iron, calcium and many B-vitamins. They also contain fibre and antioxidants and are supposed to prevent several diseases.
Almonds and nuts are bursting with nutrients, especially almonds have a lot of vitamin E and B, calcium, magnesium, copper and zinc, plant proteins and fibre. They are also delicious. That's why they are an absolute superfood and my first choice for the superfood truffles.
For the same reason I also like to use brown almond butter which was provided to me by Sunday Natural for our collaboration, just like the following powders:
Sunday Natural's vanilla protein powder contains amino acids and fibre and is also delicious.
Sunday Natural's tiger nut powder is also full of nutrients and naturally sweet. It is not really necessary for this recipe, you can also use more protein powder and an extra date.
Cocoa contains loads of vitamins, calcium, iron and magnesium. Dark chocolate from 60% on is mostly vegan. The darker it is, the more antioxidants it contains.
Tips for making the superfood truffles
I made the best experience with my little food processor. The ingredients are turned into an easy to form mass within seconds and you easily can roll that into little balls.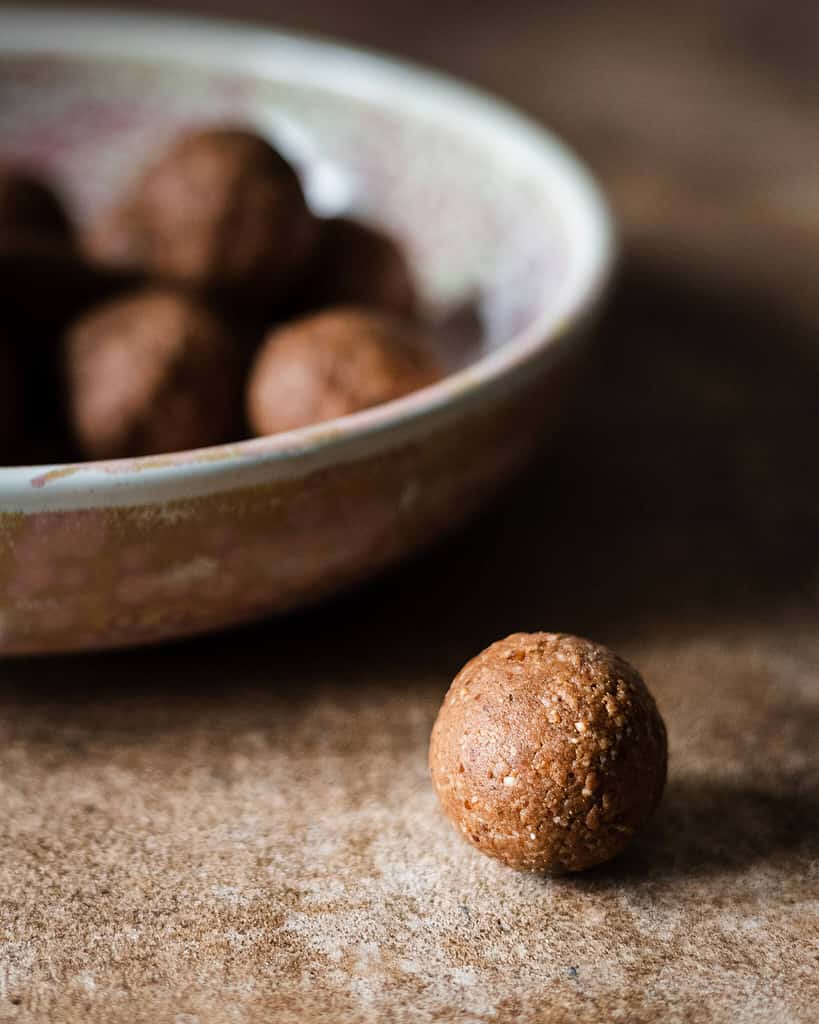 If you also want chocolate glaze, I recommend putting the balls into the fridge while melting the chocolate. They chocolate firms up auch faster when the balls are cold.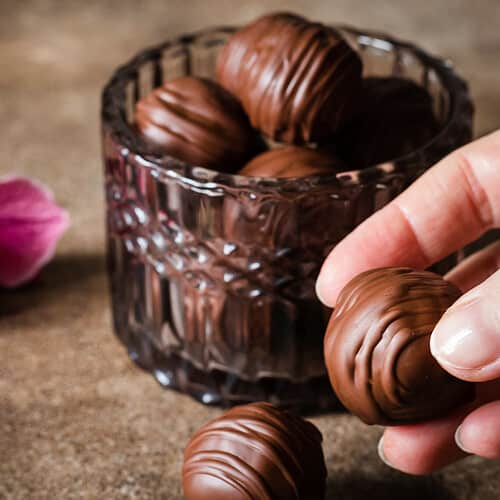 SUPERFOOD TRUFFLES
You can easily and quickly make vegan superfood truffles yourself. They are the perfect snack for a quick energy boost and are nice treat to go with your coffee
Ingredients
50g almonds

1/2 cup

50 g dates

1/2 cup

2 tablespoons protein powder

1 tablespoon ground tiger nut

or more protein powder and an extra date

3-4 tablespoons almond butter

1 tablespoon cocoa powder

pinch of

salt

50 g dark chocolate
Instructions
Combine all ingredients except for dark chocolate in a food processor or blender and blend into a mass.

If the mass seems a bit too dry, add more nut butter or some coconut oil.

Roll the mass into little balls and put them in the fridge.

Melt the dark chocolate in a bain marie and dip the balls into it using a fork. Put on parchment paper until dry.
Did you enjoy this recipe?
A 5 star rating would mean the world to me and I always love to see your pictures on instagram @flymetotheveganbuffet
Other recipes I created in collaboration with Sunday Natural: