Collaboration with Sunday Natural
My Hojicha Ice Cream Mini Cheesecakes are the perfect combination of refreshing ice cream and creamy cheesecake. Hojicha powder gives these little treats their unique flavor, which blends with the delicate consistency of the cheesecake and the cool freshness of the ice cream, creating a truly extraordinary taste experience.
What is Hojicha?
Hojicha, also known as Houjicha, is Japanese for roasted tea. It is a type of green tea that is roasted at high temperatures. This gives it its brownish color and its special, delicious caramel-like roasted aroma, while reducing its caffeine and acidity content. It is also an excellent alternative to coffee. Hojicha contains catechins, antioxidants, and polyphenols that can have health-promoting effects. You can find it as loose leaf tea or ground into powder. For this recipe, you will need the powder.
Where can you get Hojicha powder?
I'm excited to share that you can get it from Sunday Natural, with whom I have been collaborating for a while. I was given the Hojicha to work with, as well as the coconut blossom sugar. The sugar has a slight caramel note that pairs well with Hojicha, making it perfect for my Hojicha Ice Cream Mini Cheesecakes.
What else do you need for the Hojicha Ice Cream Mini Cheesecakes?
Vegan oat cookies. We crumble them with vegan butter to make the cheesecake base. You want to check them for gluten if you want the cheesecakes to be gluten free.
Agar Agar. This is a natural gelling agent derived from red algae, serving as a plant-based alternative to gelatin. It has a high gelling power and is flavorless. Therefore, it is well-suited to give our Hojicha Ice Cream Mini Cheesecakes some extra firmness.
Vegan whipped cream. It must specifically say that it is whippable on the packaging, otherwise, it is not suitable for this recipe. I prefer using the one from Alpro in the refrigerated section.
Vegan skyr or yogurt. You can use plain or vanilla-flavored, in which case you don't need to add any additional vanilla.
What else can you make with Hojicha powder?
Hojicha tea is very delicious and low in caffeine, and it is still surprisingly unknown outside of Japan. Feel free to try my Hojicha Latte!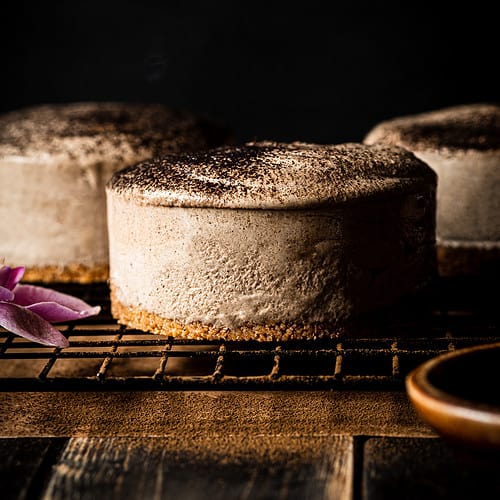 HOJICHA ICE CREAM MINI CHEESECAKES
Hojicha Ice cream mini cheesecakes are a delicious combination of ice cream and cheesecake, with Hojicha's unique flavor
Ingredients
100

g

vegan (gluten free) oat cookies

20

g

vegan butter

100

ml

plant milk

80

g

coconut sugar

1

TL

agar agar

250

ml

whippable vegan cream

100

ml

vegan skyr or yogurt

1

TL

vanilla

1

EL

hojicha powder

see blogpost

1/4

TL

salt

some more Hojicha for dusting
Instructions
Crumble the cookies and butter, preferably using a small food processor.

Then evenly distribute and press the crumbs into 4 baking rings. This works particularly well with a coffee tamper. Place them on a large plate or the base of a large springform pan and refrigerate.

In a small saucepan, bring the plant-based milk, coconut blossom sugar, and agar agar to a boil and let it simmer for a minute. Set aside.

Whip the vegan cream in a large bowl. Then fold in the skyr, vanilla, Hojicha powder, salt, and the cooked mixture until a light brown cream forms.

Heap this mixture onto the crumb layer in the baking rings and place them in the freezer for 2 hours.

Now you can carefully remove the rings and sprinkle the mini cheesecakes with more Hojicha powder. You can do this easily with a small sieve and a spoon, gently tapping the sieve.

Serve immediately. You can also store them in an airtight container in the refrigerator for a few days, but they will become very soft in texture. They will still taste great though.
Did you enjoy this recipe?
A 5 star rating would mean the world to me and I always love to see your pictures on instagram @flymetotheveganbuffet
If you like my Hojicha ice cream mini cheesecakes, you might also enjoy my other recipes in collaboration with Sunday Natural: