Collaboration with Sunday Natural
Summer is coming and I have created a tasty creamy vegan no churn recipe for matcha popsicles for you. They are also gluten free.
You probably know that Japanese green tea is not only a delicious tea to drink, but also an amazing ingredient for sweets and baked goods.
And as you are reading this recipe, you are probably also a fan of this super healthy antioxidant-rich green powder?
Ingredients for the matcha popsicles
The matcha should be 100% pure and bright green, that usually means it's good quality. I really like the organic Uji matcha premium by Sunday Natural*, which I was provided with for this collaboration. You can also get matcha accessories from Sunday Natural*.
Once you open the matcha, it's best to keep it closed in the fridge and use it in the next couple of weeks.
The amounts in the recipe are suggestions, of course you decide how green you want your matcha popsicles.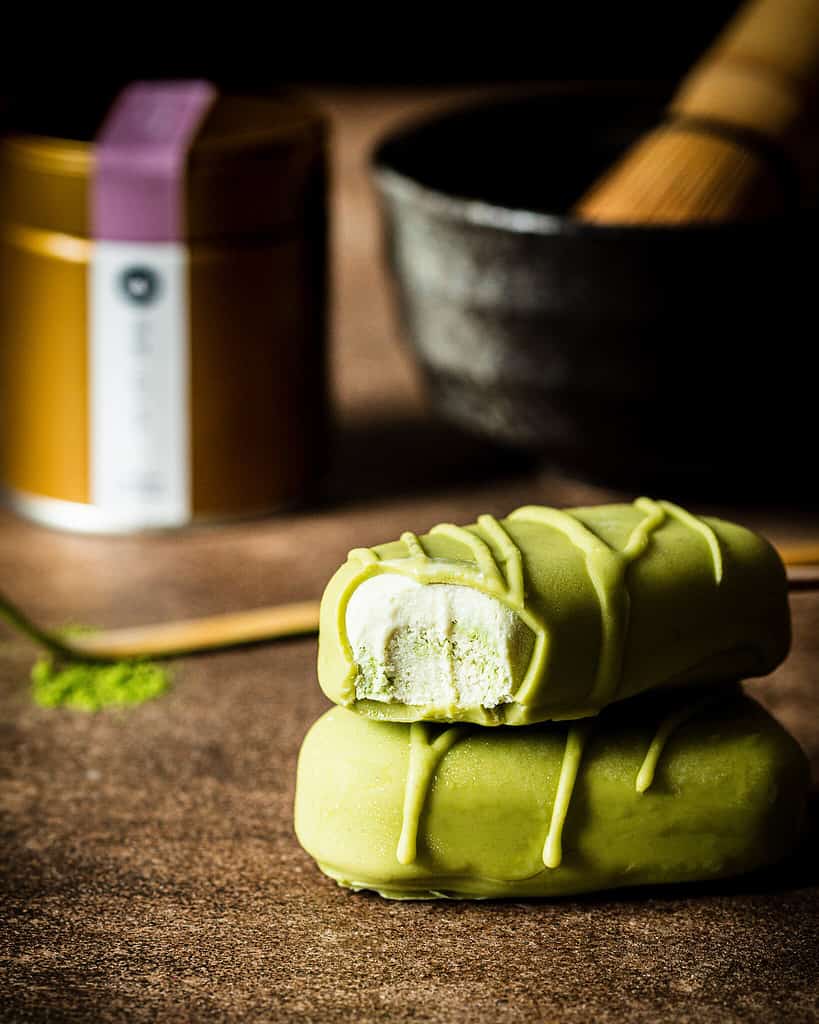 coconut sugar and cacao butter
Sunday Natural have also provided me with their coconut sugar* and their cacao butter*. You might already know them from my other recipes for the brand, I use them a lot.
For my matcha popsicles, it is important to use vegan cream that's labeled as whippable, as there are some brands that are not. Those don't work for this recipe.
Vegan condensed milk is very easy to make, all you need is coconut milk and coconut sugar. This is how the recipe below starts.
It's important not to use a long narrow vessel, because that takes ages to reduce the liquid. A low wide one is super efficient.
As coconut cans are usually 13.5 oz, I usually make prepare twice the amount of condensed milk that I need for the popsicles and use the other half for delicious coffee or matcha latte.
I add them when I melt chocolate for purposes like this, because it makes the chocolate more liquid and more manageable.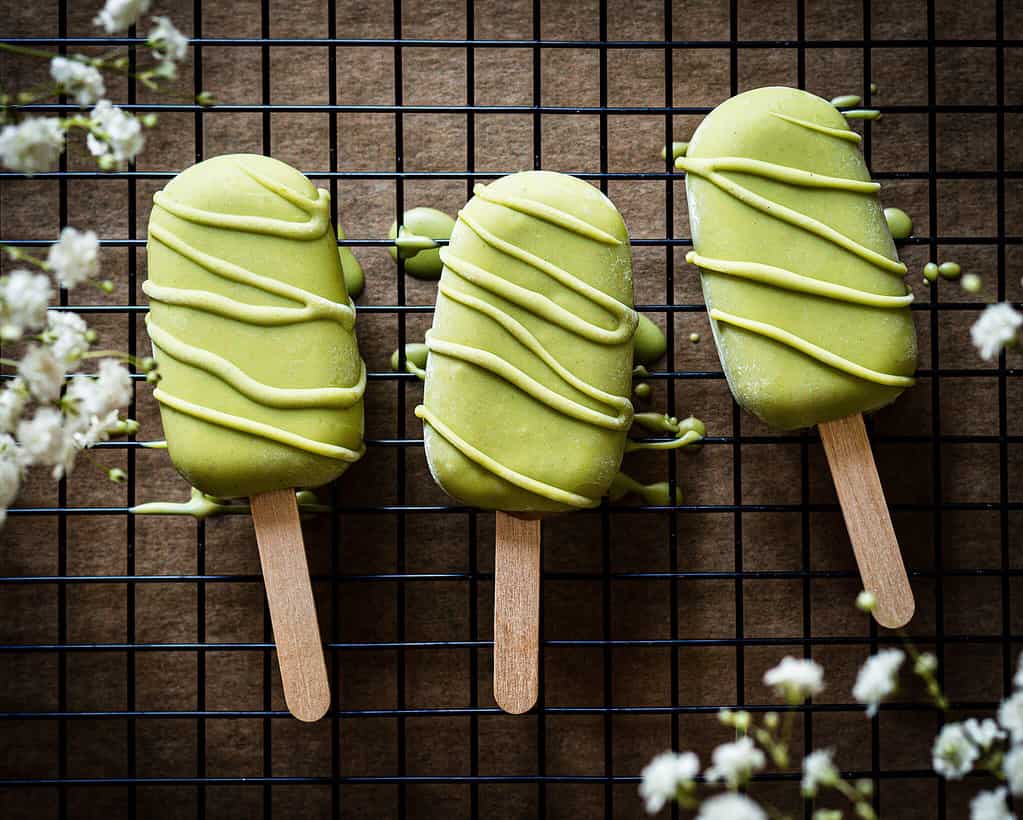 How do you use ice cream molds?
It is actually super easy and so much fun!
You'll only need some ice cream molds, these here* are super easy to use , not expensive and come with wooden sticks. This mold makes 8 ice creams of 7cm x 4cm.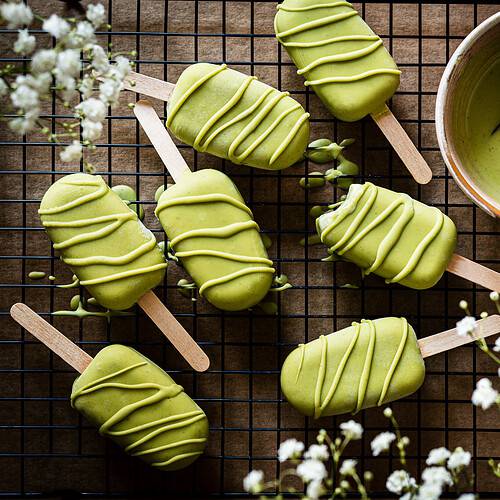 MATCHA POPSICLES
Tasty creamy no churn recipe for matcha popsicles
Ingredients
200

ml

coconut milk

3/4 cup and 2 tablespoons

1

tablespoon

coconut sugar

200

ml

whipped vegan cream

3/4 cup and 2 tablespoons

1/2

teaspoon

Matcha

120

g

vegan white chocolate

about 1 cup

2

tablespoons

cocoa butter

1/4

teaspoon

Matcha
Instructions
Bring the coconut milk and the coconut sugar to a boil and simmer for about 10 minutes at low heat, until it has the consistency of condensed milk.

Combine the cooled condensed milk with the whipped vegan cream.

Combine a small amount in a bowl with matcha and whisk with a matcha whisk or a milk foamer.

Add back into the bowl and stir in.

Fill into ice cream molds and freeze for 2 hours.

Now melt the white chocolate with cacao butter and matcha in a bain Marie. The chocolate shouldn't get any warmer than necessary for melting.

Dip the frozen ice cream into the melted chocolate and enjoy right away or keep them in the freezer in an airtight container and let the popsicles sit outside for 10-15 minutes before enjoying them.
Did you enjoy this recipe?
A 5 star rating would mean the world to me and I always love to see your pictures on instagram @flymetotheveganbuffet
If you like my matcha popsicles, you might also enjoy my other recipes in collaboration with Sunday Natural: