Collaboration with Sunday Natural
A tasty vegan cheese alternative made of cashews is this fermented creamy cheese. And what's more, the cashew cheese looks really pretty on your cheese platter with its herbes de Provence and blueberry powder.
Ingredients for the cashew cheese recipe
These were provided to me by Sunday Natural* for our collaboration. They can be used best if soaked in water for several hours or over night. You can also bring them to a boil and simmer them for about 20 minutes. Then rinse them well with cold water. We're going to work with cultures that would be destroyed by heat, so the nuts should be cold.
You probably know nutritional yeast. It adds a cheesy flavour and lots of B-vitamins to food. You can often even get it in big supermarkets.
Shiro Miso gives this cheese the umami oomph, so you don't want to leave it out. You can get it in Asian grocery stores and in organic stores.
Probiotic capsules for cheese production should have about 20 Millionen colony forming units. The Flora Essentials by Sunday Natural* are great for this and were also provided to me for this recipe. Along with 23 important lacto- and bifidocultures, they contain fibre and a bioactive vitamin-B-complex including B12.
This is a mixture of dried herbs that grow in the French Provence, like rosemary, thyme and oregano.
The wild blueberry powder by Sunday Natural* was provided to me for this collaboration. It is bursting with plant nutrients, especially antioxidants. We're mixing it with the herbes de Provence to roll the cashew cheese in it. That adds a nice purple shine to the cheese and a pretty pattern when spreading it on some bread or crackers, and also a very subtle fruity note.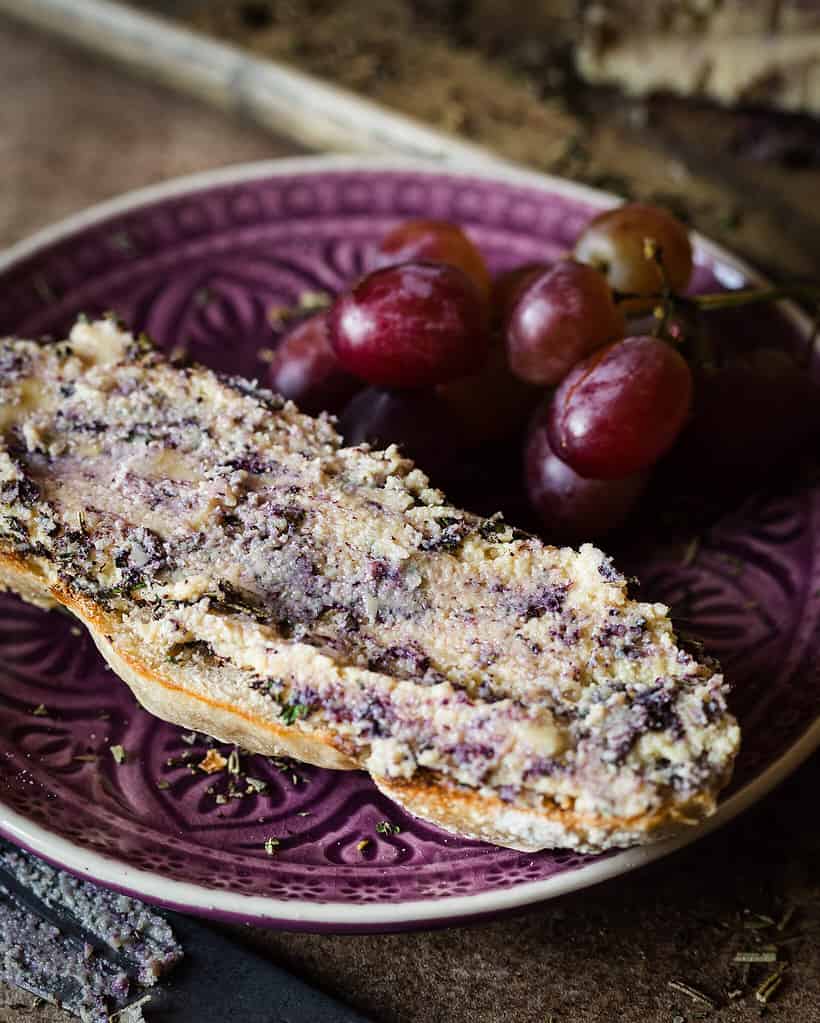 You can also just leave the cheese in the container and add the herb mixture on top if you feel like rolling the cheese is too much of a mess.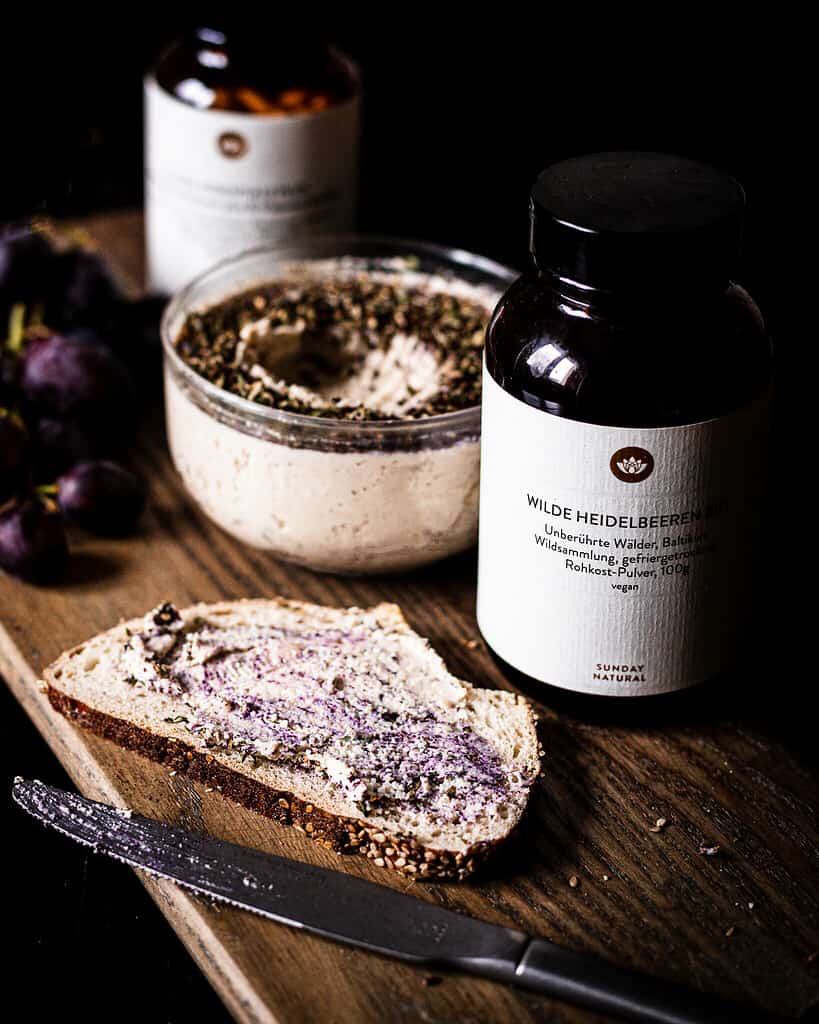 The finished cashew cheese should be kept in the fridge in an airtight container and eaten within a couple of days.
You can also make four or eight little cheese balls which are very nice on fruit platters and on buffets: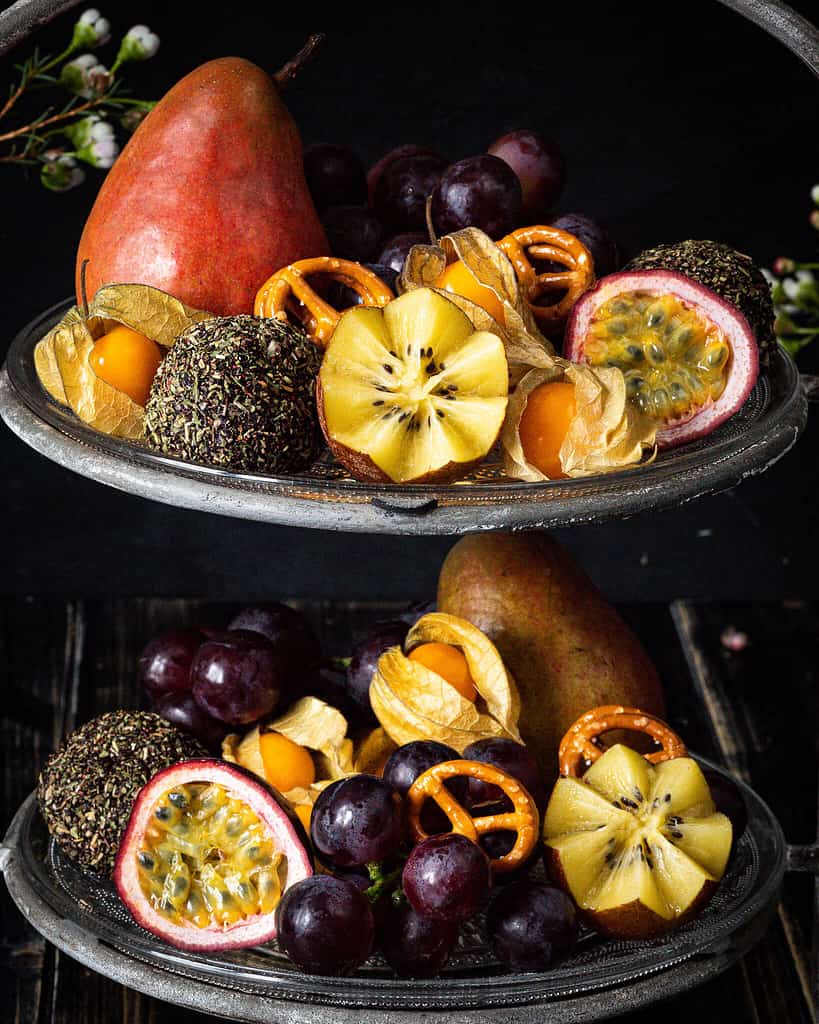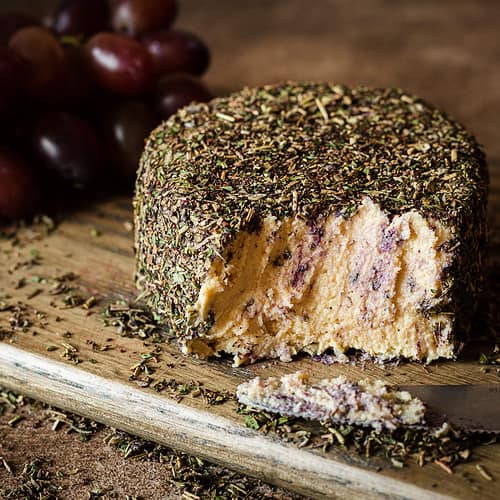 FERMENTED BLUEBERRY CASHEW CHEESE
This tasty fermented cashew cheese with herbes de Provence and blueberry powder looks amazing on any cheese platter and is so easy to make
Ingredients
150

g

raw cashews

1 cup

30

ml

water

1/8 cup

2

tablespoons

nutritional yeast

1,5

teaspoons

Shiro Miso*

see blogpost

1

teaspooon

apple cider vinegar

1/2

teaspoon

sea salt

1

probiotic capsule

see blogpost
3

tablespoons

herbes de Provence

see Blogpost

1

tablespoon

blueberry powder

see blogpost
Instructions
First, gather all your ingredients and prepare them in the right amounts. That makes it so much easier and more fun and you're less likely to forget anything. 

Now gather all your ingredients together and prepare them in the right amount. That makes it so much easier and more fun and you're less likely to forget anything. 

In a blender or in the vessel for a stick blender, combine the cashews with fresh water, nutritional yeast, miso, salt, apple cider vinegar and the content of the probiotic capsule. Then blend into a creamy mass.

Don't touch this mass with your fingers. It's also better not to use a metal spoon, as this can impair the fermentation process. A clean wooden or ceramics spoon would be best. Transfer it into a clean bowl and cover, then let it sit in a warm place for 24-48 hours.

After that, I recommend putting the mass in the fridge for at least one hour, because that makes it easier to form into a cheese.

Now mix the herbs with the blueberry powder and spread generously on a surface. Form the mass into a cheese with your hands and put it on the herbs form both sides, then roll it in the herb mixture like a wheel to get it fully covered.

Keep in an airtight container in the fridge and eat in the next couple of days.
Did you enjoy this recipe?
A 5 star rating would mean the world to me and I always love to see your pictures on instagram @flymetotheveganbuffet
If you like my cashew cheese, you might also enjoy my other recipes in collaboration with Sunday Natural: