Collaboration with Sunday Natural
These healthy homemade vegan superfood burgers are suitable for all veggie burger projects. The burger patties are made without meat substitutes and consist mainly of sweet potatoes, kidney beans, and rolled oats. The psyllium husk powder keeps them perfectly together!
Which superfoods do you need for the superfood burgers?
Sweet potato is one of the healthiest and most nutrient-dense vegetables out there. It's packed with vitamins, antioxidants and fiber, and is also considered an alkaline food. Regular consumption of sweet potatoes can help strengthen the immune system and reduce inflammation in the body.
The gluten-free, sprouted rolled oats from Sunday Natural* were provided to me for this collaboration.
Why sprouted oats? Oats are a fiber-rich superfood full of vitamins, minerals, resistant starch for our good gut bacteria, and protein. Sprouting breaks down phytic acid, making all these nutrients more available to us.
Onions and garlic also have prebiotic properties, which means they contain certain types of fibers, including inulin, that can promote the growth of beneficial gut bacteria. These bacteria can help support digestive health and strengthen the immune system. Onions and garlic also contain antioxidants and sulfur compounds that can help reduce cell damage from free radicals and inflammation in the body.
Beans are a great plant-based protein source for vegans, and also contain fiber that is important for healthy digestion, as well as essential vitamins and minerals such as iron, magnesium, and B vitamins. Always rinse legumes well as the soaking water contains substances that can cause unnecessary bloating.
I found kidney beans to be the best color match. You can also use other types of beans, especially black beans will work well here.
You can also use rosemary or oregano instead. Fresh herbs contain essential oils with many health-promoting properties.
I also received the psyllium husk powder* from Sunday Natural.
The husks of psyllium seeds are rich in valuable, slime-forming fibers which swell as a gel-like substance with liquid. That's why they are excellent for holding our superfood burgers together.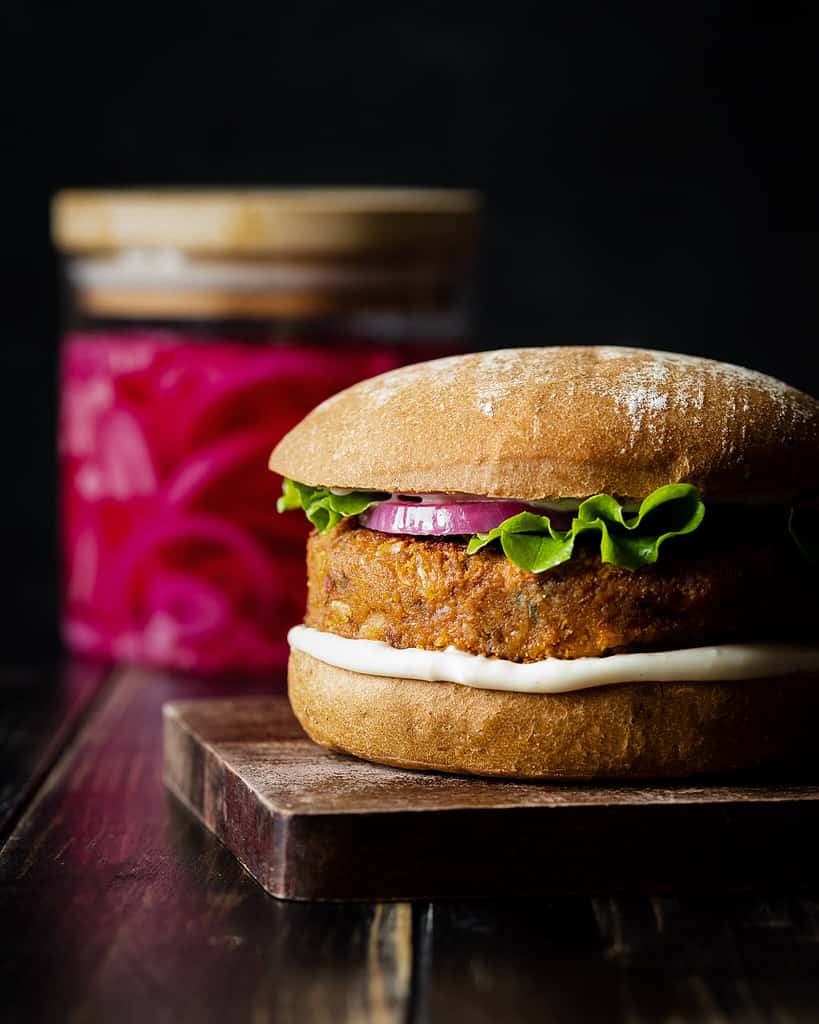 What else goes on the superfood burgers?
I have chosen a store-bought, toasted burger bun with a delicious miso mayonnaise, lettuce and pink onions.
For the miso mayo, I mix vegan mayonnaise and shiro miso in a ratio of 100ml mayo to 1 teaspoon miso.
Miso is a fermented and very flavorful paste made from soybeans and it's an important ingredient in Japanese cuisine. It contains good bacteria that our gut loves, as well as enzymes, vitamins, protein, and other health-promoting substances. So, here we continue with the superfoods. Shiro miso is a miso paste that is only fermented for a short time, making it very mild in taste. I would always use unpasteurized miso, as the good bacteria are destroyed when heated at high temperatures.
To make pink onions, you need 2 large red onions, 120ml apple cider vinegar, 240ml water, 1 teaspoon sea salt, and 1 tablespoon maple syrup. Cut the onions into half rings and place them in a clean container (500ml) with a lid. Heat up the apple cider vinegar, water, sea salt and maple syrup (doesn't have to boil) and pour over the onions. Put the lid on and let it cool down. Then, put the jar in the fridge. You can already eat the onions, but they will have their most beautiful color after about 48 hours. They should last for approximately 2 weeks.
Of course, you can go wild when topping your superfood burgers however you want: I like the classic combo of the yellow M with mustard, ketchup and pickles, or even with a slice of melted vegan cheese as a cheeseburger. Tomatoes and cucumbers always work, and lately, I've seen sprouts, avocado, hummus, sautéed mushrooms and even kimchi on vegan burgers.
As sauces for the superfood burgers, BBQ sauce or salsa are also great options, but I would also recommend my apricot mustard sauce, spicy peanut sauce, and miso maple sauce.
Have you ever wondered how to top a burger in the most logical order? Then I recommend this YouTube video by Thee Burger Dude.
SUPERFOOD BURGERS
These homemade superfood burgers made of sweet potatoes, kidney beans and oatmeal are held together perfectly with psyllium husk powder!
Ingredients
200

g

sweet potatoes

cut into cubes

100

g

rolled oats

200

ml

boiling water

3

tablespoons

soy sauce

1/2

can

kidney beans

cooked

1

teaspoon

thyme

1

tablespoon

smoked paprika powder

1

teaspoon

mustard

1/4

teaspoon

ground black pepper

1

small

onion

chopped

garlic clove

chopped

1

tablespoons

psyllium husk powder
Instructions
Boil the sweet potatoes in salted water for 10 minutes.

Meanwhile, pour the oats into a large bowl and cover with boiling water and soy sauce. Stir well.

Mash the kidney beans or use a food processor to chop them and add them to the bowl. Add thyme, smoked paprika powder, pepper and mustard, and mix well.

In a large pan, sauté the onions and garlic in some cooking oil until translucent.

Drain and mash the sweet potatoes.

Now add the sautéed onions and garlic, mashed sweet potatoes, and psyllium husk powder to the bowl and mix well again.

Lightly oil your hands and shape the mixture into 6-8 balls.

Heat the pan with 1-2 tablespoons of cooking oil and a pinch of salt over medium heat and flatten 3-4 balls with a spatula until they are the size of the bun. Fry on medium heat for 10 minutes on each side until golden brown. You can also use two pans to cook all burger patties at the same time. 

Assembling the superfood burgers: toast a burger bun, spread sauce on both sides, layer in patty, lettuce and onion and serve.
Did you enjoy this recipe?
A 5 star rating would mean the world to me and I always love to see your pictures on instagram @flymetotheveganbuffet
FAQ
How to shape vegan burger patties?
The secret in this recipe is the psyllium husk powder. It transforms the burgers into an easily moldable mixture that stays together very well.
Can you freeze the superfood burgers and reheat them later?
Yes, you can. They should keep in the freezer for at least three months. However, once thawed, they should not be refrozen.
Can you eat the burgers cold?
Absolutely. I even find them most delicious when they have had time for the flavors to develop. And our beneficial gut bacteria love it too: when cooled, sweet potatoes, beans, and oatmeal produce more resistant starch, which our internal guests love. This is also preserved if you reheat them in a pan or grill.
How long do the burger patties last in the fridge?
At least 3 days. They have never lasted longer in our household, as I also like to eat them cold for breakfast.
Can you prepare the superfood burgers in the oven?
Yes, you can shape the patties and bake them on a baking sheet with parchment paper in the preheated oven at 200 degrees Celsius for 30 minutes.
Are the superfood burgers gluten-free?
Yes, if you use gluten-free oats and tamari instead of soy sauce. Of course, you also need a gluten-free burger bun and gluten-free condiments. Fortunately, there are options for all of these available now.
Can I make them without beans?
Yes, you can. Just skip them.
Can I make them without sweet potatoes?
Yes, just double the rolled oats and boiling water.
Can I make them without beans and sweet potatoes?
I created them with the saying "eat a little of a lot of things" in mind, because every superfood has a different job, but you can leave both out and just double the oats and water.
What should you serve with the superfood burgers?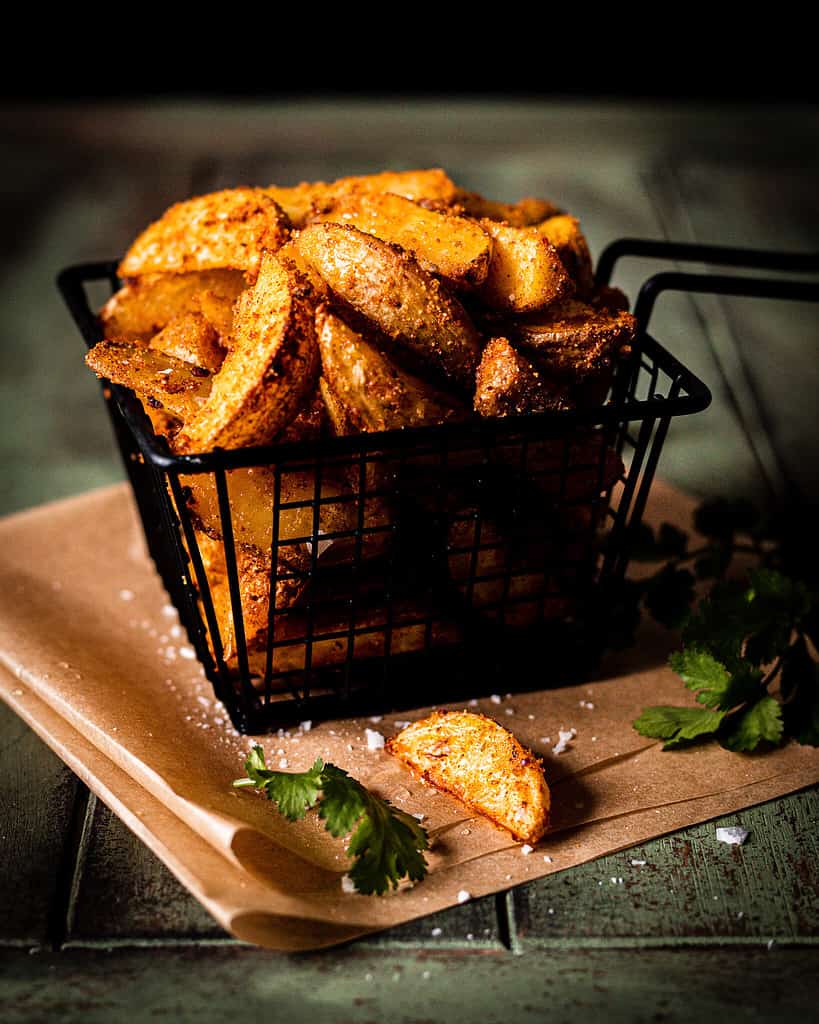 If you like my superfood burgers, you might also enjoy my other recipes in collaboration with Sunday Natural: