In my more than 15 years of traveling the world as a flight attendant, I have learned a lot about staying safe and comfortable. Here are my 12 top travel tips:
Pack like a pro
What do you actually need for your trip?
When packing your bags, make sure you have all your documents: passport, drivers license, travel insurance maybe? It's a good idea to take pictures of them and email them to yourself, so they are available even if you should lose everything.
This also applies to the IMEI of your mobile phone. IMEI stands for International Mobile Equipment Identity and is a serial number assigned to every mobile phone. It can be used to block stolen or lost phones. You can find it under Settings and Info, or by entering *#06#.
Remember your charger, maybe an adapter and a powerbank.
Take extra of any medication you may need, as well as a little first aid kit with painkillers, band-aids, especially blister band-aids, and maybe a nose spray. Sunglasses, sunscreen and an umbrella might be a good idea depending on your destination. And you want to check if there will be towels and a hairdryer* at your accommodation.
Pack a set of clothes that combine well and which work for different temperatures when you travel. You might need less than you think though. Remember that you can always wash things in the sink with shampoo and let them dry overnight.
The one thing I always have with me is a big scarf*. Not only to keep me warm in the evening, in drafty or air-conditioned places, I also use it as a beach blanket, makeshift bag and I even once built a top from it by attaching it to my bra when getting my t-shirt dirty. A lightweight robe* is also super practical. It takes up hardly any space, is comfortable, and yet you can quickly get dressed in your accommodation or on the way to the pool or hotel beach.
How do you best pack it?
I highly recommend packing in an organized way, with travel cubes* for example. That way you know exactly what you still have and where it is while the laundry bag is getting bigger. There are even travel cubes that you can hang into the closet*!
I am very happy with this cosmetics organizer*. You just want to make sure to hang it only when you're using it and take it down when not, because otherwise the material will not last that long. If you're just traveling with hand luggage and have only mini versions of your cosmetics, this transparent cosmetics organizer* might be the best option for you, as you don't have to unpack anything at security.
You can put something on your suitcases that makes them easily recognizable, like a tag* that best also has your phone number and email address. Or you can just put a little ribbon on the handle. Luggage gets mixed up easily, someone once even walked out of the plane with my flight kit and left theirs. Wouldn't have happened it I hadn't had lost my crew tag a few days before, I guess.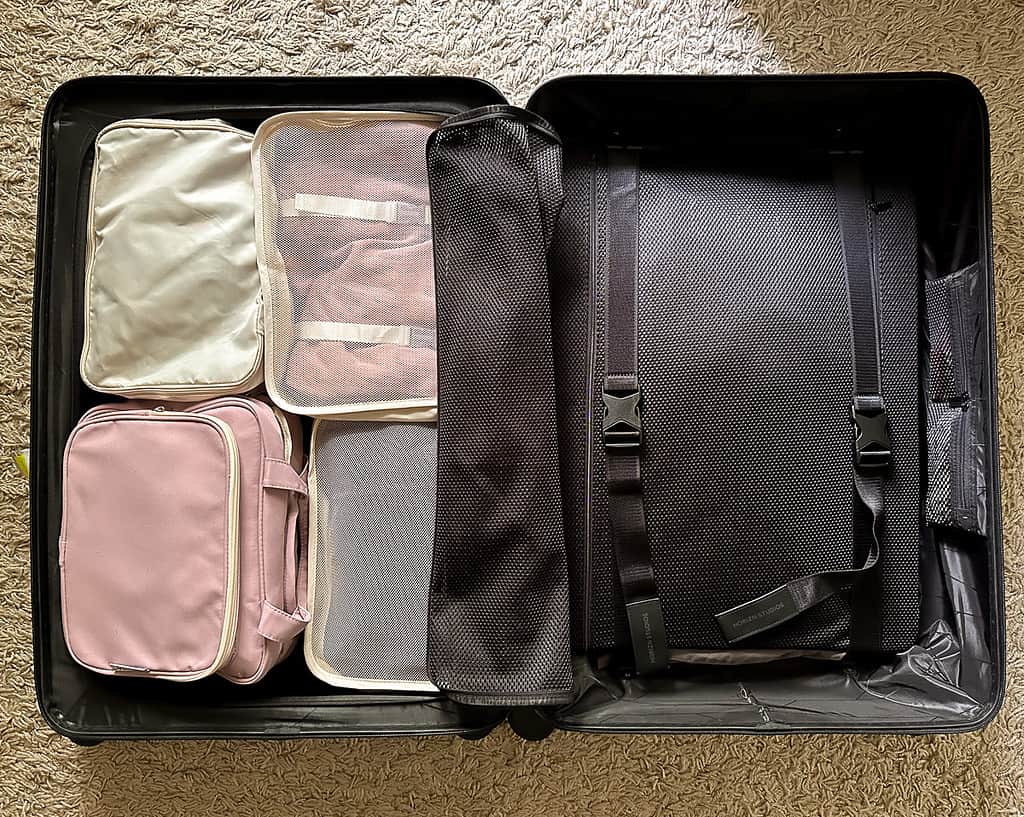 As for suitcases, I really like the ones from Horizn Studios, a sustainable company from Berlin. The suitcases and bags are of good quality, available in various sizes and colors, and look elegant. They have TSA locks and come with useful optional features like compressors and chargers. If you're looking for a new suitcase, definitely check out their products. I have the matte black H7* as my travel luggage, and next, I'm planning to get the matching cabin trolley* as well. The Smart version of the cabin trolley also includes a removable charger.
These suitcases are vegan and 99 percent waste-free. The hardshell is made from partially recycled premium polycarbonate, and the interior lining is made from recycled polyester.
Also, this vegan backpack* made from recycled cotton canvas is on my wishlist. And of course, you can find high-quality accessories* such as packing cubes, luggage tags, toiletry bags, laptop bags, and tech organizers at Horizn Studios as well.
Ad*
Make your bags traceable
As for your luggage, my colleagues and me are big fans of Apple tags*! They are so helpful. You always know where your luggage is and you can even switch on notifications when your luggage is not with you any more. A colleague once fell asleep on the train and woke from her phone vibrating in her pocket to tell her that her things are gone. Someone had left the train with them! She contacted the train attendant and was able to get everything back by directing the police on the phone to the locker at the last station, where the thief was just about to put her luggage! I keep apple tags in my suitcase and hand luggage, and in my handbag. You can even put them in your child's pocket. If you have an iPhone, they are super easy to connect. There is a similar product for samsung* now too.
Plan enough time when you travel
Go to the airport early. You never know. Public transport can be delayed, taxis stuck in traffic, long lines can form at the airport for baggage drop-off or security. You don't want to start your trip stressed out. Wouldn't you rather have a coffee and a snack and chill inside the airport? Also, don't go for the closest connecting flight, especially when flying later in the day. A plane is easily 30 minutes late. Plan two hours and you're usually good. Once again, have a coffee and a snack instead of racing through the airport. You also want to download the airline's app for the trip, that can make things so much easier.
Take a water bottle and snacks
Consider packing a reusable water bottle and snacks to stay hydrated and fueled throughout your journey in your hand luggage. Especially as a vegan or with other dietary restrictions finding food can become a bit of a challenge. With most airlines, you can order a special meal at least 48 hours before departure for long-haul flights. On shorter flights, there is often a variety of items available for purchase. However, I recommend bringing at least a few snacks.
Remember that sometimes it's not allowed to bring certain foods into the country you're going to. I have a blogpost on how to make sure you get food when flying as a vegan with tips that will also work for other dietary restrictions and also some ideas for travel food. Also, take a bag clip and a pen. Just take it, you will at some point be glad you took it. Trust me.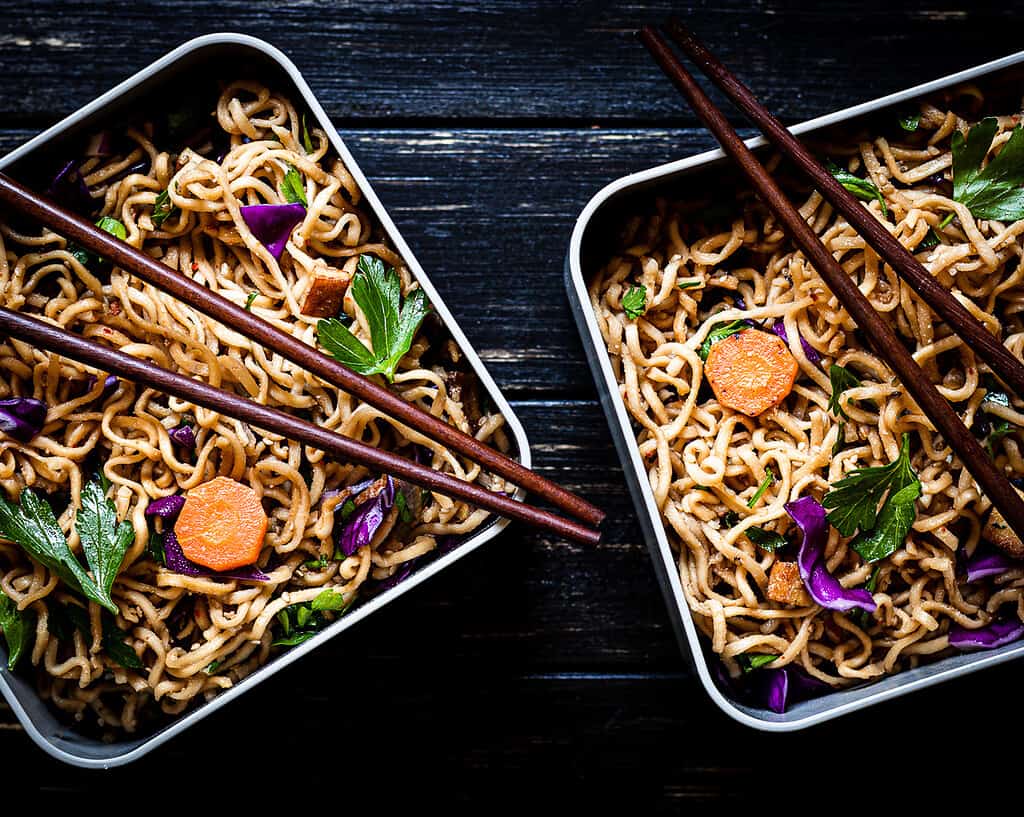 Dress with purpose for the trip
Choose clothing and shoes that are comfortable and breathable, best in a layered style for different temperatures. Avoid tight clothing, high heels, or anything that may restrict your movement or cause discomfort during the flight. Having a hoodie and a big scarf in your hand luggage to stay warm can make a huge difference. I also recommend some extra underwear and a T-shirt in your hand luggage, in case someone spills a drink on you or worse, or you get stuck at a connecting airport without your suitcase in weather chaos. It's all happened before.
An inflatable travel pillow* and a sleep mask* hardly take up space and can make your trip so much more comfortable.
Take noise-canceling headphones
Noise cancelling headphones* can help you block out a lot of unwanted noise and create a peaceful and calm environment for yourself to relax during the flight. You can even connect wireless headphones to most airplane entertainment systems with an adapter*. Don't use them for take off and landing though, as you might not hear important announcements in emergency situations. And please, please take them off when talking to us, it makes a much easier and more efficient conversation for both parties.
Bring entertainment when you travel
Download something to watch on your iPad or bring something to read. You might have bad luck and the entertainment system isn't working, in that case a long distance flight can become quite boring. You can also bring an inflight mount for your phone or tablet*.
I personally don't go anywhere without my kindle*. With a kindle you can take as many books as you like. You can also buy books in any language everywhere in a second, all you need is a wifi connection. You can adjust the font size to your liking, and the screen is lit, so you're not dependent on a light source as you are with a physical book. It weights almost nothing, so you can always have it with you. Remember to make sure your devices are fully charged before the trip, as older planes don't always have USB ports etc.
I recommend watching a program or reading a novel that is set in the country where you're going, or a non-fiction book about the country, as that can enhance your travel experience immensely.
Stay clean and healthy
Airplanes can be breeding grounds for germs, so wash your hands frequently, avoid touching your face, and hand sanitizer is your friend. You can even use hand sanitizer as an emergency underarm deodorant, it works! Also bring a toothbrush and a sample size toothpaste with you, not every airline hands them out in every class, and you never know how long your trip will really take in the end. Oh and don't walk around barefoot inside an aircraft. Especially not into the bathroom. If the floor is wet, that might not just be water.
Be safe in hotel rooms or Air bnb's
Never say out your room number too loudly in the lobby or elevator. You never know who might be listening. On the way to the room, I check for emergency exits and fire extinguishers. When I get to the room, I do a quick check: I look everywhere someone could hide, check if the mattress looks like it has bedbugs, and test if the phone is working.
Even in a five-star hotel in the safest country, you sleep better when you know that no one can sneak into your room unnoticed while you sleep or shower. I used to make my own alarm system by placing a glass or cup on the doorknob and another one on the floor underneath, hoping that the noise would wake me up and maybe even convince the intruder to leave. But often there is carpeting or only disposable cups available. It is also important that you can quickly get out in case of emergency, so I advise against barricading yourself with furniture.
I recommend this door alarm*. It is very easy to use, and the alarm only goes off when someone opens the door. However, the security personnel can still enter if you need help. But don't buy the cheap door alarms that are supposed to hang on the doorknob and react to vibrations because they always go off even when someone passes by the door. At least the one I returned did. Test your alarm at home to make sure it works and familiarize yourself with the alarm sound.
Another option is a door wedge*. I have one for connecting doors or for when I can't use my alarm because of the door construction. They make it impossible for anyone at all to enter. This, of course, has advantages and disadvantages. There are also door wedges with alarms*.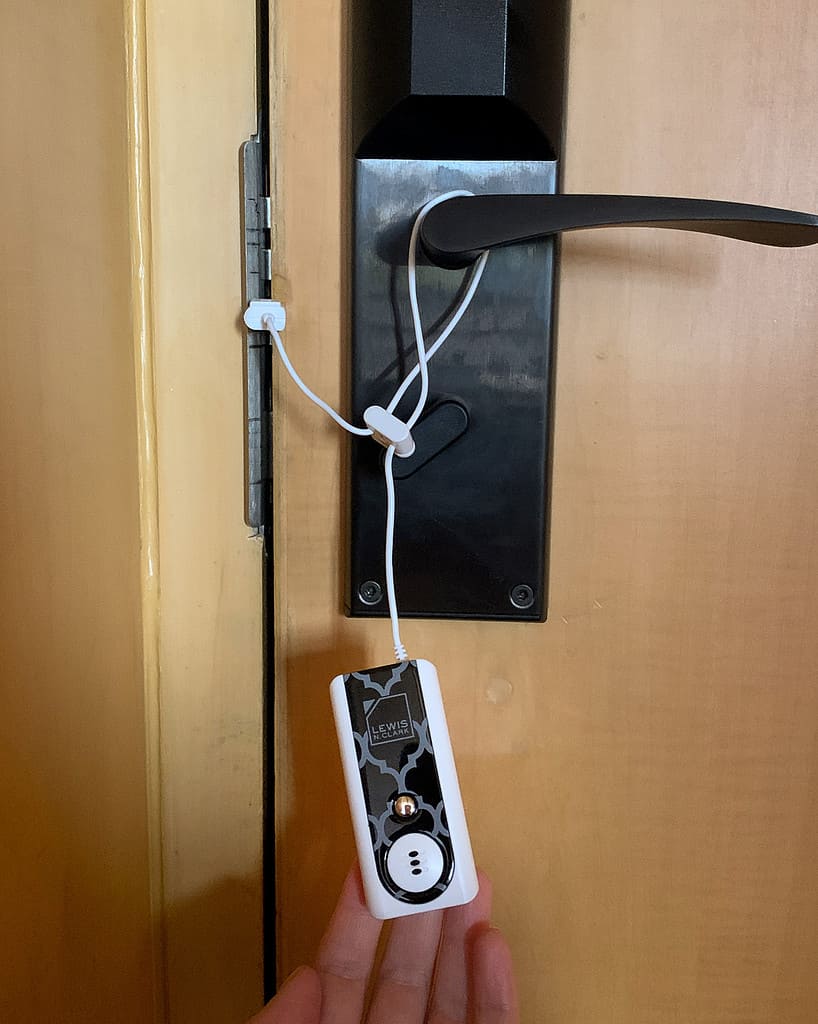 Also, always mind your stuff and listen to your gut feeling. Be alert when strangers approach you, especially around tourist attractions or when things happen or are being said that make no sense. There are a lot of thieves and scammers out there.
Keep your valuables safe
Keep your passport, wallet and phone safe and easily accessible when you travel. It's best to have them on your body or in a bag that you never let out of sight. Maybe a portable lockbox* is also an option for the beach, pool, or accommodation.
Prepare for jet lag when you travel through time zones
If you're traveling across time zones, you may experience jet lag. To minimize the effects of jet lag, make sure to stay hydrated, and adjust your sleep schedule to the new time zone gradually, maybe start even before the flight if possible. Also expect to get hungry in the middle of the night, so you want to have a little snack handy, and of course some water in countries where you don't want to drink the tap water or even brush your teeth with it. My kindle* is my best friend when I'm wide awake at night too, I just read until I'm sleepy again. Unlike a physical book, it comes with a lit screen, so you can even read in the dark if you're not alone in the room.
Do you have trouble falling asleep in unfamiliar surroundings? I often feel the same way, even when completely exhausted. The app BetterSleep helps me with that. In the free version, I created a simple sleep sound with soft music, bird chirping, and ocean waves, which helps mask noises like air conditioning, refrigerator, and sounds from other rooms. The paid version offers even more options, of course.
Stay connected when you travel
Make sure you have access to the internet and a phone charger and adapter when you travel. This will allow you to stay connected with loved ones, research local activities and restaurants, and navigate your destination using maps and translation apps like google translate. I also have a blogpost on useful travel apps for vegans, which might also be helpful for non-vegans.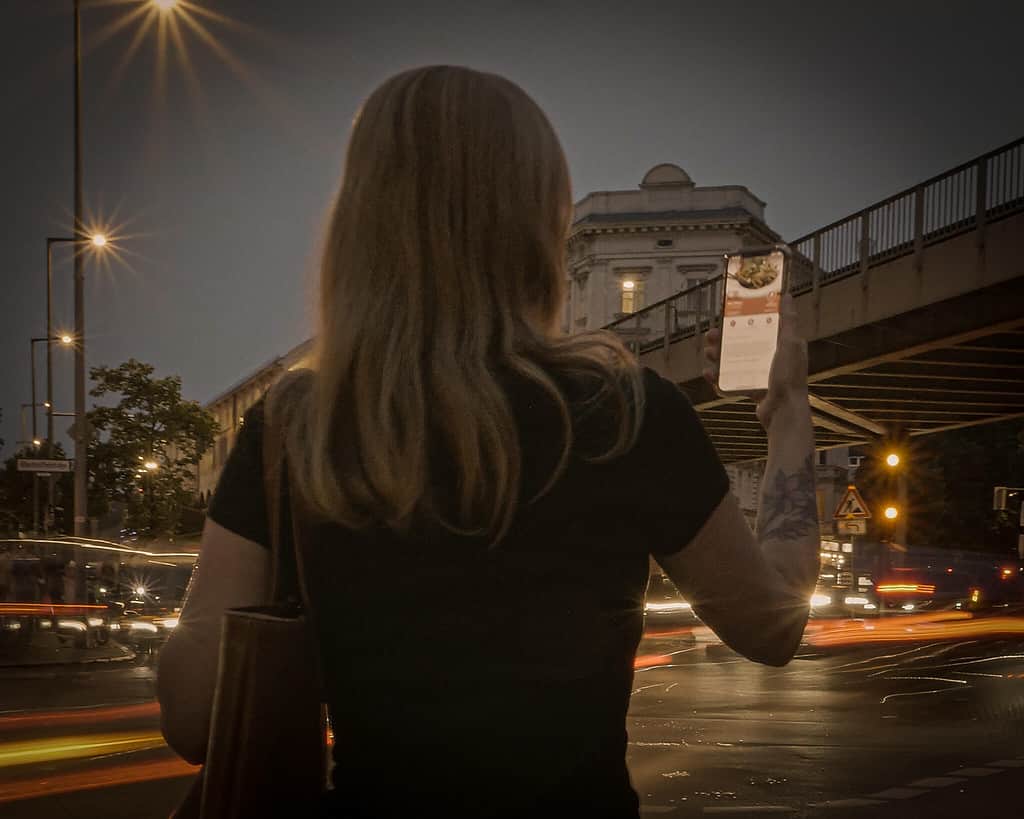 I highly recommend getting a prepaid eSIM with roaming when you travel to another continent. It can be very frustrating to always search for WiFi just to scan a QR code or find the way. That's why my colleagues and I love Flexiroam! It works like a charm and there are different plans available, for individual continents or worldwide, with varying data volumes and valid for either half or a whole year. As a flight attendant, I use the worldwide 5GB plan for 180 days and so far it has worked out very well for me.
You'll get a welcome discount when using code IAMNEW at Checkout with Flexiroam*. There often are big discount promotions, and here's a YouTube video with a short tutorial.
Most important travel tip of all: have fun and be open minded! Spend your time and money on things you'll remember. Traveling can be so rewarding, inspiring and empowering. Be flexible about your habits and leaving your comfort zone, embrace new experiences, meet new people, and be open to other cultures, impressions, ideas and ways of life.
You can cook at you accommodation? Then you might want to check out my travel kitchen recipes that work almost anywhere with supermarket ingredients and basic kitchen gear.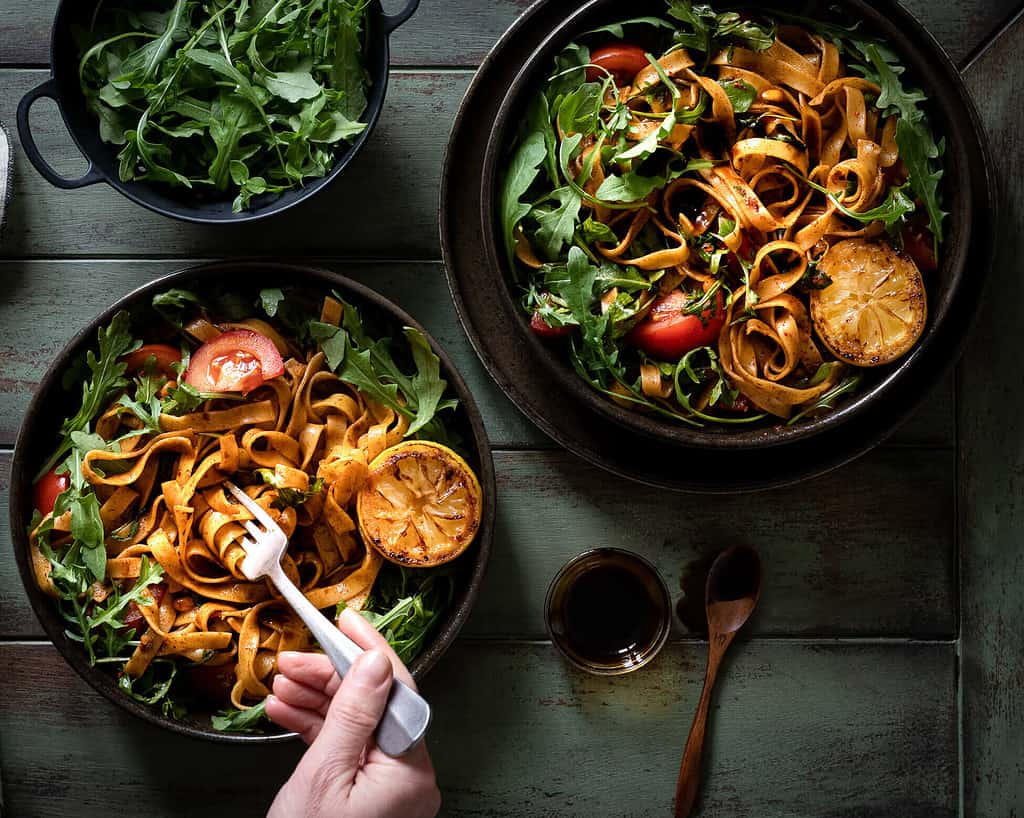 You might also like:
Flying as a vegan: how to make sure you get food
Traveling as a vegan – do you know these apps?
Sign up for my newsletter and get your checklist for traveling as a vegan:
Got any additional tips that should be on this list? Let me know in the comments.
Ad*