Collaboration with Sunday Natural
My lion's mane matcha latte is our perfect coffee replacement for extra focus in the morning. This superfood drink combines the benefits of Japanese ground green tea and the medicinal mushroom into a delicious latte for mental clarity, focus, productivity and creativity.
Matcha contains caffeine and L-Theanine, which together can help increase energy and concentration while reducing nervousness and irritability. Lion's mane may help improve brain function by promoting neural nerve growth. This may also help improve memory and concentration, making it an absolute brain booster.
In fact, my yoga teacher pointed out that my concentration has been better lately. It had become a running joke that I would do something completely different than what was instructed at least once in each class. Is it a coincidence or is my morning lion's mane matcha latte behind my sudden ability to stay focused? In any case I'll continue to drink it 🙂
You'll learn more about the additional benefits of regularly consuming matcha and lion's mane, as well as how to prepare the lion's mane matcha latte in this blog post.
What do you need to make lion's mane matcha latte?
Matcha is powdered green tea that is traditionally used in tea ceremonies in Japan. It is also rich in antioxidants, which help protect our cells and strengthen the immune system.
The high-quality matcha powder* was provided to me by Sunday Natural for my recipe.
The best way to froth your matcha is with a chasen, a matcha whisk*, which you can also get from Sunday Natural. Move the chasen very quickly in shape of an M for nice foamy matcha. If you don't have a chasen, you can also use a milk frother.
Matcha should be consumed in moderation due to its caffeine content.
The lion's mane powder* was also provided to me by Sunday Natural for my recipe.
Lion's mane (Hericium Erinaceus) is a fungus that has been used in traditional Chinese medicine for centuries.
It may not only contribute to improving brain function, but also strengthen the immune system, reduce inflammation, support digestion, lower cholesterol levels, and protect the nerves. You can read more in this healthline blogpost on lion's mane.
Lion's mane is an adaptogen, meaning that it may support the body's resilience in coping with physical and emotional stress.
Lion's mane and matcha are called nootropics, which is a collective term for plant substances and dietary supplements that are believed to have a positive effect on your mental performance.
You may be wondering whether mushroom powder in tea tastes mushroomy. Don't worry, the taste of lion's mane is masked quite well by the matcha, and you will get used to the taste. For starters, I recommend using twice as much green tea powder as lion's mane, and then you can try a 1:1 ratio if you like the taste. Everyone has their own sweet spot, and of course, you can sweeten the lion's mane matcha latte to your liking.
How much lion's mane should you take? The measuring spoon included in Sunday Natural's packaging measures 400 mg. A daily intake of at least 250 mg is recommended, and up to 3 g is considered safe.
If you are allergic to mushrooms, I do not recommend lion's mane or other medicinal mushrooms for you. But luckily, matcha latte tastes great even without it 🙂
If you cannot get used to the taste, you don't have to miss out on the benefits of lion's mane. Sunday Natural also has hericium capsules*.
I like to use oat milk or rice milk. I also often hear that lion's mane matcha latte tastes great with coconut milk, which I still need to try.
Personally, I like the taste as is, but if you like your lion's mane matcha latte a bit sweeter, you can add maple syrup, rice syrup, agave syrup, coconut blossom sugar or something similar to your taste.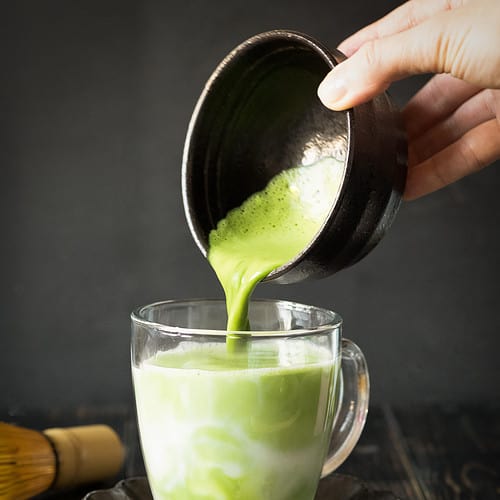 LION'S MANE MATCHA LATTE
Lion's mane matcha latte can help improve focus and productivity. You can easily make it yourself with this vegan recipe.
Ingredients
300

ml

oat milk or rice milk

1 1/4 cups

1

teaspoon

matcha powder

1/2

teaspoon

lion's mane powder

1/2

teaspoon

maple syrup or other sweetener

optional
Instructions
Heat the plant-based milk. It should be about 80 degrees Celsius, so steaming but not boiling.

Put matcha and lion's mane in a small bowl, add a shot of the hot milk (about 2-3 tablespoons) and either froth with a matcha whisk or a milk frother.

Pour the hot plant-based milk into a cup, add the matcha mixture, stir and enjoy.
Notes
If you use frothable plant-based milk such as soy milk or barista oat milk, you can also froth it.
Did you enjoy this recipe?
A 5 star rating would mean the world to me and I always love to see your pictures on instagram @flymetotheveganbuffet
If you like my lion's mane matcha latte, you might also enjoy my other recipes in collaboration with Sunday Natural: