Collaboration with Sunday Natural
This time I have wonderfully fragrant earl grey loaf cake for you!
Years ago, I ate a piece of delicious earl grey loaf cake in a student café in Manchester and instantly became a fan of the lovely aroma of the black tea and bergamot oil mixture. I tasted it for days! But the café is gone now, and the various earl grey loaf cake recipes I tried didn't convince me. Somehow nothing was earl-grey-ish enough …
The secret of the earl grey loaf cake
So I started working on my own recipe and I found the secret to the ultimate oomph: a few drops of bergamot oil in the frosting!
You need to make sure you use 100% real organic bergamot essential oil, only the real deal releases serotonin and dopamine in our brains, which might have contributed to my excitement about the cake. There are some cheap fragrance oils that smell of bergamot, but I really don't recommend putting that into food. And even if we're just using a tiny amount of essential oil for the whole cake here: essential oils should not be given to babies, children, pregnant or very sick people without consultation in general.
Sunday Natural have provided me with their bergamot oil*, their earl grey tea* which is also needed for this cake recipe, and their organic coconut sugar*, which I have already used for a lot of my recipes.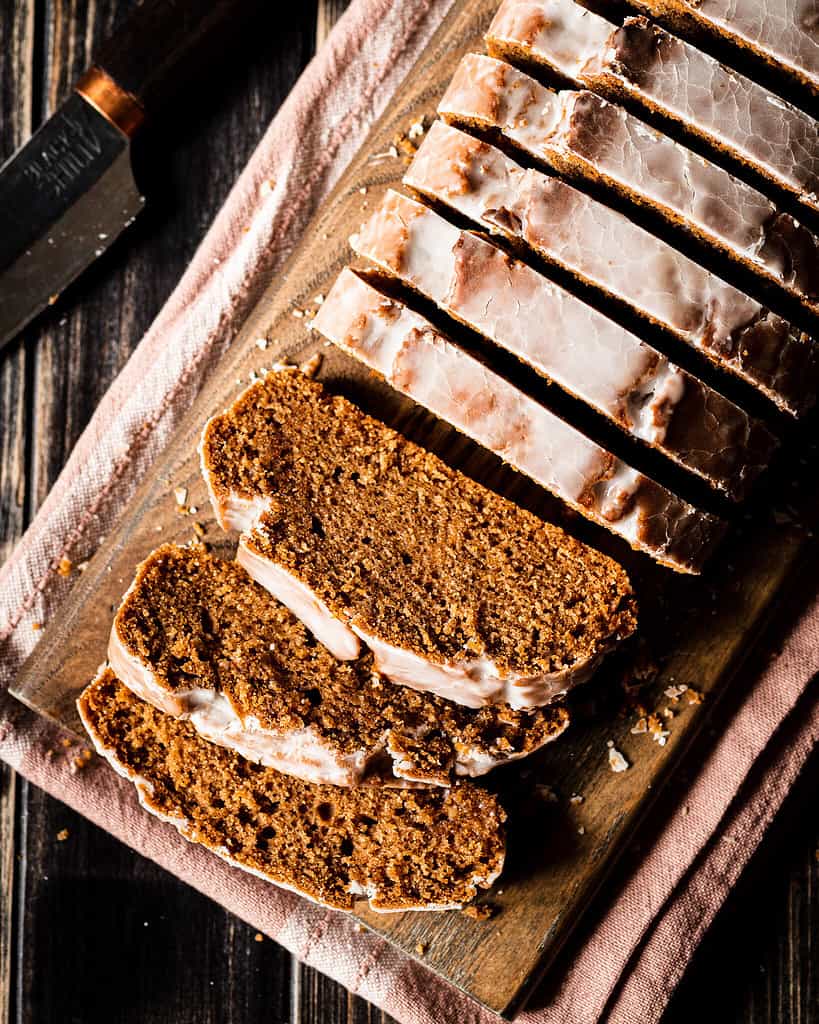 The uplifting Earl Grey loaf cake is also a quick birthday cake and easy to transport glazed and cooled back in the loaf pan.
Bergamot oil is of course also a great choice for a DIY Yoga mat spray.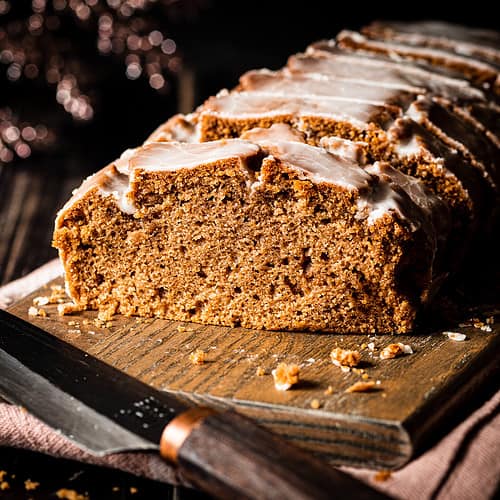 EARL GREY LOAF CAKE
The secret to this delicious earl grey loaf cake is real bergamot oil in the glaze – so aromatic!
Ingredients
240

ml

plant milk

1 cup

2 

tablespoons

Earl Grey tea

240

g

spelt flour

2 cups

90

g coconut sugar

3/4 cup

1

teaspoon

baking soda

1/4

teaspoon

salt

1/2

teaspoon vanilla

80

ml

plant oil

1/3 cup

1

tablespoon

apple cider vinegar

100

g

powdered sugar

1 cup

1

tablespoon

plant milk

3

drops

real bergamot oil
Instructions
Preheat the oven to 180°C/ 350° F.

Now, gather all your ingredients and prepare them in the right amounts. That makes it so much easier and more fun and you're less likely to forget anything. 

Bring plant milk with earl grey tea to a boil and steep for about 5 minutes.

In the meantime, combine flour, sugar, baking soda, salt and vanilla powder in a big bowl. If using liquid vanilla, you can add it to the liquid ingredients in the next step.

Pour the Earl Grey mixture through a sieve and mix with plant oil and apple cider vinegar. Then add liquid mixture to the bowl with the dry mixture and stir until just combined. You might have to add a little more plant milk if too much evaporated when making the tea.

Pour into a 20-25 cm/ 9" loaf pan and bake for 40 minutes.

Combine one cup of powdered sugar with 1 tablespoon of plant milk and 3 drops bergamot oil into a thick frosting and apply to the cooled off cake. Add a little more plant milk if needed. Let dry and serve, or keep in the fridge in an airtight container.
Did you enjoy this recipe?
A 5 star rating would mean the world to me and I always love to see your pictures on instagram @flymetotheveganbuffet
If you like my earl grey loaf cake, you might also enjoy my other recipes in collaboration with Sunday Natural: