Collaboration with Sunday Natural
At my recent trip to San Diego I first came across Chagaccino, the new superfood trend drink in the states, and of course I had to try that! Cozy and warm in the morning, and iced in the afternoon heat, and I loved both.
In this blogpost I will show you how to make a homemade chagaccino mixture for your pantry and also how to prepare the actual drink, hot or iced.
What is Chagaccino?
Chagaccino is a beverage made of chaga mushroom powder combined with other ingredients such as coffee, cocoa powder, and sweeteners. Chagaccino is considered a healthier alternative to traditional coffee drinks, as it contains less caffeine and is rich in antioxidants and other nutrients.
Mushroom-Coffee? I have at least one friend that would be really grossed out by the idea, but I promise, my homemade chagaccino doesn't taste of mushrooms. It is a bit earthy, but also chocolate-y and well, it just tastes of coffee. If you like Cappuccino, this will work for you.
What do you need to make homemade Chagaccino?
Chaga mushroom grows often on birch trees, and just like reishi, lion's mane or cordyzeps, it has been used for medical purposes in Russia and Asia for centuries. Chaga mushroom is supposed to be anti-inflammatory and beneficial for the gut flora, lower your blood sugar, fight bacteria and viruses and even cancer cells. A perfect superfood as a coffee alternative!
Sunday Natural have provided me with chaga powder for this recipe. It's from untouched Baltic forests. You can also buy chaga chunks, but they are usually used for tea. The powder is much quicker absorbed by the water, so it works for coffee.
I also got the cacao powder for my homemade chagaccino from Sunday Natural, it's a blend of organic raw cacao beans.
Espresso, coffee or barley coffee
I tried all of them, they all worked very well.
I like it best with a nice foamy barista oat milk. You can also sweeten it if you like, Sunday Natural also sells coconut sugar which works very well for the homemade chagaccino.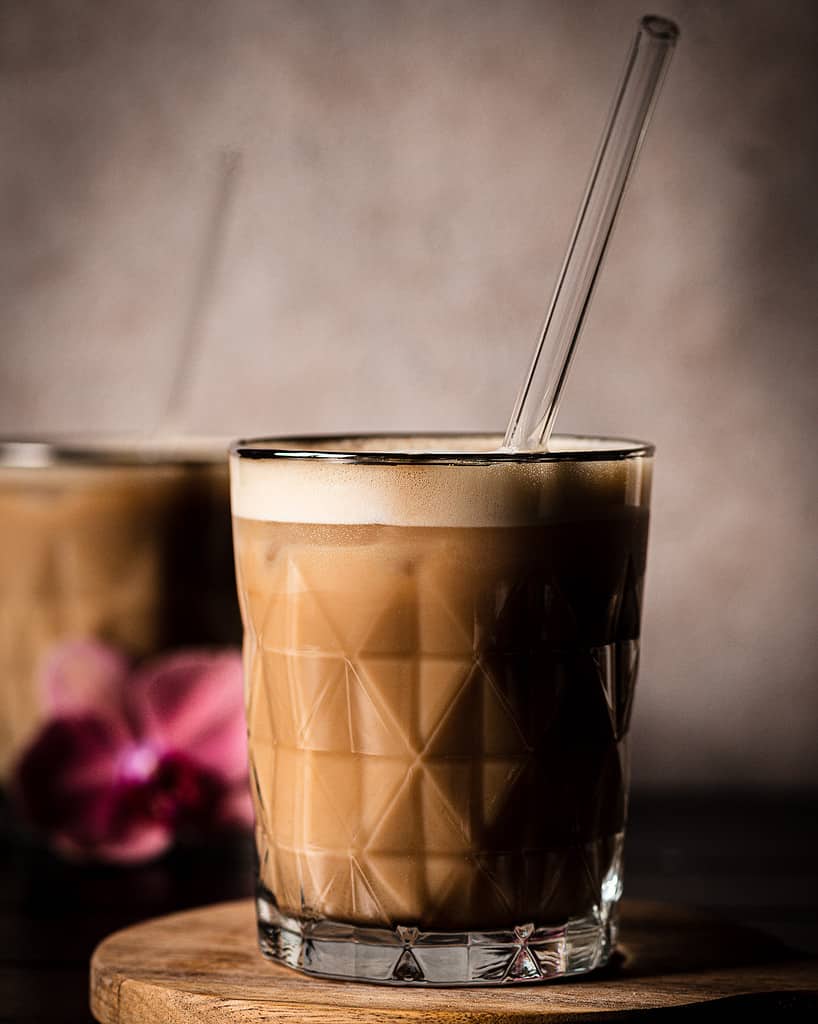 How do you use the homemade chagaccino powder mix?
The powder mix is to be used like coffee powder in a French press* or a Bialetti*. You can see more in this Instagram reel. You can gift the chagaccino mix in an airtight container of your choice or perhaps in a pretty, reusable coffee tin. You can find even more vegan sustainable gift ideas in this blog post.
If you want to prepare the chagaccino in an espresso maker*, you want to leave out the cocoa powder in the recipe because it clumps quickly and blocks the machine. This is at least the case with my espresso machine. Therefore, I only use chaga powder and espresso powder in a ratio of 1:2. The cocoa powder you can still sprinkle on the milk foam.
What else can you add to your homemade Chagaccino?
This vital mushroom is used in some chagaccino recipes. Tom orders it anyway for his smoothies, so I was able to add some to my chagaccino mix. No, it still didn't taste of mushrooms. Cordyceps is another vital mushroom you can add, Sunday Natural has it too.
I'm not a big fan of cinnamon in chocolate or coffee drinks, but I know many of you love it and will enjoy adding a bit to the mix. You can get good Ceylon cinnamon from Sunday Natural.
The popular adaptogen ashwaganda has also made it into some recipes. The Ayurvedic root is supposed to help with anxiety, sleep issues, stress and hormones. People with overactive thyroids (like me) are not advised to take it. So I don't know what ashwaganda tastes like, but I think adding the content of a capsule into the chagaccino is not going to have a big impact on the taste, as you often find ashwaganda in moon milks. You can get ashwaganda from Sunday Natural too.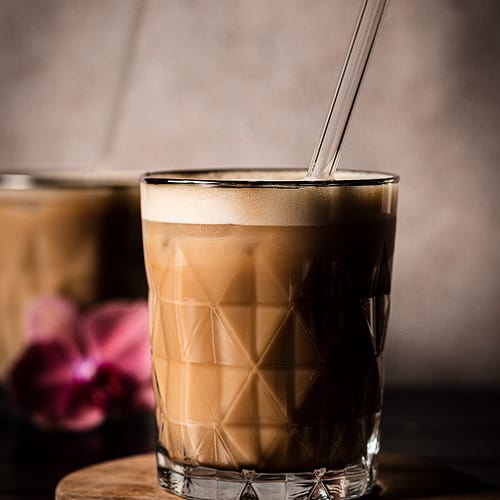 HOMEMADE CHAGACCINO
A perfect superfood to enjoy as a hot drink or iced!
Ingredients
2

parts

coffee, espresso or barley coffee powder

1

part

cacao powder

optional, see instructions!

1

part

chaga powder

barista plant milk
Instructions
Mix one part Chaga powder, one part cocoa powder, and two parts coffee powder of your choice and store in an airtight container for use in a French press or Bialetti. If you want to prepare the Chagaccino in an espresso machine, leave out the cocoa powder because it clumps quickly and can block the machine.

For one cup, prepare one or two tablespoons of the mixture in a bialetti or a French press depending on how strong you like your coffee and prepare as usual. To make in an espresso maker, just mix chaga powder and espresso powder in a ratio of 1:2 and prepare as usual.

Serve with hot, frothed plant milk or with frothed cold plant milk and over ice cubes. You can sprinkle it with coconut sugar, cinnamon or cacao powder.
Did you enjoy this recipe?
A 5 star rating would mean the world to me and I always love to see your pictures on instagram @flymetotheveganbuffet
If you like my homemade chagaccino, you might also enjoy my other recipes in collaboration with Sunday Natural: