People still often ask me why vegans eat meat replacements. For me, that's completely logical! I have always liked the taste of meat, but also I easily got grossed out as soon as it reminded me of a dead animal. Documentaries finally convinced me to decide that I want nothing to do with meat anymore.
Today, I enjoy a huge selection of vegan products everywhere. Ten years ago, there wasn't that much to chose from, but the Chickin Fillets by Viana* were already available, and I still really like them a lot and buy them often.
I like them best fried crispy as lemon chickin on a bed of spaghetti with mini tomatoes, thyme and garlic. With lots of fresh parsley and fresh pepper!
This easy lemon chickin recipe is ready in 20 minutes.
Beginner's tips for making lemon chickin
When cooking spaghetti, make sure you have a big pot and the water is really boiling when you put the spaghetti in. Stir, so they don't stick. And you don't want to skimp on the salt, it's what makes them taste good.
If the spaghetti have been sitting in the sieve for a while, they might have started to stick. You might want to loosen them up with a fork before adding them to the pan, otherwise you're going to have to manage a huge pasta lump.
You don't want to fry the garlic too long, it might get bitter. Only add the garlic and maple syrup just a minute before the spaghetti.
Meat replacements like that are usually ready to eat and you just put them in a pan because want them hot and crispy. They burn easily, so you want to keep checking. Same with the lemons.
When you cut the lemons, look for seeds and remove them. When squeezing the lemons, watch for seeds falling out. You obviously don't want them in your food. You can hold your fingers under the lemon as a sieve. Some lemons have no seeds, some have a lot.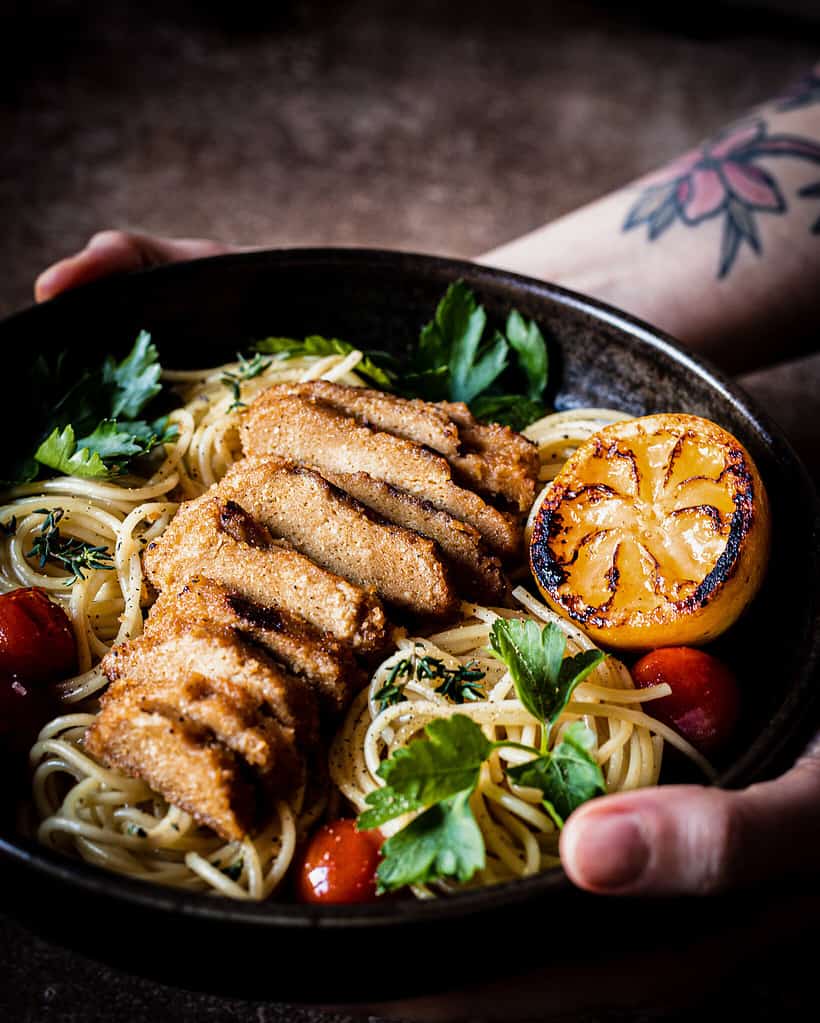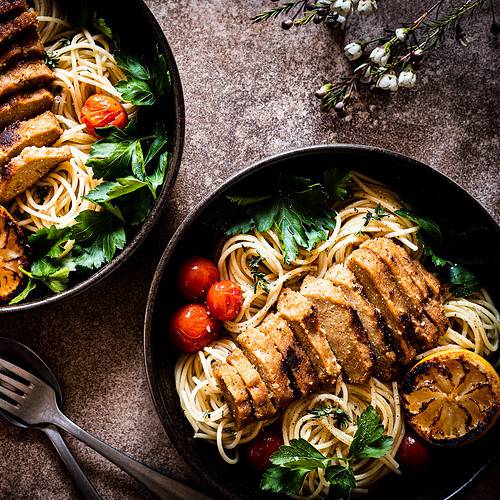 LEMON CHICKIN WITH SPAGHETTI
Crispy fried vegan lemon chickin on a bed of spaghetti with garlic, mini tomatoes and thyme, garnished with fresh parsley. So quick and easy to make!
Ingredients
250 g spaghetti

9 oz

olive oil

1

lemon

cut in halves

15 cherry tomatoes

fresh thyme

2

garlic cloves

chopped

2

teaspoons

maple syrup

salt and pepper

parsley
Instructions
First, gather all your ingredients and prepare them in the right amounts. That makes it so much easier and more fun and you're less likely to forget anything. 

Cook spaghetti in salted water according to instructions.

Fry the chickin fillets in a hot pan in a little olive oil for about two minutes from one side, then turn and add the two lemon halves face down. Turn the heat down a bit and fry for another 3-5 minutes until nicely browned. Then take everything out of the pan.

Cut the chickin fillets into stripes.

Drain the spaghetti and set aside.

Add more olive oil to the pan, mini tomatoes, thyme, then garlic, maple syrup and the spaghetti and stir-fry a bit.

Distribute on two plates, add salt and pepper, put the cut chickin fillets on top, squeeze the lemon (watch for seeds falling out) and garnish with parsley.
Did you enjoy this recipe?
A 5 star rating would mean the world to me and I always love to see your pictures on instagram @flymetotheveganbuffet
If you like the lemon chickin, you might also want to have a look at my 5 quick and easy noodle dishes.