Need some sandwich inspiration? Here are my top 10 favourite vegan sandwich ideas for breakfast, brunch or packed lunches.
Avocado Mayo and sweet potato sandwich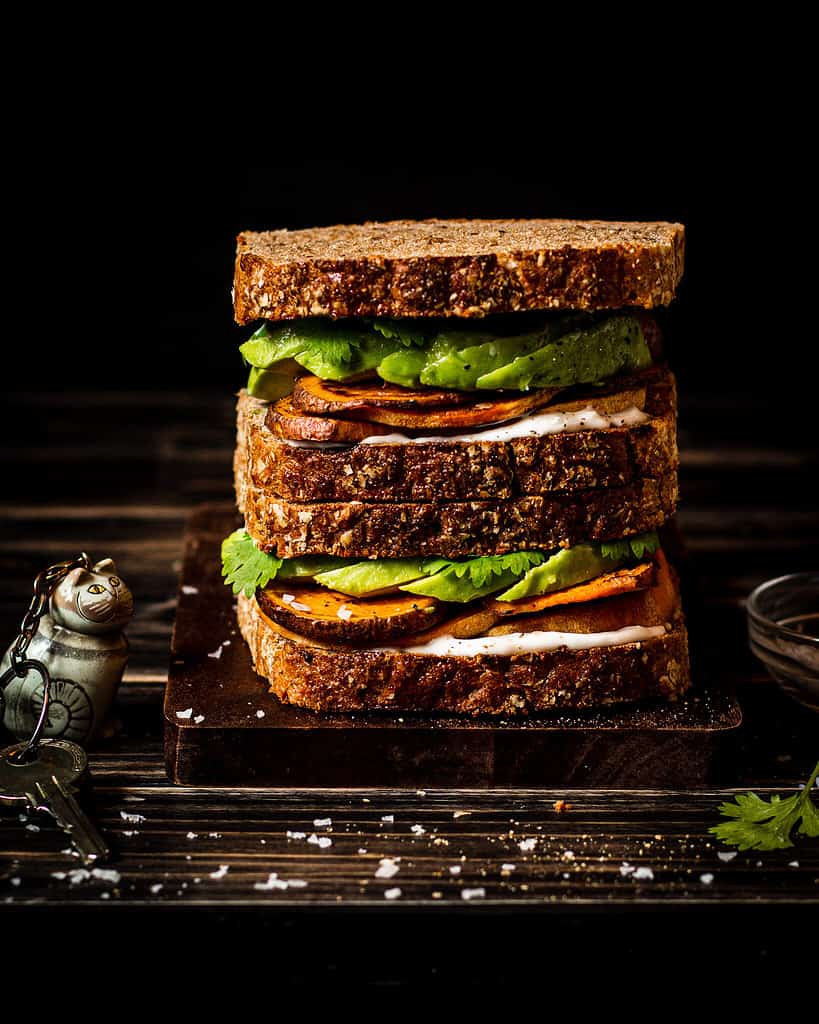 Cut sweet potato in slices and bake them from both sides in a pan with a little olive oil and salt for a few minutes at high to medium heat.
Spread vegan mayo on two slices of toasted bread, then layer the sweet potato, sliced avocado, salt and pepper, cilantro and other two slices of bread.
Bahn Mi vegan sandwich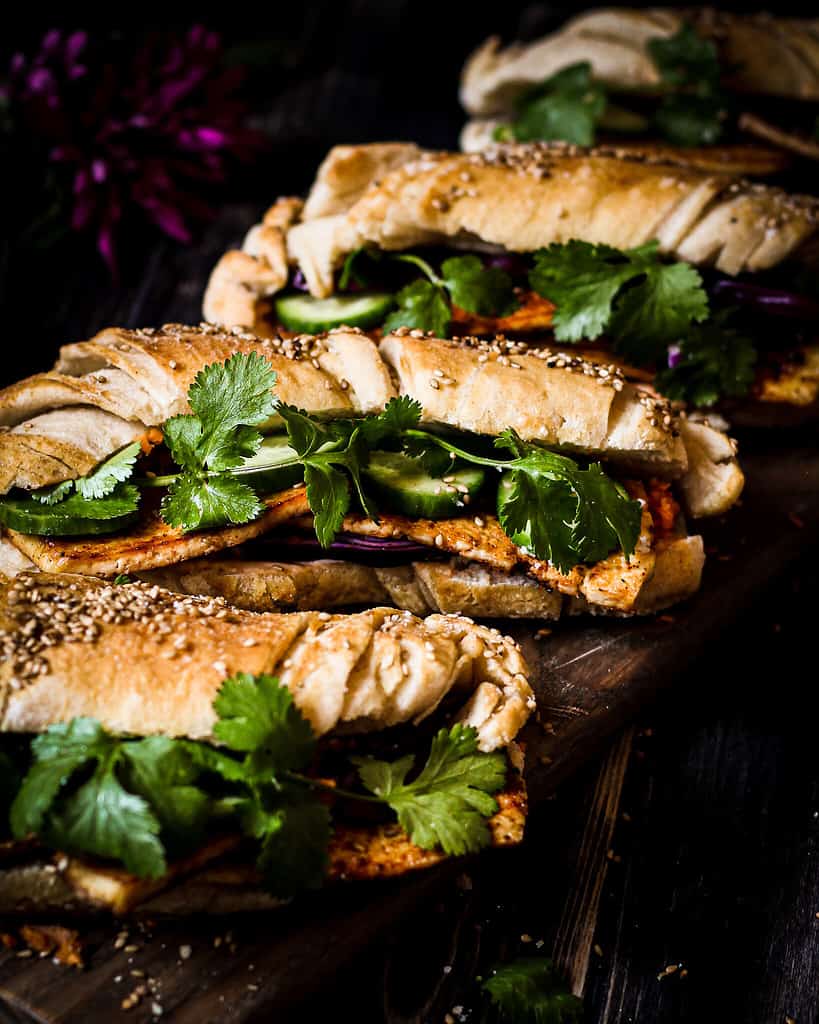 A satisfying sandwich with seasoned tofu, pickled carrots, red cabbage, cucumber, cilantro and sriracha mayo. Find the recipe for my banh mi sandwich here.
Sweet potato, miso mayo and sauerkraut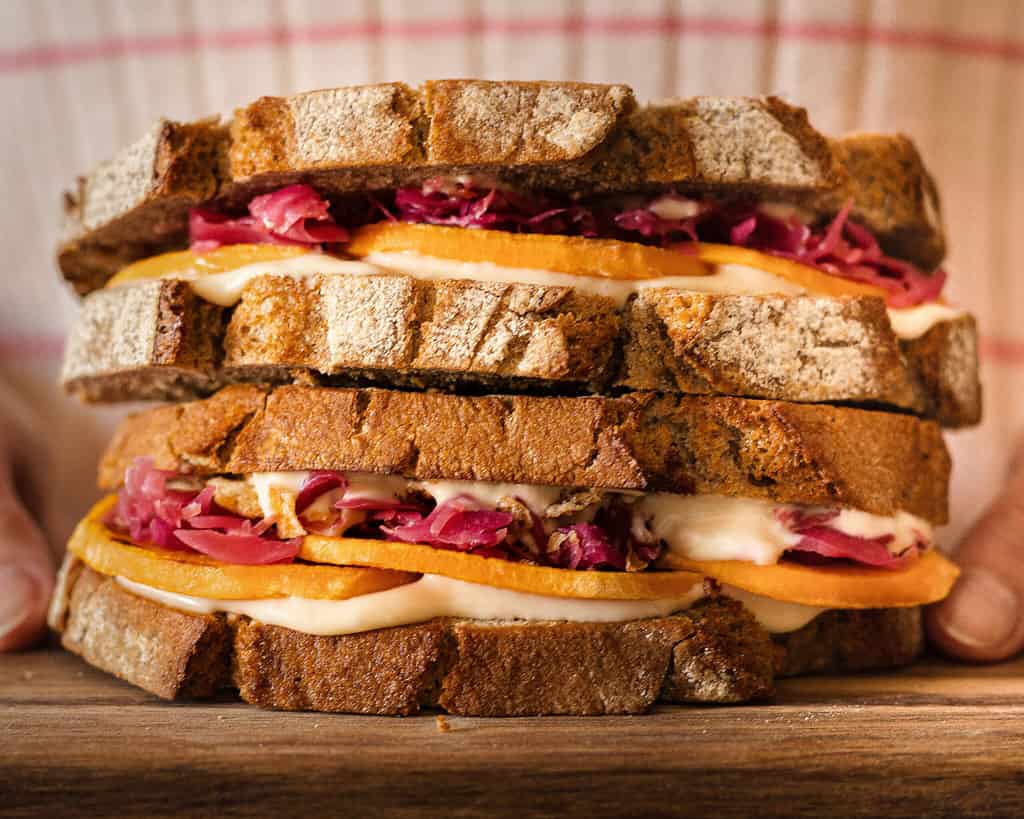 Bake the sweet potato slices with a little salt in a pan from both sides. You can also steam or grill them. Mix 1/2 teaspoon of shiro miso with 1/4 cup of vegan mayo. Layer on the sandwich with pink sauerkraut and fresh parsley.
Roasted apple and spice sandwich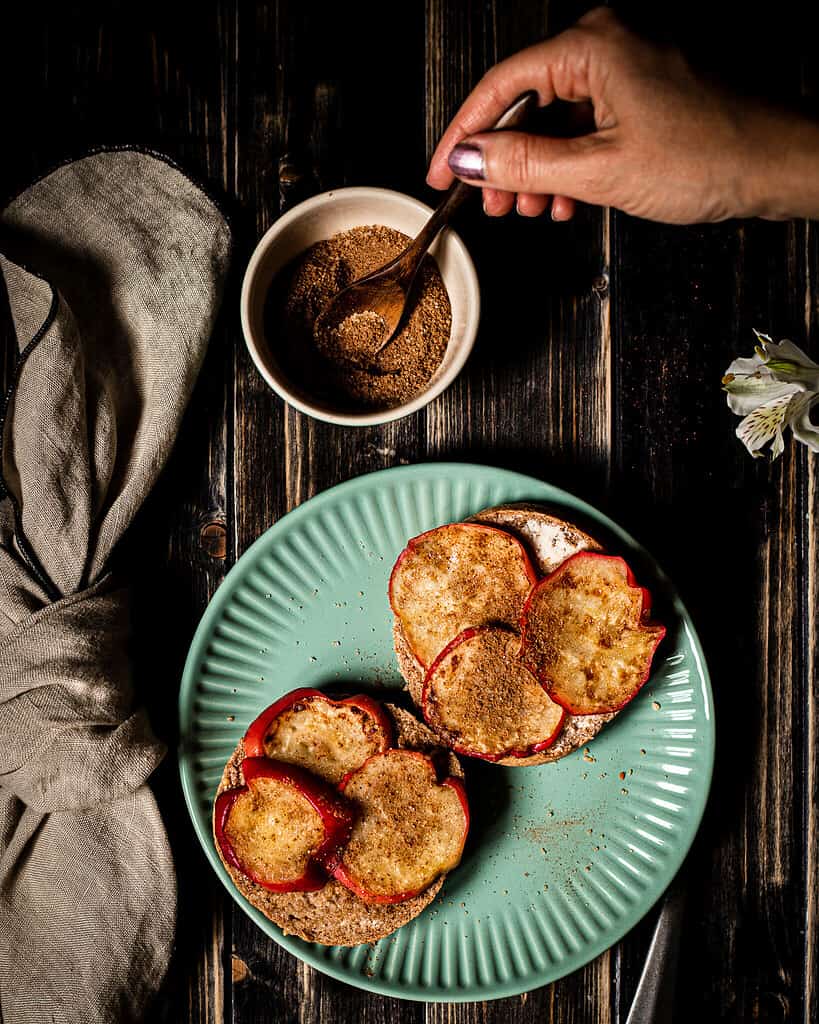 This is an adaptation of a recipe my Dutch grandma used to make for me when I was a child and I still enjoy it once in a while. You'll find the recipe for this vegan sandwich here.
Sandwich with cashew butter, sundried tomatoes and alfalfa sprouts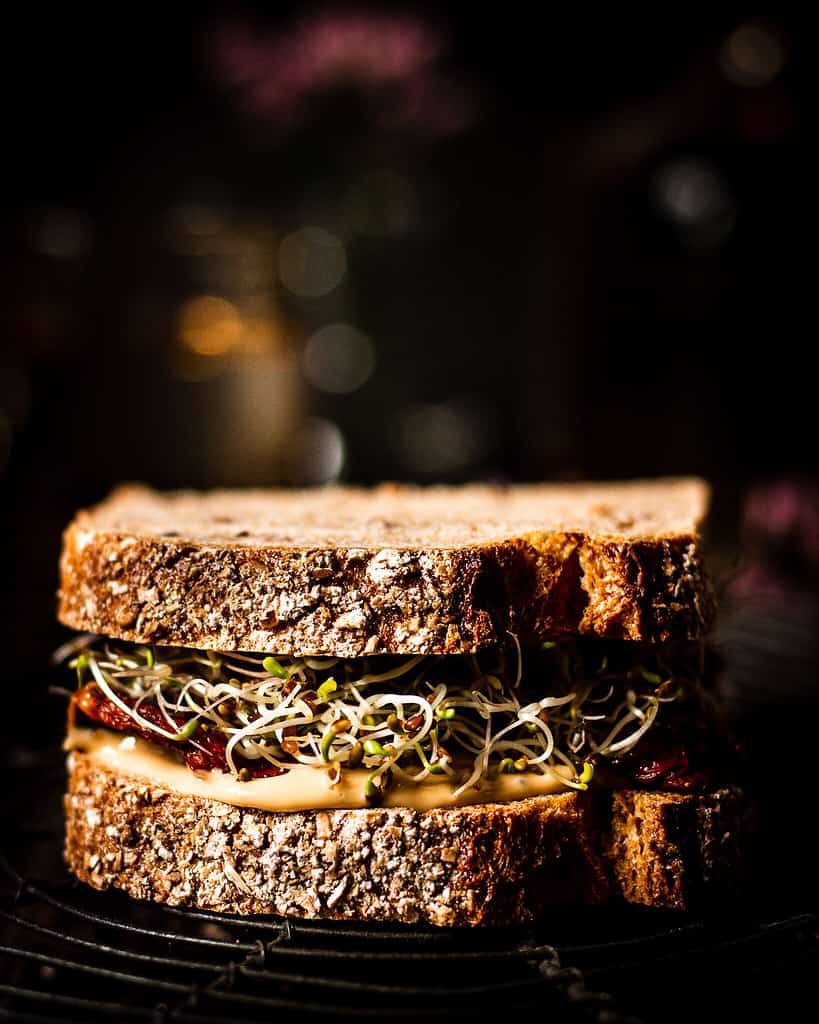 For this vegan sandwich, spread cashew butter generously on sliced bread, top with sundried tomatoes (I use the oily ones for this recipe) and loads of fresh alfalfa sprouts, maybe add a little salt and pepper.
I grow my own alfalfa sprouts, it's easy and cheap with a sprouting glass. Simply soak the seeds in water in the upright glass for a few hours, then rinse and put into the rack. Rinse every morning and evening. From day 7 you can enjoy the delicious sprouts. It is not recommended to eat them before that because they contain canavanin, a natural protector, which disappears in seven days. I only learned that after the video, so please ignore the fact that I ate them after 5 days.
Watch the video here:
Mushrooms and baked beans on toast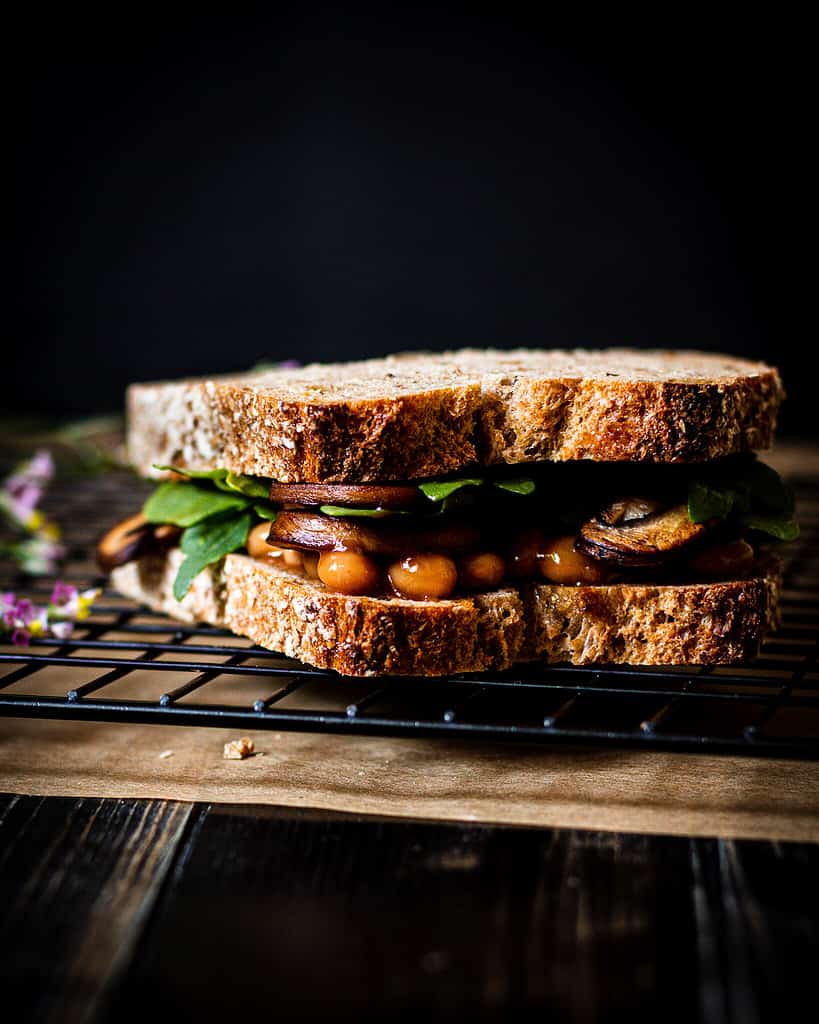 Baked beans from a can for this vegan sandwich are warm in minutes (check if vegan), and sliced mushrooms can be fried just as quickly. Simply put them in a pan with olive oil at high to moderate heat and fry until brown and crispy. When they're almost done, add salt and some fresh herbs like oregano.
Spread some vegan butter on bread, add the mushrooms, beans, rocket salad and a little salt and pepper.
Tofu scramble and vegan cream cheese sandwich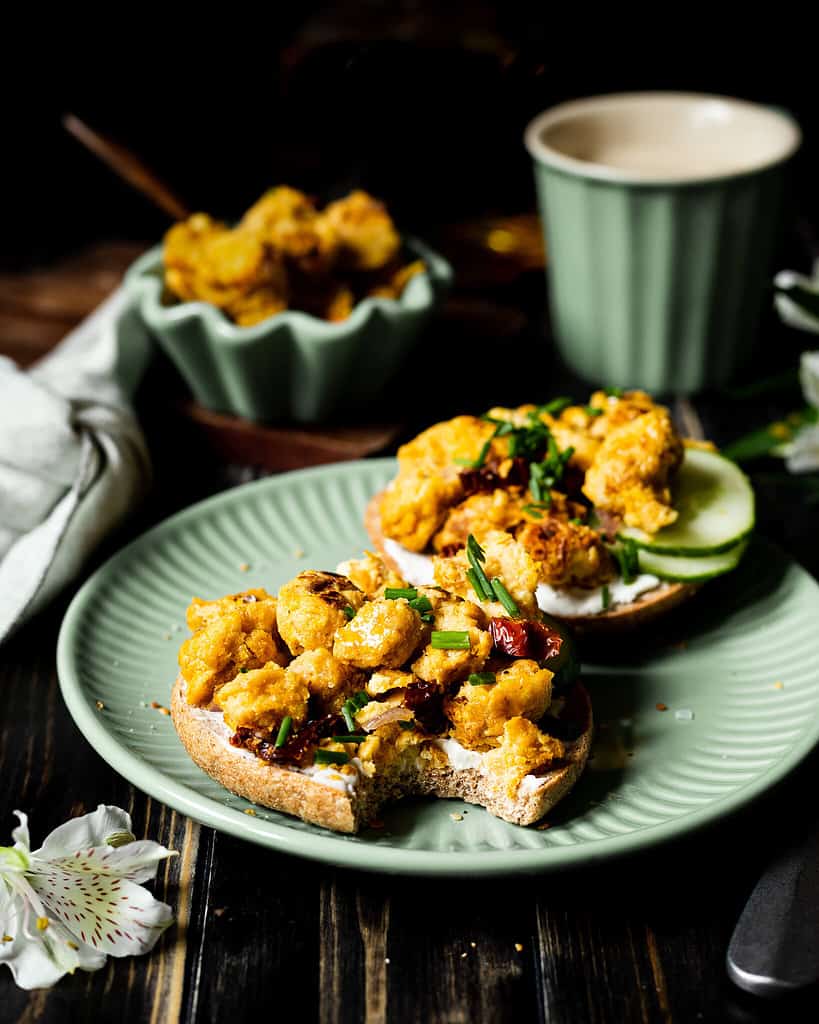 Find the full recipe for my tofu scramble here.
For this sandwich, I add some sundried tomatoes to the scramble and serve it on a vegan cream cheese bagel, topped with fresh chives.
You can find my bagel recipe here.
Avocado toast with smoked tofu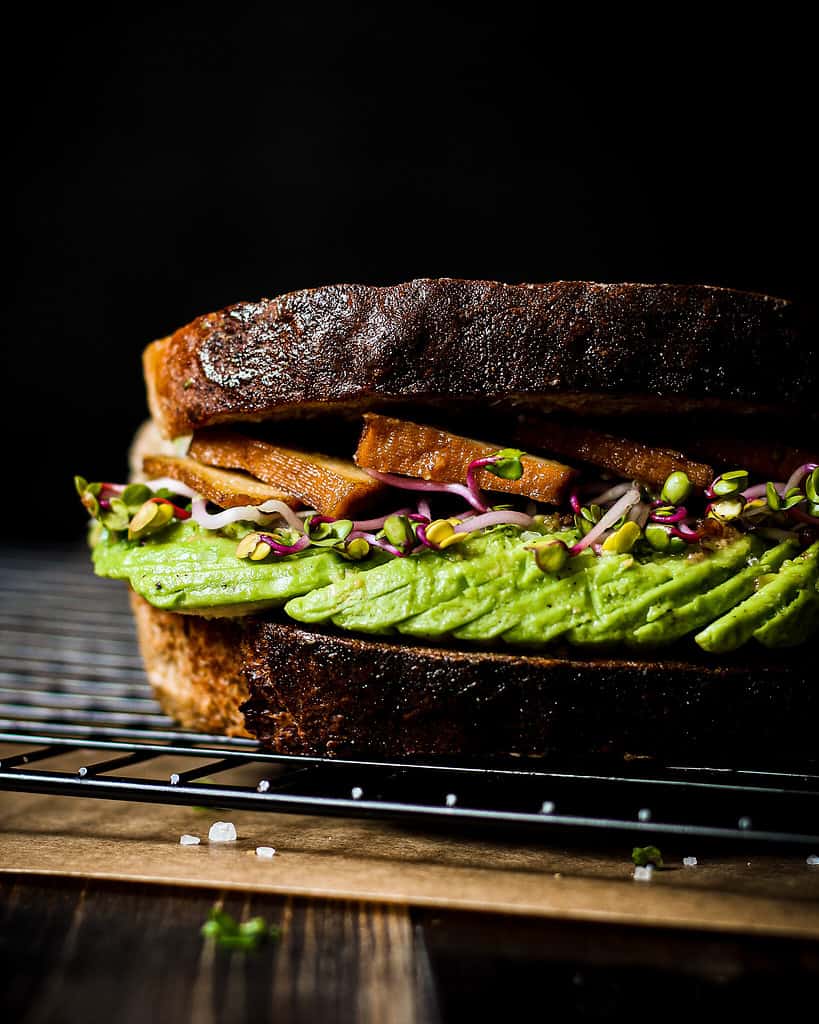 For this sandwich, I cut smoked tofu in slices. You can use them just like that or fry them up with a little olive oil and soy sauce to make them a bit bacon-y.
Now spread some vegan butter on toasted bread, add sliced avocado with salt and pepper, a layer of sprouts and the tofu. If you have sweet mustard, that's the best.
Sauerkraut sandwich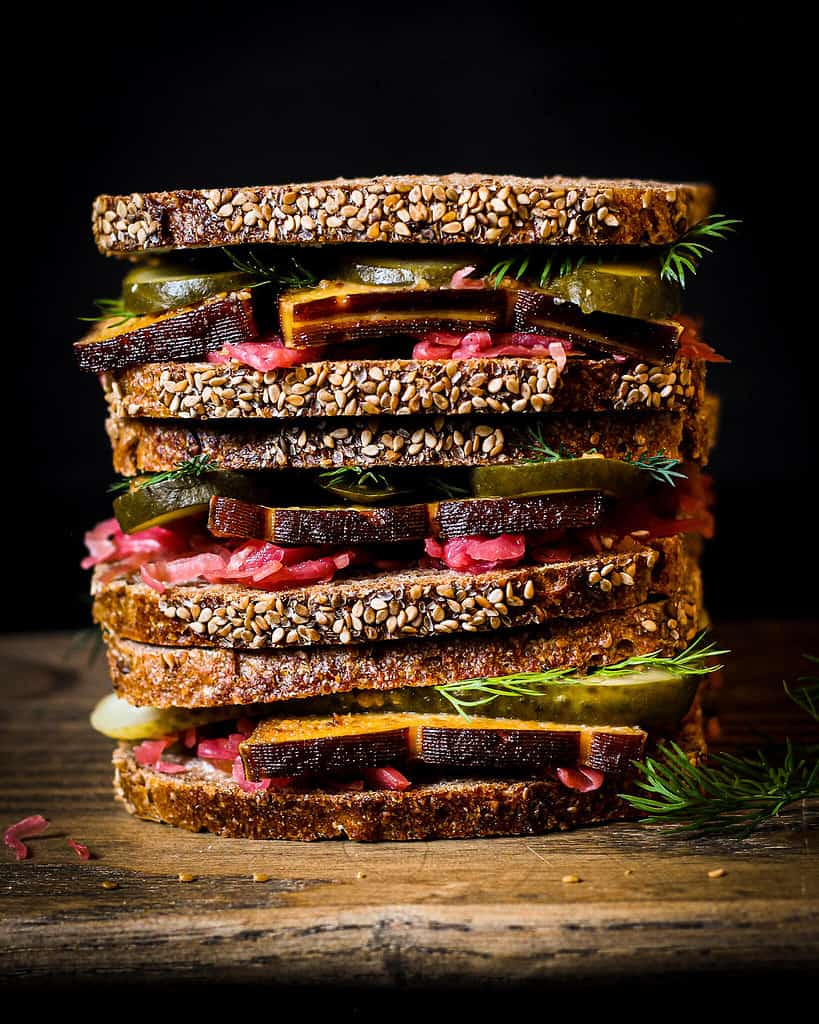 Find the full recipe for this vegan sandwich with sauerkraut here.
Caprese vegan sandwich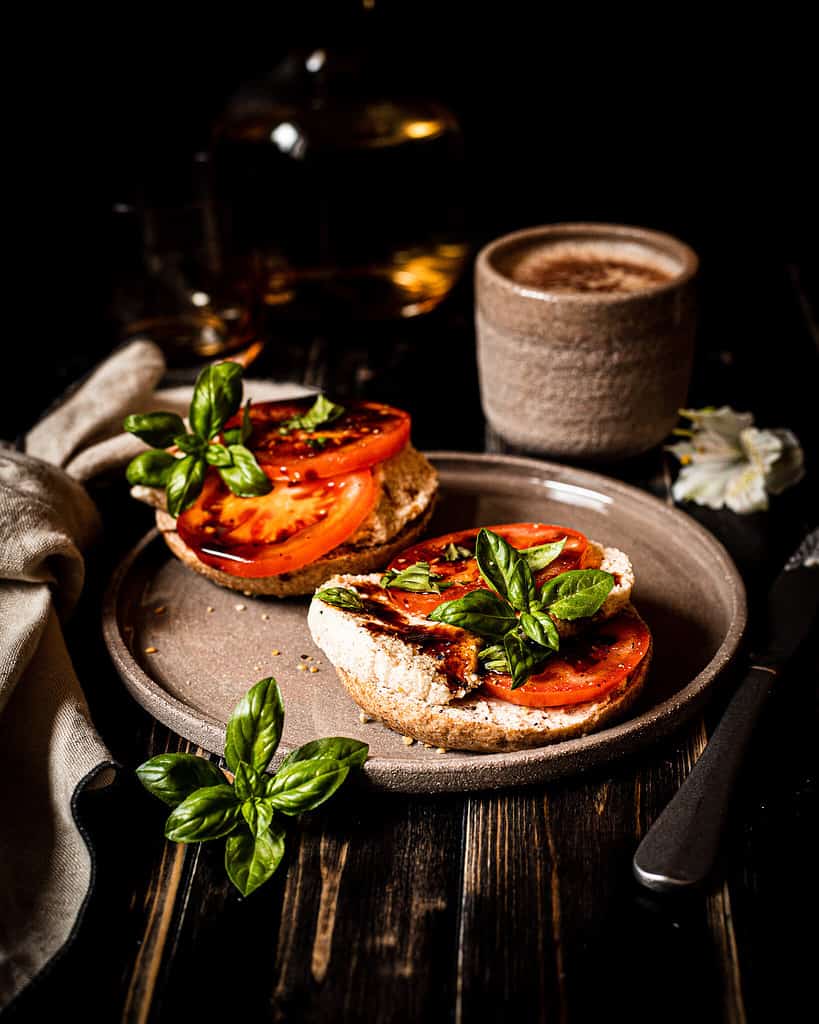 For this vegan sandwich, I make my own mozzarella. There are a lot of recipes out there, and I like this mozzarella recipe by vegan heaven a lot. To make Caprese salad, you also need tomatoes, fresh basil, salt and pepper and balsamic glaze.
You can find my bagel recipe here.
Guacamole toast with chili & chives lime oil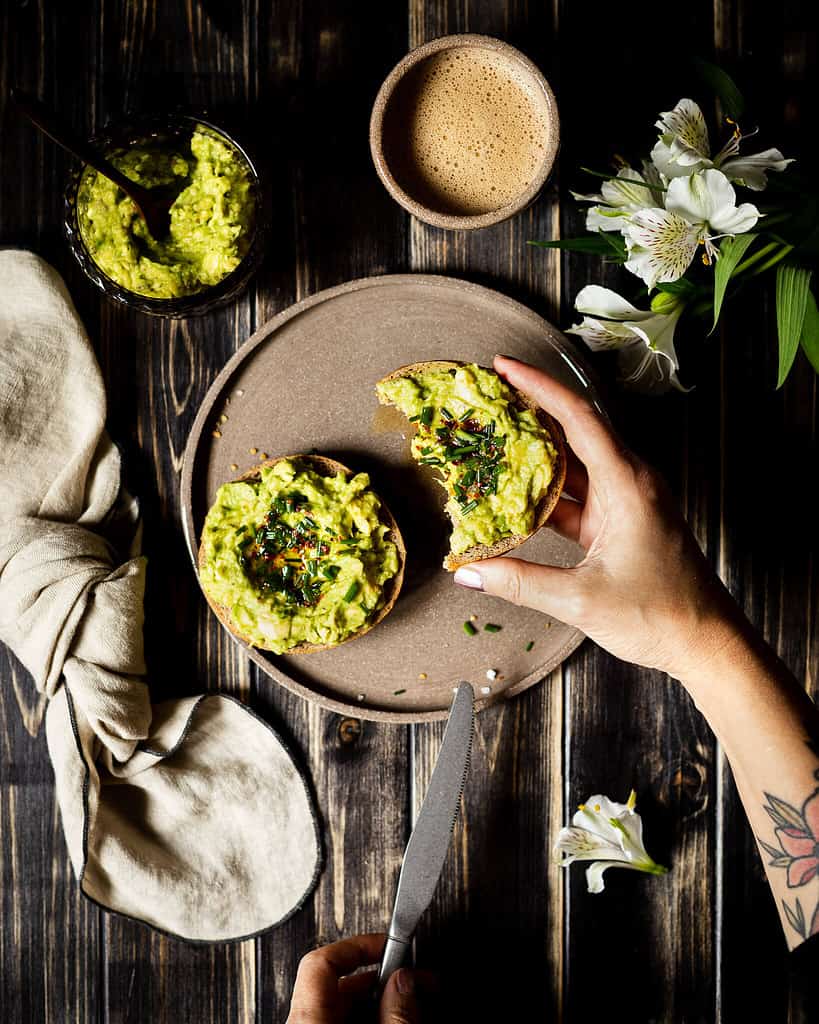 This guacamole is made with one avocado, 1/2 teaspoon salt, 1/4 teaspoon ground coriander, 1/4 teaspoon ground cumin and a few grinds of pepper.
I then mix 1 tablespoon of olive oil with a pinch of chili, grated lime zest and fresh chives and pour the mixture on top.
Smoked Tofu BLT
You'll find the recipe and video for this veganized classic sandwich here.
Do you love brunch? Have a look at my 7 ideas for your perfect brunch buffet.