There are many ways of veganizing this sandwich classic, and there are lots of bacon replacements to choose from, when you want to make a BLT sandwich.
My favourite bacon replacement is tofu bacon. Especially smoked tofu becomes very crispy when you fry it in thin slices, and very hearty when coated in a sauce made of maple syrup, rice vinegar, soy sauce, onion and garlic powder and smoked paprika. Smoked paprika is also known as pimenton de la vera. In case this spice is not available, regular paprika powder will do, and you can add a little liquid smoke if you like it smoky.
After frying, I let the tofu bacon dry for a moment so it can crisp up.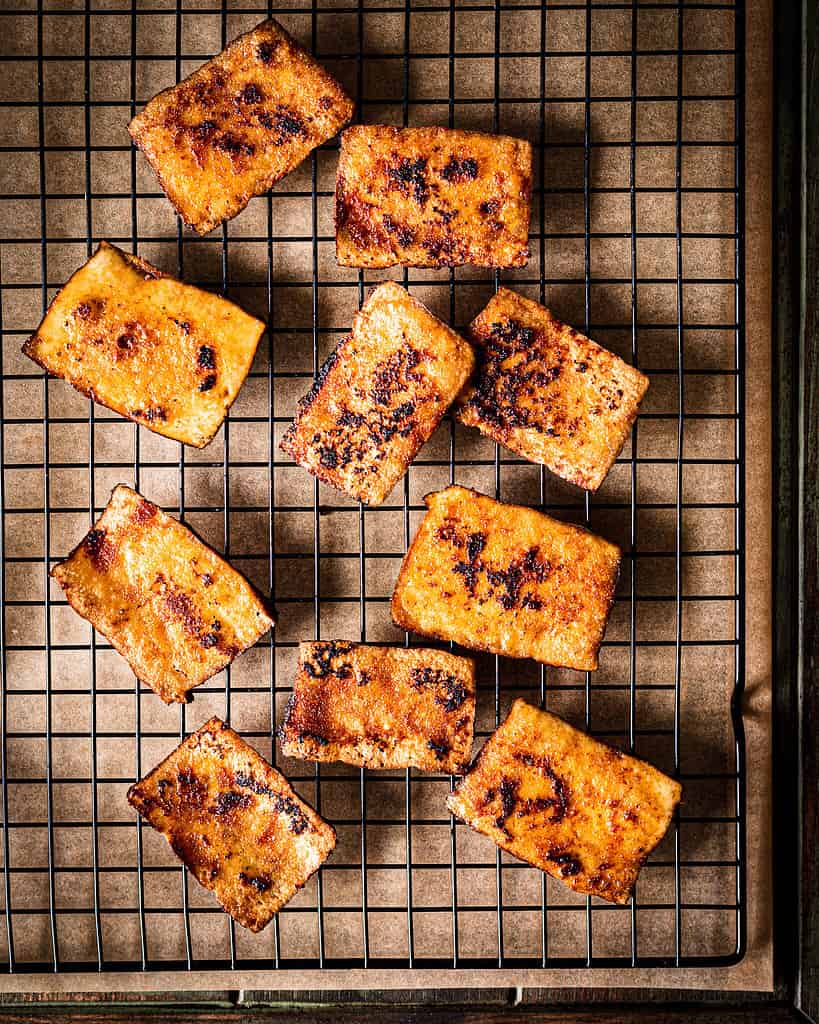 What else do you need for the vegan BLT sandwich?
Also there's of course lettuce and tomatoes on a fresh bread roll or baguette, some toast or a nice spelt bagel with hemp seeds.
Vegan mayo should meanwhile be available in many shops, if not, you can always make it yourself. There are many recipes online, I like this one by Vegan Heaven very much.
As a side, I really like to serve my smoked paprika wedges.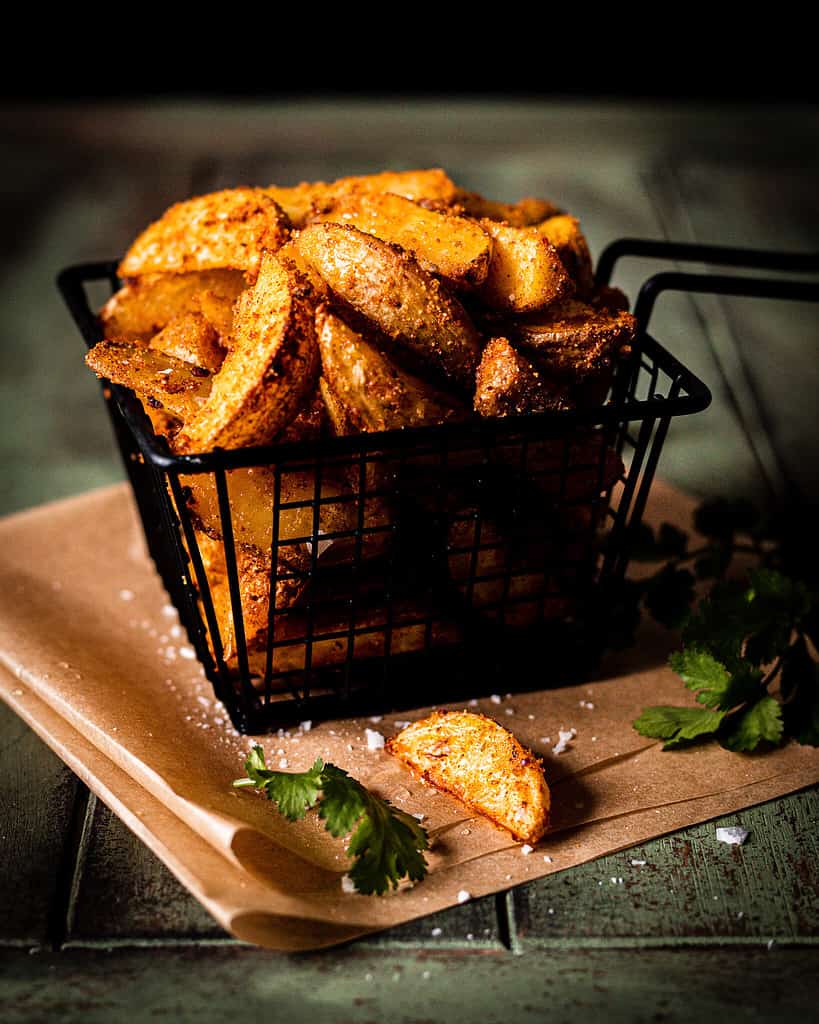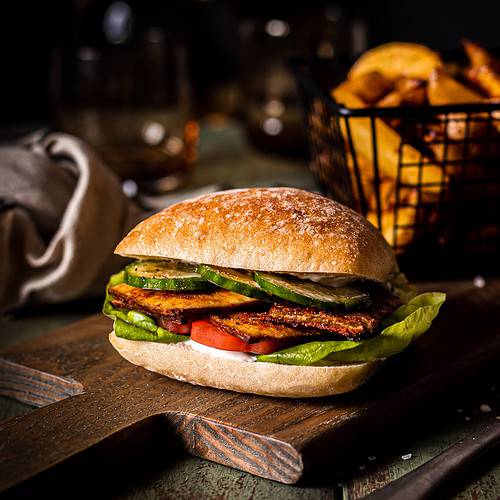 SMOKED TOFU-BLT-SANDWICH
This veganized classic with crispy smoked tofu bacon, lettuce and tomato is so delicious and so easy and quick to make!
Ingredients
1/2

smoked tofu

1/2

teaspoon

maple syrup

1/2

teaspoon

soy sauce

1/2

teaspoon

rice vinegar

1/4

teaspoon

smoked paprika powder

1/4

teaspoon

onion powder

1/4

teaspoon

garlic powder

4

slices

bread

or two bread rolls

vegan mayo

2

lettuce leaves

1

big

tomato

cucumber slices

salt and pepper
Instructions
First, gather all your ingredients and prepare them in the right amounts. That makes it so much easier and more fun and you're less likely to forget anything. 

Cut the smoked tofu into thin slices of about 3-5 mm. The thinner, the better.

Heat some plant oil in a big pan.

Fry the slices at medium to high heat for about 5 minutes.

Combine maple syrup, soy sauce, rice vinegar and spices into a thick sauce.

Turn the slices and apply the sauce. I find it easiest with a brush. Turn the heat to medium and fry for another five minutes.

In the meantime you can toast the bread and cut the tomatoes and cucumber.

Spread vegan mayo on the bread and layer the lettuce leaves, the tomato, the smoked tofu and the cucumber slices, add salt and pepper and serve.
Did you enjoy this recipe?
A 5 star rating would mean the world to me and I always love to see your pictures on instagram @flymetotheveganbuffet
Do you love sandwiches? Check out my blogpost on 10 ideas for your new favourite vegan sandwiches.