Seems like everyone I spoke to went to Greece this summer, and suddenly Tom was all over the idea, too. Ok, I said, let's go. We decided to go to Athens and Santorini.
I wasn't sure about what it would be like to be vegan in Greece, as I spent many summers in Greece as a child and teenager, and I remember that it was even difficult to get something vegetarian back then and just eating fries all the time.
But things have really changed in the last 20 years. Being vegan in Greece has become quite a thing, and not only did we have no problems finding food or plant milk coffee, but it was even hard to decide. I didn't eat any fries this time. There were so many options!
The first thing I recommend when traveling to any country is going to a big city and taking an organised vegan food tour. Your guide is usually a local vegan who knows where to get the best food, but also a lot about the food history of the country. Their tips and stories are priceless, especially if you're planning to travel on to more traditional rural areas.
Tom and I are morning people, so we were very happy to find Agathi's food tour in Athens, and we booked it for 11 in the morning.
On the arrival evening we checked our HappyCow App and found Cookoomela Grill, a lovely vegan street food place where we had amazing souvlaki and potatoes.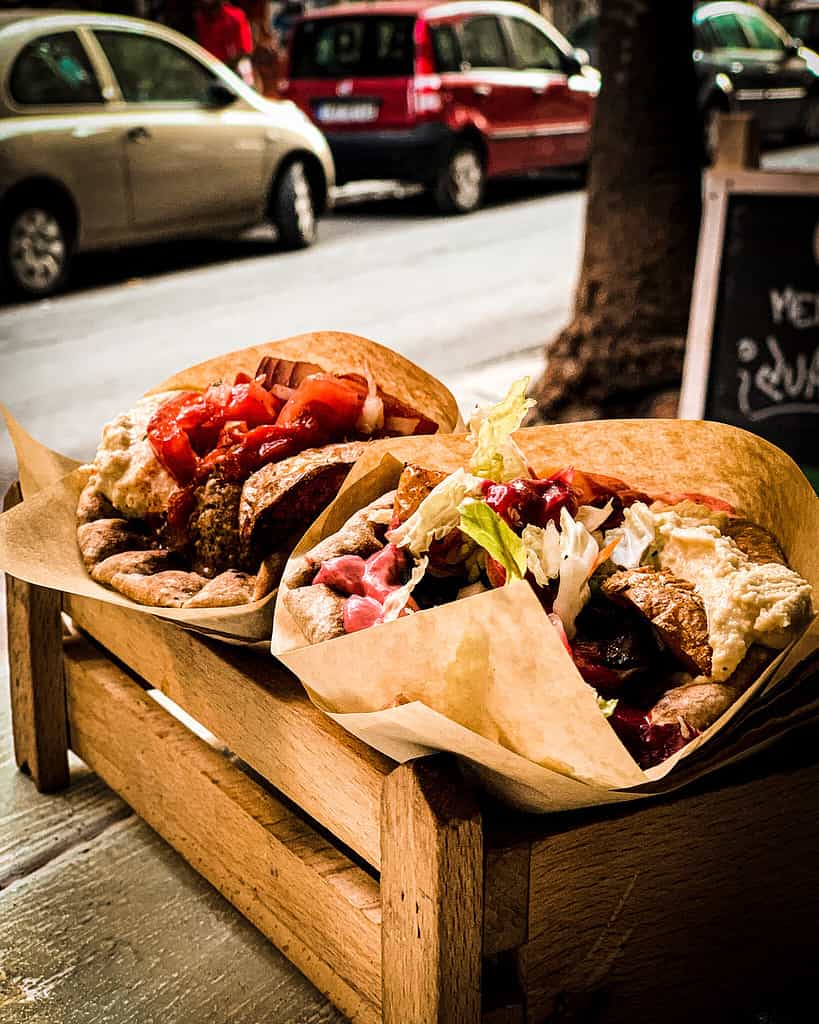 Vegan in Greece – the food tour
The next morning at 11, we met with Agathi and she took us on a nice stroll, starting with a little vegan shop where we'd get veganized traditional pastries in a bag. We went to a nut shop and got a bag with a lovely mixture, and we got traditional sesame rings which are usually vegan. These would turn into our go-to snack for the rest of the trip, so delicious.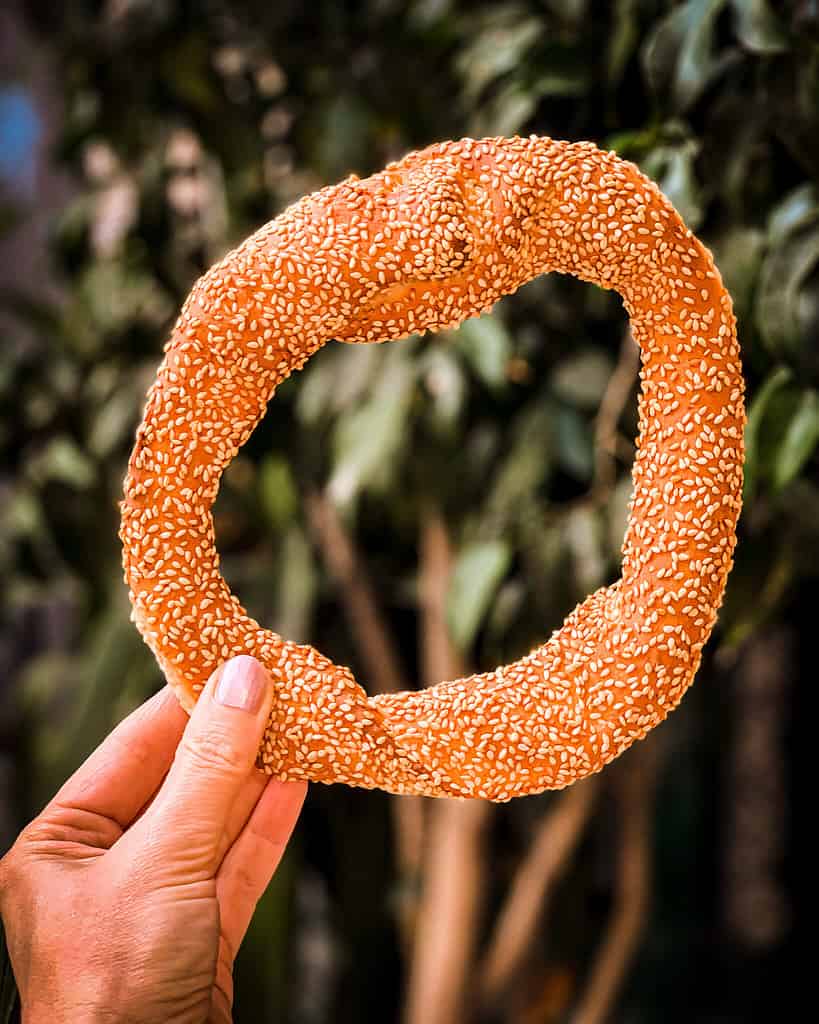 There was also an olive oil tasting at a gift shop and I got a vegan Greek cookbook there. And we got amazing fresh fruit juice at a beautiful little fruit shop: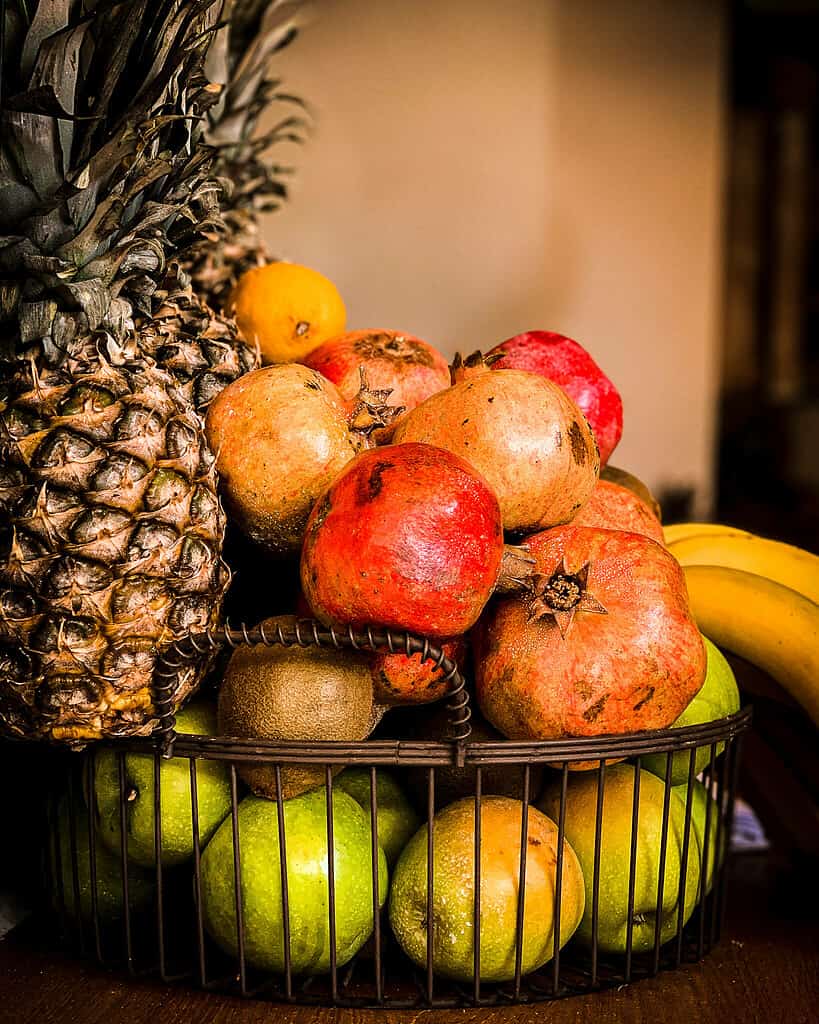 What I liked most about the tour was that it didn't start with a huge meal, but little snacks in bags, so we would just nibble a bit and put the food in my handbag for the ferry the next day, and still have room for the delicious mushroom souvlaki and the fantastic dessert.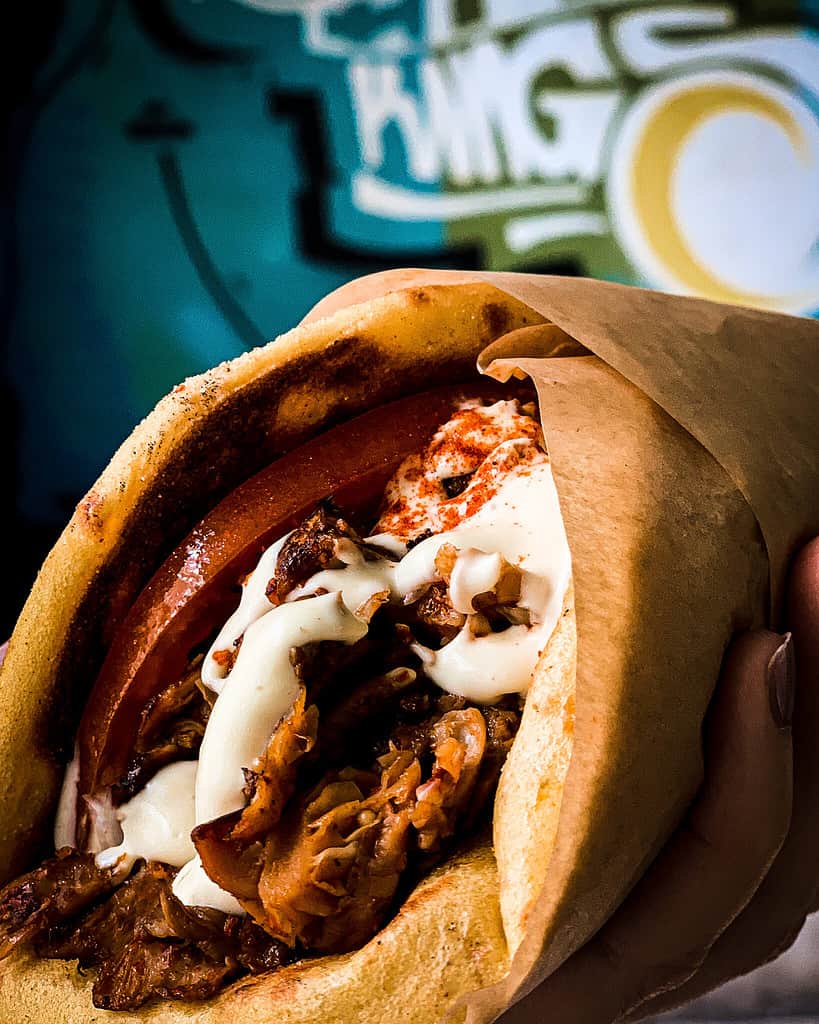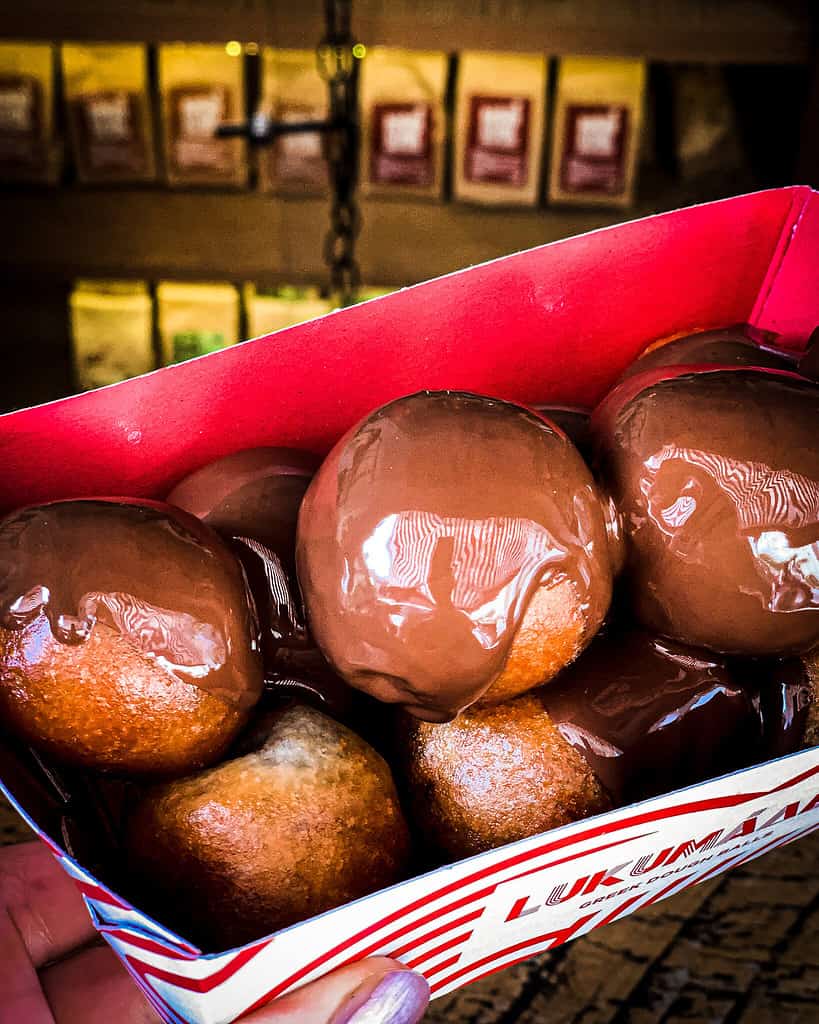 In the evening, after going up to the Acropolis, the HappyCow app took us to a great restaurant called W.Karytsi, where we ordered vegan moussaka, a salad and a glass of rosé, and we polished it all off in seconds.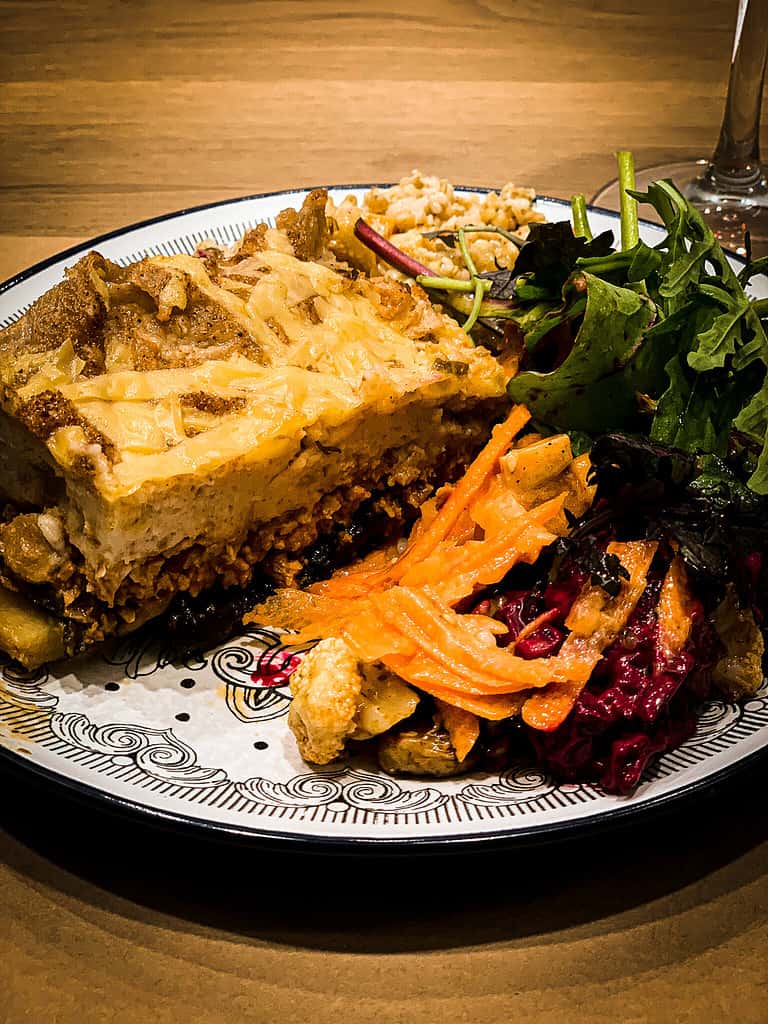 The next day we got on the ferry to Santorini and I had brought some oat milk from Germany which came in handy. Plant milk on the ferry seemed a bit too much to ask for yet and there didn't seem to be any vegan food in there for sale, but we still had our doggy bags from the food tour and just got a coffee for our oat milk. So we were good.
Do you already have my free checklist for traveling vegans? Subscribe to my newsletter and get it now 🙂
Vegan in Greece – Santorini
Santorini turned out to be just as vegan friendly as Athens. The first night we ate at Ohh boy, where we got a vegan burger and beyond meat hot dog, which were delicious.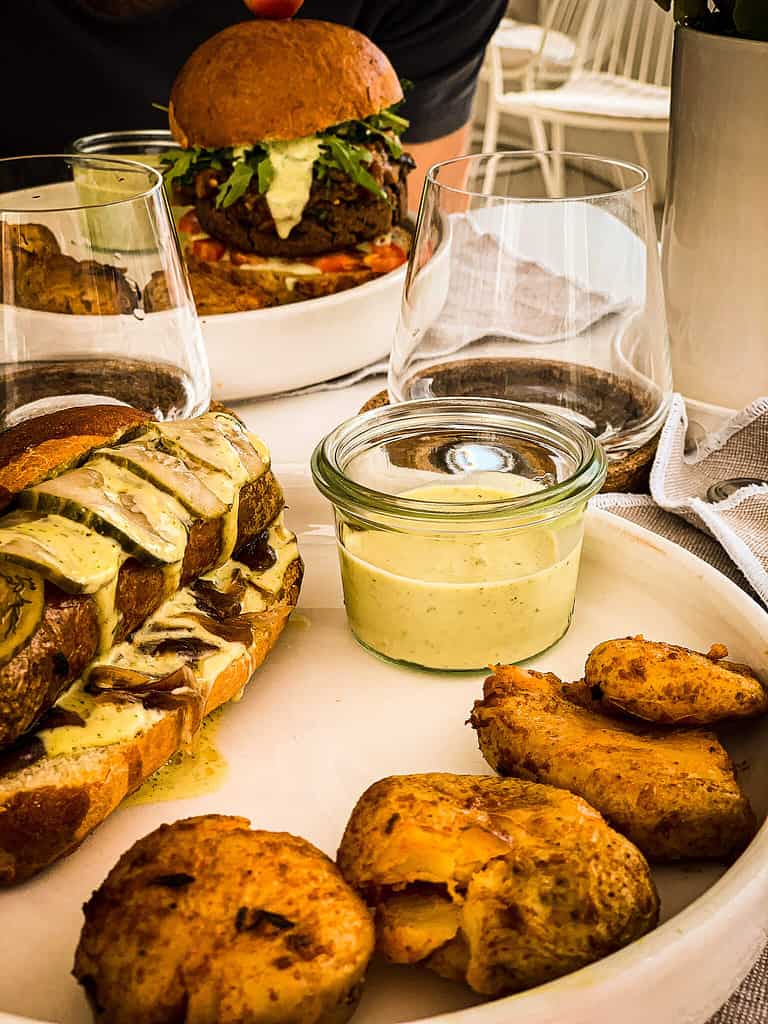 And the view! White little houses, the glittering blue sea, the black volcano island. And what is with the little balcony pools? I want one like that too …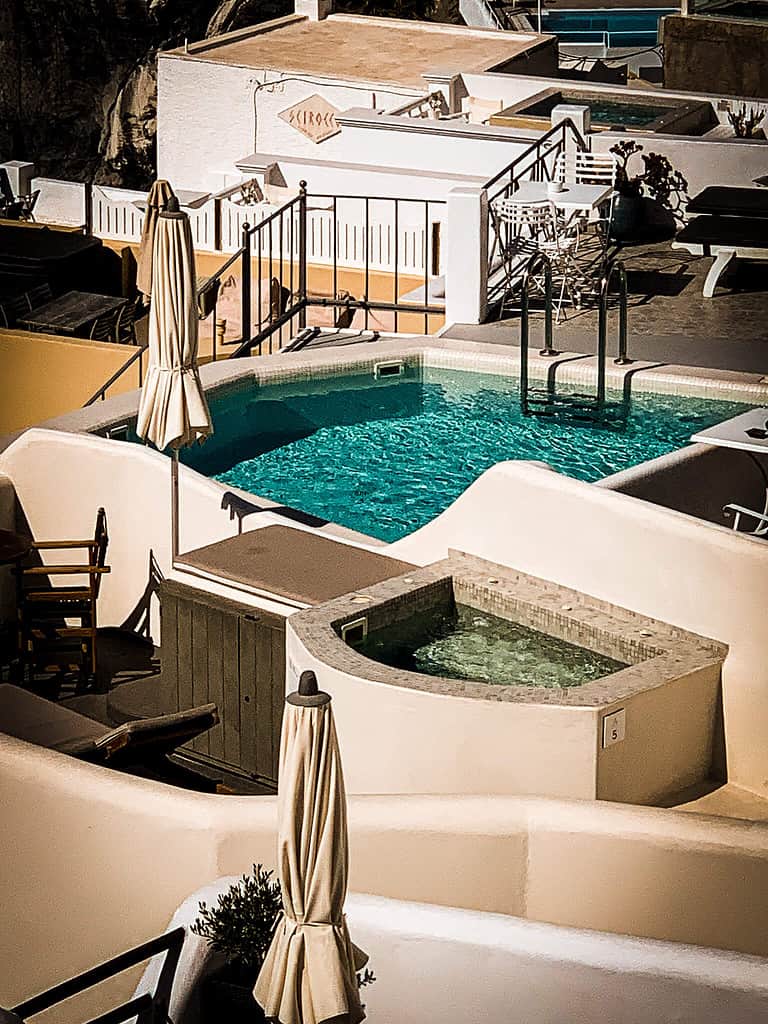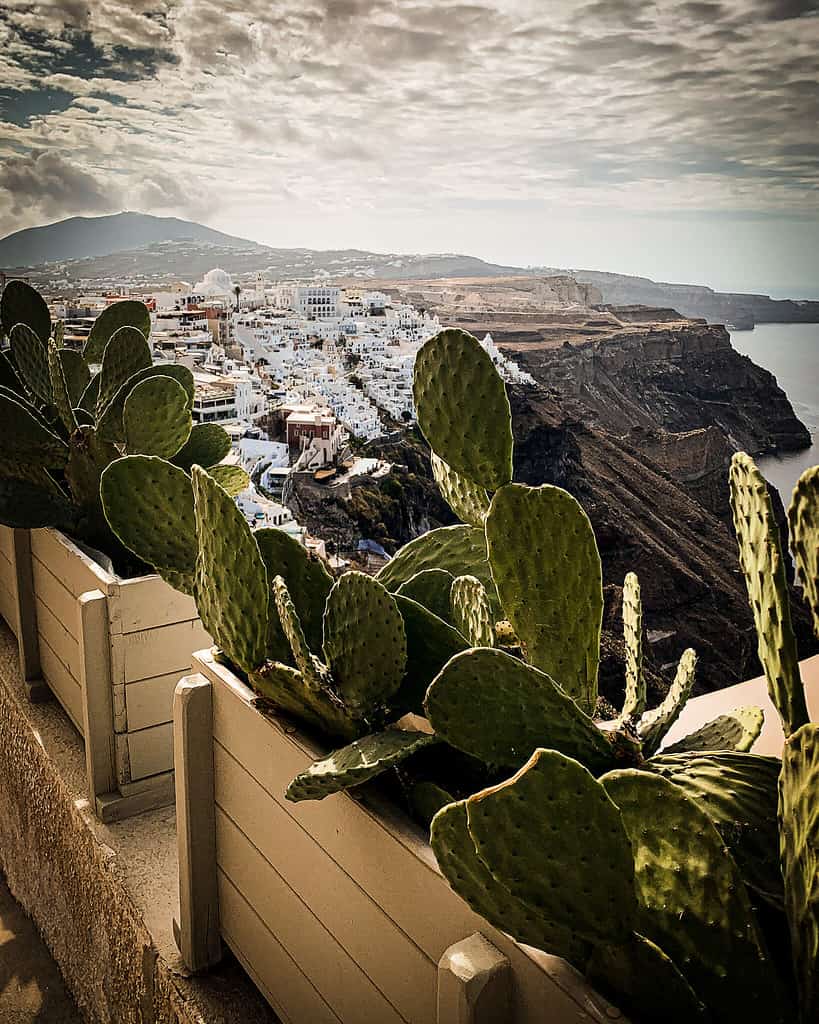 There is a vegan/ vegetarian restaurant on Santorini called five senses in an airy beautiful space and we went there after taking a long day trip to the volcano island. That's my excuse for not coming up with amazing pictures of the delicious food we had there. It was dark, we were hungry and tired and the light was cozy.
You can guess what that meant for the pictures, and we were planning to go back for lunch the next day, but that didn't work out and so this dessert picture is the best one I have. I can only recommend the place, it's beautiful, the food and service are great, so please go there and take better pictures than I did 🙂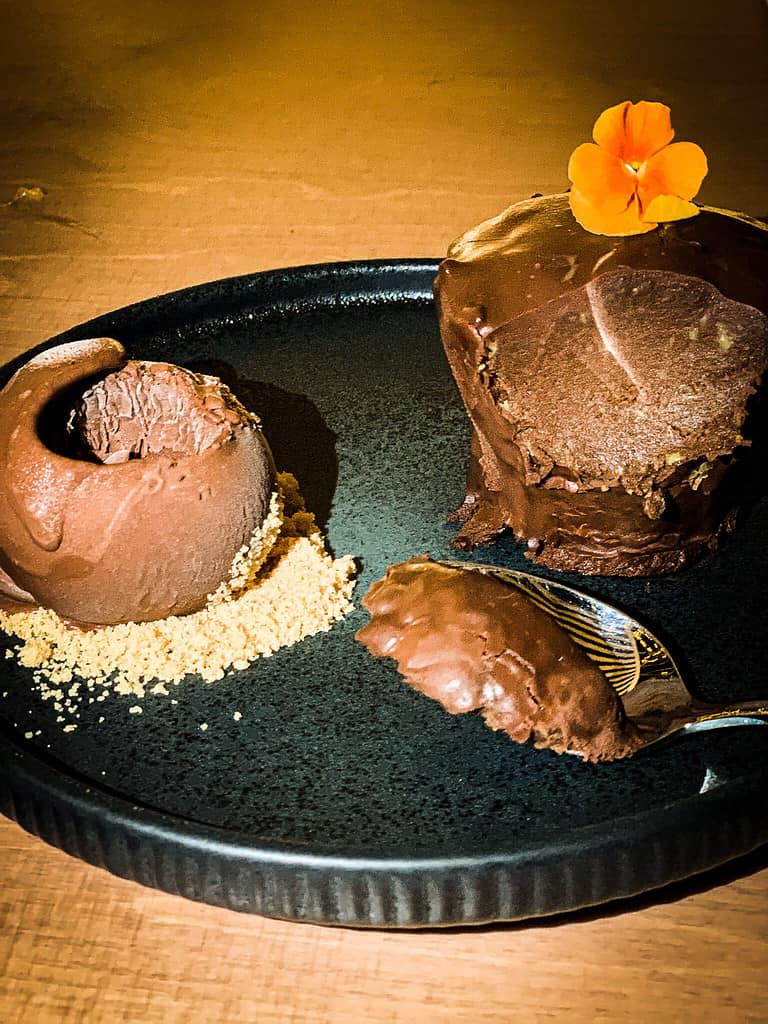 In other restaurants it is also easy to find things like avocado toast, aubergine dip and veggie souvlaki on Santorini: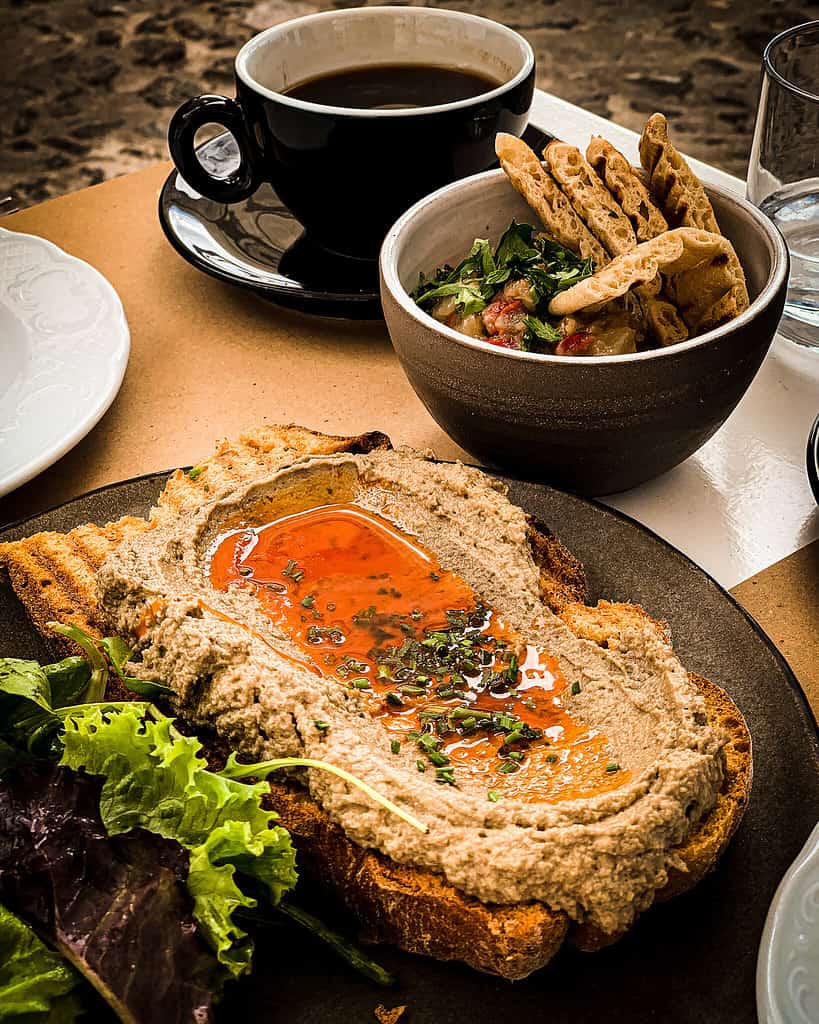 Santorini is beautiful, but not cheap, you'll notice that very quickly. So we went to a little supermarket and got olive oil, salt, cucumber and tomatoes, along with fresh fruit smoothies and sesame rings from the bakery and made our own meals: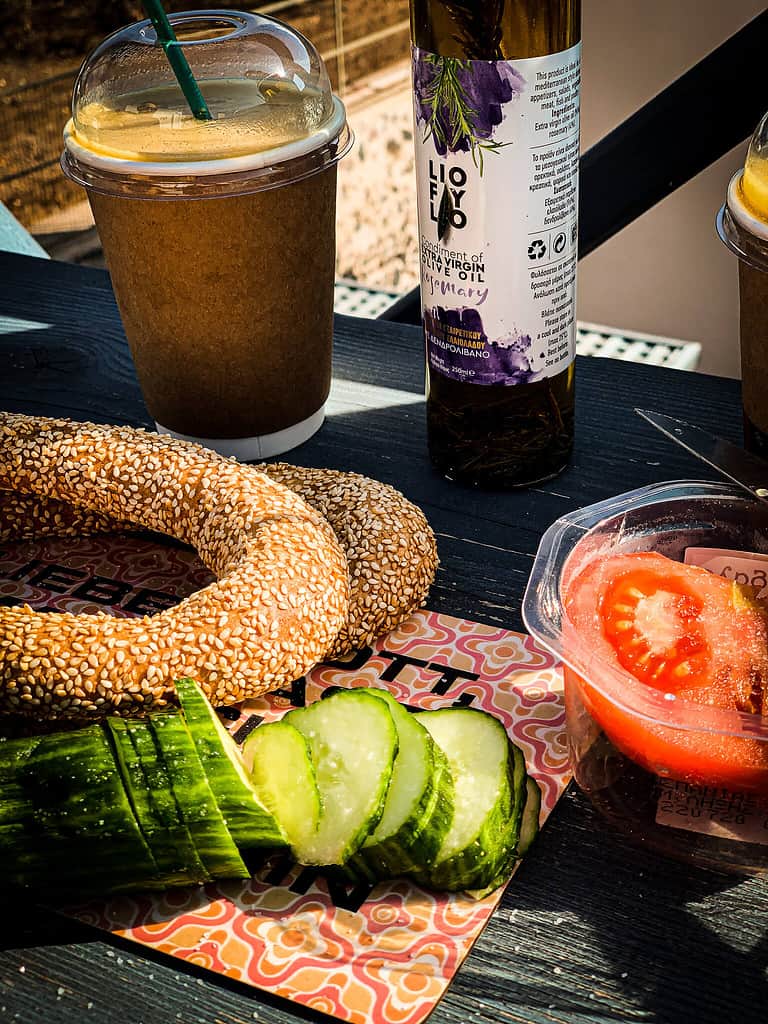 The vegan pro traveller always has a cutting board, cutlery and bag clips. I also bring instant coffee and plant milk (in a sealable plastic bag) because I can't function otherwise.
By the way, I could hardly believe my eyes when I opened HappyCow and saw that an all vegan hotel had just opened in Santorini! We had already booked our hotel in advance and liked our cozy little room next to the pool a lot, but next time, we'll definitely have a look into it.
Back in Athens, we treated ourselves to pizza at Smak Athens and a breakfast bagel and oat cappuccino at the coffee shop across from our hotel the next morning, before going back to the airport.
Did I mention yet how friendly and helpful everyone was everywhere? We fell in love with Greece all over again and definitely didn't miss grumpy, chaotic Berlin and it's impending icy winter …
Have a look at my Instagram highlight "Greece" if you like.
Internet on the go
If you're traveling to Greece from a non-European country, I highly recommend getting a prepaid eSIM with roaming. It can be very frustrating to always search for WiFi just to scan a QR code. That's why my colleagues and I love Flexiroam! It works really well and there are different plans available, for individual continents or worldwide, with varying data volumes and valid for either half or a whole year. As a flight attendant, I use the worldwide 5GB plan for 180 days and so far it has worked out very well for me.
You'll get a welcome discount when using code IAMNEW at Checkout with Flexiroam*. There often are big discount promotions, and here's a YouTube video with a short tutorial.
You might also like:
Travel like a pro – a flight attendant's 12 tips for your next trip
Flying as a vegan: how to make sure you get food