Cooperation with Casa Firelli
These little pumpkin bruschetta are a taste explosion! Crispy pan-fried bread, a hint of garlic, rich and buttery roasted Hokkaido squash, sweet and tangy pomegranate tendrils, aromatic basil and a spicy umami hot sauce!
Italian brand Casa Firelli have provided their delicious hot sauce for me to be creative with.
It is handcrafted in Parma and made of Italian ingredients including Calabrian chilies, roasted red peppers, balsamic vinegar, sea salt and porcini mushrooms. It's medium spicy, just enough to add a little kick to your food.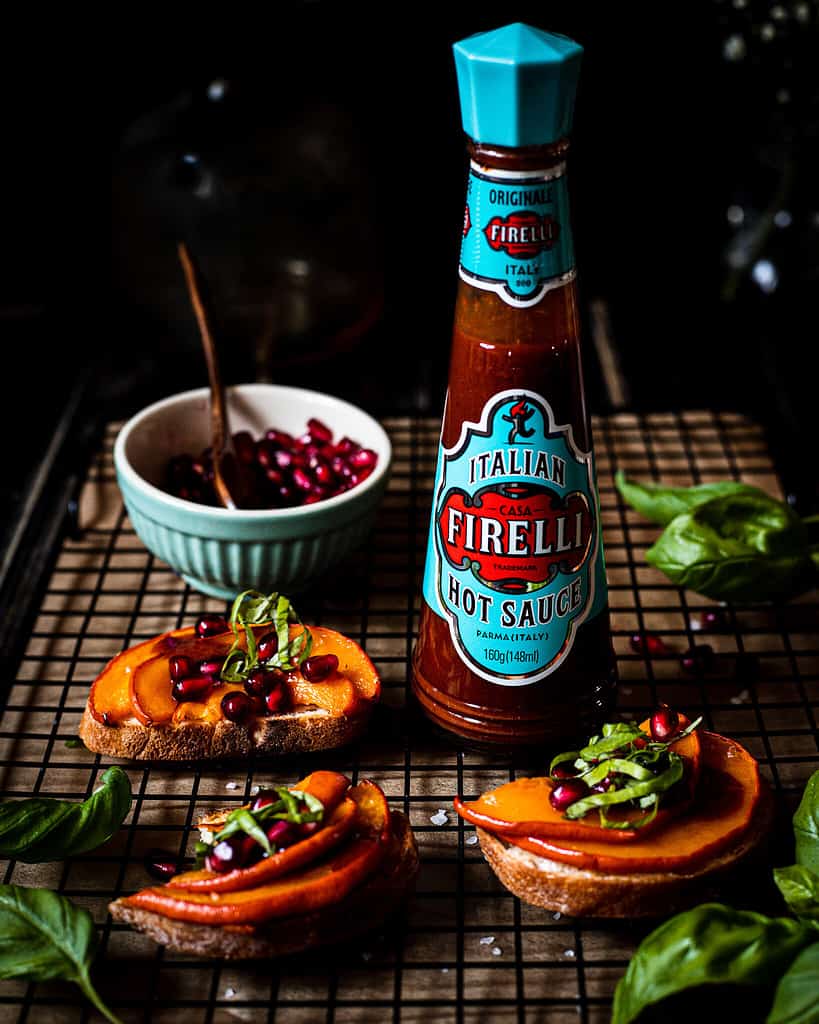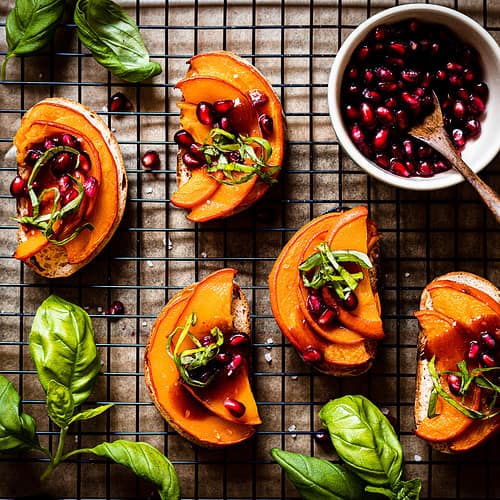 PUMPKIN BRUSCHETTA
Delicious roasted Hokkaido pumpkin on crispy baguette with umami Italian hot sauce, sweet pomegranate tendrils and fresh basil
Ingredients
1/2

small Hokkaido pumpkin

2

tablespoons

olive oil

1/4

teaspoon

salt

1

pomegranate

1/2

french baguette or other bread

1

garlic clove

2-3

tablespoons

Firelli hot sauce

basil leaves
Instructions
Preheat oven to 200 C°/ 400 F°

Now, gather all your ingredients and prepare them in the right amounts. That makes it so much easier and more fun and you're less likely to forget anything. 

Cut pumpkin in thin slices of about 4 mm and spread them out on a baking sheet lined with parchment paper.

Apply a little olive oil on each of them with a brush and sprinkle with a little salt.

Open the pomegranate and set aside about 1/3 cup of tendrils for the bruschetta.

Roll some big basil leaves together into a cigar shape and then cut them finely.

When the pumpkin is ready and cooling, heat some olive oil in a pan and roast the sliced bread from both sides.

Cut the garlic clove in half and rub it over the bread slices.

Layer the pumpkin slices on the bread and add hot sauce.

Sprinkle pomegranate tendrils and basil and enjoy!
Did you enjoy this recipe?
A 5 star rating would mean the world to me and I always love to see your pictures on instagram @flymetotheveganbuffet
Do you like the combination of pumpkin and bread? You might also like my Hokkaido Za'atar focaccia.