Za'atar is a West Asian spice mixture and there are regional variations. I have a Za'atar made of sesame, sumach oregano and thyme.
I enjoyed an amazing Za'atar focaccia in Tel Aviv once and with all these beautiful pumpkins now that made a great combination. It's actually our new favourite food!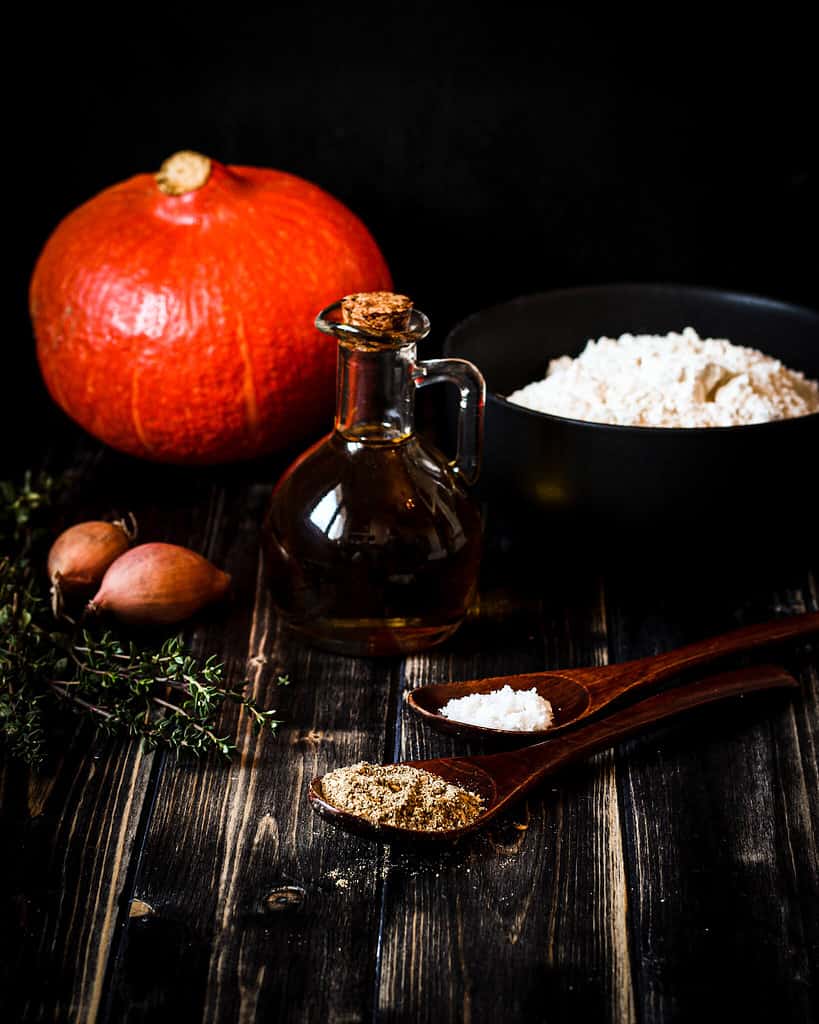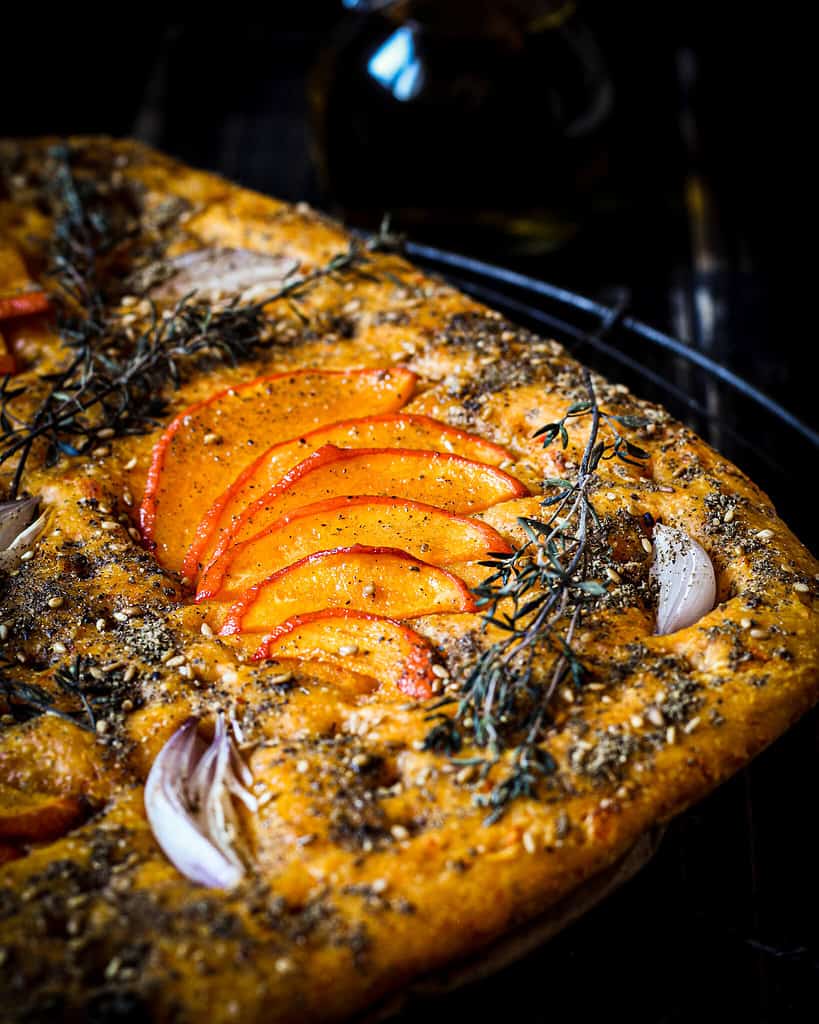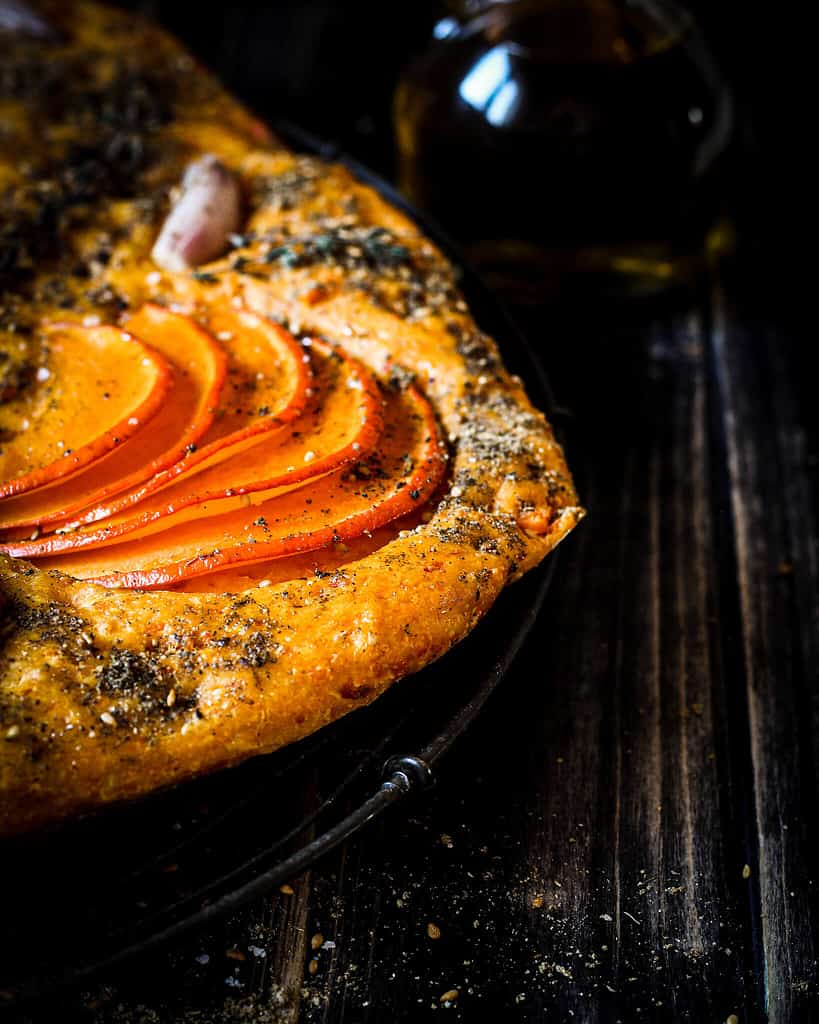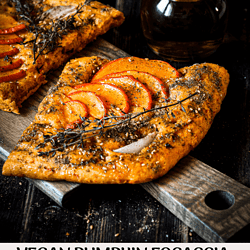 HOKKAIDO ZA'ATAR FOCACCIA
Make a crispy fresh focaccia with Hokkaido pumpkin, olive oil and Westasian seasoning Za'atar
Ingredients
1

small Hokkaido pumpkin

3

cups

flour

360 g

1

sachet of dry yeast

about two teaspoons

1

cup

lukewarm water

240 ml

1

teaspoon

sugar

60

ml

olive oil

1

teaspoon

sea salt

1

tablespoon

Za'atar*

1

small onion

some thyme twigs

more salt and olive oil
Instructions
First, gather all your ingredients and prepare them in the right amounts. That makes it so much easier and more fun and you're less likely to forget anything. 

Wash and open pumpkin. Cut five thin slices off each of the sides for decoration.

Chop up about 1 cup of the pumpkin, that works best in a mini food processor. If you don't have a food processor, you can also boil the pumpkin until soft and mashable.

Combine flour and dry yeast in a bowl, then add chopped or mashed pumpkin, water, sugar, salt and olive oil. Knead for 10 minutes into a slightly sticky dough.

Pour some olive oil into a big bowl and on your hands to avoid the dough from sticking too much and place the dough in the bowl. Cover with a damp tea towel and let it rise for at least one hour in a warm place, for example the warm oven. Around 30°C/ 85°F is a good temperature.

After one hour, the dough should have doubled. Punch it to remove the air, then knead again with oiled hands and form one big focaccia.

Spread it on parchment paper and pour some olive oil over it.

Then poke deep holes into the focaccia with your fingers or a chopstick to create pools for the oil and the spices.

Add pumpkin slices and onion, brush a little olive oil on them if you like. Then add thyme twigs, a little more salt and the second tablespoon of za'atar.

Now let it rest another 20 minutes and preheat your oven in the meantime to 210°C/ 410°F.

Then bake for 30 minutes.

Once it's ready, sprinkle with a little more olive oil and cut into pieces, I find it easiest with a pizza cutter.
Notes
I actually like my focaccia best the next morning for breakfast roasted in a skillet.
Did you enjoy this recipe?
A 5 star rating would mean the world to me and I always love to see your pictures on instagram @flymetotheveganbuffet