No, I didn't have this Mexican fusion pumpkin soup in Mexico. I had chips. Almost pink with paprika and dripping with fresh lime juice that was squeezed over them right before my eyes. They were fantastic. The best crisps I had in my life, bought from a Mexican grandma in a sunny park in Mexico City between palmtrees and cacti, and I celebrated every bite.
This fabulous combination came to mind when I wanted to pimp my pumpkin soup the other day and saw the smoked tofu and lime in the fridge. I could pair that with smoked paprika, I thought and it became a hit.
Now we have this pumpkin soup every other day. With its onions, garlic, ginger, lime, cilantro, pepper and chili, it is the perfect weapon against the sniffling that comes with the Berlin winter.
The pumpkin soup can be made with
Hokkaido pumpkin

butternut squash

sweet potatoes

carrots and normal potatoes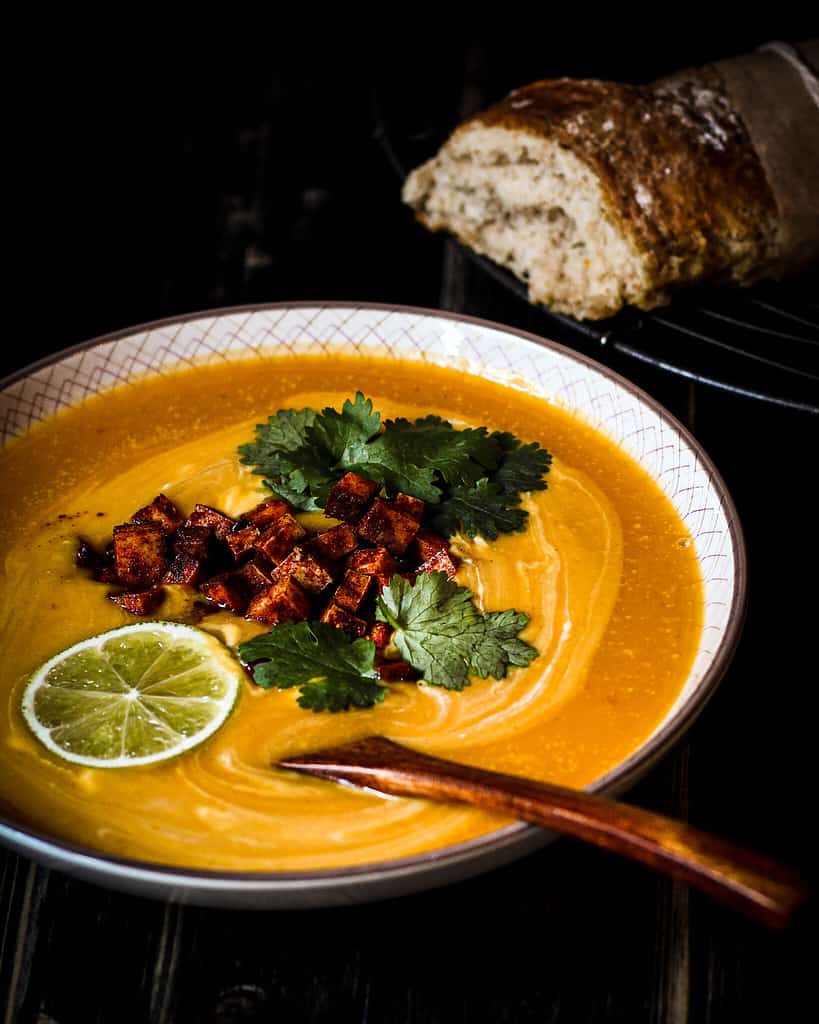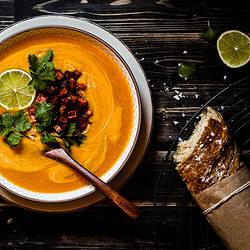 MEXICAN FUSION PUMPKIN SOUP
Quick delicious pumpkin soup with lime, maple syrup and smoked paprika tofu. Can also be made with sweet potatoes.
Ingredients
1/2

onion, chopped

1

garlic clove, chopped

1

teaspoon

ginger, chopped

300

g

pumpkin or sweet potato, cubed

about 2 cups

500

ml

veggie broth

2 cups

1

smoked tofu, cubed

1

teaspoon

smoked paprika

1

lime, squeezed

1

teaspoon

maple syrup

pinch of chili

optional

some plant cream or vegan sour cream

cilantro or parsley
Instructions
First, gather all your ingredients and prepare them in the right amounts. That makes it so much easier and more fun and you're less likely to forget anything 🙂 

Sauté onions and ginger in a little plant oil in a medium sized saucepan that has a lid. If you're going to use a stick blender, it's best to use a tall one. Add garlic, then the cubed pumpkin or sweet potatoes. Stir well, and add the veggie broth.

Then simmer for about 10 minutes with the lid slightly open. Stir from time to time.

In the meantime sauté the cubed smoked tofu in a skillet, add the smoked paprika and turn the heat down to medium.

Puree the soup with a stick blender or pour the soup into a blender and then back into the saucepan after blending.

Now add maple syrup and lime to the soup. When making the soup for the first time, I would only add half a lime because it might be too sour for some. Taste and add some chili powder or flakes if you like it spicier.

Now serve the Mexican fusion soup with a little plant cream, add the tofu in the middle and sprinkle with cilantro or parsley.
Did you enjoy this recipe?
A 5 star rating would mean the world to me and I always love to see your pictures on instagram @flymetotheveganbuffet
If you the flavour of this soup, you might also like my smoked paprika wedges. You might also be interested in my Mexico City Food Tour.