(I chose this tour by eat like a local and paid for it, this is not a sponsored post)
You know I love going on food tours, and this one was warmly recommended to me by a colleague. And my colleague didn't promise too much. I had an amazing time with Astrid, my tour guide and learned so much about Mexican food and culture. And there were all these interesting foods and drinks, oh my god. But let me start at the beginning of our food tour.
First on our food tour: coffee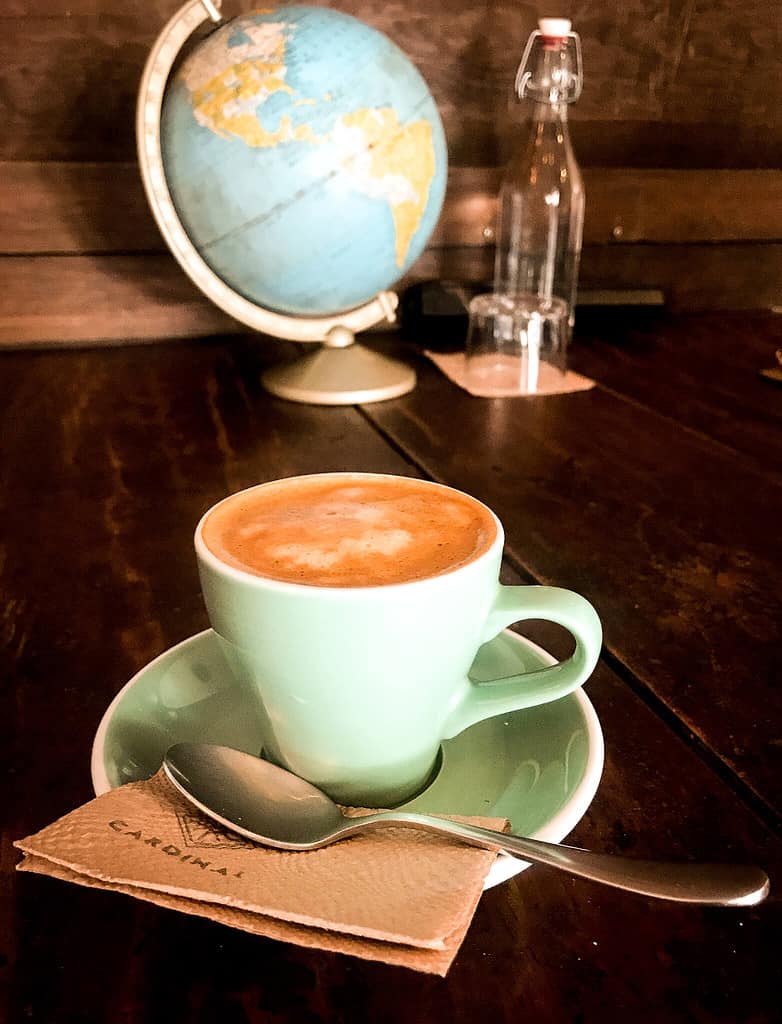 We met at Cardinal Coffee, a fair trade coffee place where I had the most delicious coffee I have ever tasted. I don't know how they do it. It was a dream. It actually came back here a couple of days later with a coffee-loving colleague and she was quite impressed too.
It is located in Roma Norte, which is probably the district with the most vegan places popping up on happy cow. However, only our second location was one of these famous vegan places: la Pitahaya Vegana with their yummy and beautifully presented pink tacos.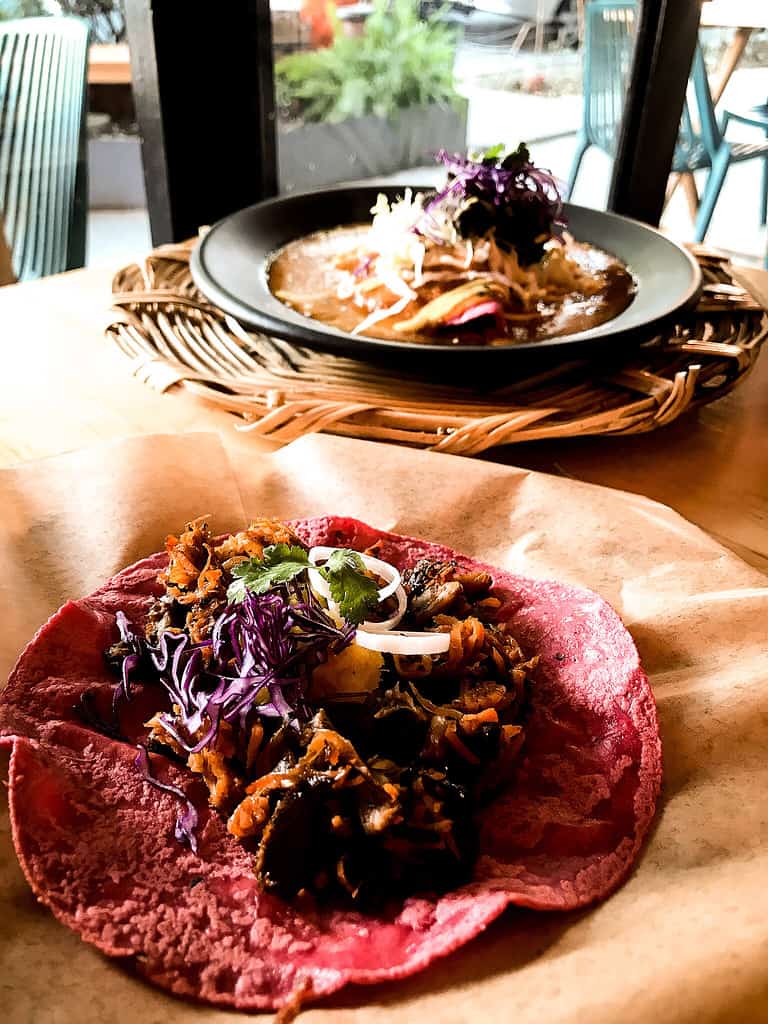 Astrid pointed out to some of the other popular vegan food sources you'll find on Happy Cow during the tour when we walked by them, like Por Siempre Vegano and Vegani. Which was good, so I got to have a look at them and see where they are if I wanted to come back. But what she wanted to show me on this food tour was something more off the radar.
Authentic Mexican food tour – just vegan
A lot of traditional Mexican food is interesting for vegans and I got to try a lot of it. We bought a taco de canasta from a guy who had them in his bike basket and sold them in the street. That is a taco filled with potato and spices and it was really good!
Next we went to a little place that makes tortillas. I was greeted with a little drink made of corn, and the taste reminded me of the vanilla pudding my grandma in Holland used to give me when I was a child. Also, it was very interesting to see the machines and the process of how tortillas are made, and of course I got to try them. Superfresh!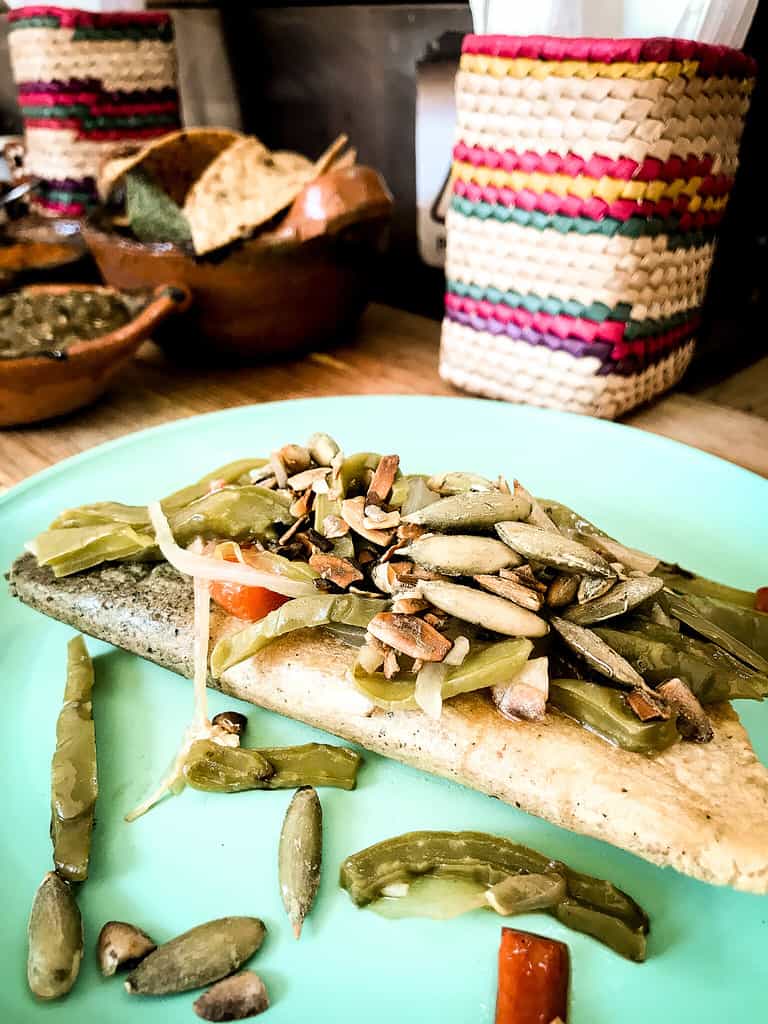 This one was with seeds and nopales. Nopales are used a lot in Mexican cuisine, they are cacti leaves and remind me a little of green bell peppers.
The market tour
Next we got on the train and our food tour continued at a big indoor market where I got to taste so many things from many different vendors.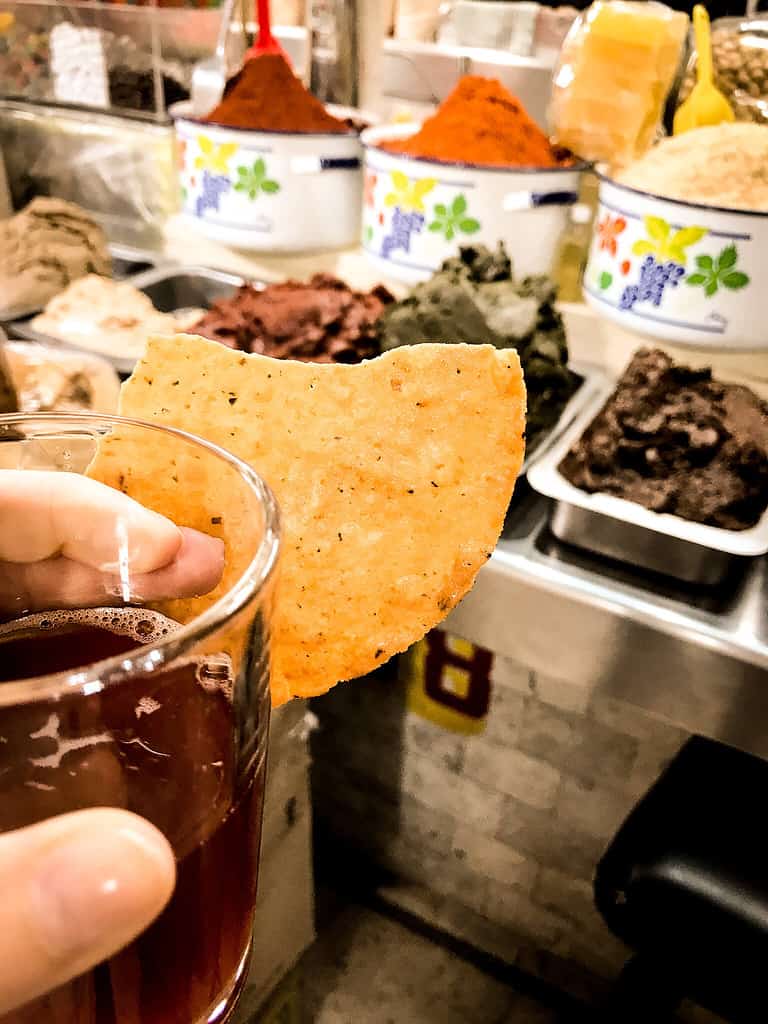 Do you know mole? It is a typical Mexican sauce and marinade that comes in many varities and I got to try some of them (picture above). I wish I had bought my favourite mole sauce and taken it home with me. Maybe I can do that next time. There was also a wide selection of typical Mexican fruit, including the black sapote, a fruit that tasted a bit like chocolate pudding.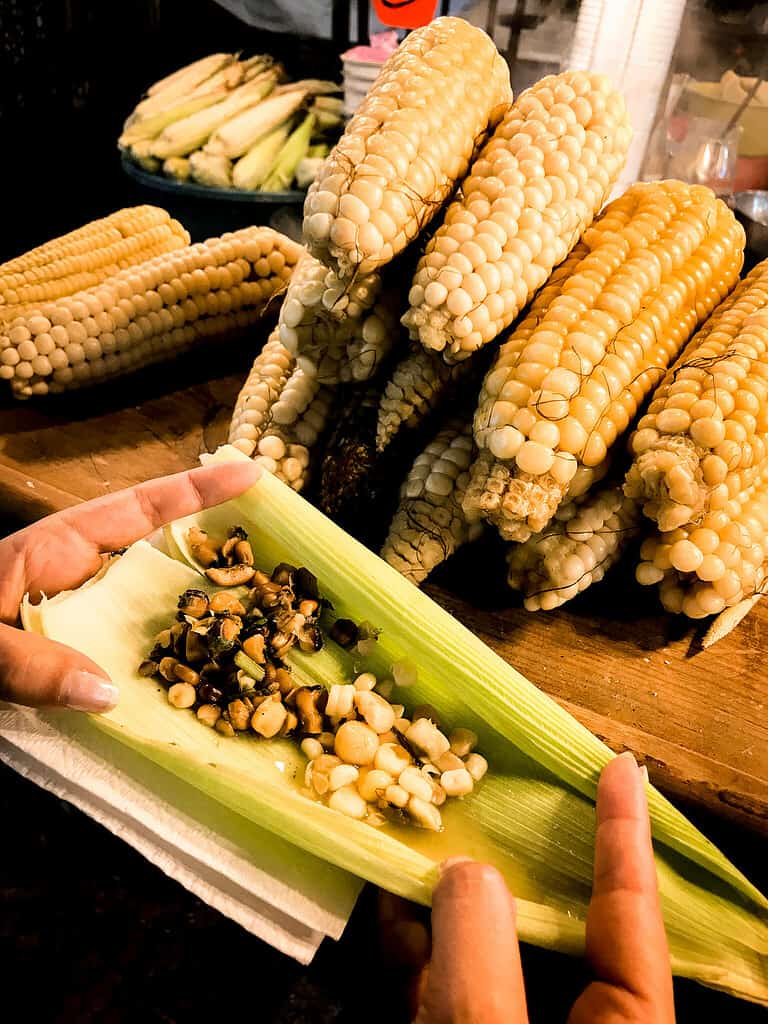 There were authentic corn dishes that were much much tastier than I expected, quesadillas without cheese, and lots of sweets. All of this surrounded by beautiful flowers and funny piñatas. That market was amazing.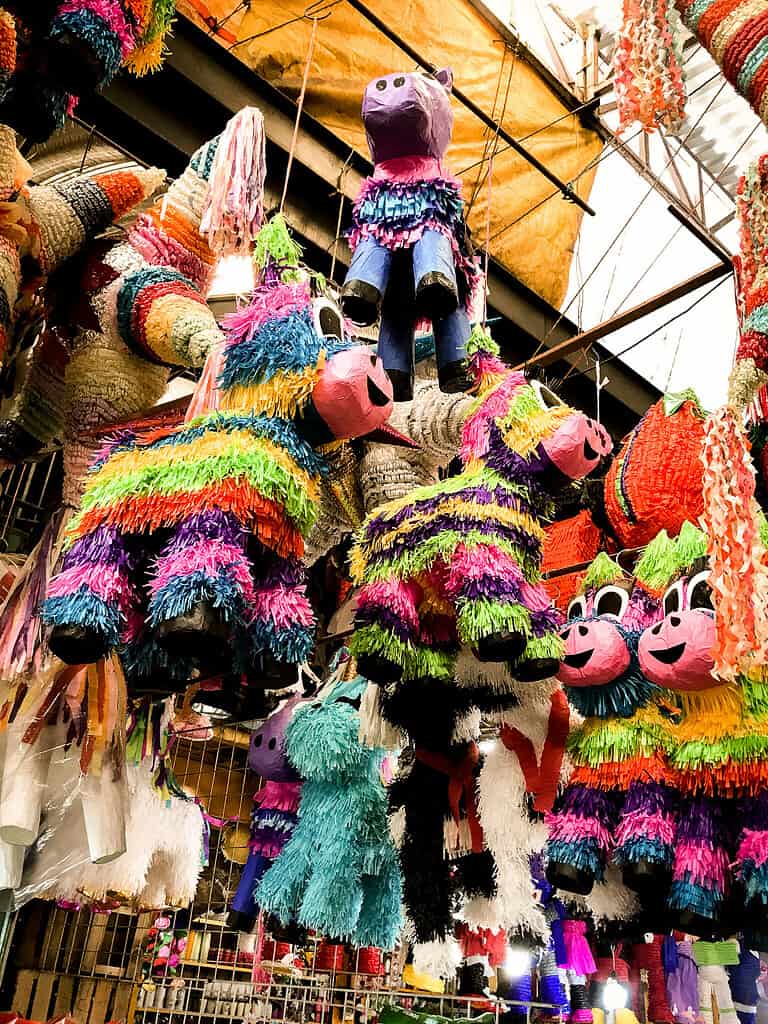 The two final stops of our tour
Our next stop was a 100-year-old traditional pulqueria. Pulque is a fermented agave drink that contains a little alcohol. It comes in different tastes and my favourite was the rose one.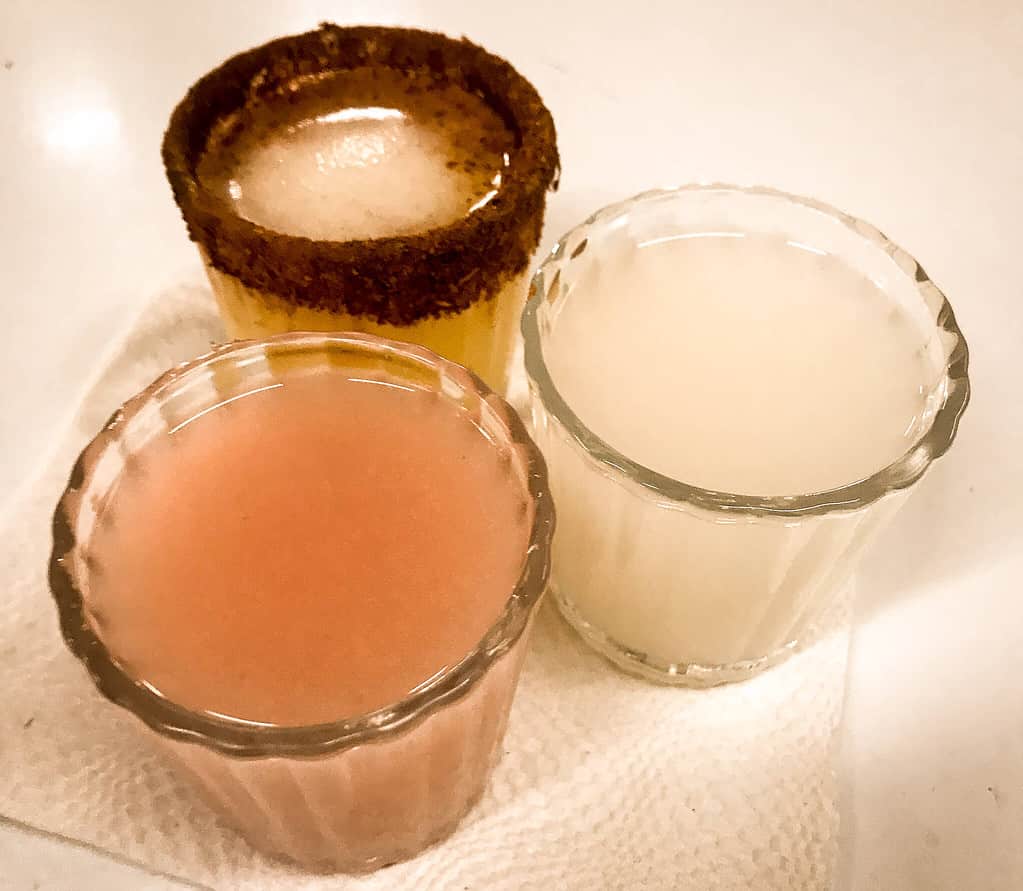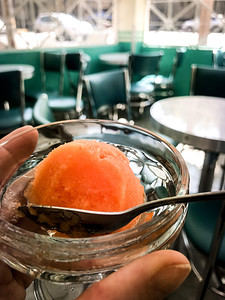 Then I got some melon sorbet from an ice cream shop as a dessert and that was the end of the munching marathon.
Have you gotten curious about this cool tour? Take a closer look here. Eat like a local is also advocating responsible tourism, something I am very happy to support.
My highlights of the food tour
My perfect little Mexican buffet with the highlights from the tour would be: some tacos de canasta from that guy with the bike, my favourite mole sauce, that vanilla pudding drink from the tortilla place, some rose pulque, that one corn dish from the market, the black sapote fruit, a selection of random things from la pitahaya vegana and afterwards of course that fabulous coffee! Did you take the tour? What did you like best?
Do you already have my free checklist for traveling vegans? Subscribe to my newsletter and get it now 🙂