In autumn, we need warm, healthy, hearty, filling meals, and these fluffy pumpkin gnocchi with nutmeg, balsamic, and a touch of garlic just hit the spot. Dried tomatoes add extra umami, and crispy sage provides perfect crunch.
Gnocchi are a type of pasta in Italian cuisine. They are often made from potatoes and frequently include eggs. The dough is shaped into small pieces and boiled in water. My recipe for this classic doesn't use potatoes and, most importantly, contains no eggs or other animal products. Psyllium husk powder keeps these little pumpkin gnocchi perfectly together!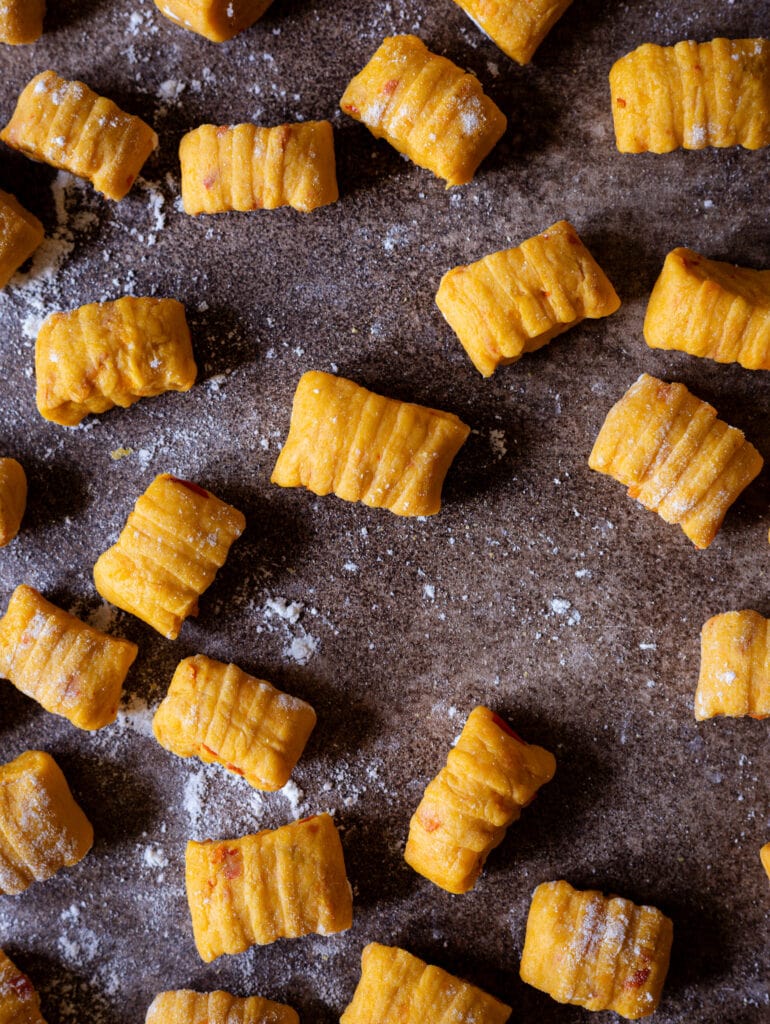 What do you need to make the pumpkin gnocchi?
I used Hokkaido pumpkin for this recipe. Of course, you can also use a butternut squash, but then you want to remove the skin, as it doesn't become as soft as the Hokkaido's and won't easily blend into the gnocchi.
Psyllium husk powder is my favorite binding agent. The husks of psyllium seeds are rich in valuable fibers that swell into a gel-like substance when mixed with the pumpkin puree. Therefore, they are excellent for holding our pumpkin gnocchi together. I recommend powder because it reacts instantly. If you have ground psyllium husks at home, you can use those, but the powder will make the dough firm up faster.
I use spelt flour, but you can also use wheat flour. I haven't tried it with gluten-free flour yet.
Freshly grated nutmeg is best. It allows its aroma to unfold the most. If you can't find it, nutmeg powder will also work.
If you're not familiar with balsamic glaze, it's a thick and delicious sauce made from balsamic vinegar. It goes well with many dishes and sandwiches and is now available almost everywhere. If you can't find it, you can also make the glaze yourself by simmering balsamic vinegar until it thickens. It takes about 30 minutes in a saucepan.
Fresh sage is an aromatic herb that imparts a unique earthy flavor to savory dishes and is appreciated for its many potential health benefits. When fried crispy, it completes this delicious dish. You can also freeze sage leaves and simply place them frozen in the pan for this dish.
What can you serve with the pumpkin gnocchi?
I like to serve a fresh green salad with them. This salad comes with a simple dressing made from 1 tablespoon of vinegar, 1 tablespoon of olive oil, 1 teaspoon of mustard, 1 teaspoon of maple syrup, and some dried dill, salt, and pepper.
Also delicious: you can plate the pumpkin gnocchi on a bed of mozzarella. For this, my creamy almond mozzarella works very well.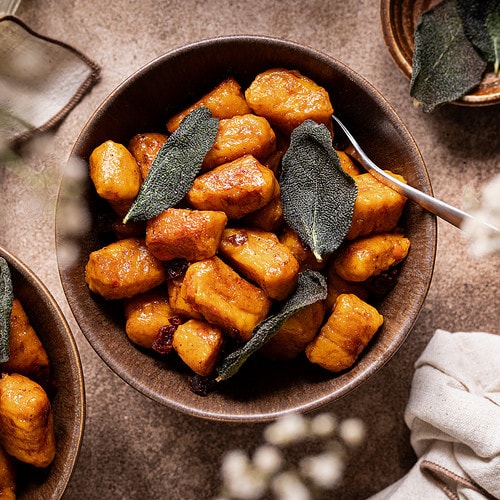 PUMPKIN GNOCCHI WITH CRISPY SAGE
In autumn, you need hearty, filling meals, and these fluffy pumpkin gnocchi with nutmeg and balsamic just hit the spot.
Ingredients
500 g  pumpkin

1 tablespoon olive oil

170 g spelt flour

1 tablespoon psyllium husk powder

1/4

teaspoon

freshly ground nutmeg

1/2 teaspoon salt

15-20 fresh sage leaves

2 tablespoons olive oil

4 dried tomatoes, chopped

2 tablespoons balsamic glaze

1-2 garlic cloves, crushed

salt and pepper
Instructions
First, gather all your ingredients and prepare them in the right amounts. That makes it so much easier and more fun and you're less likely to forget anything. 

Preheat the oven to 200°C/ 392°F.

Slice the pumpkin into approximately 1 cm thick slices and bake them for 20 minutes, then mash them.

Combine spelt flour with psyllium husk powder, nutmeg, and salt. Mix this with the slightly cooled pumpkin puree and olive oil.

Next, lightly flour your work surface and hands, and knead the dough as briefly as possible. Then, roll the dough into 2-3 long, thin logs and cut them into 2 cm long pieces with a sharp knife.

You can then roll the pieces over the back of a fork to create the typical gnocchi pattern, but you can skip this step if you find it too tedious as I noticed no difference in taste.

Bring a large saucepan with salted water to a boil.

In a large frying pan, heat 2 tablespoons of olive oil over high heat.

Place sage leaves side by side in the pan, sprinkle some salt over them, and fry in the oil for about 2 minutes. Turn off the heat, use a strainer spoon to remove the sage leaves from the pan, drain them, and place them side by side on kitchen paper. We will need the pan with the oil again shortly.

Add the gnocchi to the boiling water.

Now, add the dried tomatoes, garlic to the pan over medium heat.

When the gnocchi float to the surface, remove them with a strainer spoon, let them drain briefly, and place them in the hot pan. Add balsamic glaze.

Sauté for another 1-2 minutes while stirring, then serve with the crispy sage, salt and pepper and enjoy!
Did you enjoy this recipe?
A 5 star rating would mean the world to me and I always love to see your pictures on instagram @flymetotheveganbuffet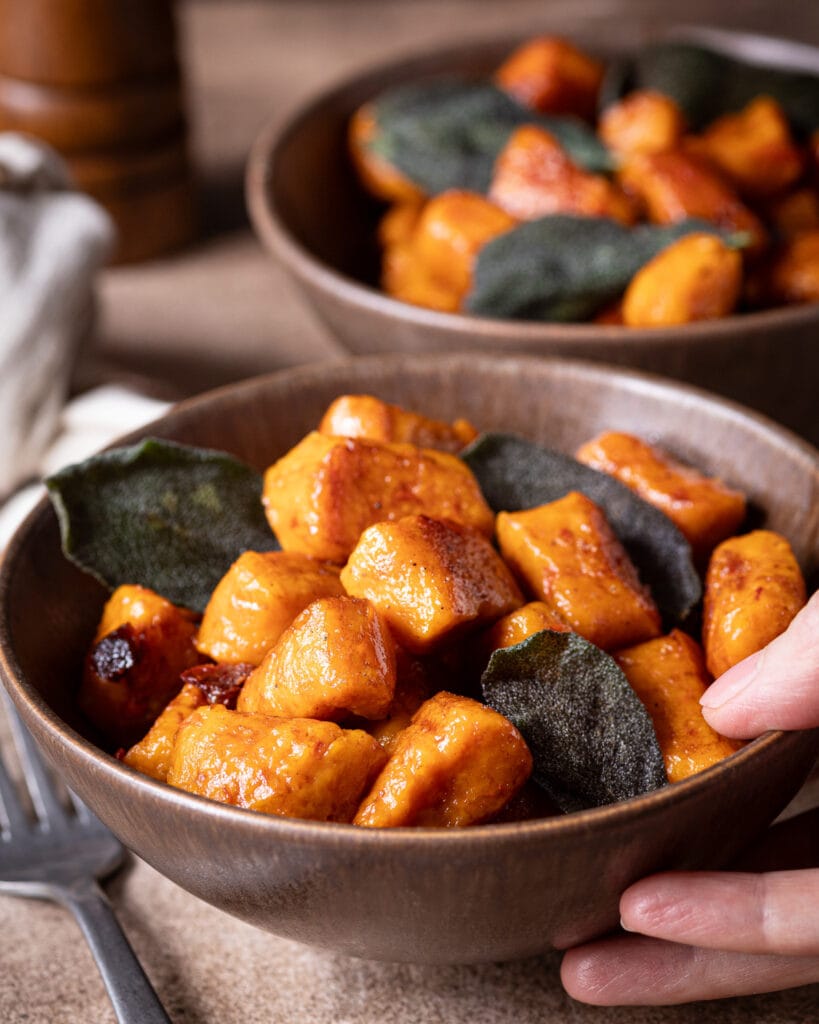 Do you love cozy pumpkin and ravioli dishes? Then you might also want to try my