The secret to this vegan chocolate cake? It's chocolate actually. Not just cocoa powder, you need real chocolate. Just chopped up and thrown into the dough, melted into an indulgent ganache and on top of the whole thing in the shape of chocolate curls. It's a fluffy cake with melting chocolate pieces and a crunchy chocolate frosting.
Just get your favourite vegan chocolate, some rose petals and you're all set to bake this amazing cake!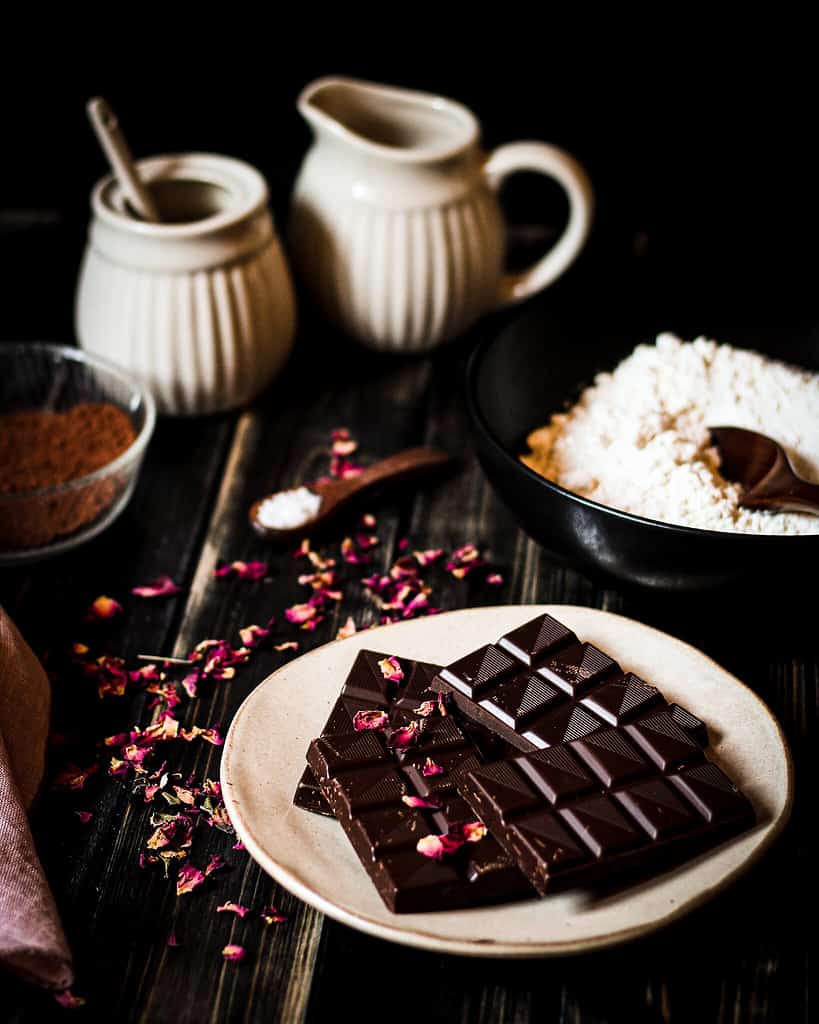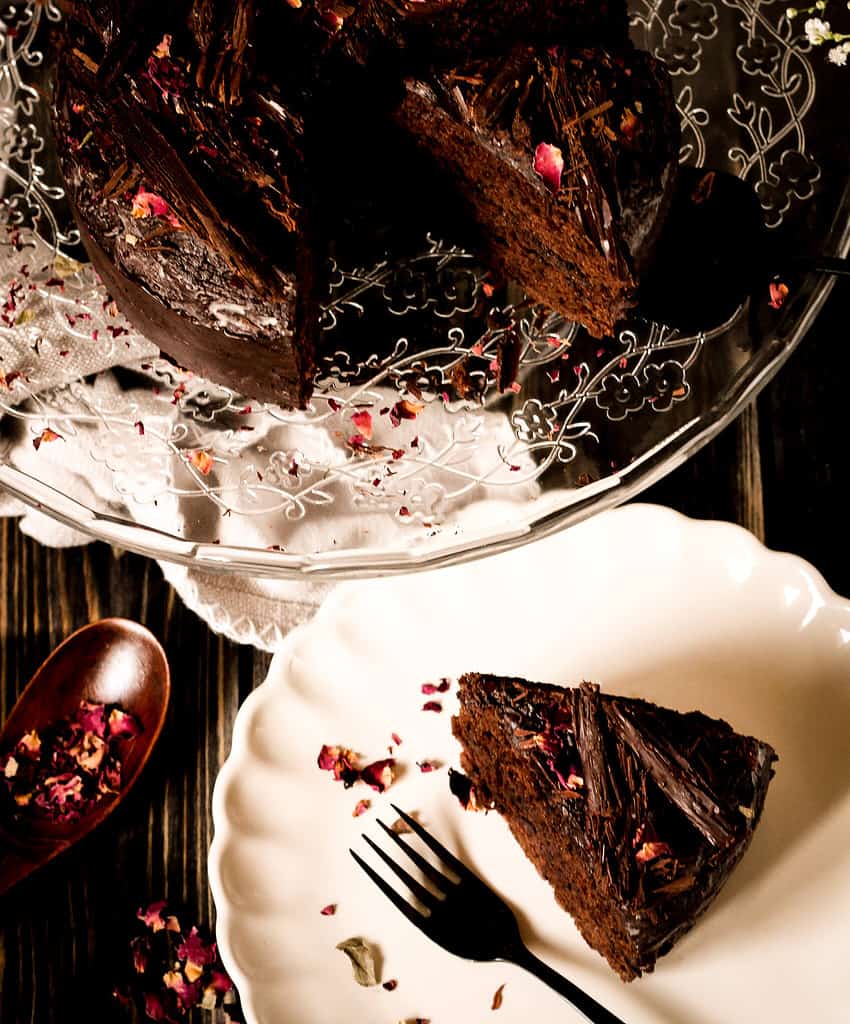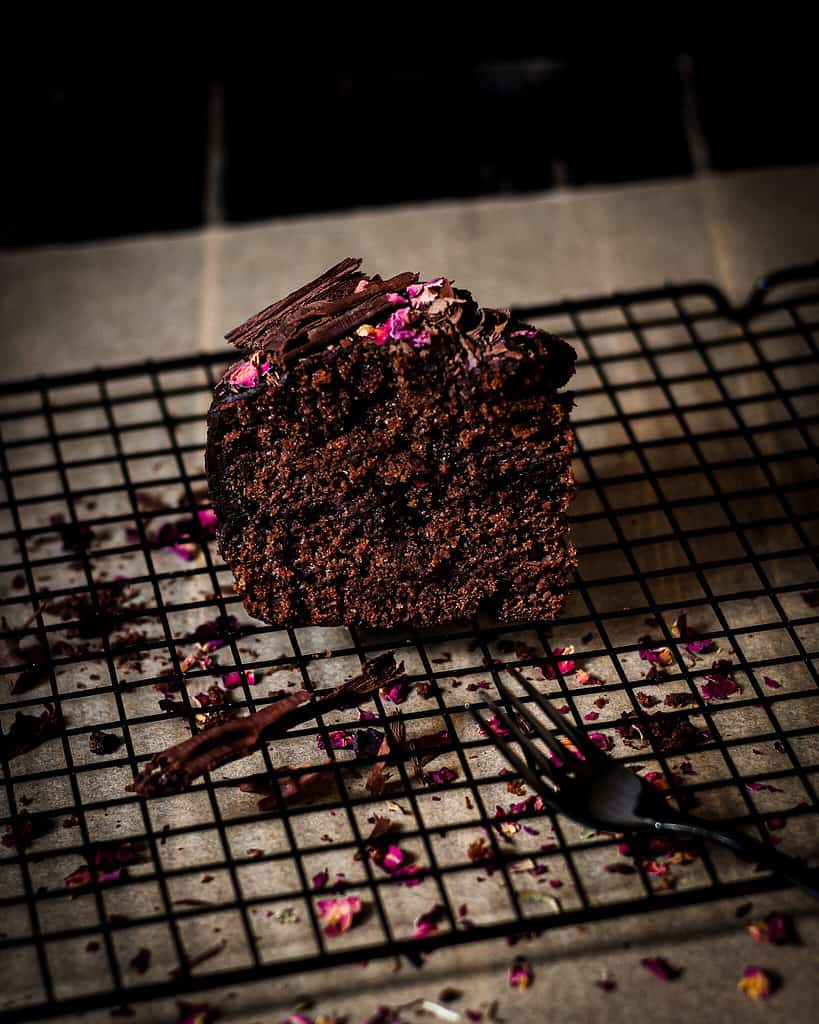 CHOCOLATE CAKE
Supereasy and pretty vegan chocolate cake with chocolate curls and rose petals
Ingredients
1 1/2

cups

flour

180 g

3/4

cup

sugar

100 g

1/4

cup

cocoa powder

30 g

1/2

teaspoon

salt

1/2

teaspoons

baking powder

1/4

teaspoon

baking soda

1/2

bar of chocolate

50 g, chopped

1

cup

plant milk

240 ml

1/4

cup

canola oil

60 ml

1

tablespoon

apple cider vinegar

1/4

teaspoon

vanilla
Ganache
3

tablespoons

plant milk

3/4

bar of vegan chocolate

75 g, chopped

1

tablespoon

maple syrup
Decoration
1/4

bar of vegan chocolate

25 g, chopped

rose petals

or other edible flowers
Instructions
Preheat oven to 350° Fahrenheit (180° Celsius)

First, gather all your ingredients and prepare them in the right amounts. That makes it so much easier and more fun and you're less likely to forget anything. 

Combine dry ingredients and liquid ingredients well in separate bowls, mix them together until just combined.

Lightly grease two small springform cake tins (16 cm/ 6 inch) and dust them with cocoa powder.

Pour the dough into the two cake tins and bake for 40 minutes.

Extra tip: baking strips will help keep your cake even so they don't turn into volcanos. Soak the baking strips in cold water, so they are really wet and cold, then put them around the springform tins. You can buy them or make them yourself.

To make the chocolate curls: melt a quarter bar of chocolate in a bain marie. That means, heat water in a pot (don't boil) and put the chopped chocolate into a smaller pot in the water. Melt while stirring. When the first pieces start to melt, you can switch the heat off. The chocolate should not get warmer than necessary for melting.

Then spread the chocolate out as thin as possible on a cool surface (e.g. the backside of a baking sheet) and let it cool off a few minutes. When the chocolate has a matte look it has the right temperature. Now carefully roll the chocolate with a spatula as in the video and put the curls in the fridge.

When the 40 minutes are over, open the oven door and poke into one of the cakes with a wooden stick. If the dough sticks to it, the cakes still need a few minutes. Otherwise take them out and let them cool off.

When they have cooled off – after about 30 minutes – stir the 3/4 bar of chocolate, the plant milk and the maple syrup into a ganache in a bain marie. Again, the chocolate shouldn't get warmer then necessary for melting.

Apply the ganache to one cake with a spatula, put the other one on top of it and frost that one as well, including the sides. For a seminaked effect, carefully remove the ganache from the sides with the spatula as in the video.

Garnish with chocolate curls and rose petals and put in the fridge so the ganache can firm up.
Did you enjoy this recipe?
A 5 star rating would mean the world to me and I always love to see your pictures on instagram @flymetotheveganbuffet
If you like the chocolate cake, you might also like my death by chocolate & Irish cream muffins.