I was super proud, coming up with an eggless and dairy free orange tiramisu trifles recipe back when I started my blog, it was my first recipe video after all! But when I made them again the other day, I didn't find them that convincing anymore.
I realised how much I have learned in the two years since I started. I didn't love the texture of the sponge anymore. I also found the coconut too loud. And the whole thing is way too much work, I thought.
I was back in the kitchen the next day. I wanted the new recipe to be quick and easy now. I wanted a better base and a better alternative for the mascarpone creme.
The ingredients for my new orange tiramisu recipe
the original Italian dessert is made with lady fingers. After finding out that even two years later, apparently still nobody is selling vegan lady fingers, at least here in Germany, I went for rusk, which is used in other vegan tiramisu recipes as well.
I used to think that is not sweet enough, but apart from the sugar layer, lady fingers aren't that sweet either, right? I don't know, it's been too long.
But the rusk turned out to be a pleasant surprise in my tiramisu.
I replaced the mascarpone creme with whippable vegan cream with orange zest and orange juice. The new fluffy, fruity creme goes very well with the coffee and coffee liqueur the rusk is dipped in and the rich cocoa powder.
the most popular coffee liqueur is Kahlua. Unfortunately according to Barnivore.com the sugar used in it is not vegan. The company is working on it, but so far there has not been any news. Luckily, Jamaican coffee liqueur Tia Maria* is vegan and is quite similar in taste!
One orange tiramisu later I was superhappy with my new quick and easy orange tiramisu trifles recipe and shot a new youTube video. You can see it in the recipe card at the bottom.
I like to serve the tiramisu trifles in 4 little jars, but of course you can also use one big form which fits about 800 ml water/ 3,5 cups.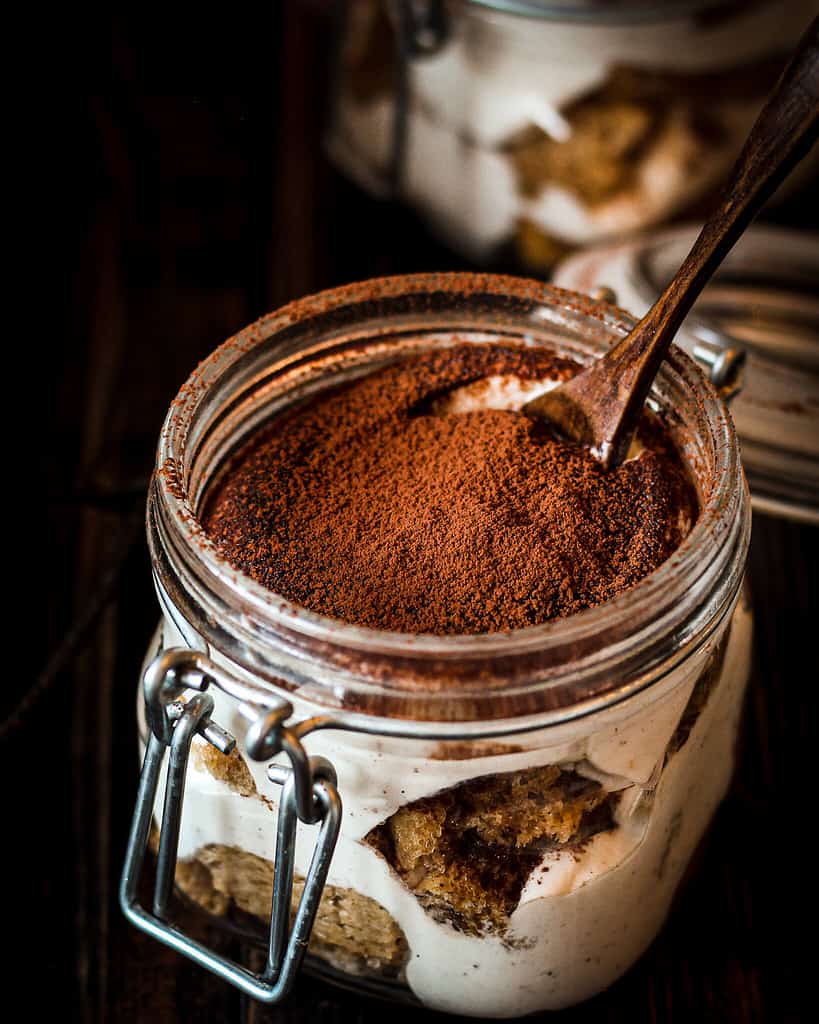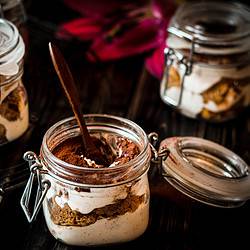 ORANGE TIRAMISU TRIFLES
Superyummy, supereasy and superquick fresh vegan orange tiramisu trifles
Recommended Equipment
Ingredients
6

pieces

of rusk

I used unsweetened spelt rusk

1/3

cup

espresso (80 ml)

1/3

cup

coffee liqueur (80 ml)

see blogpost

1,4

cups

whippable plant cream (300 ml)

best from the fridge

3

tablespoons

powdered sugar

2

tablespoons

orange juice and grated orange peel

1/4

teaspoon

vanilla

pinch

of salt

cocoa powder
Instructions
First, gather all your ingredients and prepare them in the right amounts. That makes it so much easier and more fun and you're less likely to forget anything. 

Make a triple espresso and put it aside to cool down. You'll need about a third of a cup.

Grate the orange peel. Make sure not to grate too much of the white part because that tastes bitter. Squeeze one half of the orange.

Whip up the cream, add orange juice, powdered sugar, orange peel, vanilla and a little salt and stir gently.

Mix the espresso with the coffee liqueur, dip the rusk in the mixture, break it and put it in the glasses. Add a layer of the cream mixture and cocoa powder. Then repeat.

Now put it in the fridge for a few hours and take it out about 10 minutes before serving.
Video
Did you enjoy this recipe?
A 5 star rating would mean the world to me and I always love to see your pictures on instagram @flymetotheveganbuffet
You like boozy desserts? Then you might also like my Death by Chocolate and Irish Cream Muffins.