This potato omelette recipe started with a Spanish tortilla omelette I had at a vegan place in Madrid. I tried around at home with potential ingredients and as so often the outcome was totally different from the original, I filled it with vegan sour cream, fresh spinach and pomegranate. I love it and I hope so will you.
What else do you need for the potato omelette?
sun-dried tomatoes
tofu and chickpea flour
rosemary
nutritional yeast and kala namak
Kala Namak is a black salt from India and Pakistan. It often looks pinkish and smells sulphuric. That's what adds the eggy aroma to vegan egg dishes. It is available in Asian specialty stores, organic supermarkets and shops that sell vegan supplies. Of course, Kala Namak is also available online*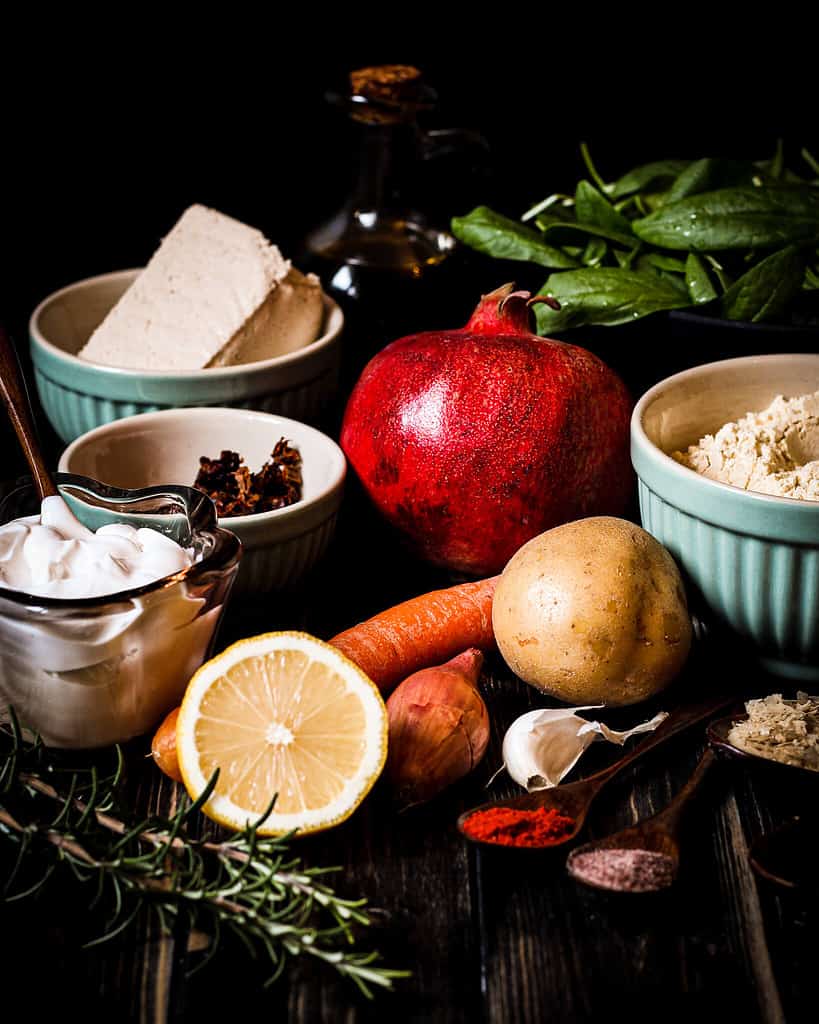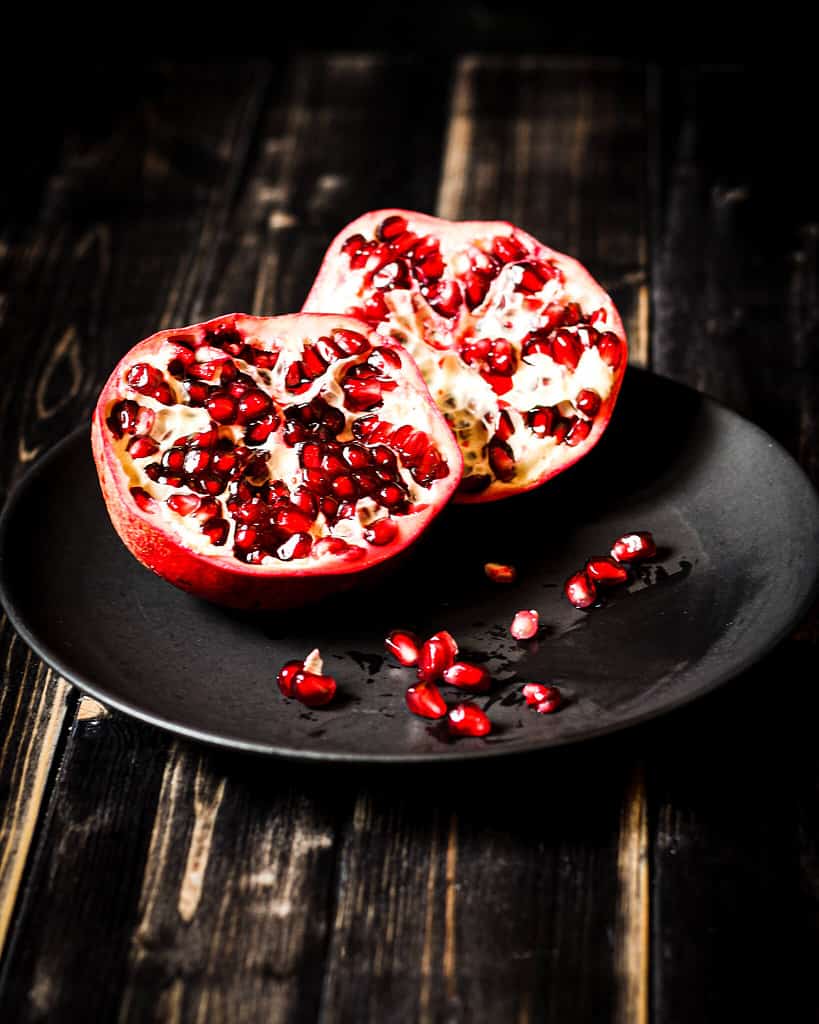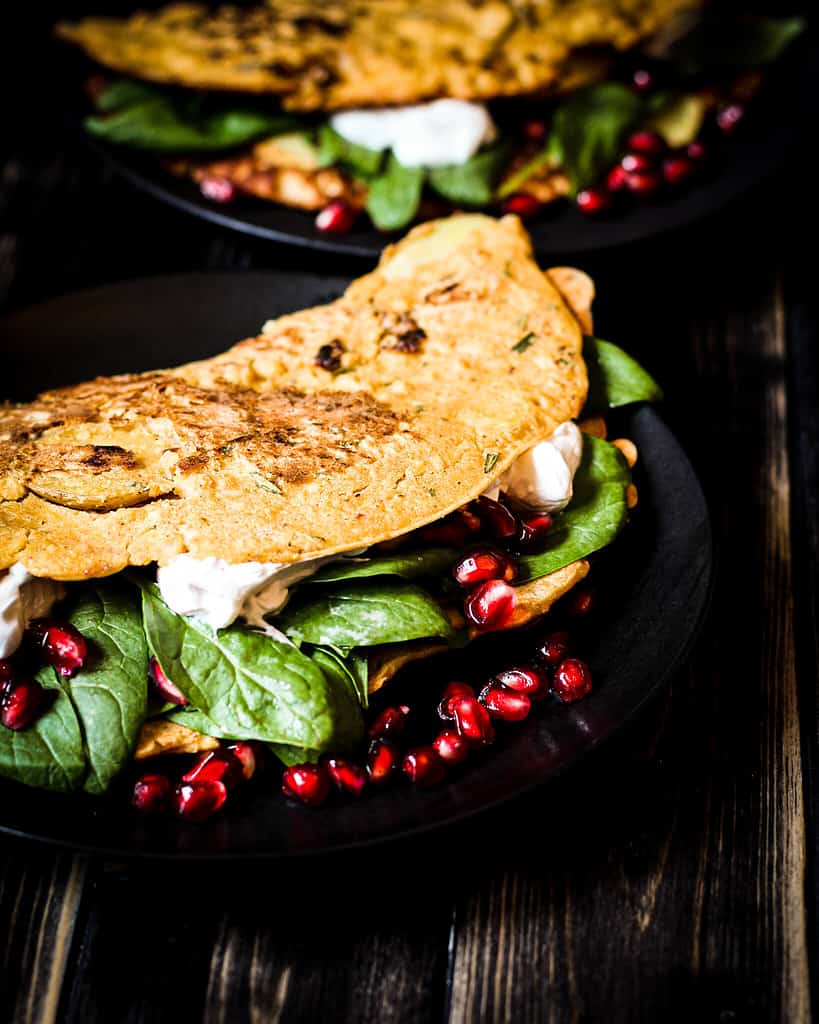 This recipe is based on my easy omelette or scramble.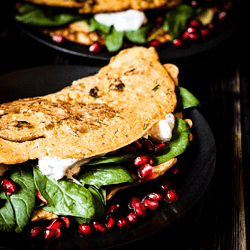 POTATO OMELETTE
Tasty vegan omelette based on chickpea flour and tofu, with fresh spinach, vegan sour cream and pomegranate seeds
Ingredients
1

onion

chopped

1

garlic clove

chopped

olive oil

1

teaspoon

maple syrup

1/2

cup

tofu

100 g, crumbled

1

small carrot

grated

1

small potato

sliced

1

tablespoon

dried tomatoes

chopped

1

tablespoon

rosemary

fresh or dried

1

cup

chickpea flour

120 g

1

teaspoon

Kala Namak*

Indian black salt

1/2

teaspoon

baking powder

1

tablespoon

nutritional yeast

1/4

teaspoon

smoked paprika powder

Pimenton de la vera

1 1/4

cup

water

300 ml

juice of half a lemon

1

pomegranate

1

cup

fresh spinach

vegan sour cream

salt and pepper
Instructions
First, gather all your ingredients and prepare them in the right amounts. That makes it so much easier and more fun and you're less likely to forget anything. 

Sauté onions and garlic in a skillet in olive oil and maple syrup until translucent and fragrant.

Add potato slices, tofu, carrot, dried tomato and rosemary and cook at moderate heat for about 5 minutes, stirring often.

Combine chickpea flour, black salt, baking powder, nutritional yeast, paprika, lemon juice and water in a bowl and stir well.

Heat olive oil in a second skillet and divide the content of the first skillet up in both.

Pour the batter into the two skillets and bake the potato omelettes at medium to high heat for about five minutes.

Open pomegranate in a big bowl in the sink carefully by cutting the peel slightly around the fruit and then pulling the two halves apart with your thumb. Hold face down into the bowl and slowly turn inside out. When the seeds start falling, help a little with your fingers. You can also help by tapping on the peel with a spoon.

Flip both omelettes with the help of a plate. Bake for another 3 minutes.

Fold potato omelettes, layer the spinach leaves and pomegranate seeds in and serve with sour cream, salt and pepper.
Did you enjoy this recipe?
A 5 star rating would mean the world to me and I always love to see your pictures on instagram @flymetotheveganbuffet
MerkenMerkenMerkenMerkenMerkenMerkenMerkenMerkenMerkenMerkenMerkenMerkenMerkenMerkenMerkenMerkenMerkenMerken