If you like my potato omelette with spinach and pomegranate seeds, you will love this easy vegan omelette or scrambled egg. It is ready in a few minutes, and just like the potato omelette, it almost tastes like the real thing.
This quick recipe makes a perfect hearty vegan breakfast. I like to enjoy the tofu scramble on fresh crispy bread, and the omelette filled with fresh veggies and herbs and vegan sour cream.
You can buy vegan egg replacements nowadays, but you can easily make it yourself, and much cheaper.
What is vegan omelette or scramble made of?
chickpea flour and tofu for the texture
grated carrots and smoked paprika for the colour and more complex flavours
nutritional yeast and Kala Namak add the eggy flavour
Kala Namak is a black salt from India and Pakistan. It often looks pinkish and smells sulphuric. That's what adds the eggy aroma to vegan egg dishes. It is available in Asian specialty stores, organic supermarkets and shops that sell vegan supplies. Of course, it is also available from Vantastic Foods*.
I also use the scrambled egg for my egg fried pineapple rice.
Also if you're looking for vegan protein-rich, low carb or gluten free recipes, this easy vegan omelette recipe ticks a lot of boxes.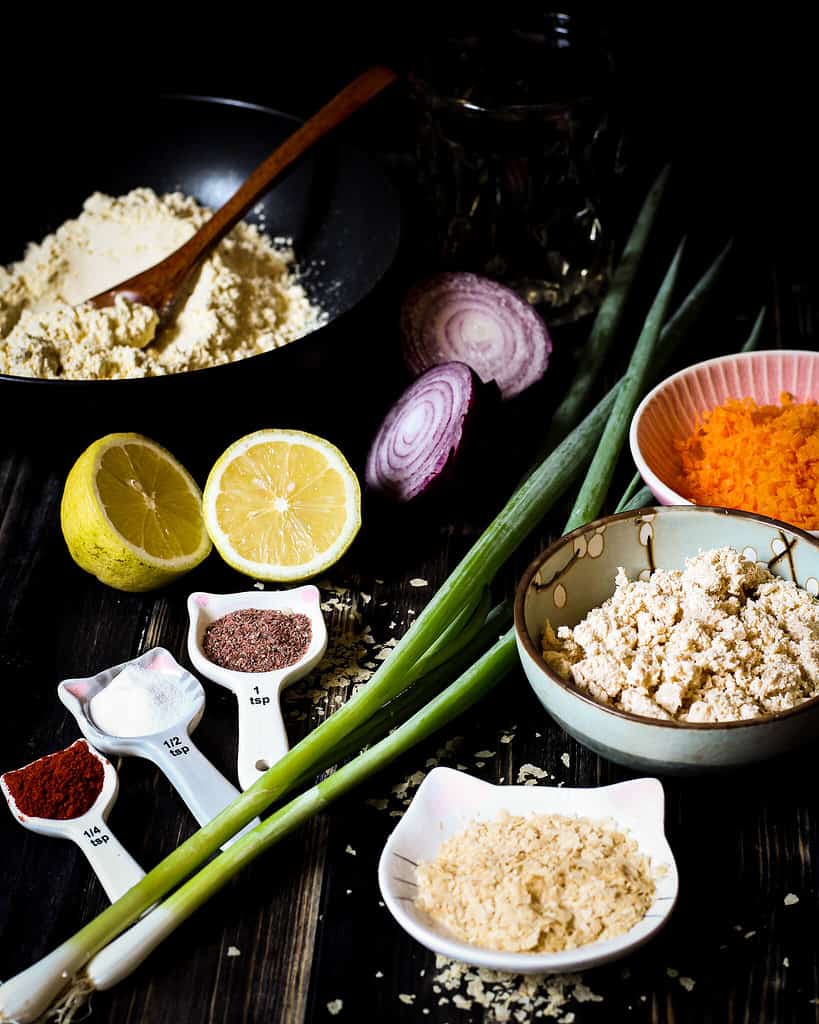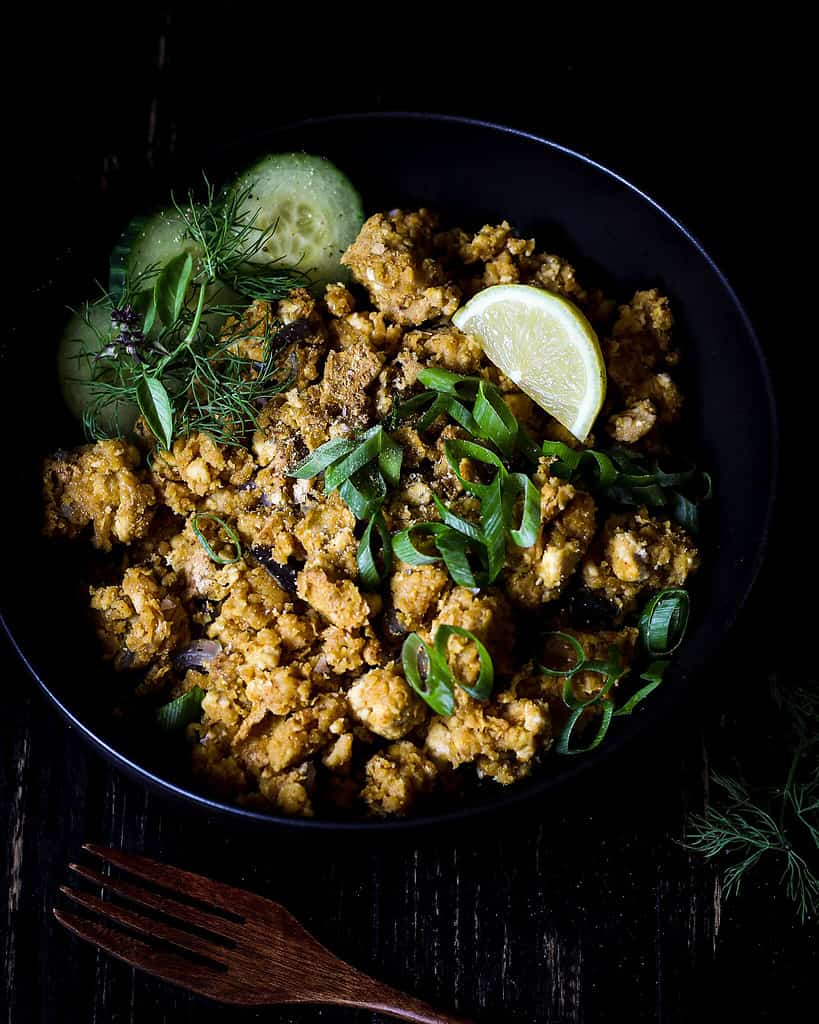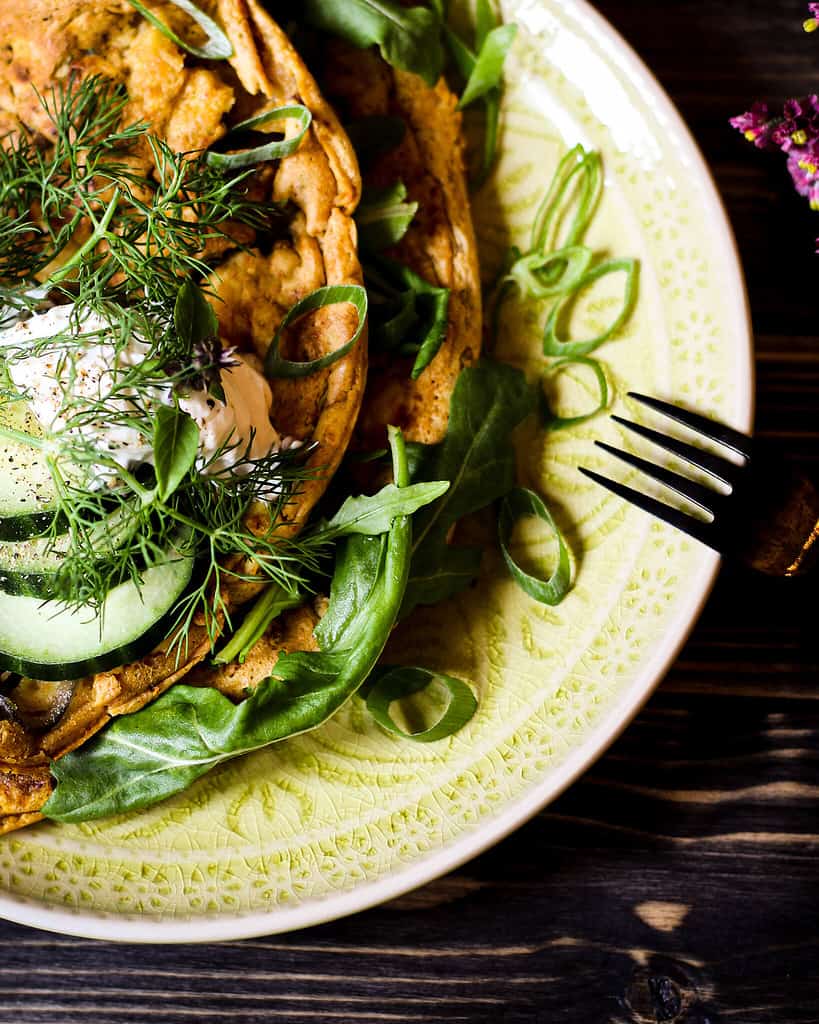 It's also delicious with added sundried tomatoes on a vegan cream cheese bagel.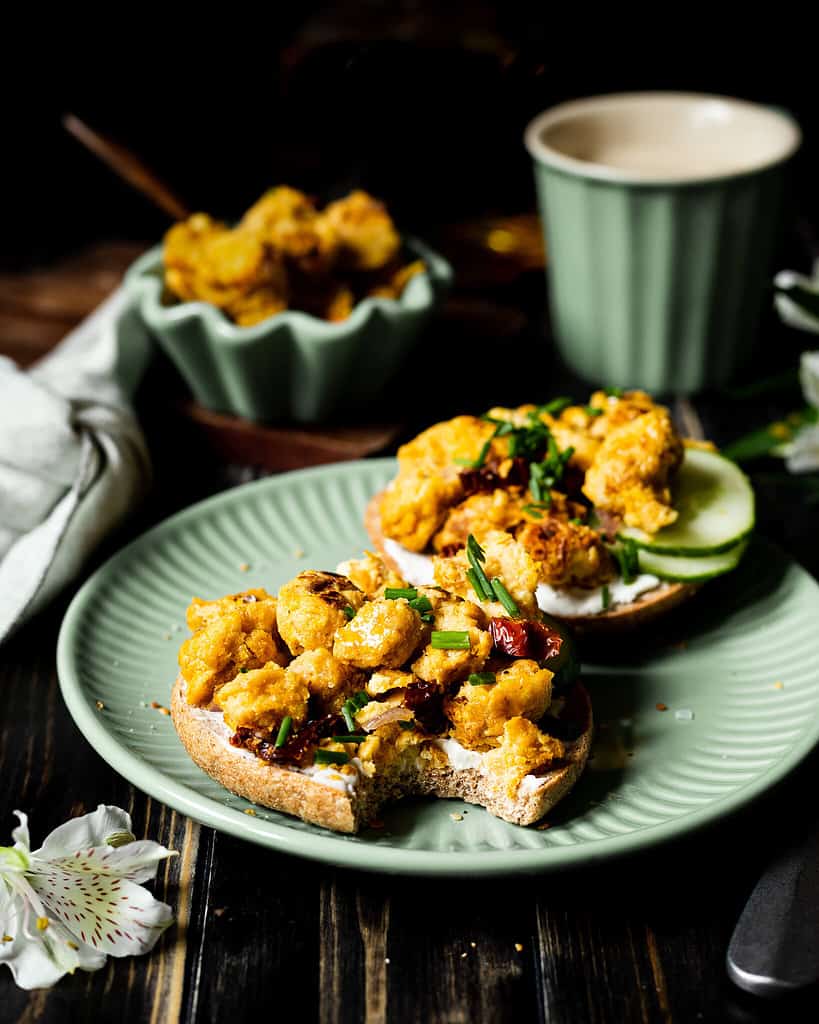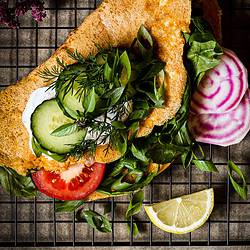 EASY VEGAN OMELETTE OR SCRAMBLE
You will love this easy vegan omelette or scrambled "egg". It is ready in a few minutes, and tastes almost like the real thing!
Ingredients
1

onion

chopped

1/2

cup

tofu

about 100 g, crumbled

1

small carrot

grated

1

cup

chickpea flour

120 g

1

teaspoon

Kala Namak*

Indian black salt

1/2

teaspoon

baking powder

1

tablespoon

nutritional yeast

1/4

teaspoon

smoked paprika

pimentón de la vera

1 1/4

cup

water

300 ml

juice of 1/2 lemon
Instructions
First, gather all your ingredients and prepare them in the right amounts. That makes it so much easier and more fun and you're less likely to forget anything. 

Divide chopped onions, crumbled tofu and grated carrot in two portions. Sauté the first batch in some plant oil for a few minutes.

In the meantime, mix the other ingredients well.

Pour half of the mixture into the skillet and cook at moderate heat for a few minutes.

If you want scramble, scramble it like you would scramble an egg.

If you want an omelette, check with a big spatula when it's safe to lift without breaking and turn, cook from the other side for a few minutes as well.

Repeat with the second half of the ingredients.
Did you enjoy this recipe?
A 5 star rating would mean the world to me and I always love to see your pictures on instagram @flymetotheveganbuffet
Do you already know my 7 ideas for your perfect vegan brunch buffet?