My raspberry banana cake goes back to when I was in Sao Paulo and had lunch at an all-you-can-eat veggie buffet close to our hotel. They had a perfect banana cake and when I was back home working on my own recipe, I found that it might be even more fun with raspberries and white chocolate*.
So this is the result of my experiments and it's my go to cake whenever I'm supposed to bring cake.
And the best thing about this raspberry banana cake is, it's super easy and superquick, and there are many decoration options.
For the video, I decided for a variation with glittery wafers and edible dried flowers*.
Meanwhile I'm decorating my raspberry cake cake with fresh raspberries, toasted almonds and powdered sugar.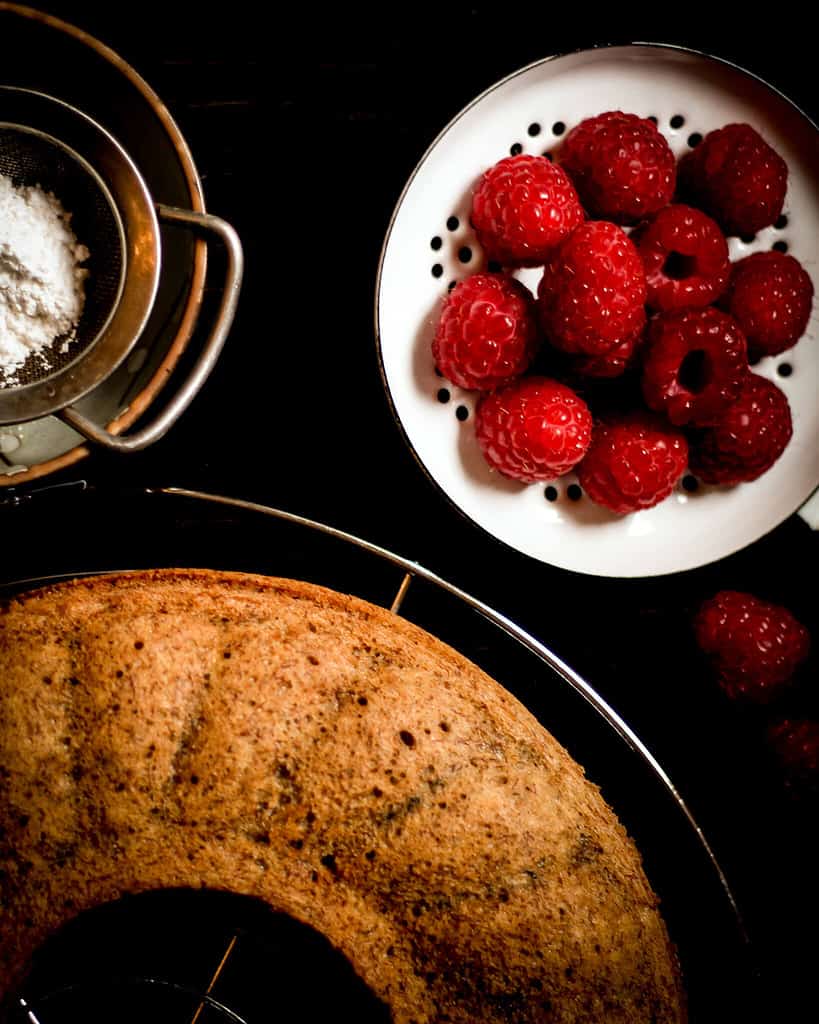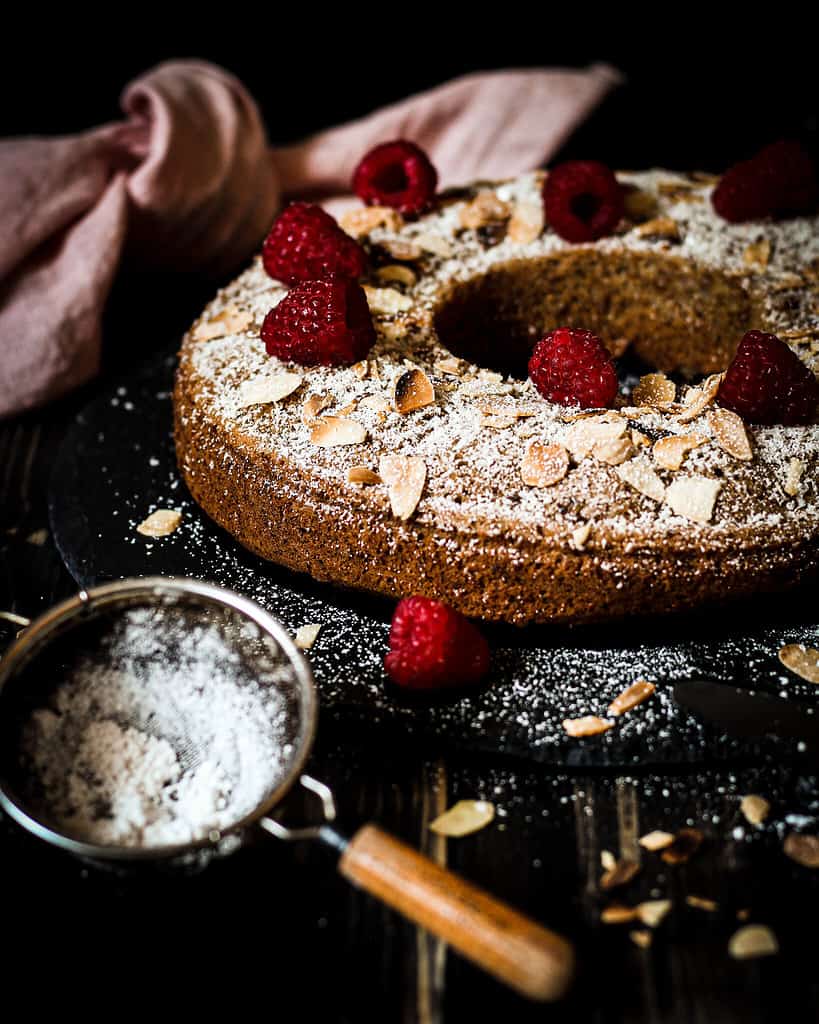 For decoration ideas you can have a look at my blogpost the foodporn formula.
Varieties of the raspberry banana cake
A variety of this vegan banana cake with blueberries instead of raspberries is delicious, and I imagine strawberries, physalis, blackberries or cherries will be amazing too.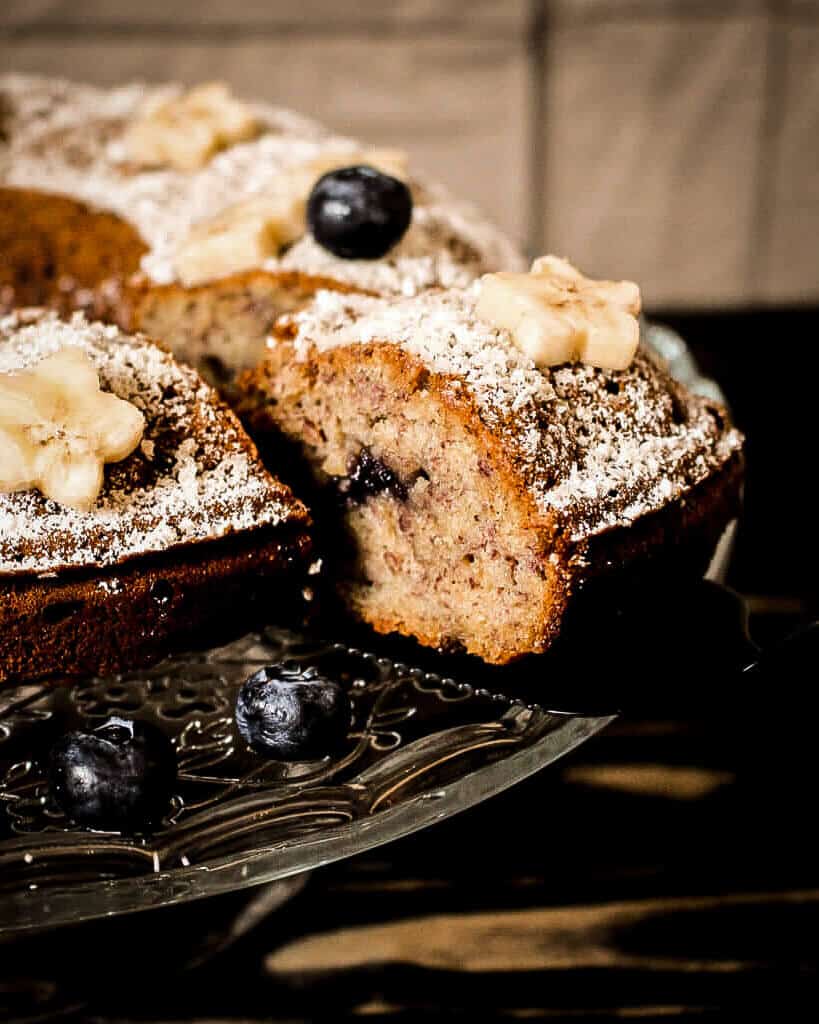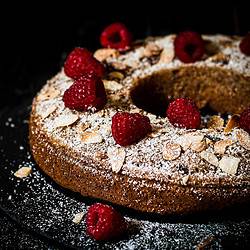 RASPBERRY BANANA CAKE WITH WHITE CHOCOLATE
This recipe and video tutorial for my fluffy vegan raspberry banana cake with white chocolate and toasted almonds is really easy to make and so versatile!
Ingredients
4-5

bananas

very ripe

1/4

cup

agave or maple syrup

60 ml

2/3

cup

plant oil

160 ml

1/4

cup

plant milk

60 ml

1,5

cups

flour

180 g

1/2

teaspoon

baking soda

1

teaspoon

baking powder

1/4

teaspoon

salt

1/4

teaspoon

vanilla

1

vegan white chocolate

keep one bar for garnishing

1/2

cup

raspberries

1/2

teaspoon

agave syrup

powdered sugar

sliced almonds and some fresh raspberries for garnishing
Instructions
Preheat oven to 350°F (175°C).

Now gather all your ingredients together and prepare them in the right amount. That makes baking so much easier and you're less likely to forget anything. 

Mash the bananas. You can use a fork or a food processor for that.

Whisk mashed bananas, 1/4 cup syrup, canola oil, plant milk, flour, baking soda, baking powder, salt and vanilla together until just combined, don't overstir.

Grate white chocolate and mix with raspberries and 1/2 teaspoon syrup into a pulp. I also use my food processor for that, but you can chop the chocolate with a knife and mash the raspberries with a fork.

Pour half of the cake dough into a lightly greased form (I used a 24 cm/ 9 1/2 inch bundt cake form), then add the raspberry mixture, then the other half of the cake dough.

Gently twist a fork through the batter, marble cake style and bake for about 40-45 minutes.

Then I usually switch the oven off and leave the cake in there for another 5-10 minutes, so there's not such a temperature difference when taking the cake out.

To toast the sliced almonds, I just put them in a dry pan and toast them for a few minutes. They burn easily, so you want keep an eye on them and keep stirring.

After the cake cooled off, grate remaining white chocolate over the cake, then a little powdered sugar, and decorate with toasted almonds and fresh raspberries.
Did you enjoy this recipe?
A 5 star rating would mean the world to me and I always love to see your pictures on instagram @flymetotheveganbuffet
MerkenMerkenMerkenMerkenMerkenMerkenMerkenMerkenMerkenMerkenMerkenMerkenMerkenMerkenMerkenMerkenMerkenMerkenMerkenMerkenMerkenMerkenMerkenMerkenMerkenMerkenMerkenMerkenMerkenMerkenMerkenMerkenMerkenMerkenMerkenMerkenMerkenMerkenMerkenMerkenMerkenMerkenMerkenMerken