You know foodporn? When your brain says, I want to eat that right now?
I often get asked how I make my food look so yummy. For me, this is a game! What can I make of this beige stuff, I ask myself.
We all know the eye eats first. Once I experienced how to easily make my food look stunning by investing just a tiny bit of time and effort, there was no going back to messy blobs. Decorating the food nicely just became an integral part of the process for me.
Would you rather watch the Youtube video first?
So what's that foodporn formula?
My analysis of what makes food spark joy boils down to this: the main food is highlighted by
a different colour
a different flavour
a different texture
a different shape
a highlighter of a main ingredient
some kind of wow-effect.
But that doesn't mean you have to add six things, because a lot of decoration ideas already tick several boxes.
I'll show you exactly what I mean by that. Let's go ahead and choose a food, something simple that everyone knows, like chocolate cake. Maybe you want to bring it to a birthday, or a bake sale, or you just want to take a picture for your Instagram feed and then eat it yourself like me.
We don't want a boring brown monolith like this, right? We want to make this the most beautiful chocolate cake in the world! We want to make foodporn!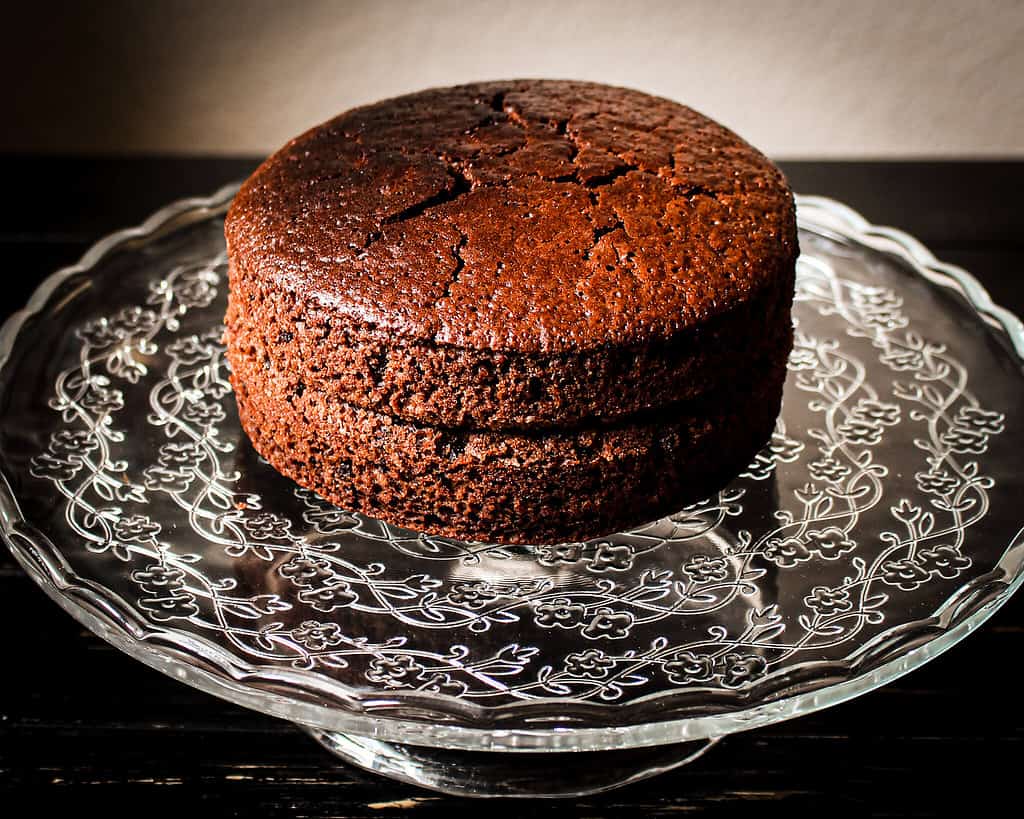 Foodporn example one: Chocolate Cake
Step 1: What are the options?
This is a little research session. Go to google, enter chocolate cake and click on pictures.
Yeah, that's a hell of a lot of chocolate cakes you see there, and they are all so different!
Scroll though the results and collect everything that appeals to your senses. The pictures that make you think, yes, that's my kind of a chocolate cake and I want to eat that right now!
You can start a pinterest board for this, where you can collect your ideas, or you can just take screenshots. You will also find inspiration on pinterest. You can go to instagram or other platforms as well, but I have actually found google most effective for searching.
If you need more inspiration, you can also enter "Japanese chocolate cake" or "Spanish chocolate cake" or "gateau au chocolat" and Google will come up with very different results.
Step 2: What do I like most?
This is a brainstorming session. Go through your results now. Why do you like them, what appeals most to your taste? Pay attention to every detail. Whether it's rustic, minimalist, arty, quirky, opulent or unconventional, whether you think less is more or more is more, there's so many ways to decorate a chocolate cake!
And by the time you have looked through your favourite pics you will have found a red thread. Now close your eyes and think of chocolate cake.
What does the most beautiful chocolate cake in the world look like? What are the characteristics of it?
I for example, noticed three recurring things that I liked in my chocolate cake feed:
a classic and rustic cake base: round, two layers and a crispy frosting that adds a different texture
rose petals, which add a different color and a different flavor
chocolate curls which add a different shape, highlight the chocolate, and create the "wow" effect
So I baked two round little cakes, put them on top of each other and applied a crispy frosting. I have dried rose petals in my cabinet. Now I just had to find out how to make the chocolate curls.
Step 3: How do I make this?
Google and youtube will show you instructions and tutorials for literally everything! Even for the most amazing theme cakes you will find someone who shows you how to do it.
Go through them and find the easiest and most appealing way for you. There's often several methods and after all, making food look beautiful should be fun!
I picked the method for my chocolate curls that seemed most doable for me. They didn't turn out as perfect and big as when a professional baker makes them but hey! – I had fun and here's my cake! I love it!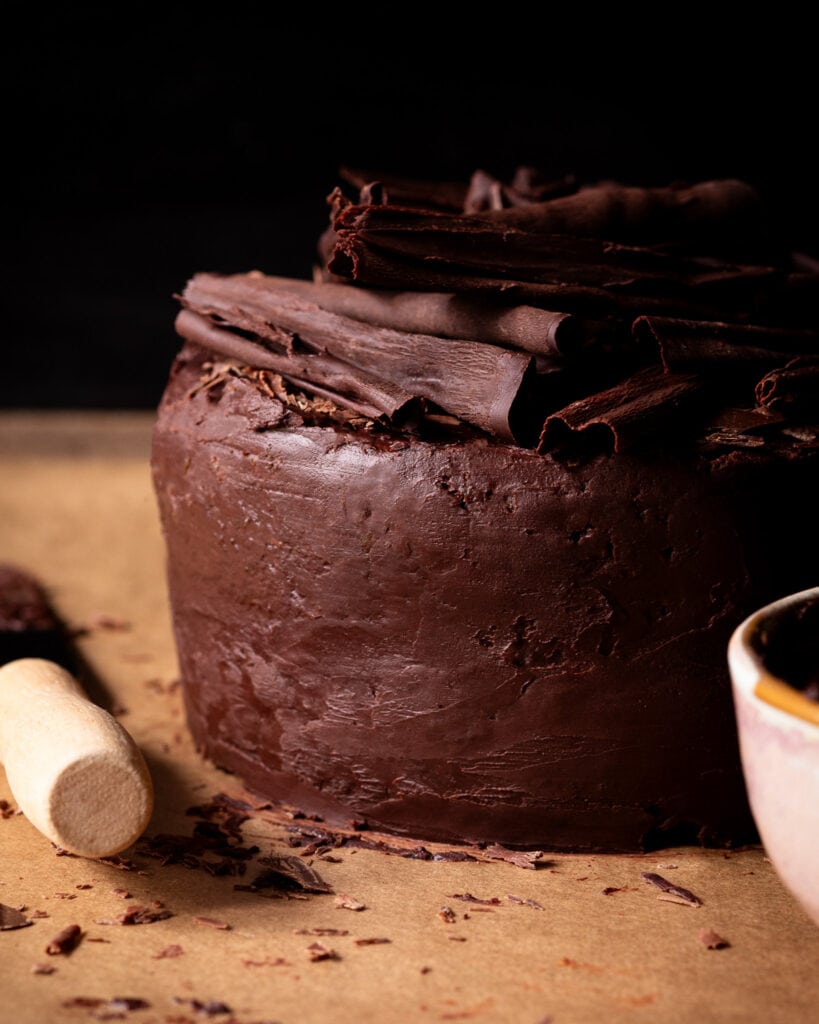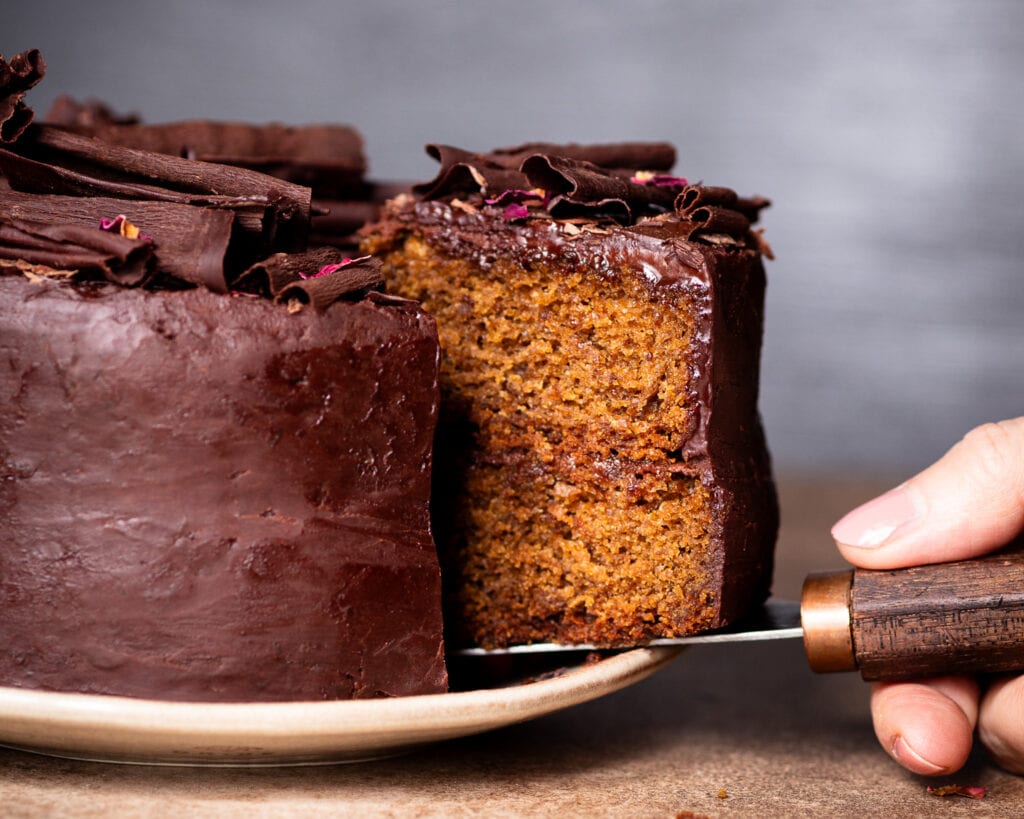 Let's see how this applies for a totally different food!
Foodporn example 2: Hummus
It doesn't get any more beige-blobby than hummus, right? But there's so much you can do about it. When googling "hummus" and scrolling through the pictures, you'll find it garnished with fresh herbs, pomegranate seeds or paprika powder to add colour, flavour, shapes and texture and some shiny olive oil, sesame seeds or roasted chickpeas as a highlighter. It can be dyed golden with turmeric, orange with roasted red bell pepper, green with spinach or pink with beets. And you can create patterns with a spoon!
Now imagine you have nice fresh piece of pita, what kind of hummus bowl would you dip it into?
I came up with these three: hummus with olive oil, pomegranate seeds and cilantro, beetroot hummus with cilantro and sesame mini pretzels and roasted red bell pepper hummus with olive oil, smoked paprika powder, cilantro and roasted chickpeas.
All three hummus recipes and perfect pita recipe by Aline Made
See how there's three hummus bowls in the picture and the beetroot hummus is garnished with three mini pretzels rather than two or four? Even numbers create symmetry, a somewhat static impression, while odd numbers create interest.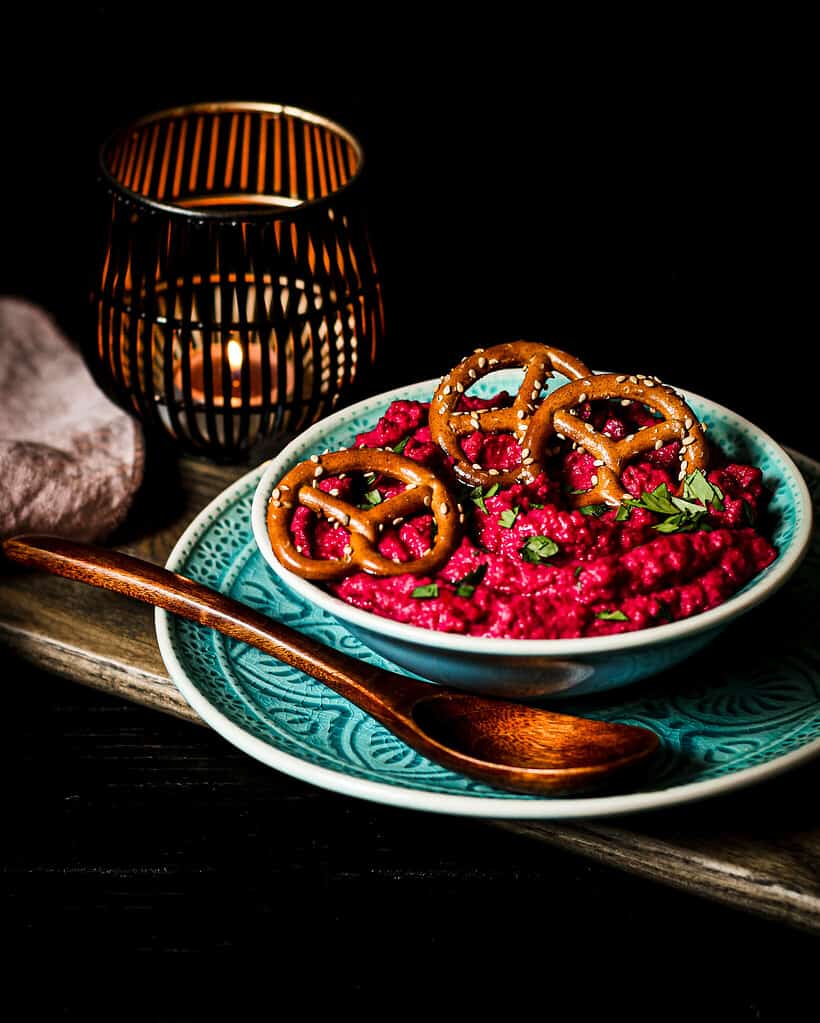 Foodporn Example 3: Noodle Salad
Let's look at this Sesame Noodle Salad. Another beige blob actually, but red cabbage and parsley deliver different colours, shapes, flavours and textures, so that's covered. Sesame seeds highlight the tahini in the sauce. But how about an extra wow effect on top? I decided to cut the carrots into cherry blossoms, as I have seen in Japan. It takes about two minutes and makes such a difference. You can see how to do that in the video.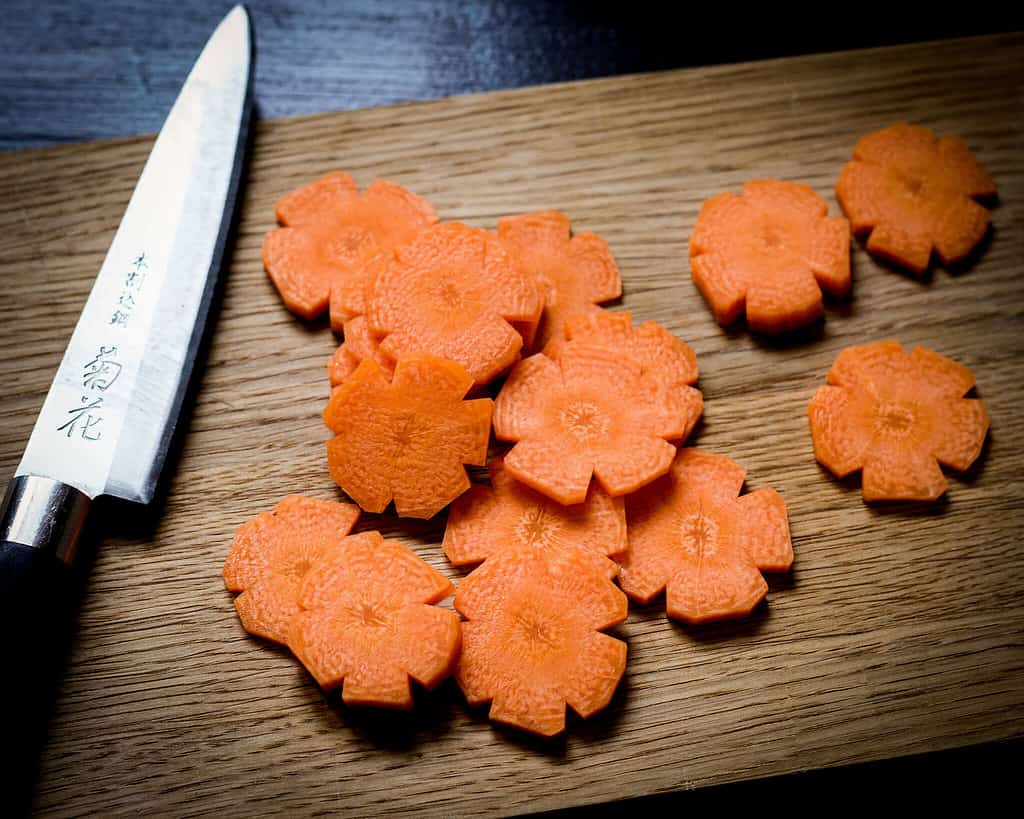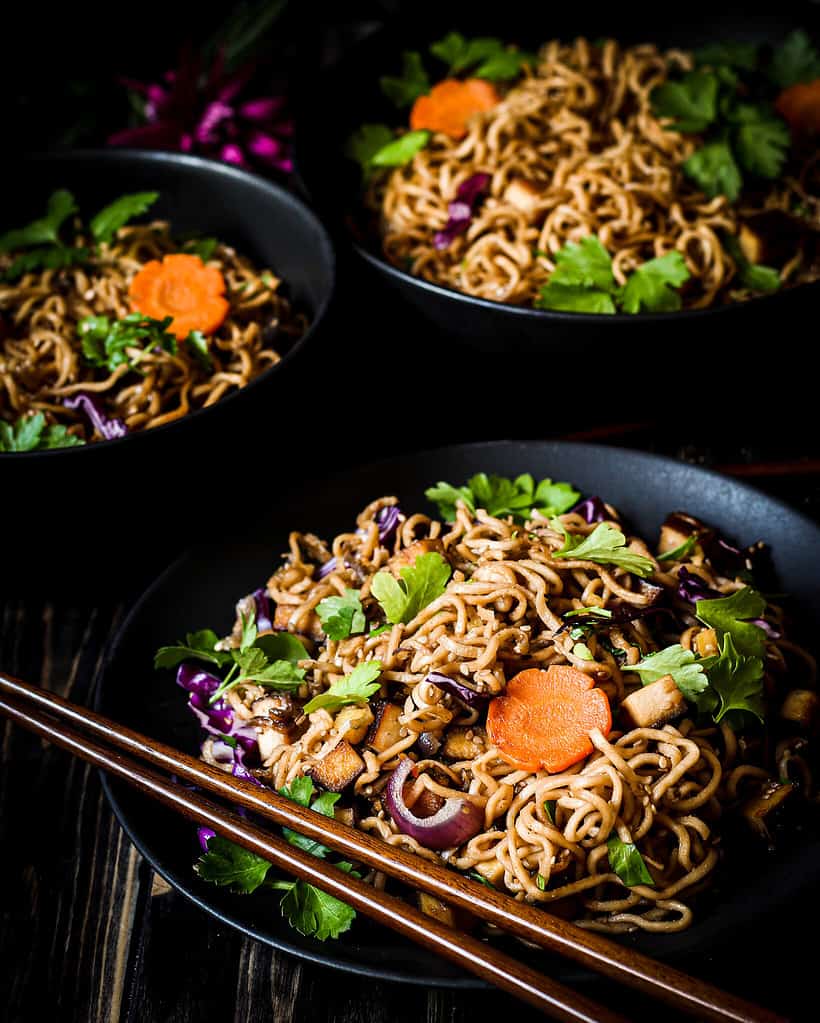 If you think that looks too rustic, you can also use cookie cutters.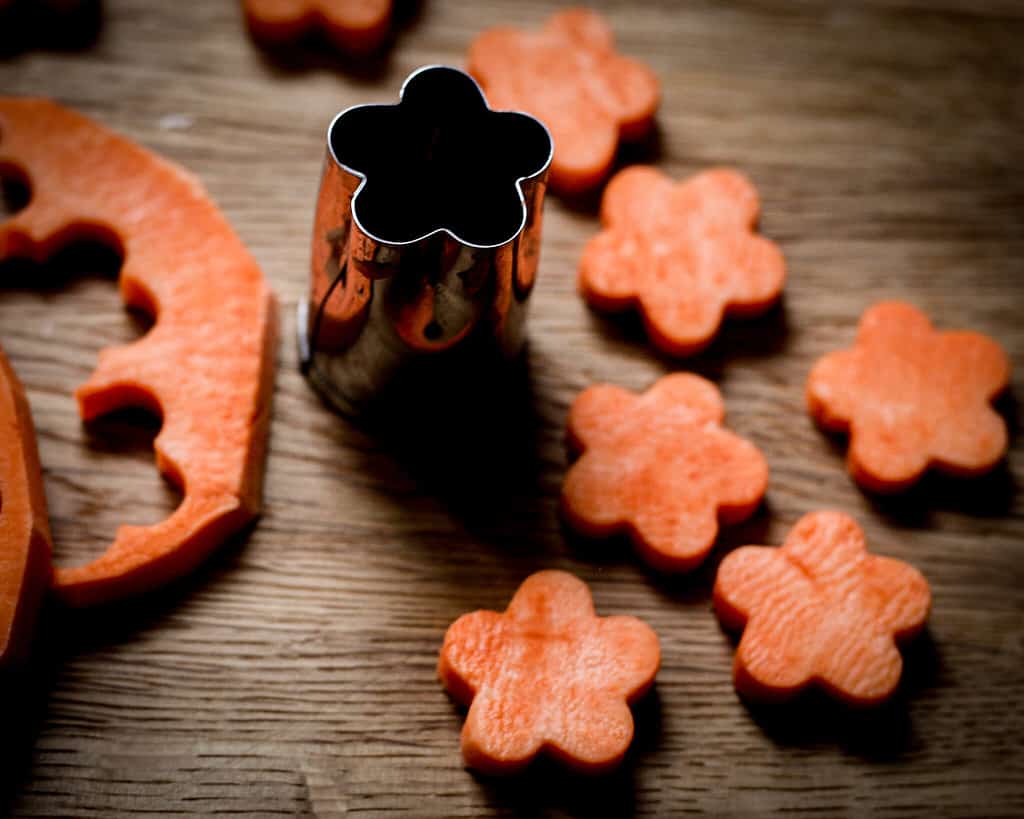 The cookie cutters also work well for food like sweet potato or butternut squash and make this focaccia look amazing!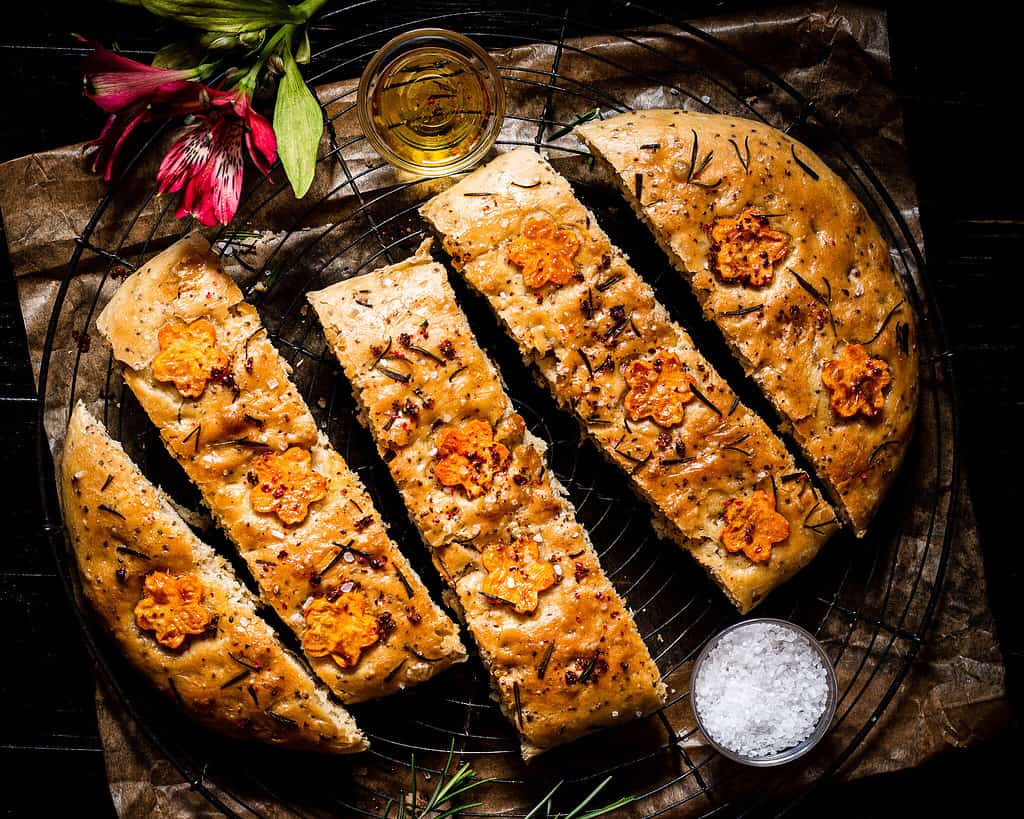 Btw, the leftovers go into a bag in the freezer and are used for the next Mexican fusion soup.
Putting it all together
So in a nutshell the foodporn formula is:
main food + colour + shape + texture + flavour + highlighter of an ingredient + wow-effect.
Here with this raspberry banana cake, the fresh raspberries would already tick all the boxes!
But the powdered sugar, the creamy white chocolate, the beige toasted almonds and the brown cake create a monochromatic colour scheme that makes the pink raspberries pop even more. And they also add more textures, shapes and flavours.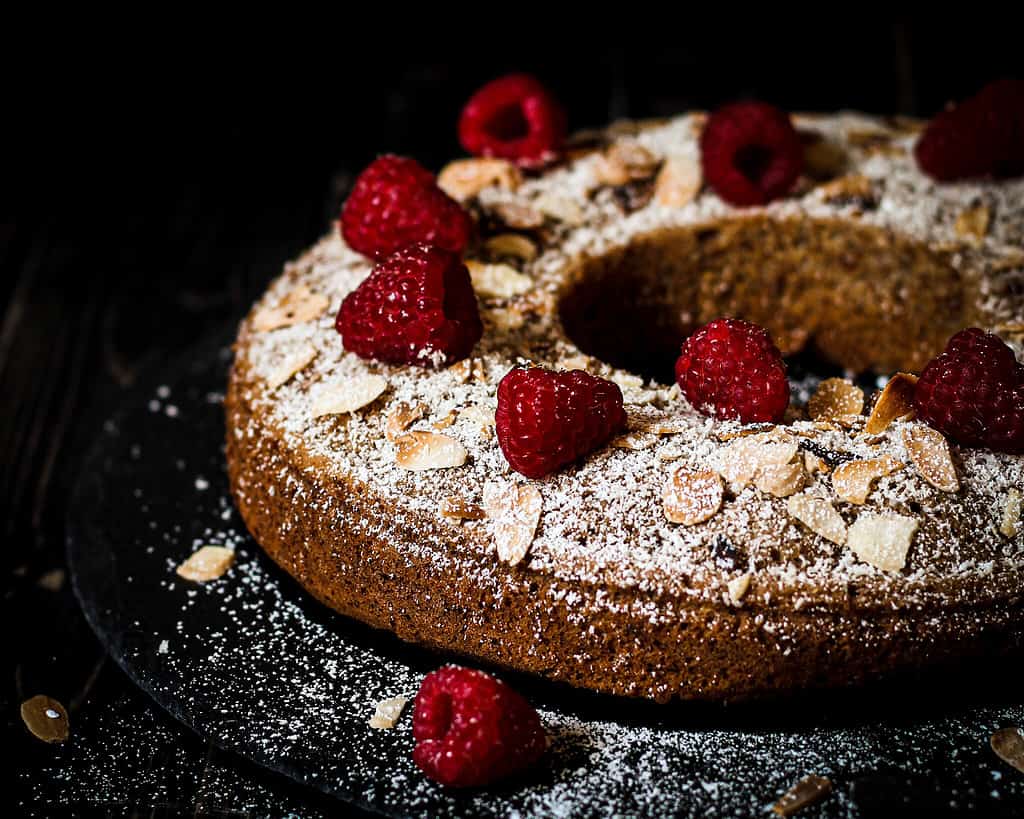 And if you're on team more-is-more, instead of the almonds you can add banana flowers, grated orange peel and dried rose petals, hereby creating a much broader colour scheme, more different shapes and textures and a taste explosion.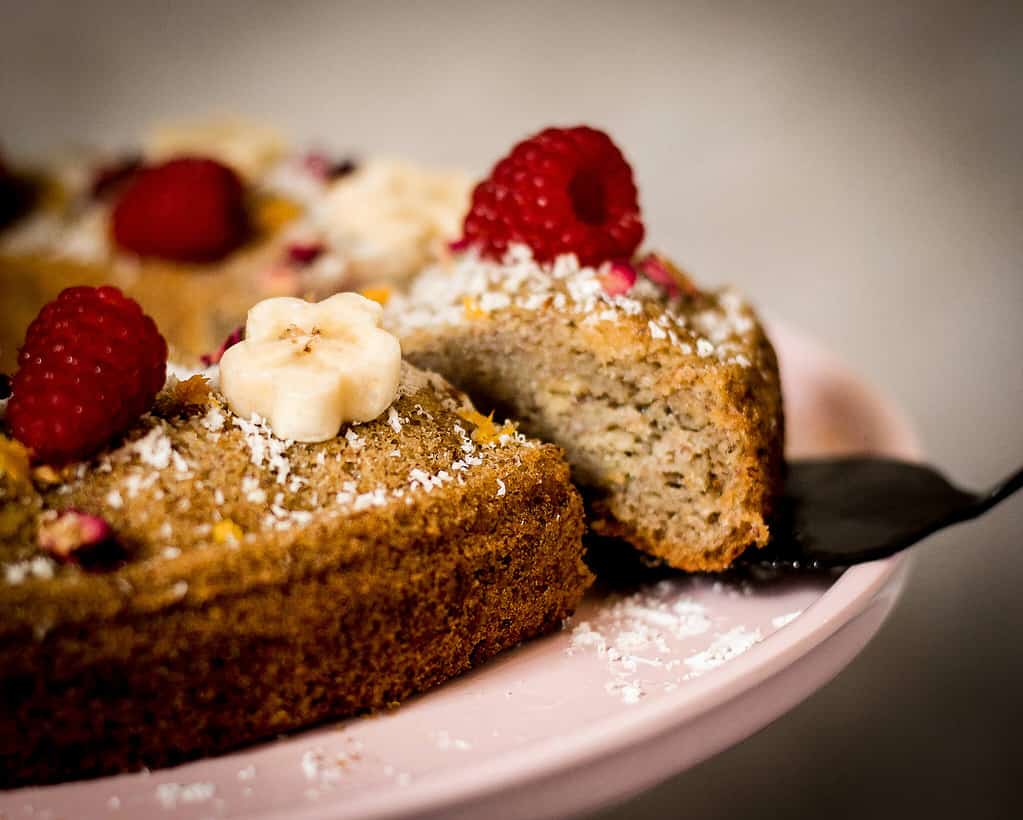 See how the colour of the plate blends into the colour scheme as well, compared to the black board I used for the almond version? The style, color and size of a bowl or plate can make a huge difference to the presentation too. I sometimes try several ones before I find the right one.
Don' t you also find that the grey-greenish bowls make the rocket salad pop and garnish the beige ravioli very elegantly?
Don't be put off by the idea that this is too much work. You'll see, as soon as you have a few favourite food presentation ideas and mastered them, you can use them for a lot of dishes, it just becomes second nature.
Bonus Tip: add something pink to make your food pop
To make beautiful pink onions like the ones on my superfood burgers, you need 2 large red onions, 120ml apple cider vinegar, 240ml water, 1 teaspoon sea salt, and 1 tablespoon maple syrup. Cut the onions into half rings and place them in a clean container (500ml) with a lid. Heat up the apple cider vinegar, water, sea salt and maple syrup (doesn't have to boil) and pour over the onions. Put the lid on and let it cool down. Then, put the jar in the fridge. You can already eat the onions, but they will have their most beautiful color after about 48 hours. They should last for approximately 2 weeks.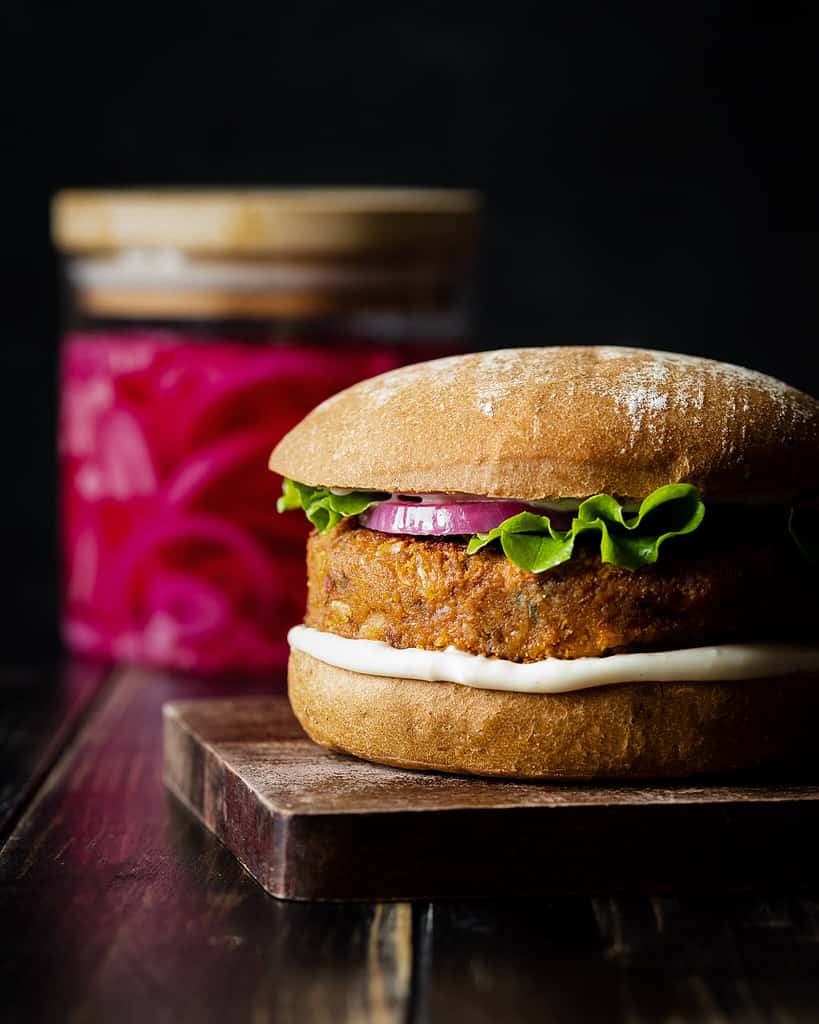 Another way of making things pink is to add some colourful superfood powder! I used the pink pitaya powder by Rawnice which were given to me for sponsored work for these popsicles and I also stirred it into the yogurt for my biryani: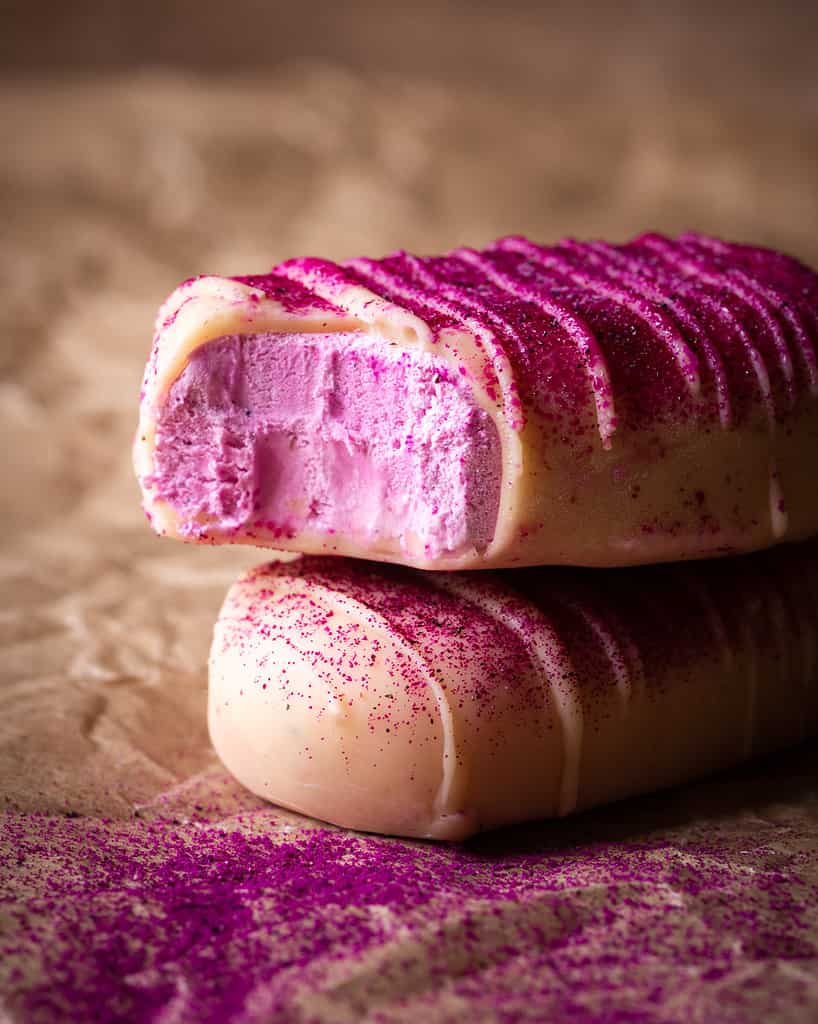 What does your ideal food look like? Are you ready to have some fun with food styling? Please tag me in your foodporn creations on instagram @flymetotheveganbuffet, I'm so curious to see your pictures!
If you like these tips, feel free to follow me on instagram, where I'll be posting lots more!