My super aromatic quick easy healthy lime rice with smoked tofu is on our table at least once a week I usually make twice the amount of rice when I cook rice for dishes like my tahini veggies or my butternut apricot curry, so we can have a delicious fried rice the next day.
Careful: You always want to put leftover rice in the fridge asap, otherwise a bacteria called bacillus cereus can become a problem. When using the leftover rice, you want to make sure it's thoroughly heated.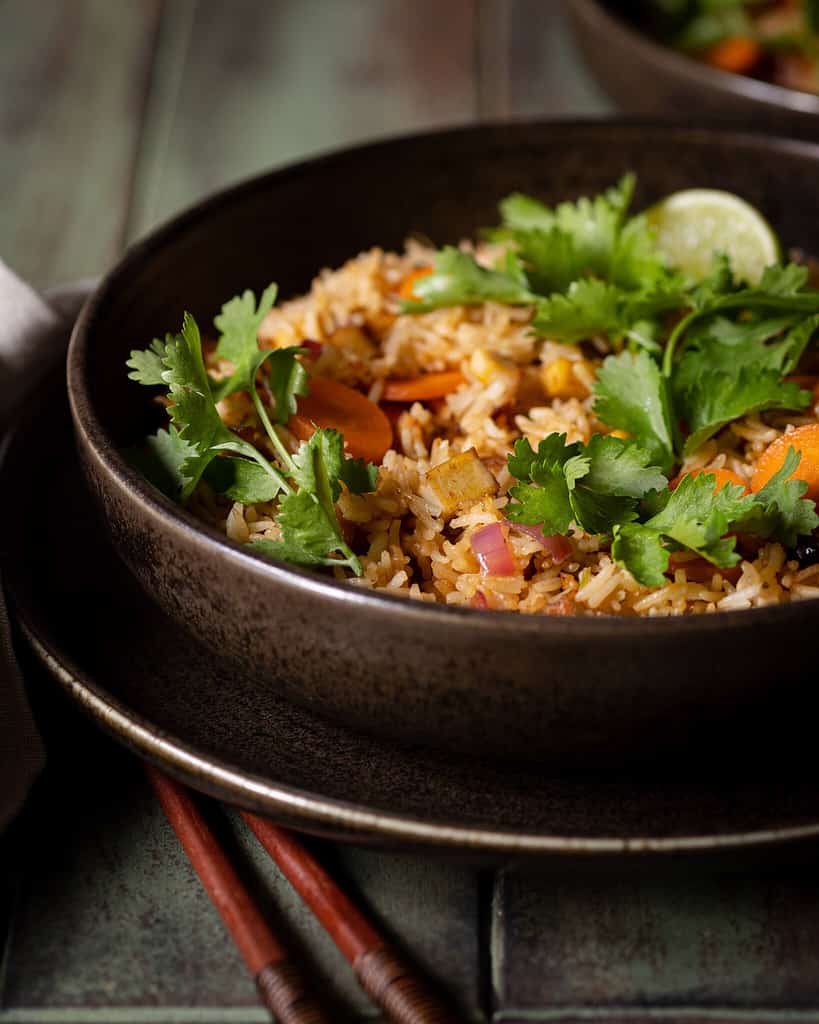 Why is lime rice with smoked tofu healthy?
Cooked and cooled rice contains resistant starch, which feeds our good gut bacteria. It also contains complex carbohydrates that keep us full for longer and many B vitamins.
Onions are packed with nutrients and are considered a natural antibiotic. They also contain prebiotic substances that our good gut bacteria love.
Limes contain potassium, calcium, vitamin C, and other important nutrients.
Carrots are rich in provitamin A and many other nutrients. They also contain soluble and insoluble fiber, both of which our gut needs.
Tofu is considered a easily digestible source of protein and contains many minerals.
Cranberries can do a lot. They help, for example, the important gut bacterium Akkermansia Municiphila to multiply, and can even keep the Helicobacter Pylori in check! If only I had eaten more cranberries when I caught that bug in India…
Coriander, like all herbs, contains essential oils that support digestion. It also has detoxifying and anti-inflammatory properties.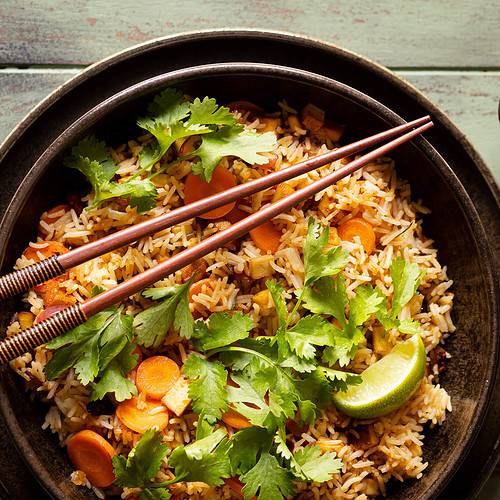 LIME RICE WITH SMOKED TOFU
Quick delicious lime rice with smoked tofu, coriander, dried cranberries and fried shallots
Ingredients
1 smoked tofu, cubed

2 carrots, diced

juice and peel of 2 limes

3 tablespoons soy sauce

1 tablespoon maple syrup

1

teaspoon

black pepper

1 red onion, diced

2 tablespoons dried cranberries

coriander stems, chopped

about 500 g cooked and cooled rice (2,5 cups)

was about 1 cup/ 200 g uncooked

1

tablespoon

fried shallots

coriander leaves

1 lime, cut in wedges
Instructions
First, gather all your ingredients and prepare them in the right amounts. That makes it so much easier and more fun and you're less likely to forget anything. 

Heat plant oil in a big pan and cook the tofu for a few minutes. Then add the carrots.

Make the sauce: combine grated lime peel, lime juice, soy sauce, maple sirup and pepper in a bowl and set aside.

Add the onion, cranberries and coriander stems to the pan and stir, then add the rice and the sauce mix.

Now stir-fry for a few minutes and serve with fried shallots, coriander leaves and lime wedges.
Did you enjoy this recipe?
A 5 star rating would mean the world to me and I always love to see your pictures on instagram @flymetotheveganbuffet
Do you like the lime rice with smoked tofu? Other dishes with leftover rice are tomato rice with black beans and pineapple rice with vegan "egg".