Whenever I cook rice, I make twice the amount, because the leftover rice is the perfect basis for the next meal. Also, cooled rice has built resistant starch which feeds our good gut bacteria.
Sometimes I make my pineapple rice with vegan egg, but mostly we're just having this tasty tomato rice from the skillet, as tomatoes and beans are things we always have on hand, that's a perfect side dish.
How to turn this tomato rice into a main course
sliced veggie sausages
cilantro
limes
avocado
vegan sour cream
I really like to sprinkle the fruity-spicy Turkish paprika based seasoning Pul Biber over this dish, it fits very well. But don't worry if you don't have it, the rice is also great without it.
This way you easily create a Mexican inspired fusion bowl.
I like black beans best, but any other beans work well for this tomato rice.
The tomato rice also works well as a filling for burritos or wraps. You can find my recipe for good homemade wraps here.
This recipe is gluten free when you get gluten free vegan sausages.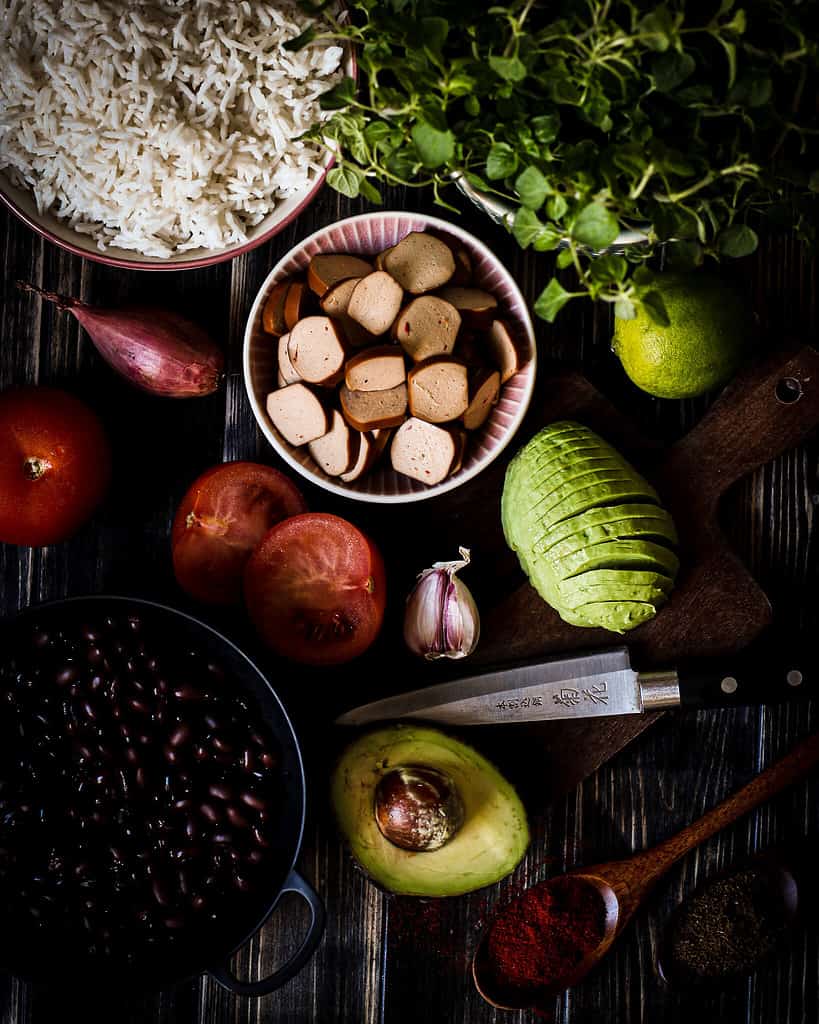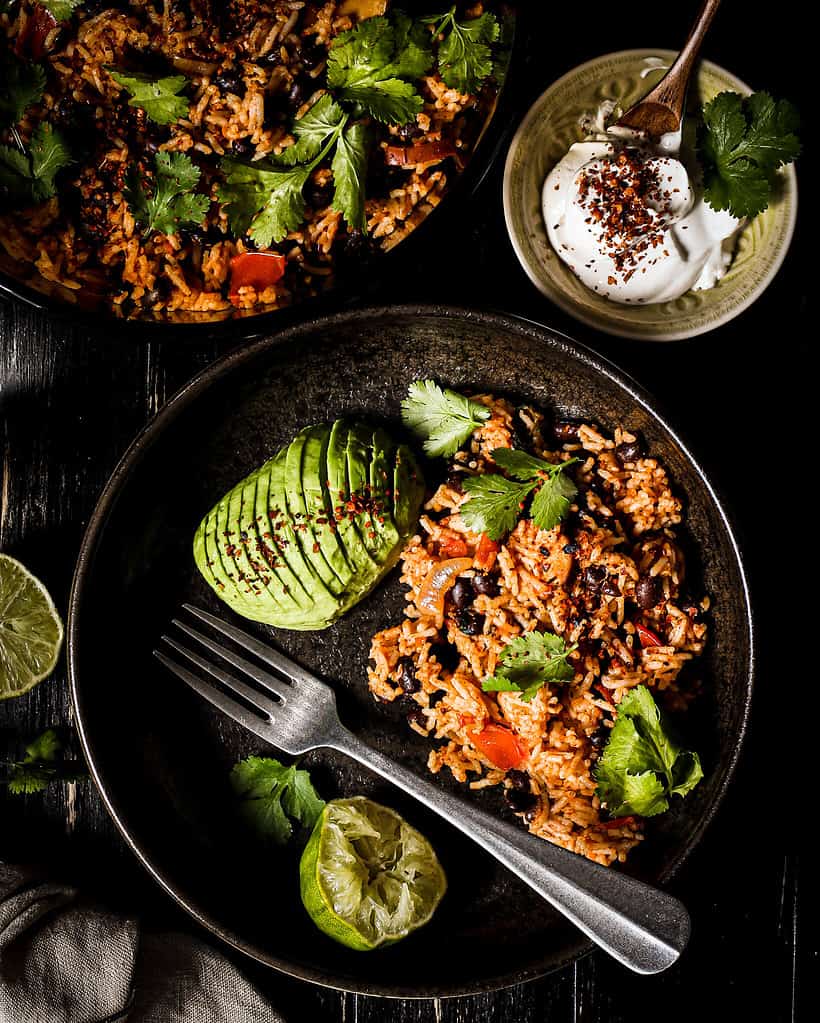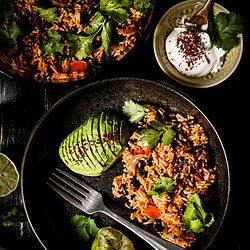 TOMATO BLACK BEAN RICE
Leftover rice is perfect to make this tasty tomato rice with veggie sausage and black beans
Ingredients
1-2

veggie sausages

sliced

1

onion

chopped

2

garlic cloves

chopped

2

tomatoes

diced

1

teaspoon

cumin

1

teaspoon

smoked paprika

2

teaspoons

oregano

1/2

cup

veggie broth

2,5

cups/ about 450 g cooked and cooled rice

was about 1 cup/ 200 g uncooked

1

can of black beans

pepper, chili, salt

cilantro

lime

avocado and vegan sour cream

Pul Biber

optional
Instructions
First, gather all your ingredients and prepare them in the right amounts. That makes it so much easier and more fun and you're less likely to forget anything. 

Sauté veggie sausage, onion and garlic in plant oil for about two minutes.

Then add the tomatoes and spices and stir well, add veggie broth.

Add rice and beans and roast for about 5-10 minutes, keep stirring.

Add salt, pepper and chili to taste and serve with cilantro, lime, avocado, vegan sour cream and optional Pul Biber.
Did you enjoy this recipe?
A 5 star rating would mean the world to me and I always love to see your pictures on instagram @flymetotheveganbuffet