Making pita wraps yourself is easy, and my homemade fluffy spelt pita wraps taste so much better than store-bought ones, believe me. 
I like my wraps soft and fluffy and thick. But of course you decide how thick or think, small or big you want to roll out your wrap dough. They can also be used like tortillas, for burritos, soft tacos and fajitas. I like to use spelt flour for my recipe, but wheat works just as well. 
What do you fill the homemade spelt pita wraps with? 
My favourite fillings are sweet potato, black beans and tofu or sweet potato, sour cream, rocket salad and veggie scramble.
The homemade spelt pita wraps taste amazing when they're fresh, but you can keep them in an airtight container in the fridge for a couple of days and just warm them up in the dry skillet. And of course you can freeze them to always have a quick snack at hand. The delicious pan breads are perfect to use up leftovers in the fridge.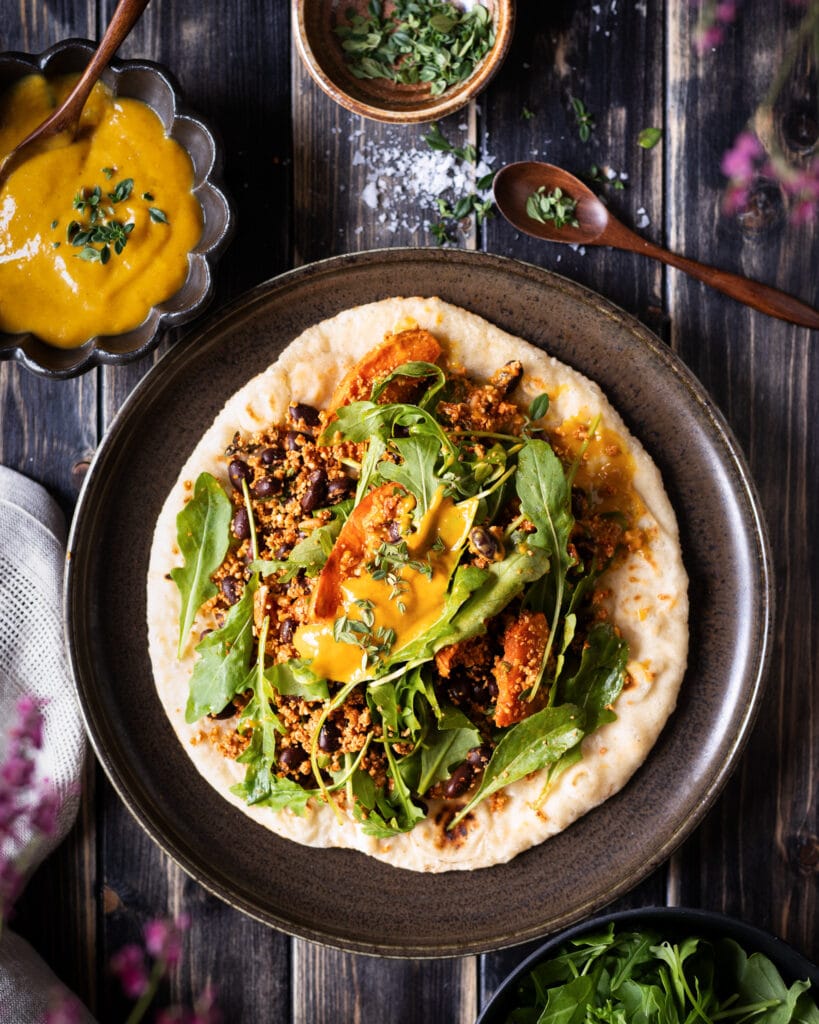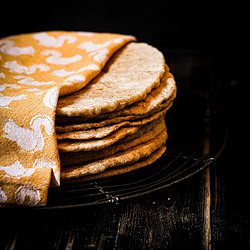 HOMEMADE SPELT PITA WRAPS
This recipe for my delicious homemade spelt pita wraps works for anything you want to fill it with. They are perfect to use up leftovers in the fridge
Ingredients
42

g

fresh yeast or 2 teaspoons of dried yeast

1

teaspoon

sugar

350

ml

warm water

1 1/2 cups

700

g

spelt flour

5 cups

60

ml

olive oil

1/4 cup

2

teaspoons

salt
Instructions
First, gather all your ingredients and prepare them in the right amounts. That makes it so much easier and more fun and you're less likely to forget anything. 

Dissolve yeast and sugar in warm water and let sit for about 5 minutes.

Knead with flour, olive oil and salt for several minutes, until you have a soft dough. Adjust the flour/ water ratio a little, if the dough is too dry or sticky.

Put a little olive oil in a bowl and on your hands, then put the dough in the bowl, cover it with a tea towel and let it rise for at least one hour. The dough should double in that time.

Then knead the dough again on a well-floured surface and divide in 10 parts, roll the into balls and let them rest under the tea towel for another 20 minutes.

Now roll them into circles the size of your skillet and roast them in the hot skillet with a little olive oil for about 30 seconds each from both sides. The pan needs to be really hot in the beginning, then you can turn it down.
Did you enjoy this recipe?
A 5 star rating would mean the world to me and I always love to see your pictures on instagram @flymetotheveganbuffet