This vegan sweet potato skillet is the perfect plant-based fall food with crispy aromatic baked sweet potatoes, fresh thyme, fresh rocket salad and hearty veggie mince with nourishing black beans. It's also gluten free when you use tamari instead of soy sauce. It works for lunch or dinner and it's also a nice filling idea for wraps. Leftovers are perfect for sandwiches, warm or cold. It goes especially well with my 5-minute apricot mustard sauce, which is an imitation of a sauce from a big fast food chain.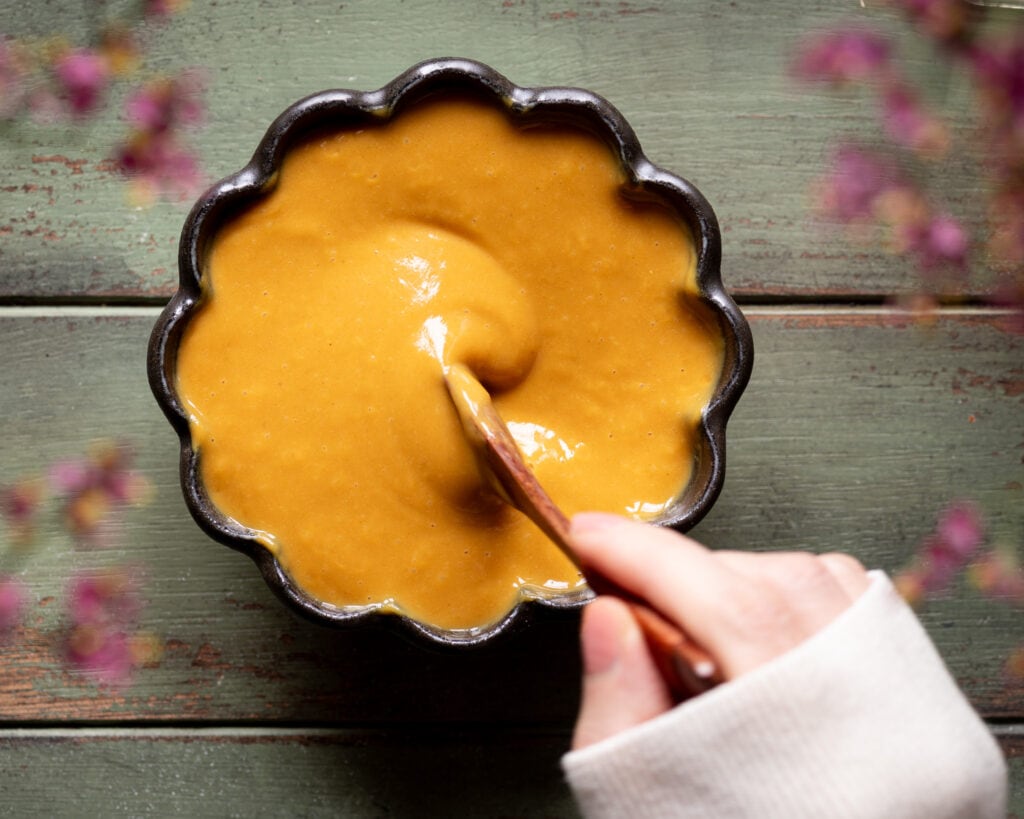 What do you need to make the sweet potato skillet?
Sweet potatoes are a nutrient-dense food, rich in vitamins A and C, fiber, and antioxidants, promoting eye health, immune function, and overall well-being. Additionally, their complex carbohydrates provide sustained energy without causing rapid spikes in blood sugar levels. I clean them well and cut away ugly bits, but leave the skins on in general, as they are a good source of additional fiber, vitamins, and minerals. The skin also contains antioxidants and contributes to the overall nutritional value of the sweet potato.
Black beans are a nutritious powerhouse, packed with protein, fiber, and essential nutrients like folate and iron. Their high fiber content aids digestion and helps maintain stable blood sugar levels, making them a healthful addition to a balanced diet. You can use kidney beans instead as well for the sweet potato skillet. I use beans from a can or a glass and rinse them very well to get rid of most of the oligosaccharides, which is what can contribute to gas and bloating. You can of course use dried beans and cook them according to instructions on the packaging.
Smoked tofu is a variety of tofu that has been flavored with a smoky taste through the process of smoking. You can use firm white tofu if you can't find it. I grind the smoked tofu in a little food processor. If you don't have one, you can crumble the tofu with your hands. Tomato paste adds some extra umami.
Fresh thyme is healthy as it contains various vitamins, including vitamin C, which supports the immune system, and vitamin K, essential for bone health and blood clotting. Thyme also contains beneficial compounds like thymol, with potential antioxidant and anti-inflammatory properties, contributing to overall health and well-being. I used lemon thyme for this recipe which has citrus-y flavour, but any thyme will do. You can use dried thyme if you can't find it, but the fresh herbs really add to the flavour.
Smoked paprika powder, also called Pimenton de la Vera, is a spice derived from dried and smoked peppers, adding a distinct smoky flavor to dishes. It is commonly used in Spanish and Hungarian cuisine and works very well with this sweet potato skillet.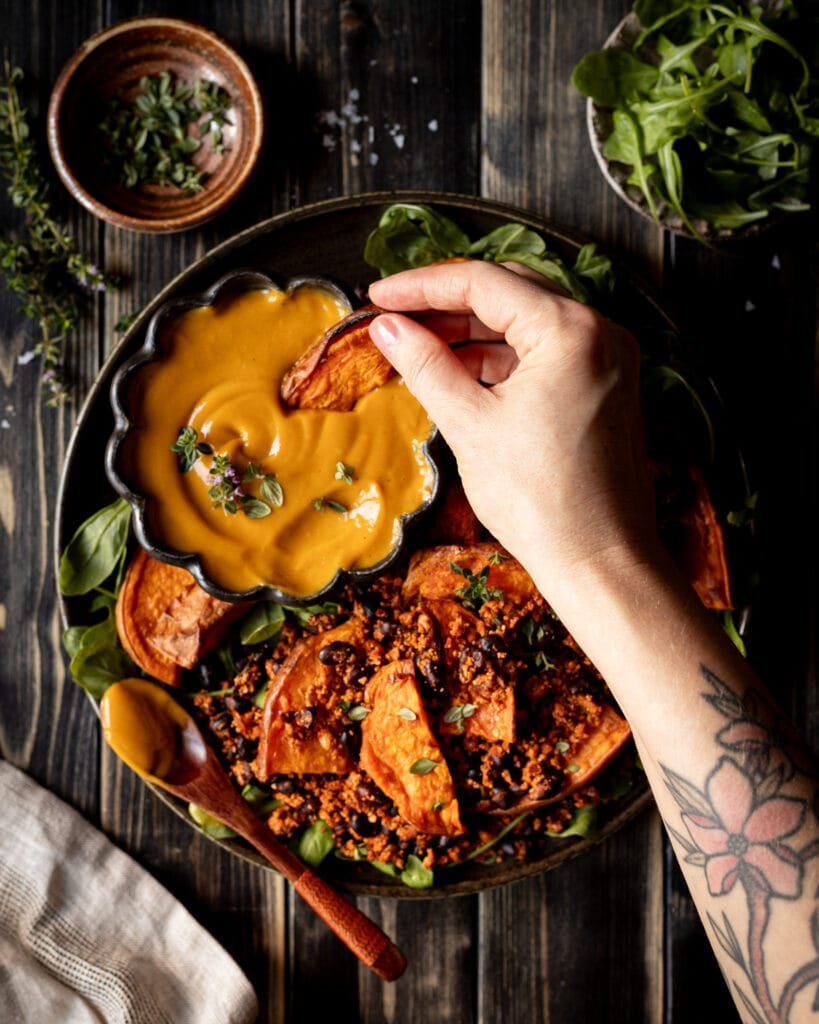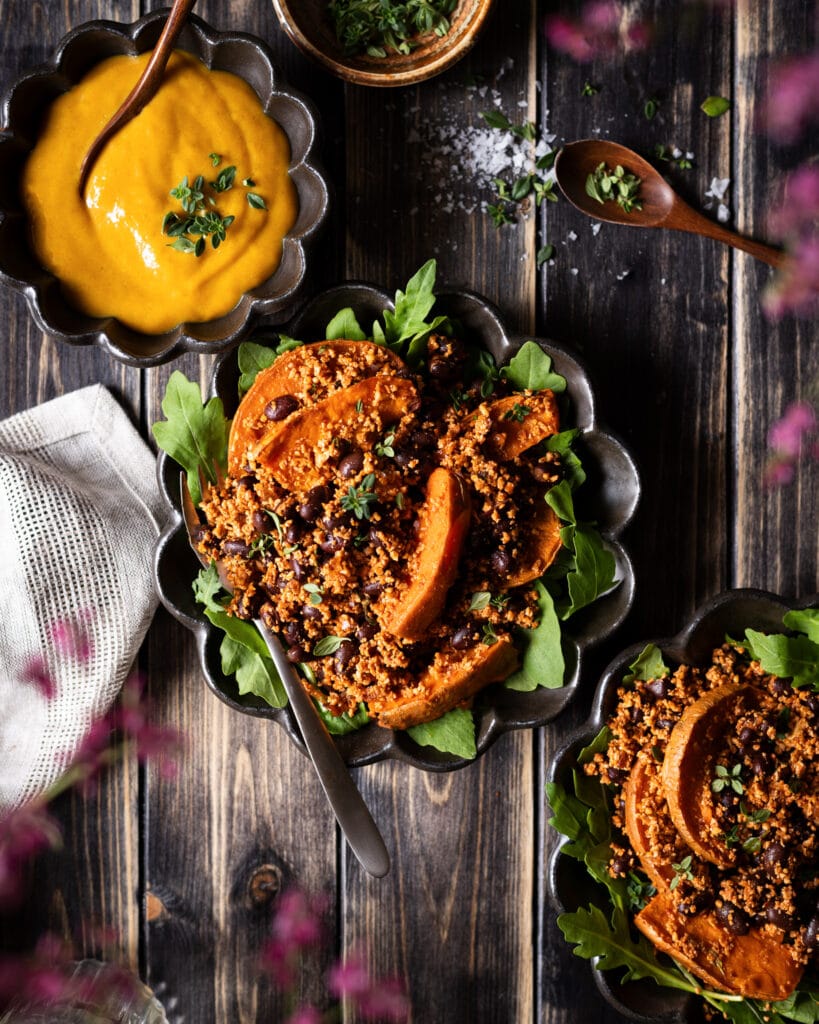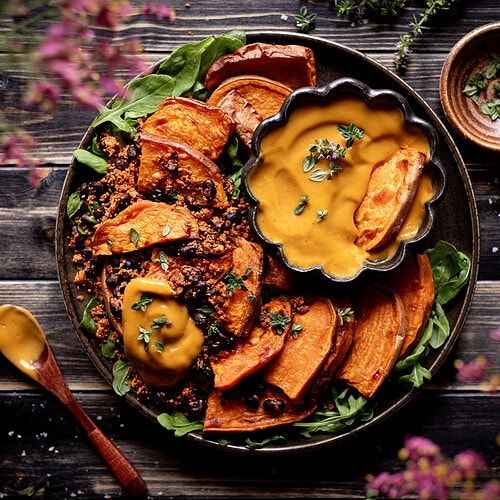 SWEET POTATO SKILLET
This vegan sweet potato skillet is the perfect fall food with crispy aromatic sweet potatoes, fresh rocket salad and hearty smoked tofu with nourishing black beans.
Ingredients
500g

(3 cups) sweet potatoes

olive oil

salt

1

tablespoon

tomato paste

1

onion

chopped

1

garlic clove

chopped

200

g

black beans (about 1 cup)

cooked or from a can and rinsed well

1

tablespoon

smoked paprika powder

1

tablespoon

maple syrup

1

tablespoon

soy sauce

1-2

tablespoons

fresh thyme

juice of 1 lemon

salt and pepper to taste

chili flakes to taste

2

handfuls of rocket salad

apricot mustard sauce

or vegan mayo
Instructions
Preheat oven to 200 °C (392° Fahrenheit).

Now, gather all your ingredients and prepare them in the right amounts. That makes it so much easier and more fun and you're less likely to forget anything 🙂

Wash the sweet potatoes and cut into wedges. I leave the skins on. Mix in a big bowl with olive oil and salt, spread on an oven rack, and bake for 30 minutes.

In the meantime grind the smoked tofu with tomato paste in a food processor.

Sauté onions in olive oil for 3 minutes, add garlic, the ground tofu and sauté for another 3 minutes. Then add beans, smoked paprika powder, maple syrup, soy sauce and thyme and cook at medium heat for about 10 minutes, stirring often.

Add the sweet potatoes and lemon juice, stir again, add salt and pepper and chili flakes to taste and serve with fresh rocket salad and apricot mustard sauce.
Did you enjoy this recipe?
A 5 star rating would mean the world to me and I always love to see your pictures on instagram @flymetotheveganbuffet
What else can you do with the sweet potato skillet?
This sweet potato skillet is also delicious in a homemade pita wrap with rocket salad and apricot mustard sauce or vegan mayo or sour cream. This recipe makes 4-5 wraps.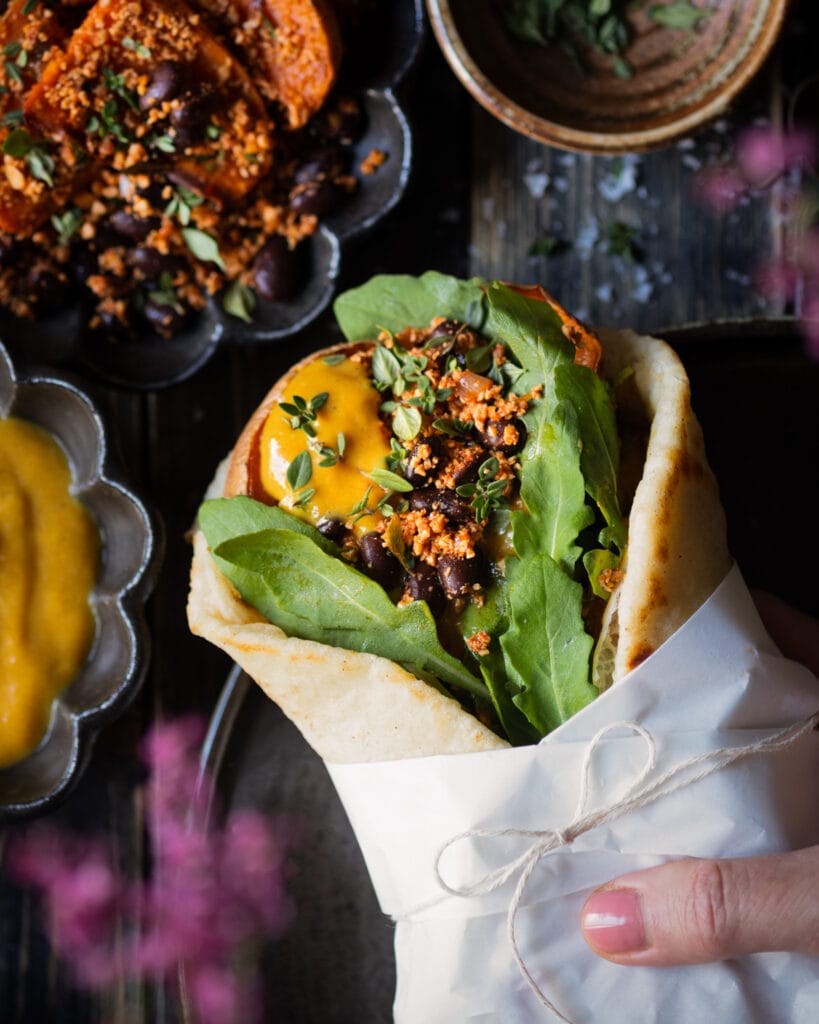 Do you love cozy fall dishes? Then you might also want to try my