We've had these butternut mushroom ravioli about every other night in December while I was experimenting with the recipe.
Making ravioli from scratch is fun, and with a little practice, you'll become faster every time. I don't use a ravioli maker, just a glass and a fork. You can see in the video how to do it. It's almost like a meditation for me, just me, the filling and the ravioli for 20 minutes.
My ravioli dough is made of spelt flour and spelt semolina, but you can also use wheat products.
You can also freeze the ravioli, but you'll want to spread them out so they don't touch each other until they are frozen, so they don't stick. Then you can throw them together in one freezer bag.
What else do you need to make butternut mushroom ravioli?
For the pumpkin-mushroom filling
butternut squash
mushrooms
nutmeg
For the sauce
garlic
sundried tomatoes
pine nuts
fresh thyme
balsamic glaze
maple syrup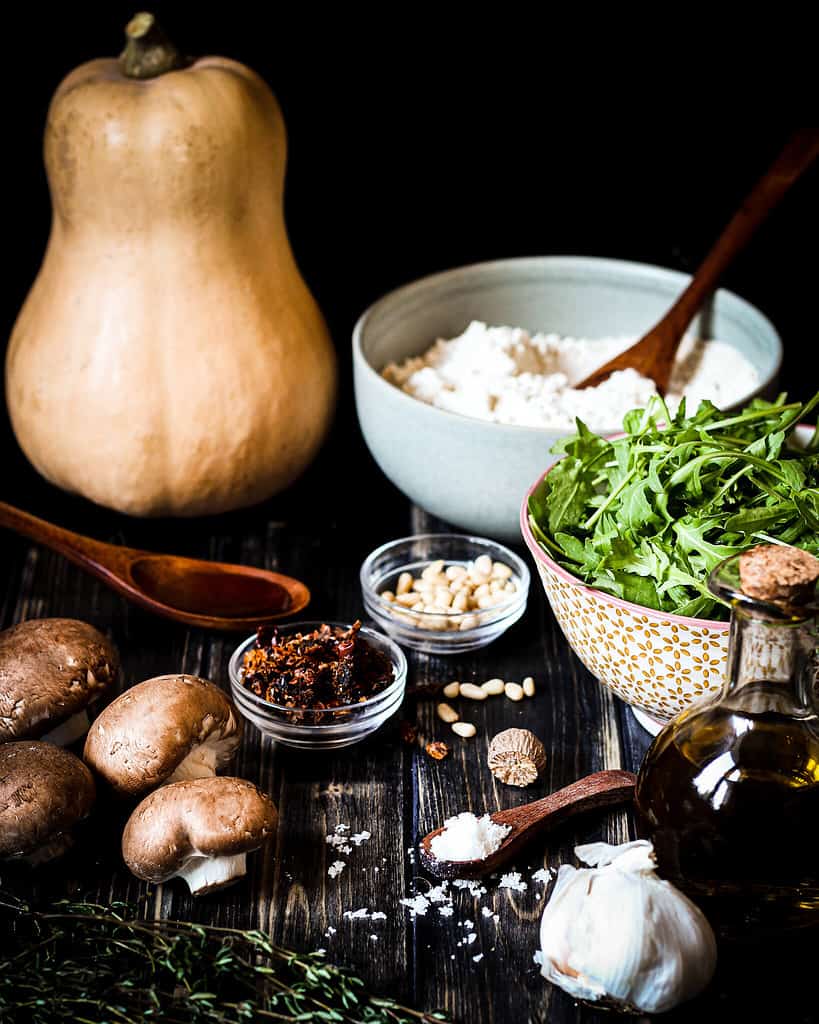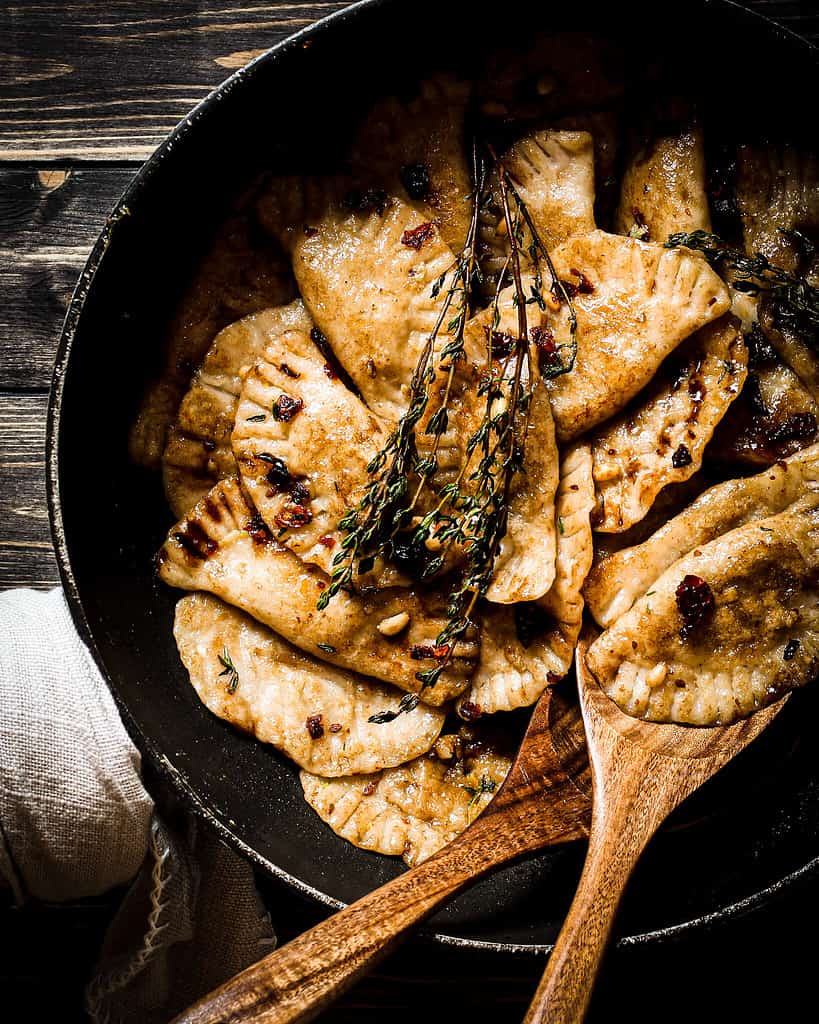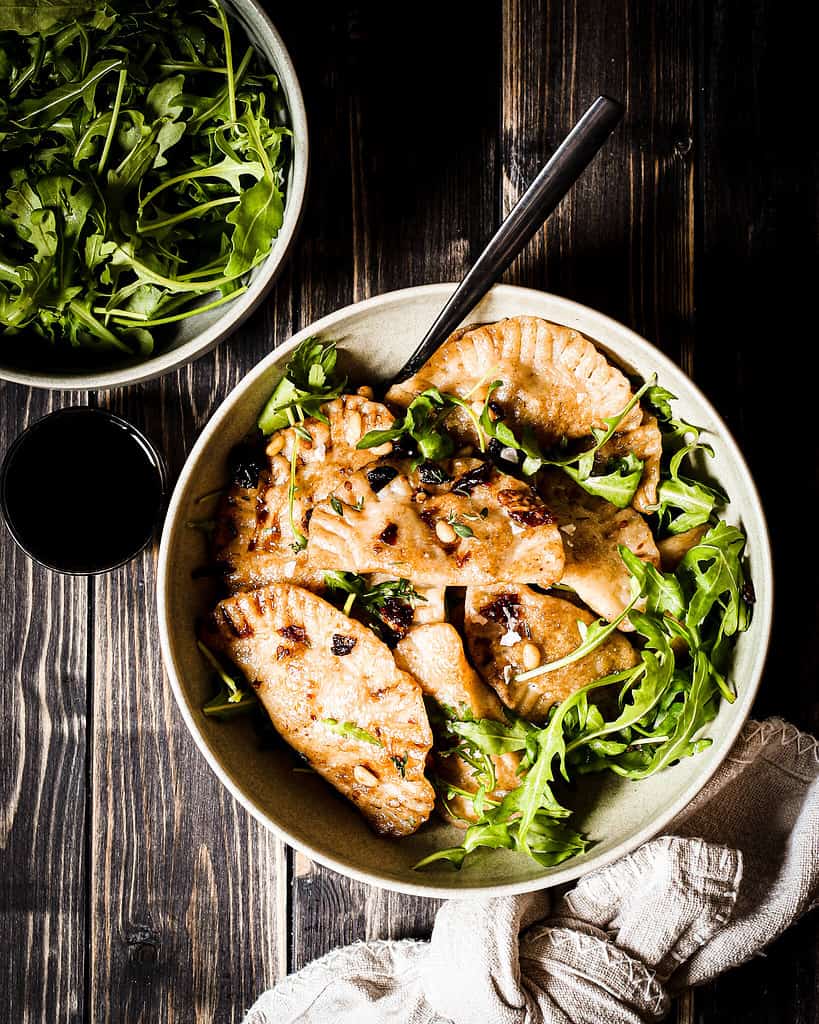 If you have some butternut squash left, you might also like my butternut apricot curry.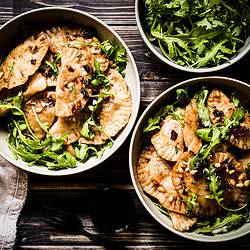 BUTTERNUT MUSHROOM RAVIOLI
There's nothing like vegan butternut mushroom ravioli roasted with garlic, thyme, balsamic glaze and maple syrup
Ingredients
1

cup

flour

150 g

1

cup

semolina

150 g

1/4

teaspoon

salt

1

tablespoon

olive oil

2/3

cup

of water

160 ml

1

cup

butternut squash

200 g

1/2

cup

mushrooms

100 g

1/4

teaspoon

salt

1/4

teaspoon

nutmeg

two cups fresh spinach or rocket salad

1

tablespoon

dried tomatoes

1

garlic clove

1

teaspoon

maple syrup

1/4

teaspoon

salt

1

teaspoon

thyme

some thyme twigs

1

teaspoon

pine nuts

balsamic glaze
Instructions
First, gather all your ingredients and prepare them in the right amounts. That makes it so much easier and more fun and you're less likely to forget anything. 

For the dough we need 1 cup flour, 1 cup semolina and 1/4 teaspoon salt.

Stir well and add 1 tablespoon olive oil and a 2/3 cup of water. You might have to add a little more flour or water. The dough should be easily manageable and not too sticky.

Knead well, cover up and put it in the fridge.

For the filling cut about 1 cup butternut squash and about 1/2 cup mushrooms. Chop them up, it's easiest in a little food processor.

Heat the filling in a skillet with a little olive oil and add 1/4 teaspoon salt and about the same amount of nutmeg. I use this zester. Then fill it in a little bowl to cool.

Now you need the dough, a rolling pin, flour, a glass with a thin rim, a fork, the bowl with the filling and a little spoon, and two plates or a big board with a little more semolina for the ravioli.

Roll out the dough as thin as possible. You should still be able to turn it around without tearing it.

Now use the glass to cut out circles.

Place a little amount of the filling on the circles and fold them over, then close them with a fork.

Place the ravioli on the plates or board, try not to put them on top of each other to avoid them sticking together.

Carefully put in boiling salt water, it's best to use a straining ladle to prevent the ravioli from breaking. They are ready after about 5 minutes when they start swimming to the top.

Boil them for about 5 minutes while roasting 1 tablespoon dried tomatoes, 1 garlic clove, 1 teaspoon maple syrup, 1/4 teaspoon salt, 1 teaspoon thyme, some thyme twigs and 1 teaspoon pine nuts in a skillet.

Then add the ravioli and roast them for a few minutes.

Now add some balsamic glaze and rocket salad, stir well and add salt and pepper to taste. Serve with more balsamic glaze.
Video
Notes
Meanwhile I adjusted the amounts in the video a bit. 
Did you enjoy this recipe?
A 5 star rating would mean the world to me and I always love to see your pictures on instagram @flymetotheveganbuffet