Finding food as a vegan in Berlin is really not a problem anymore. Happy Cow spits out countless results all over the city, chains like Dean & David or Dolores Burritos and many Vietnamese places have a range of vegan options. Even some of the traditional curry sausage stalls offer a vegan curry sausage meanwhile – it's Berlin's specialty after all, along with Döner Kebap which you will find vegan versions of as well.
As this is my hometown, of course I have tried a lot and come to like a few places the most.
And here are my favourite all-vegan restaurants:
VEGAN IN BERLIN FRIEDRICHSHAIN
1990 VEGAN LIVING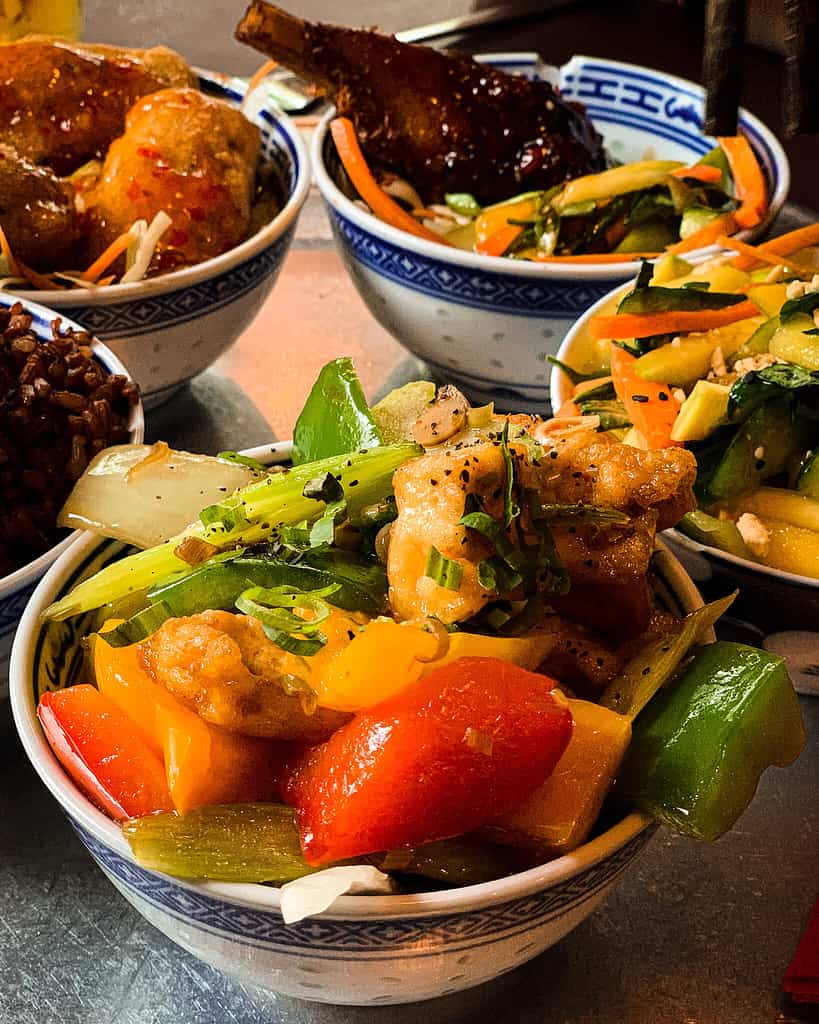 Whenever you ask for a good vegan restaurant in Berlin in a Facebook group, one of the first two answers will mention this place. For a good reason: you can't do anything wrong coming here. This is where we take our guest, vegan or not. They always love the amazing and creative Vietnamese food, served as tapas in many little bowls, so if you go there in a group it's like a little table buffet.
You might have guessed that I love buffets, right?
The restaurant is located right at Boxhagener Platz, opening times are accommodating, service is very fast and friendly. Even if you don't have a reservation, the place is quite big, so you'll probably get a table. Be sure to make a reservation for saturday night though. It's not expensive and the audience is young and cheerful. What I particularly like is the cute retro style decor of the restaurant, that alone is worth going there. Check out their website here.
I shot a little reel last time I was there:
LI.KE THAI
If you love Thai food but fish sauce makes you run for the hills, Germany's first vegan Thai restaurant is your place! You can make a reservation on their website. Have a look at the cute interior and the delicious food in my reel:
SECRET GARDEN
The beautiful Japanese inspired restaurant above the Veganz Supermarket and next to Avesu the vegan Shoe Store is Berlins first vegan sushi restaurant. It is run by the same family as 1990 Vegan Living and Cat Tuong in Prenzlauer Berg, which I also highly recommend.
The ingredients in all three restaurants are mainly organic, the water is filtered and vitalised, and glutamate is not used.
The sushi creations at secret garden are exceptional and I find all of them amazing, but you can also order warm food and delicious and beautifully presented desserts. And just like 1990, it's not very expensive. Find out more on their website.
I also made a reel about my last visit:
Do you already have my free checklist for traveling vegans? Subscribe to my newsletter and get it now 🙂
VINCENT VEGAN
Not into sushi? No problem, from that corner at Warschauer Straße you can also see the East Side Mall. In that mall's food court upstairs, you will find beyond burgers, fries with yummy sauces, loaded kebab fries and of course the aforementioned curry sausage. In case you have never heard about Berlin's snack specialty, it's a sliced roasted sausage drowned in a spicy ketchup sauce with lots of curry powder: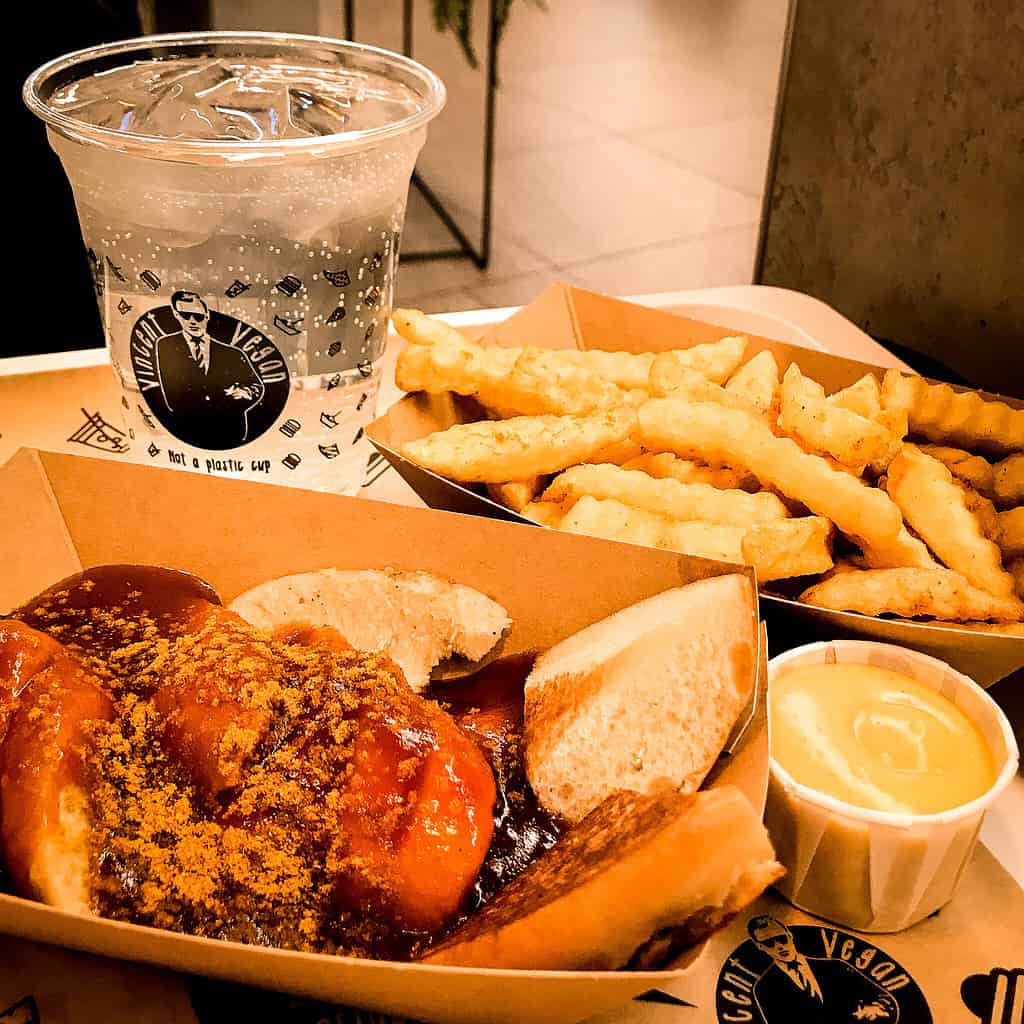 Originally a food truck and catering company serving vegan fast food and good karma, Vincent Vegan is starting to get established in food courts in Hamburg and now also Berlin. Check out their website here. 
BTW: Washing your fries fingers in the mall bathroom is 70 ct, but right below Vincent Vegan is a rituals shop where you can wash your hands for free with amazing vegan products.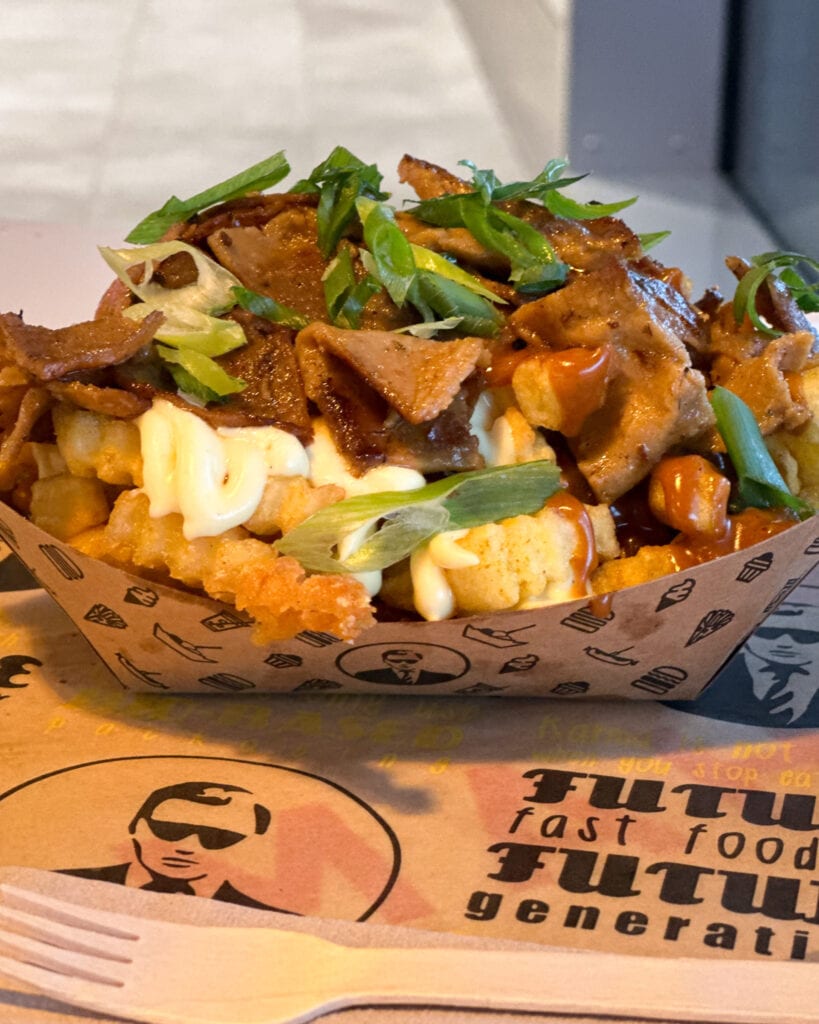 VEGAN IN BERLIN KREUZBERG
BRAMMIBAL'S DONUTS
If you've been following my instagram account, you'll know that I absolutely love their perfect donuts and matcha latte right by the canal where we often take a walk and watch the swans when the weather is nice. They also serve sandwiches and meanwhile also have gluten-free donuts.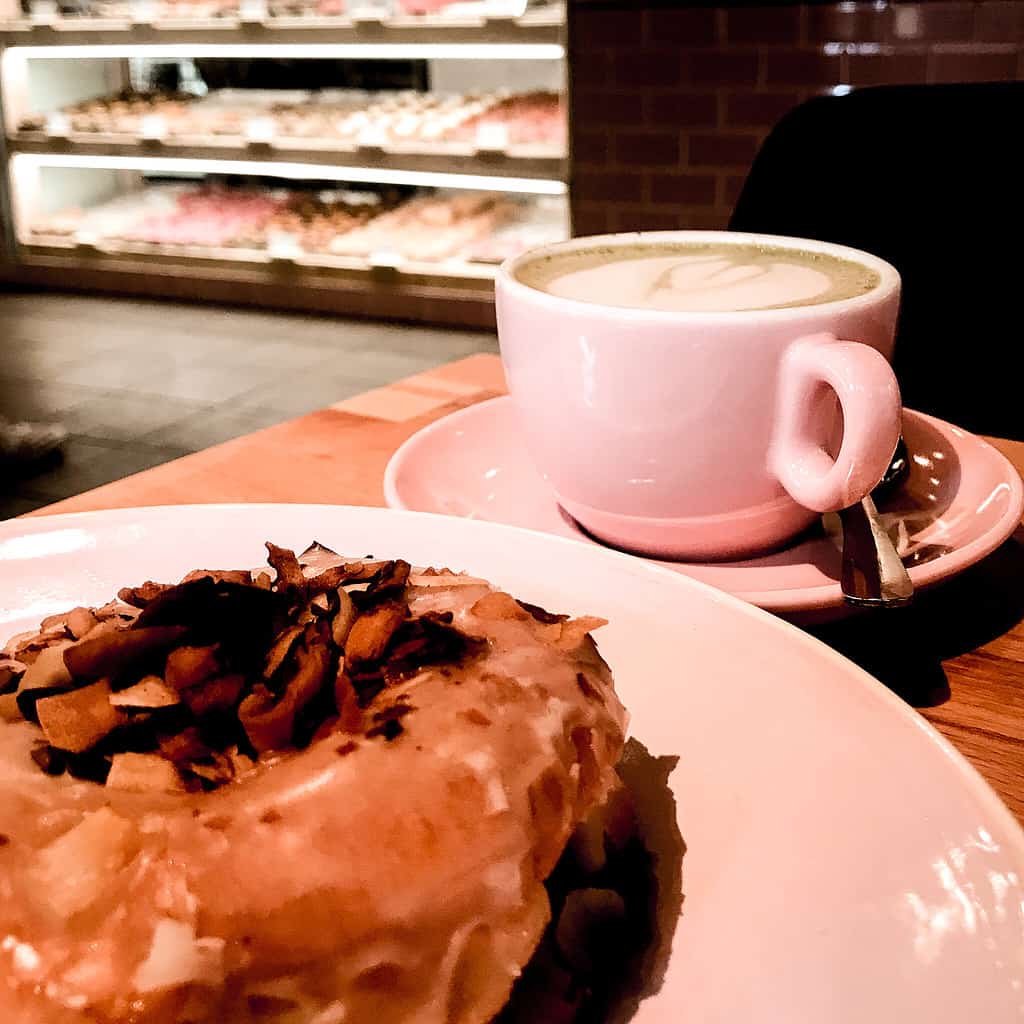 The one in Kreuzberg is the original one, Europe's first vegan donut place. Meanwhile there is also a Brammibal's in Prenzlauer Berg and a big fancy one at Potsdamer Platz. That's in the picture with the coconut maple bacon donut above, my absolute favourite combination and I was inspired to create my coconut maple bacon muffins.
Two new stores have opened at famous department store KaDeWe and in Friedrichshain, you can find out more on their website.
VEG'D
Another delicious burger and fries place is Veg'd. I had the Burghain with the cool black bun! Go have a look at their mouthwatering burger pictures on their website. They are also in Friedrichshain and Prenzlauer Berg.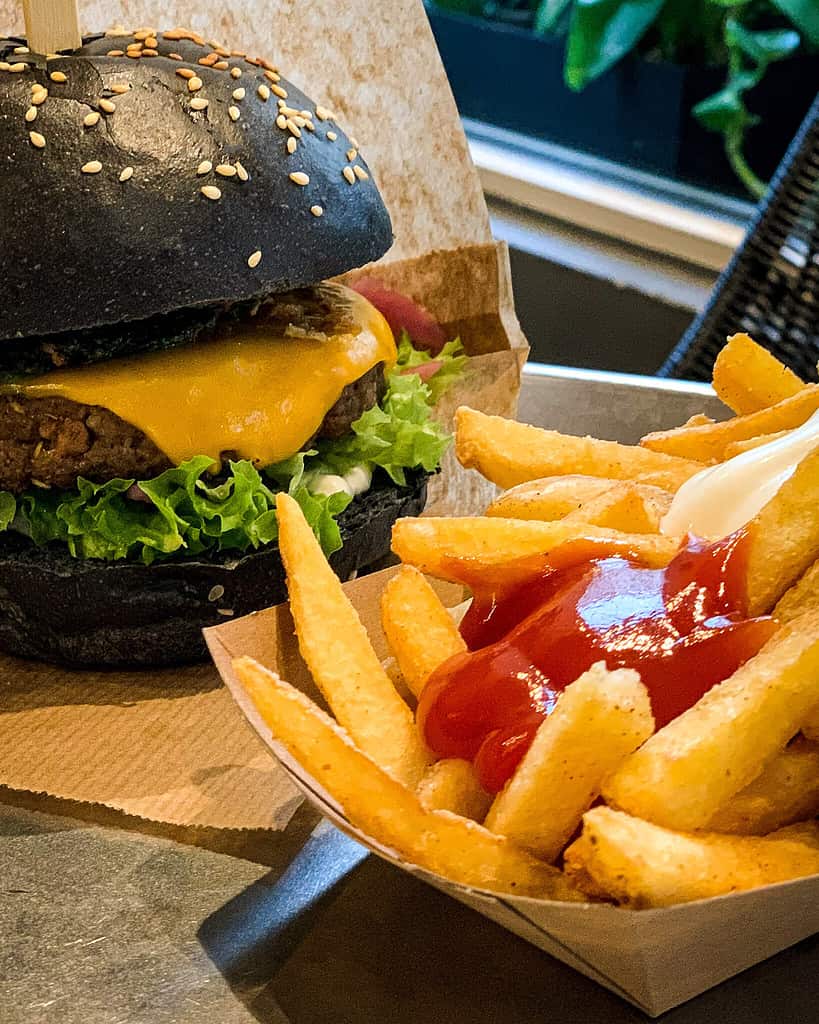 AL CATZONE
This place serves vegan Neapolitan pizza and in the summer you can sit in a lovely little beer garden and enjoy la dolce vita. Everything is really cute! Have a look at my reel:
You might want to make a reservation on their website.
VEGAN IN BERLIN NEUKÖLLN
LA STELLA NERA
Cozy and friendly Italian restaurant run as a collective serving delicious Napolitan brick oven pizza and homemade pasta. The place is very popular and not extremely big, so you might want to make a reservation.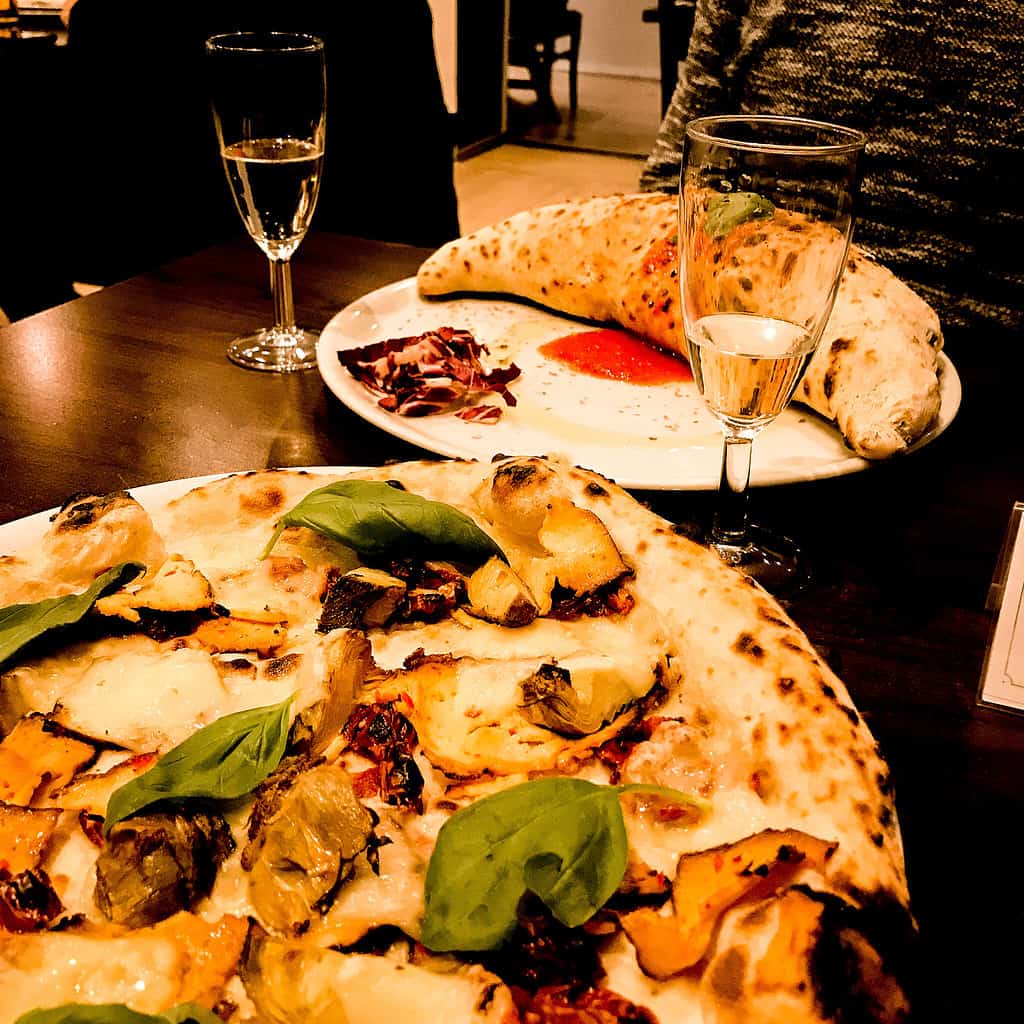 What looks like a giant croissant there is a calzone, my boyfriend's favourite, and I love the pizza Carciofina Piccante with smoked tofu, artichokes and sun-dried tomatoes. Also, the desserts are great, my favourite is of course the tiramisu! Find out more on la Stella Nera's website.
CAFÉ VUX
I often go to this beautiful light spacious cafe for their fantastic cakes and brioches and the seitan bagel. They also have Bao Buns. Find out more about cafe Vux here.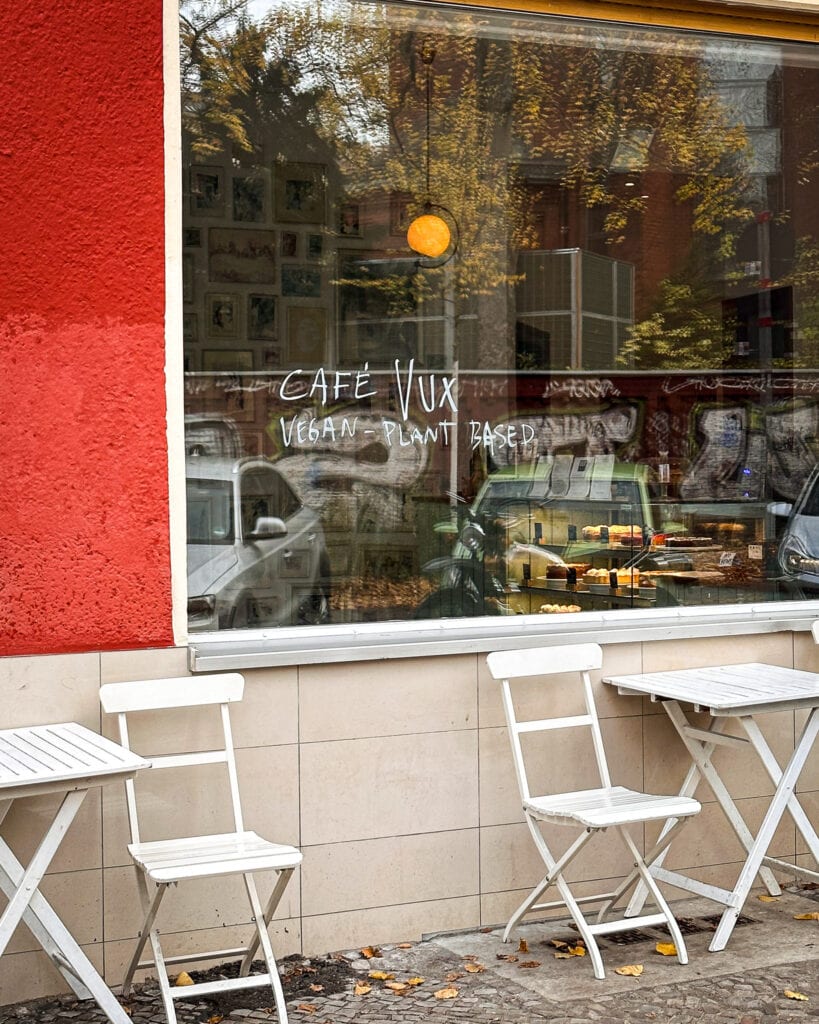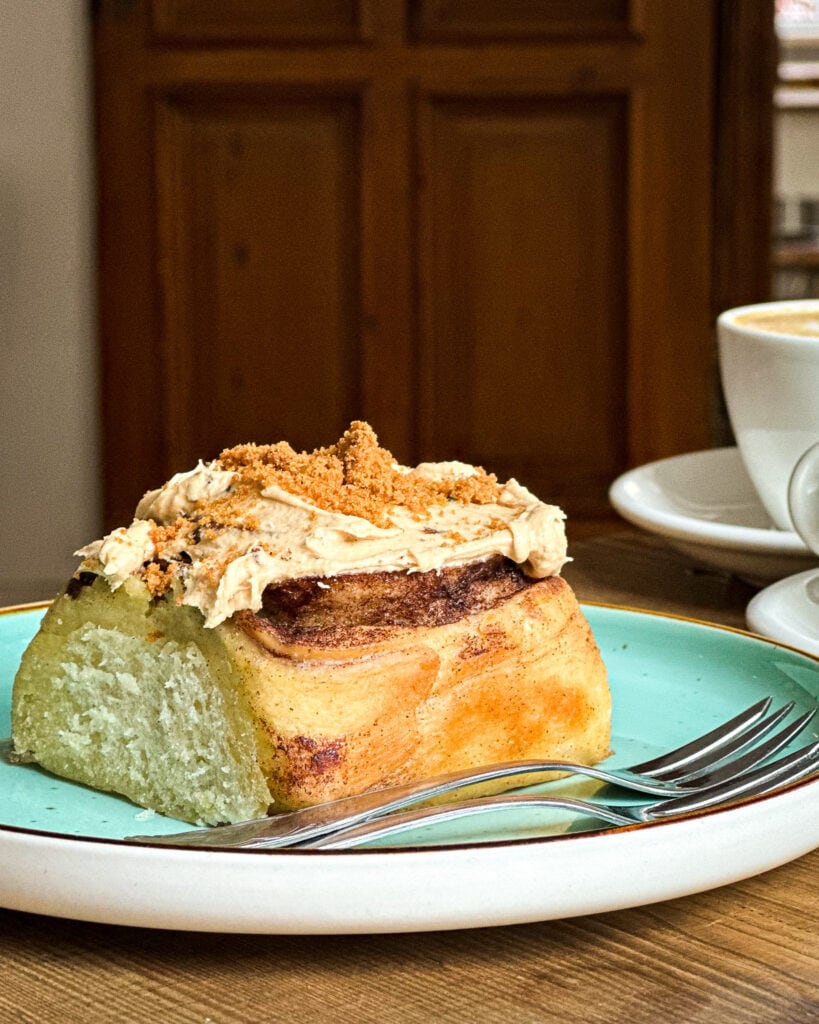 ALASKA BAR
How amazing is it to go to a nice cozy after work Spanish tapas and cocktail bar, order whatever you want and not worry about anything being vegan or not? Pretty amazing, right?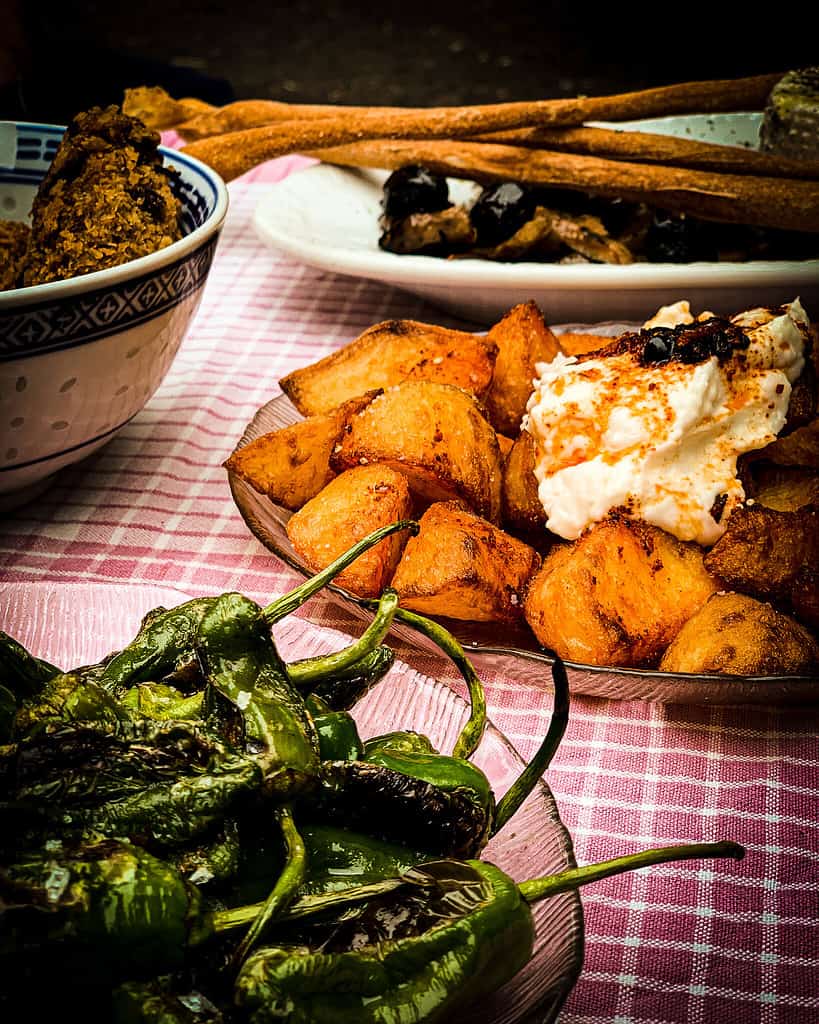 Here is a little reel I made of my last visit:
Check them out on facebook here.
NEUE REPUBLIK REGER
If you want Berlin Neukölln this is it: a wild mix of second hand furniture, fun vibe, young people wearing typical Neukölln fashion that makes 40-year-olds (me) feel nostalgic and comfort food that everyone enjoys. "100% vegan, kind of organic, a little bit sexy" they describe their republic. Culture and burgers are on the agenda since this popular vegan food truck found a home. I really have to come back soon. Check out their website here, and their poutine in the picture.

VEGAN IN BERLIN PRENZLAUER BERG
FEEL SEOUL GOOD
I always thought I didn't like Korean food, but that was before I came here. Beautiful restaurant, very polite and attentive service. And I absolutely loved the bibimbap. I wish I was in Prenzlauer Berg more often, then I'd come here all the time. This is their Facebook page.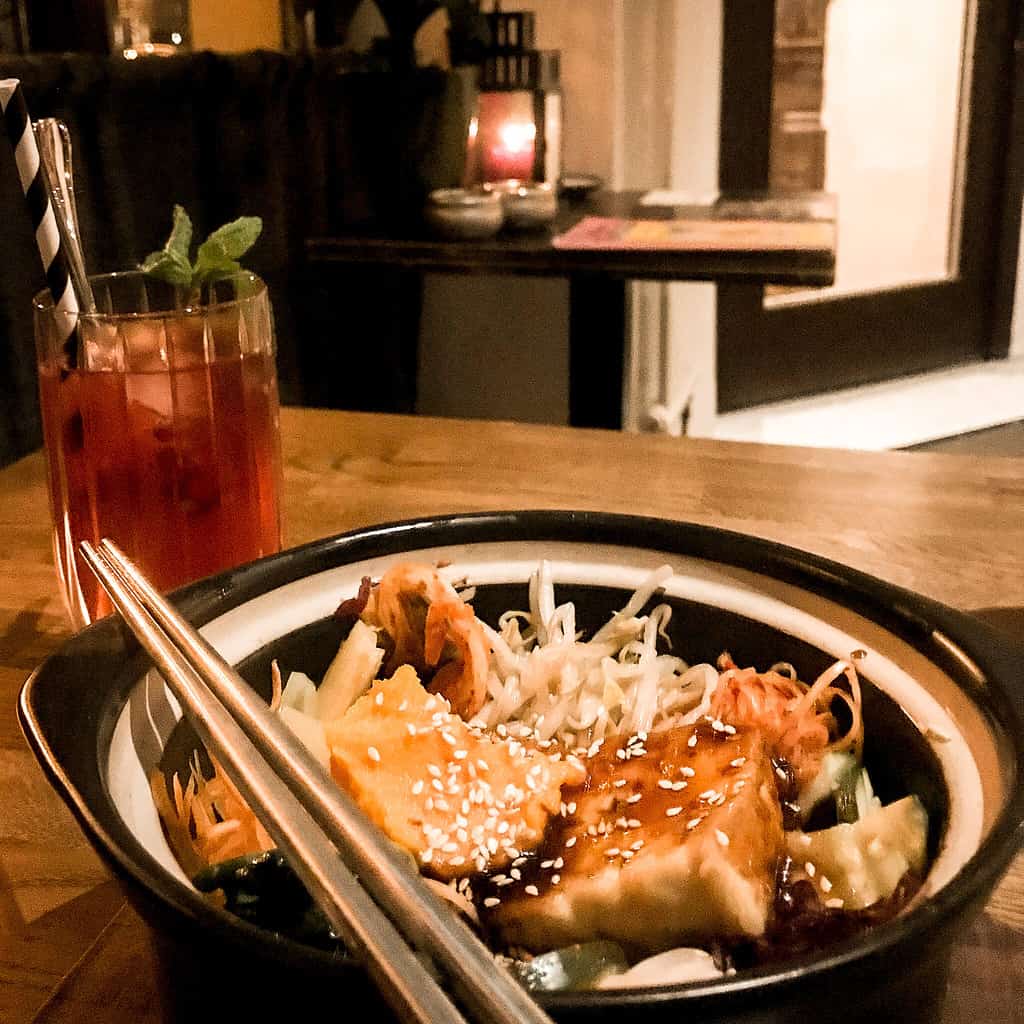 FÖRSTERS
If you're looking for vegan traditional German Food, this is your place. There are huge crispy vegan Schnitzel with potato salad and cucumber salad, roast with green sauce and always changing daily specials. Find out more here.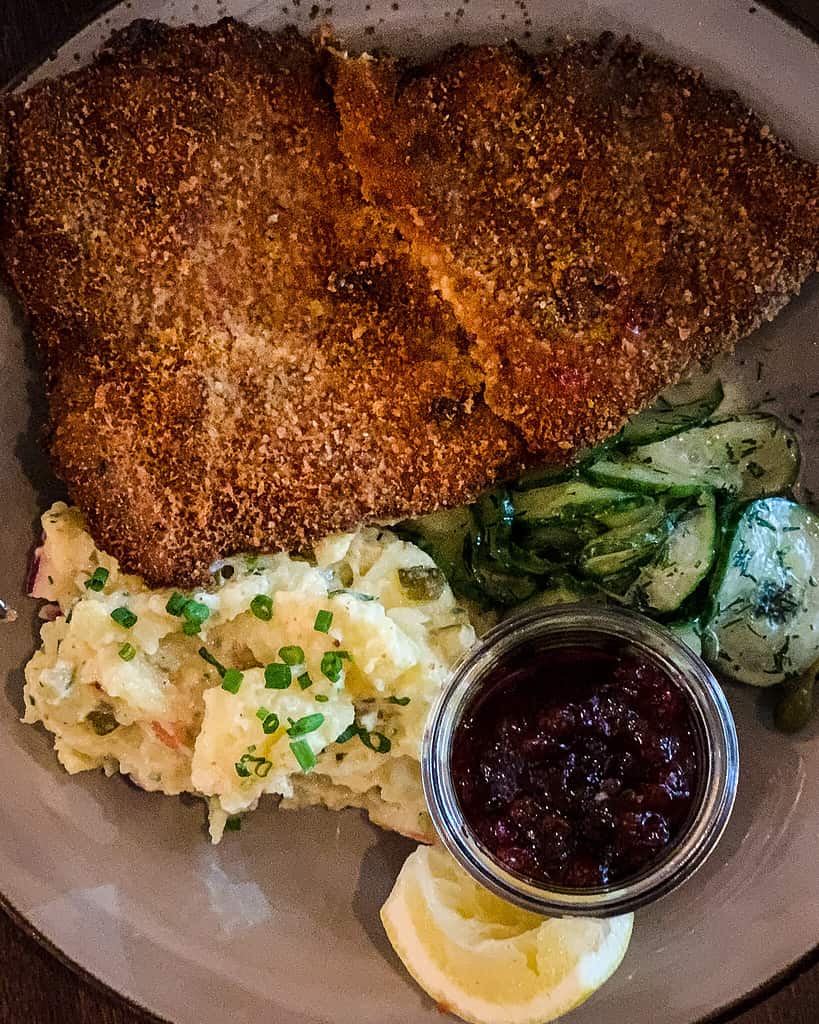 I also made a reel:
FROINDLICHST
After being a huge success story in Hamburg, this vegan restaurant chain opened a branch in Berlin as well.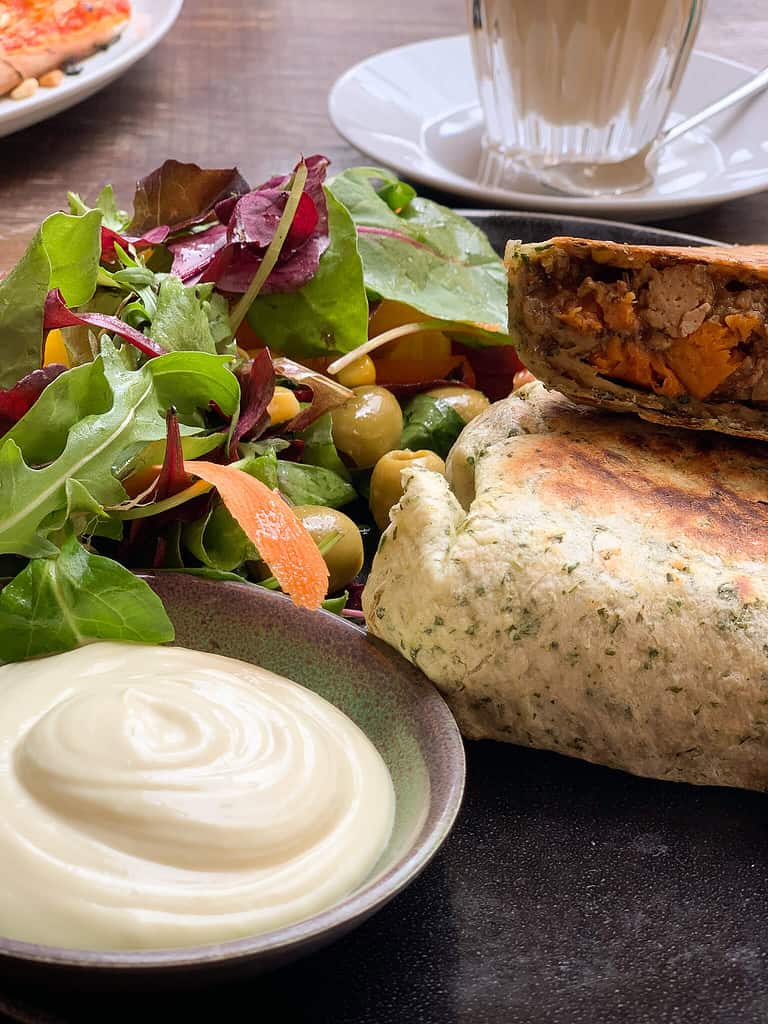 Very cozy place with nice outside service, delicious menu with pizza, burgers and bowls. You can find out more on their website.
Here is my reel of our visit:
VEGAN IN BERLIN MITTE
FREA
This is a zero waste restaurant with delicious and creative food on their changing menu and excellent and highly professional service. Be sure to have a reservation, as this place is popular. I went there with my girls and we all loved every bite of our food and the lovely wine. I had the spaghetti with Jerusalem artichokes in the picture.
If you want to show your parents great vegan food in a beautiful environment, sustainability with style and the typical Berlin vibe, without things getting too crazy, take them here. Find out more on their website.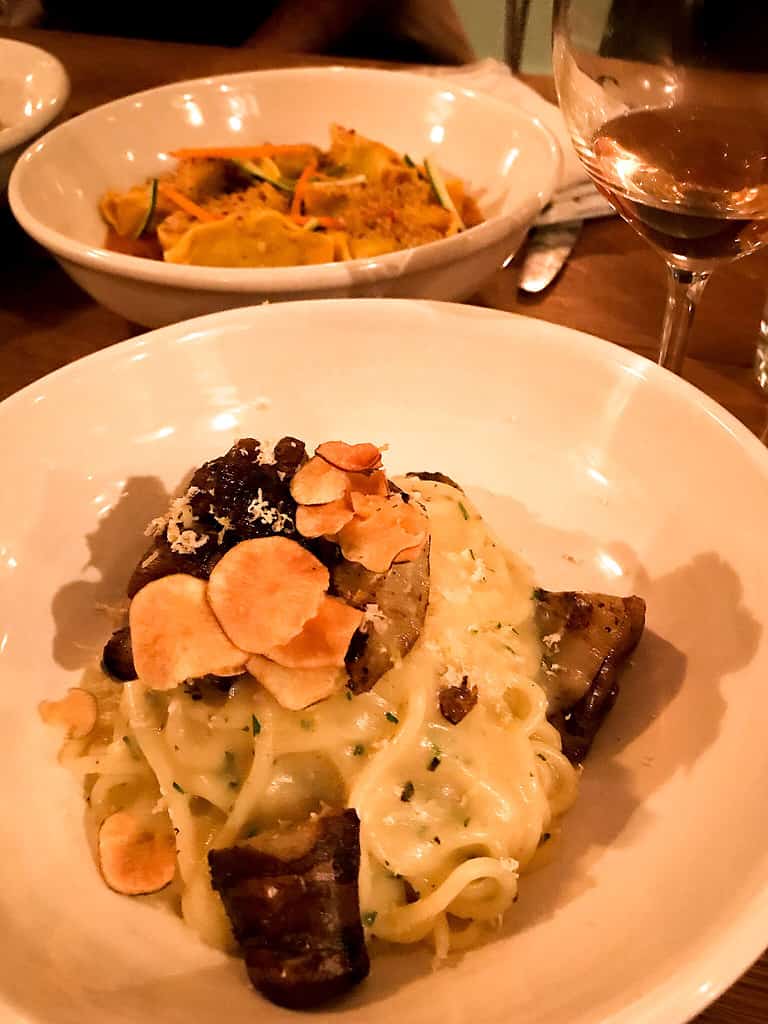 VEGAN IN BERLIN CHARLOTTENBURG
VEDANG
At Kurfürstendamm, right between the Memorial Church and the zoo, you'll find concept mall Bikini Berlin with lots of carefully curated little shops. The stylish food court Kantini offers food from 14 international cuisines with lots of vegan options.
Burger place Vedang is one of them, completely vegan and offers different next level burger creations, for example a Mary Jane CBD burger.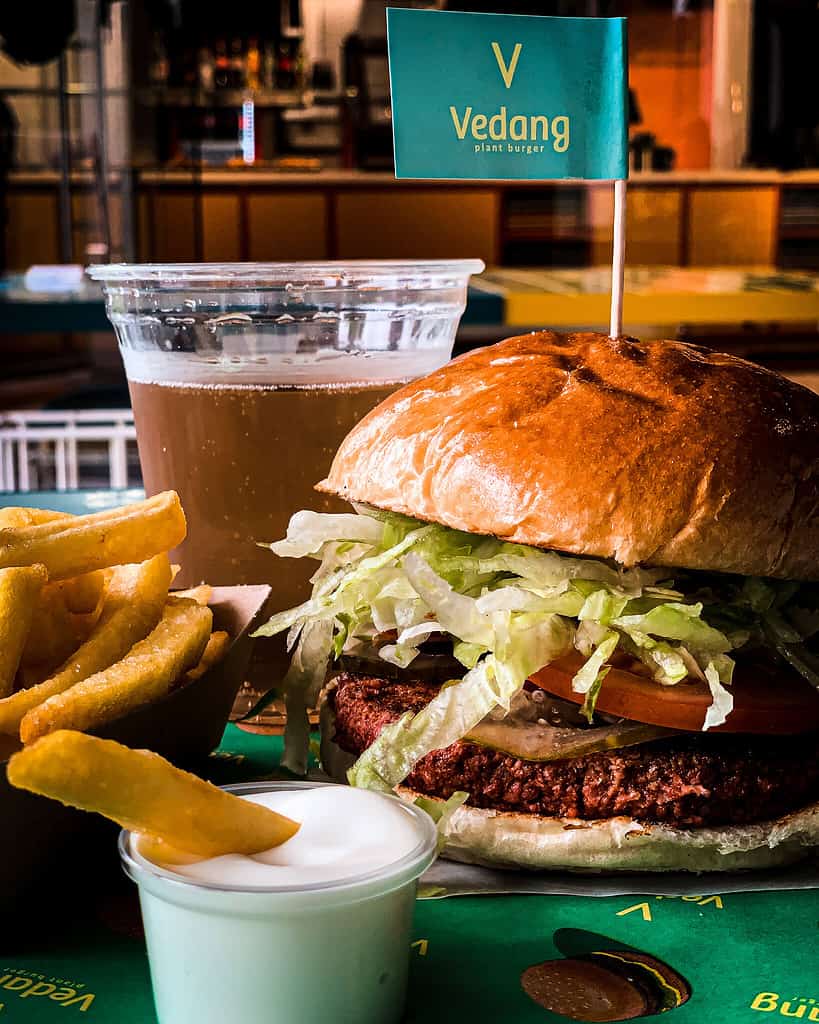 Vedang also has outlets at Alexa Mall at Alexanderplatz and at the Mall of Berlin at Leipziger Platz, and a restaurant at Kastanienallee. This is their website.
I also made a reel about my visit:
BRAUGASTSTÄTTE VAUST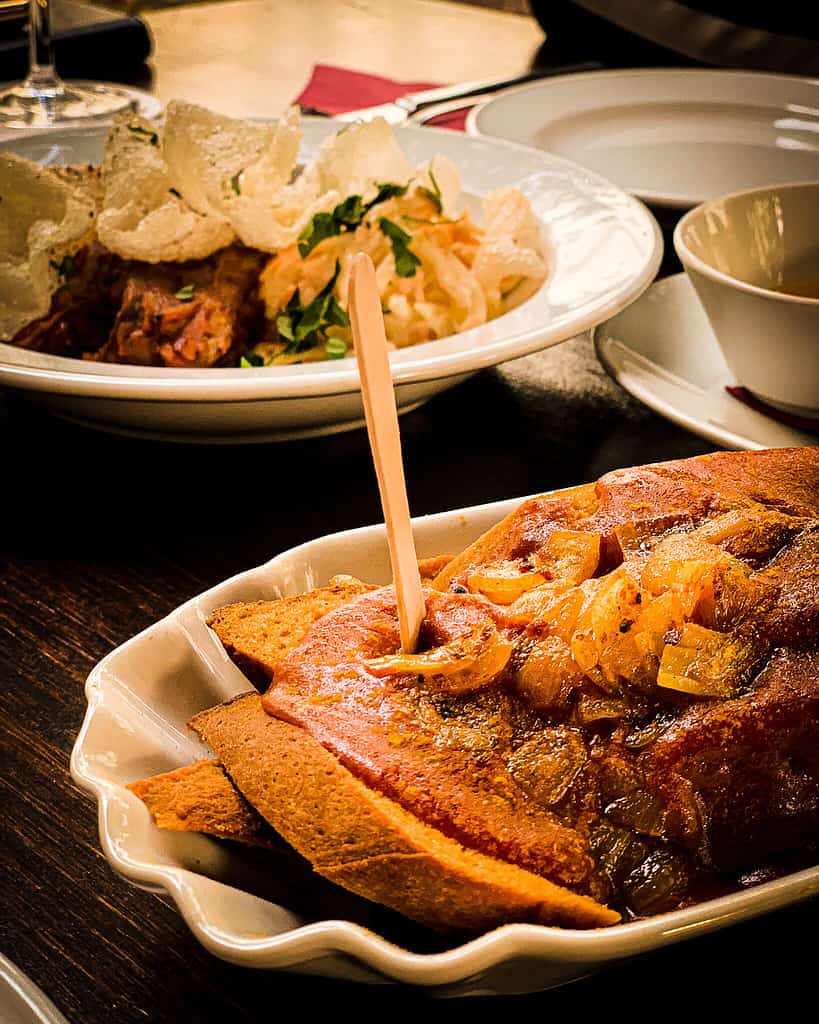 This restaurant brews their own beer and you haven't been to Germany unless you've had some decent beer. The cozy place located in one of the many beautiful old buildings in this neighbourhood not far from the posh part of famous shopping mile Kurfürstendamm is perfect for that. Along with that, you need to try their organic bread with oil and the yummy spice mixture.
The menu is mainly German, so if you wanted to try a curry sausage, you will find that here, too. And fancy desserts! More on their website.
I shot a little reel on my last visit:
These were just my favourites to check out if you're a vegan in Berlin, and I will probably constantly add another one. Is there one you can't believe I haven't listed here? Let me know in the comments.
Also interesting: along with Happy Cow and Vanilla Bean, we have our own app Berlin Vegan here, that you can download for free.
Internet on the go
If you're traveling to Germany from a non-European country, I highly recommend getting a prepaid eSIM with roaming. It can be very frustrating to always search for WiFi just to scan a QR code or find the way. That's why my colleagues and I love Flexiroam! It works really well and there are different plans available, for individual continents or worldwide, with varying data volumes and valid for either half or a whole year. As a flight attendant, I use the worldwide 5GB plan for 180 days and so far it has worked out very well for me.
You'll get a welcome discount when using code IAMNEW at Checkout with Flexiroam*. There often are big discount promotions, and here's a YouTube video with a short tutorial.
You might also like:
Travel like a pro – a flight attendant's 12 tips for your next trip
Flying as a vegan: how to make sure you get food
Traveling as a vegan – do you know these apps?