Cooperation with Hotel Starlino Maraschino Cherries
My easy vegan black forest trifles recipe is inspired by the classic German Schwarzwälder Kirschtorte, also known as black forest cake or black forest gateau in other parts of the world.
What is black forest cake?
A classic German Black Forest cake usually consists of layers of chocolate cake, cherries, whipped cream and chocolate shavings on top.
It's famous for being a boozy dessert and is usually made with Kirschwasser, a cherry brandy. In fact, for a cake to be officially sold as Schwarzwälder Kirschtorte in Germany, it must contain Kirschwasser by law!
What's in my black forest trifles?
I have always loved them, so I was very happy about this cooperation.
Italian Brand Hotel Starlino provided me with some of their luxury Maraschino cherries to create something. The all-natural cherries mature for two weeks in their natural Marasca juice, then rest for another week to achieve their peak flavour. They are a perfect addition for cocktails, but also go very will with desserts and these vegan cherry trifles.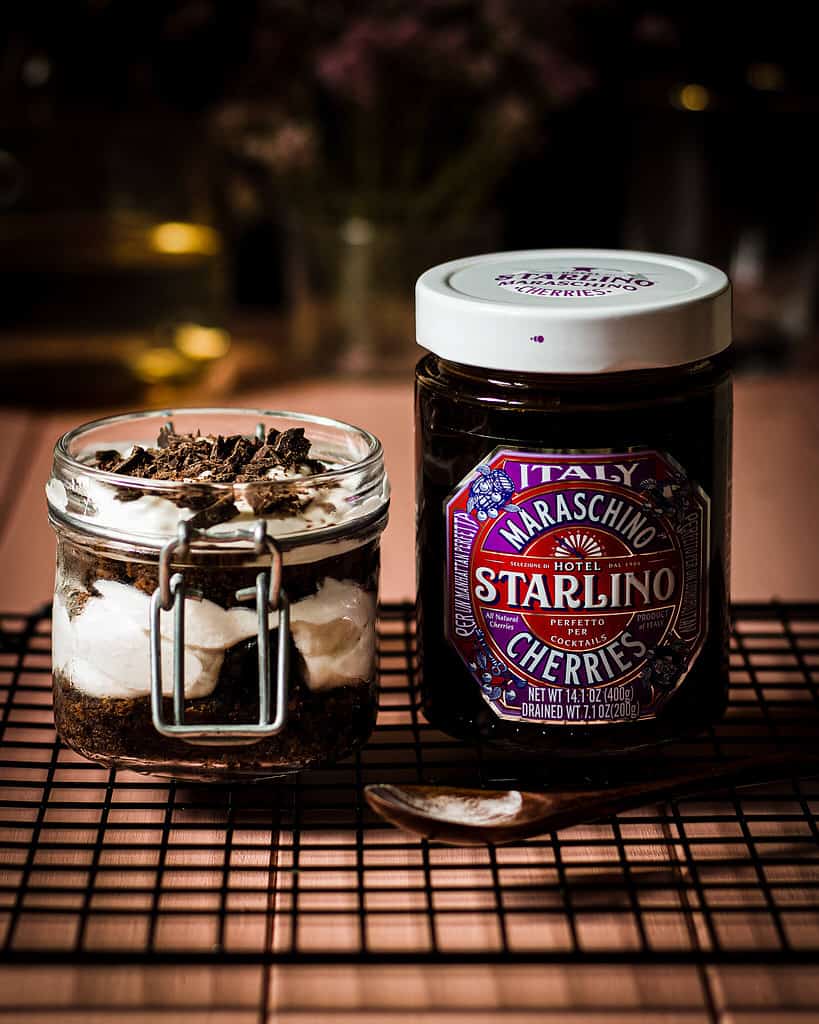 As this blog is fusion cuisine, I decided to use Amaretto for my black forest trifles instead of Kirschwasser. I think that the bittersweet flavour of the Italian liquor goes very well with the lovely Maraschino cherries.
It is important to use whippable cream. It usually says "whippable" on the box. If it doesn't, it's probably not a cream you can use for this recipe. I like using the soy cream by Soyatoo (no paid ad). It's also exactly the right amount for this recipe. It's slightly sweet. If you're using unsweetened cream, you might want to adjust the amount of powdered sugar.
I also added some dark chocolate pieces to my chocolate cake for the melty crunchy sensation and chocolate shavings onto the top cream layer. Most chocolates with a cocoa percentage up from 60% are vegan.
This black forest cherry dessert is a very special taste explosion and a perfect summer dessert, but also great for christmas or new years eve.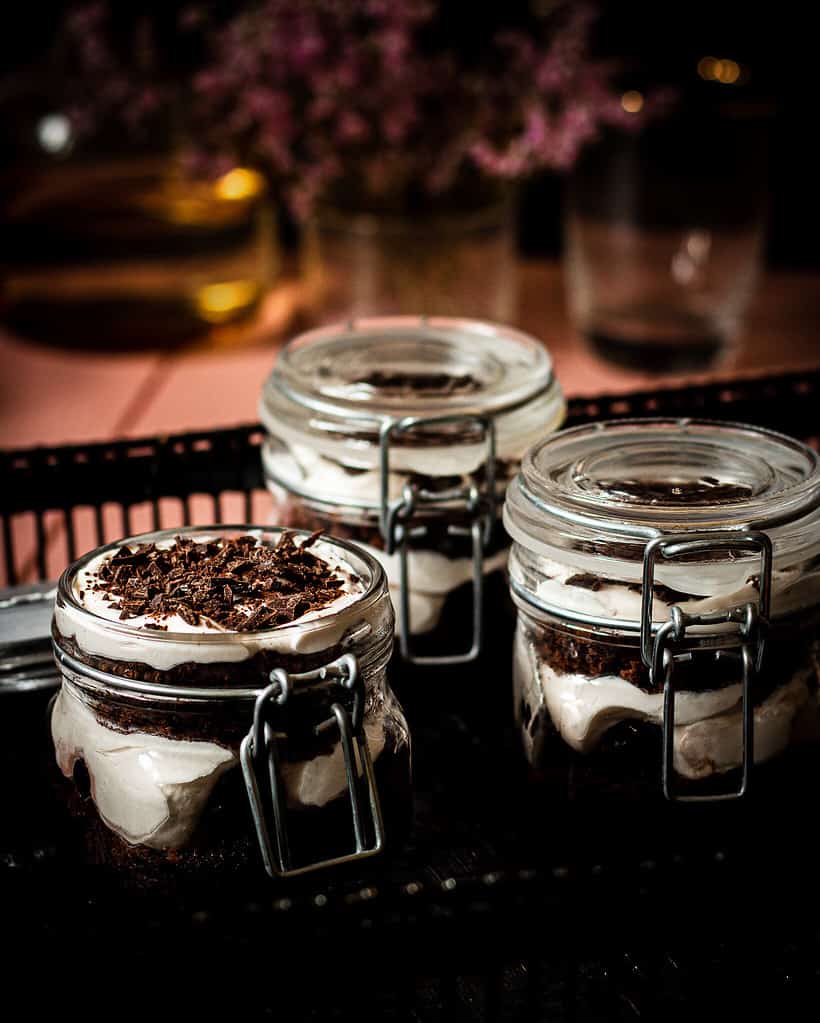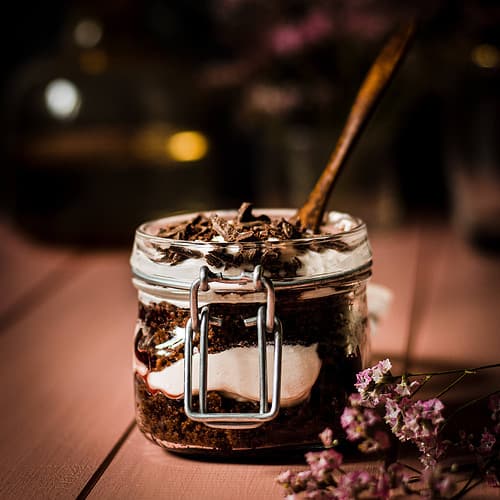 BLACK FOREST TRIFLES
Easy vegan black forest trifles recipe inspired by the classic German Schwarzwälder Kirschtorte with tasty Italian Maraschino Cherries and crunchy chocolate cake
Ingredients
Cake
90

g

flour

3/4 cup

50

g

coconut sugar

1/3 cup

30

g

cocoa powder

1/4 cup

1/4

teaspoon

baking powder

1/4

teaspoon

baking soda

1/4

teaspoon

salt

25

g

vegan chocolate, chopped

1/4 bar

120

ml

plant milk

1/2 cup

2

tablespoons

plant oil

30 ml

2

tablespoons

liquid from the Maraschino cherries

2

teaspoons

apple cider vinegar
Cream
300

ml

whippable plant cream

1,25 cups

1

tablespoon

powdered sugar

2

tablespoons

Amaretto*

1/4

teaspoon

vanilla

1

pinch of

salt
Instructions
Preheat oven to 180° Celsius/ 350° Fahrenheit.

First, gather all your ingredients and prepare them in the right amounts. That makes it so much easier and more fun and you're less likely to forget anything. 

For the cake combine flour, sugar, cocoa powder, baking powder, baking soda, salt and chopped chocolate and stir well.

Then mix plant milk, plant oil, liquid from the Maraschino cherries and apple cider vinegar and stir well.

Now mix together until just combined and pour into a small cake form.

Bake for 35 minutes and let cool off.

In the meantime whip the cream and add powdered sugar, amaretto, vanilla and salt. Put in the fridge.

Now break the cake into small pieces and distribute half of it to 4 little jars à 200 ml/ 3/4 cup.

Next, add 3 Maraschino cherries with liquid into each of the jars.

Now distribute half of the cream mix.

Then place a second layer of cake, cherries and cream, sprinkle chocolate shavings over them and keep in the fridge until serving.
Did you enjoy this recipe?
A 5 star rating would mean the world to me and I always love to see your pictures on instagram @flymetotheveganbuffet