No brunch without Caprese salad, right? Mozzarella is essential. I've been working on the perfect homemade vegan nut-based mozzarella for a long time, and now I have a recipe for almond mozzarella that we find just as delicious as the real cheese.
The mozzarella is a great plant-based cheese alternative for vegans, also for those who eat lactose-free or gluten-free.
What do you need to make almond mozzarella?
You'll need either whole blanched almonds soaked in water overnight or blanched almond meal*. Almonds are a rich source of vitamin E, unsaturated fatty acids, fiber, and essential minerals. They also support heart health, help regulate blood sugar levels, strengthen the immune system, and promote bone health. It's the perfect base for our mozzarella.
Tapioca starch is derived from the starch of the tapioca root. It is a fine, tasteless white powder with strong binding properties, often used as a thickening agent. It gives this almond mozzarella the right consistency when heated. You can find it at affordable prices in Asian supermarkets.
Nutritional yeast* has a slightly cheesy taste and gives the almond mozzarella its umami flavor. It contains many B-vitamins, minerals, fiber, and essential amino acids. If you cook vegan dishes often, you probably already have vegan cheese flakes in your pantry and add them to many dishes.
Do you need a blender for this recipe?
A good blender is essential. I use our Nutribullet* for the almond mozzarella. It is very powerful and blitzes everything in seconds, but it doesn't cost a fortune. Moreover, it takes up very little space, is not super loud, and is easy to clean. Since my boyfriend loves drinking smoothies, we bought one for him after using one at his parents' house, but it quickly convinced us, and we even got rid of the big blender. For me, the Nutribullet is already worth it because I produce this mozzarella at least twice a week.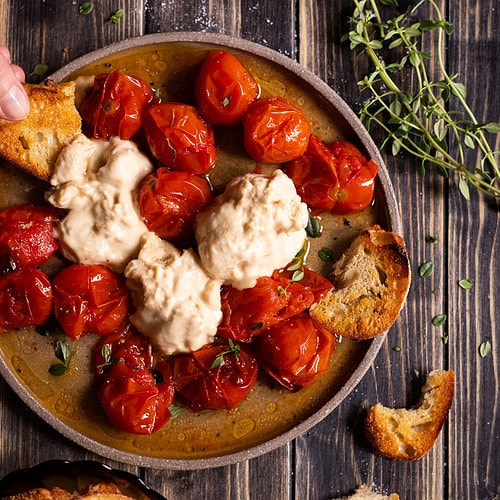 Creamy almond mozzarella
The most delicious, creamiest vegan almond mozzarella, easily homemade
Ingredients
240

ml

water

1 cup

100

g

blanched almond flour

1 cup

60

g

tapioca starch

1/2 cup

1

tablespoon

lemon juice

1

teaspoon

salt

2

tablespoon

nutritional yeast
Instructions
Put all the ingredients into a high-speed blender and mix until a smooth mixture is formed.

Transfer the mixture to a saucepan and heat it over high heat, stirring constantly with a whisk. At first, lumps will form. Now you can turn off the stove. Continue stirring until you have a thick, glossy mass.

You can use it immediately for warm dishes. Alternatively, pour the mixture into a container, let it cool, and cover with a lid before placing it in the refrigerator. After approximately 2 hours, your cold mozzarella will be ready.
Did you enjoy this recipe?
A 5 star rating would mean the world to me and I always love to see your pictures on instagram @flymetotheveganbuffet
How do you serve the almond mozzarella?
Roast small tomatoes with olive oil, thyme, basil, garlic, and salt in the oven at 180 degrees Celsius/ 356 Fahrenheit for 30 minutes. Add the mozzarella and dip with crispy bread.
Simply slice it and serve with fresh tomatoes, balsamic cream, basil leaves, salt, and pepper. Enjoy it with delicious fresh bread.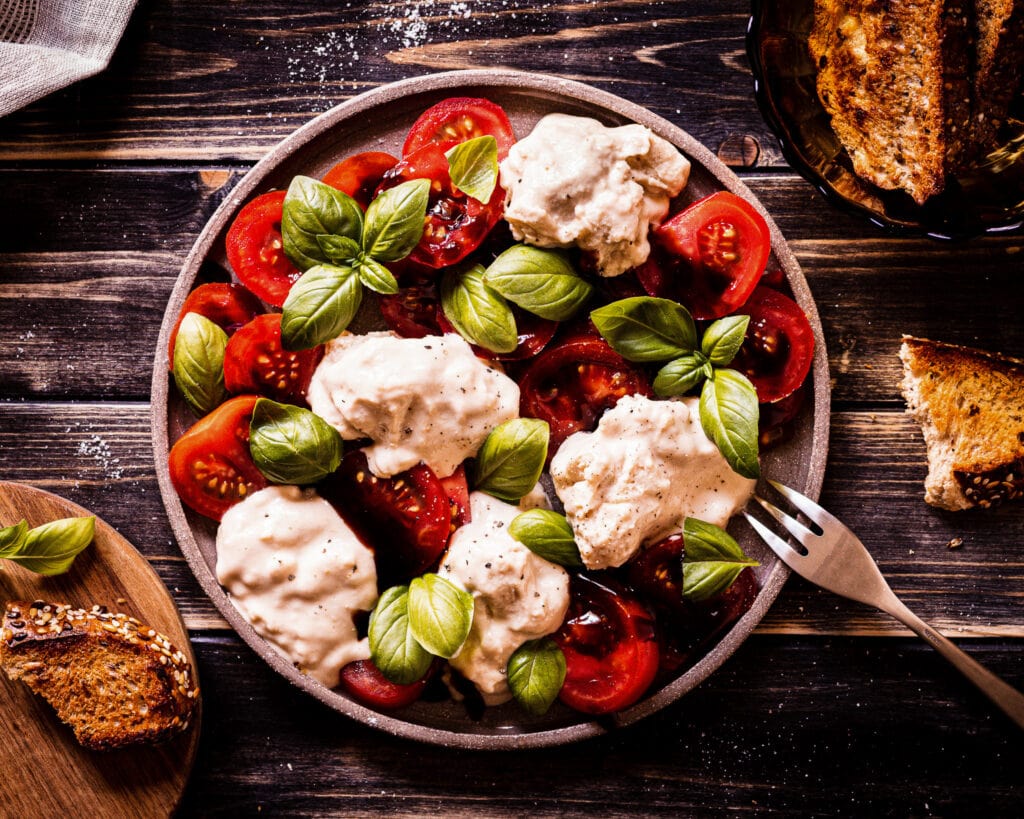 FAQ
The finished mozzarella is not as firm as I would like. What should I do?
If the mozzarella is too liquid, it hasn't been heated long enough. Just put it back in the saucepan and heat it while stirring, then let it cool again. Now it should be nice and firm.
Can I use cashews instead of almonds?
Yes, you can replace them 1:1 with cashews.
How long does the almond mozzarella last?
It will keep for at least a week in the refrigerator.
Can I use it for warm dishes too?
Do you enjoy homemade vegan cheese? Then you might also like my fermented blueberry cashew cheese.
Are you planning a vegan brunch? In my blog post with ideas for your perfect vegan brunch buffet, you'll find even more inspiration.