I am furloughed. No uniform to iron, no suitcase to pack, nowhere to fly. No hunting for vegan food in France or Korea. Also no vacation in Florida visiting my dad as is normally my tradition in April. Instead I finally have time to give my blog a proper makeover and for trying all the recipes and recipe ideas I have collected over the last couple of years. And we even have a little herb garden on the balcony now.
Luckily I have a boyfriend who is writing a book and happily polishes off every plate of food I put in front of him.
The other day I tried a recipe for a blueberry twist bread with vanilla icing by Klara's Life. I had come across it on pinterest and it worked out very well. The twist bread was beautiful and fruity and sweet and we loved it.
When I made my Fluffy Pretzel Corners a few days later, I suddenly thought, maybe I could make that into a twist bread instead of the corners? I rolled out the circular piles of dough into a rectangle and made a pretzel twist bread. It turned out amazing! Fluffy and yummy on the inside, crunchy and pretzely on the outside. And it looked so cool! While we were munching on that I suddenly thought, what if I could make this of a pizza bread?
I got all excited and for the next couple of days I played around with pizza ingredients, until I had figured out the recipe for the filling that we liked best for our pizza pretzel twist bread.
What goes into the Pizza Pretzel Twist Bread?
tomato
olives
garlic
oregano or rosemary
vegan cheese
If you want to make the vegan pizza cheese yourself, this quick and easy recipe by vegan blueberry makes a really nice cheese that works very well with my pizza pretzel twist bread recipe.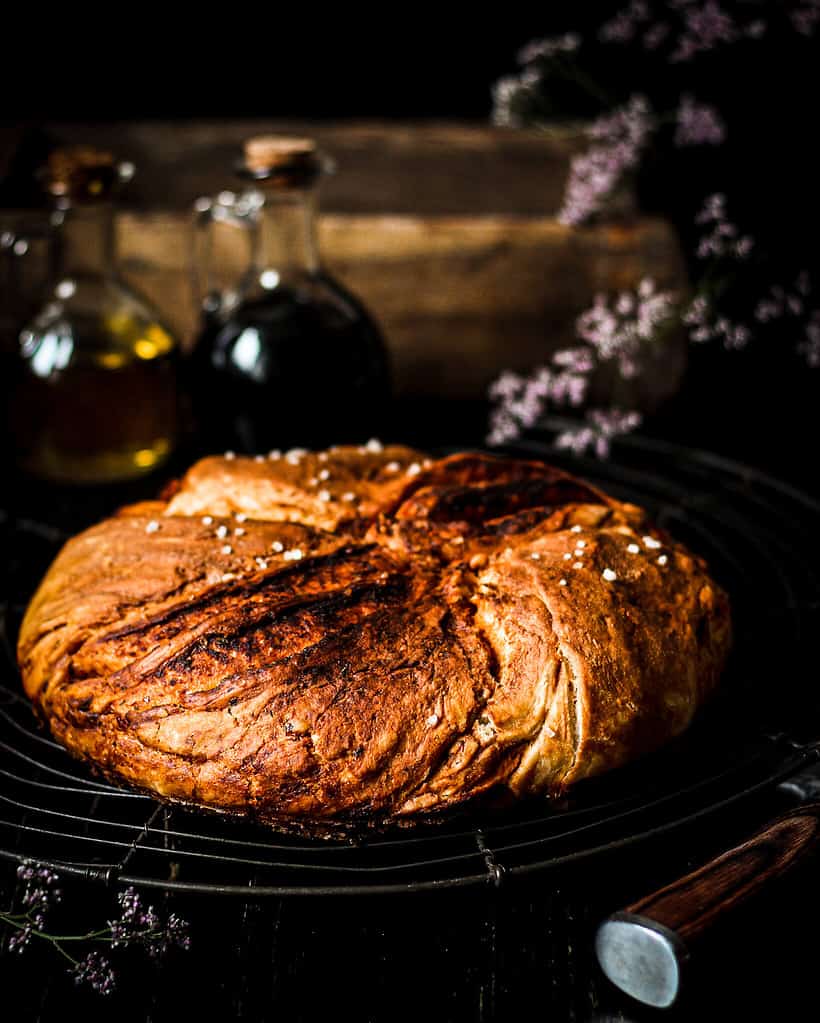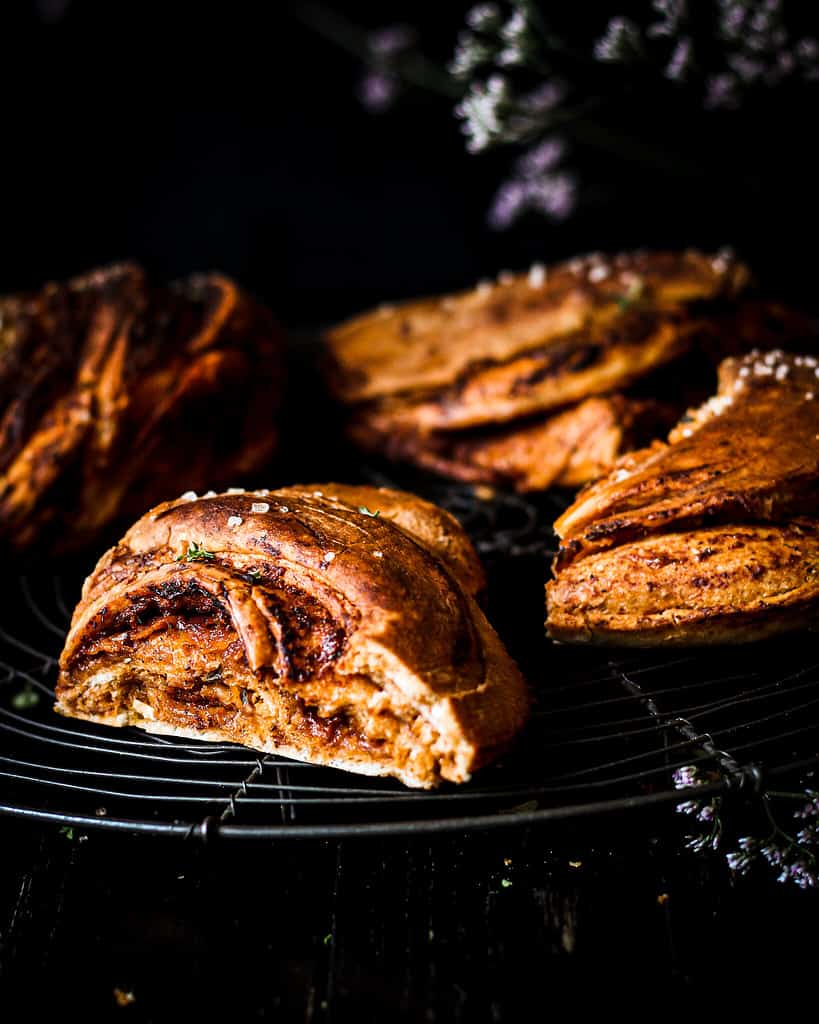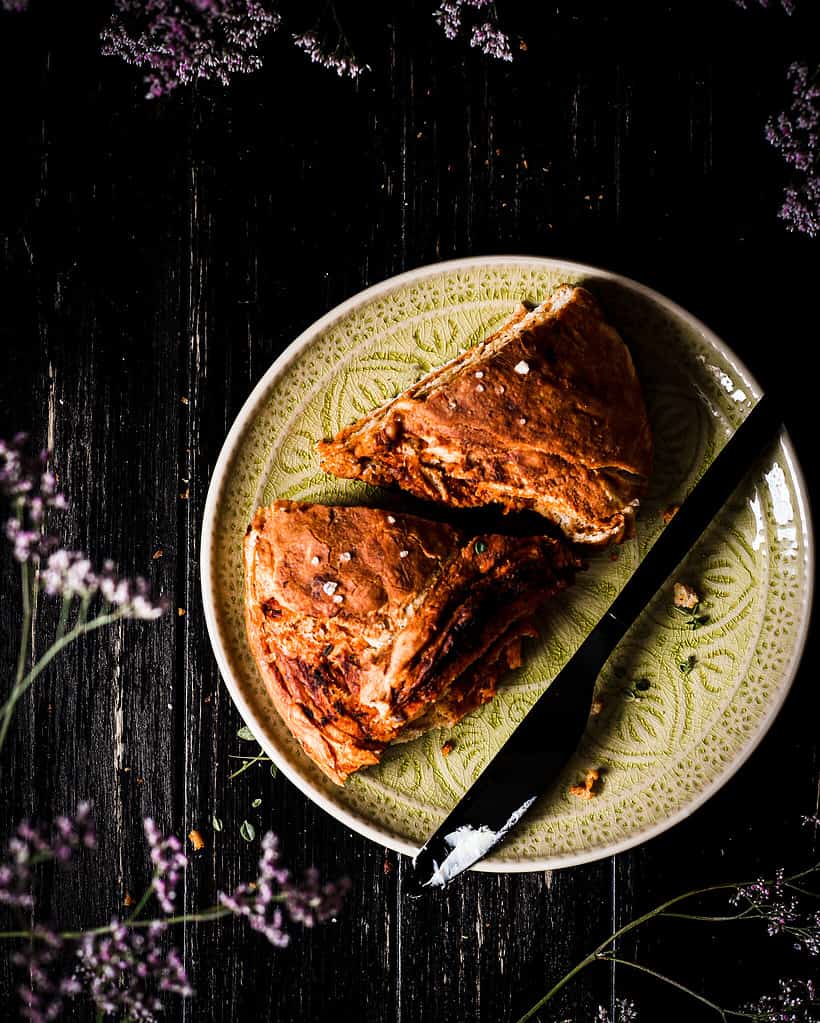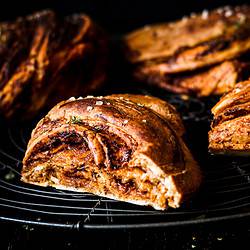 PIZZA PRETZEL TWIST BREAD
If you liked my fluffy pretzel corners you need to try this pizza pretzel twist bread! Fluffy and flavourful inside with a crunchy pretzel crust
Ingredients
3

cups

flour

360 g

1

cup

lukewarm water

240 ml

half a cube of fresh yeast

21 g

1/2

teaspoon

sugar

1/2

teaspoon

salt

1/2

cup

tomato paste

1/3

cup

vegan butter at room temperature

3

garlic cloves

chopped

3

tablespoons

nutritional yeast

1/2

teaspoon

onion powder

1/4

teaspoon

salt

7

black olives

chopped

3

tablespoons

Italian herbs

1

cup

meltable vegan cheese

grated

1

teaspoon

baking soda

1

teaspoon

vegan butter at room temperature

salt to sprinkle
Instructions
First, gather all your ingredients and prepare them in the right amounts. That makes it so much easier and more fun and you're less likely to forget anything. 

Dissolve the yeast and sugar in the lukewarm water and set aside for about 10 minutes.

Then combine mixture with the flour and 1/2 teaspoon salt and knead for about 10 minutes.

I usually spread a little oil in the bowl and over my hands, before I remove the dough from the machine, that makes it easier. Place the dough in the bowl, cover and set aside for at least an hour. I usually cover it with a damp towel and put it in the warm, switched-off oven. The temperature should be around 30°C/ 85°F. Temperatures over 40° kill the yeast.

Combine tomato paste, 1/3 cup vegan butter at room temperature, garlic, nutritional yeast, onion powder, 1/4 teaspoon salt, olives, herbs and cheese into a tomato-herb-butter mixture and set aside.

When the dough has risen, punch it down to release the air. Knead it again on a well-floured surface, form a long baguette and cut it in 7-10 pieces. Roll the pieces into little balls and set them aside.

Now one by one, roll them out into little rectangles, about the size of your hand. Spread some tomato-herb-butter on each one and pile them up.

Don't spread the butter on the last one yet, instead just put the last one on top of the pile. Flour the surface again generously and roll the pile out into a big rectangle. As big as possible without breaking the top layer.

Now apply what's left of the tomato-herb-butter and then carefully, starting on one of the long sides, roll up the rectangle into a large roll.

Even it out a bit and then cut the roll in two halves lengthwise.

Lightly oil a springform cake tin. I use a 24 cm/ 9 inch tin, but a bigger one will work for this too. You can also just put it on a baking sheet lined with parchment paper, putting a ring around it makes sure it stays in shape. I find the springform easiest to use, because I just remove the ring part and twist the two halves into a twist bread on the bottom part, then put the ring back on.

Now cover again and set aside for another 20 minutes.

If you don't want to bake it right away, you can now put it in the fridge, well covered and leave it there over night. Or you can even freeze it.

Preheat the oven to 210° C/410°F now.

Stir 2 tablespoons boiling water and 1 teaspoon baking soda very carefully and apply to the pizza pretzel twist bread with a brush.

Then apply some more room temperature butter with the brush and sprinkle with salt.

Bake for about 35 minutes and it's best served right out of the oven.
Video
Notes
If there is any left, I usually slice that into toaster-friendly slices and freeze them, so I can always toast up a nice little snack.
Did you enjoy this recipe?
A 5 star rating would mean the world to me and I always love to see your pictures on instagram @flymetotheveganbuffet