Many German bakeries sell these crispy, fluffy bread rolls called "Laugenecken" (lye corners), and I used to wish I could get them without eggs and dairy. But meanwhile I have figured out how to make this delicious pastry myself, without animal products and I also use spelt flour. The recipe works out perfectly well with wheat flour as well though. So if you've never had a Laugenecke, it's high time!
In my recipe and video tutorial I will show you exactly how to make a simplified puff pastry dough and brush the pieces with a baking soda mixture. Now you only need to bake the fluffy pretzel corners and serve the fresh from the oven.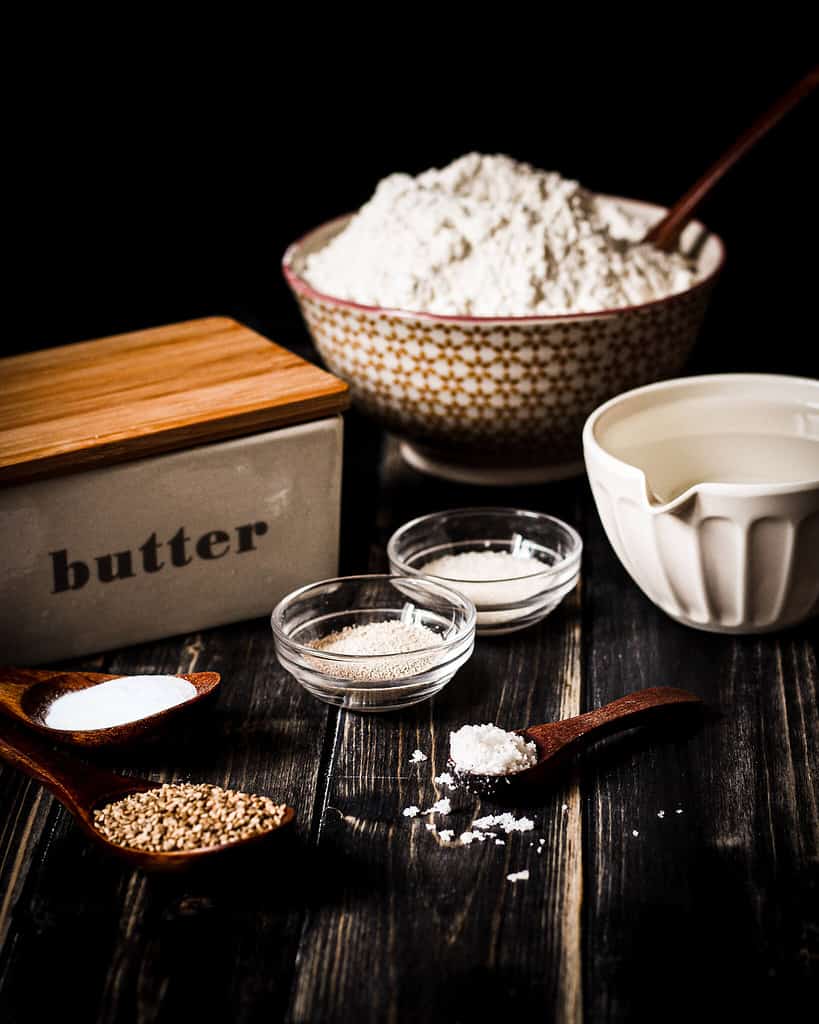 Fluffy pretzel corners
can be topped with sweet or savoury things
are perfect for a brunch or picnic
can be prepared the day before, so you just need to bake tehm
can be frozen after the second rest
can be frozen after baking
If you like my Fluffy Pretzel Corners, you might also want to check out these two variations:

Have you read my 7 ideas for your perfect vegan brunch buffet?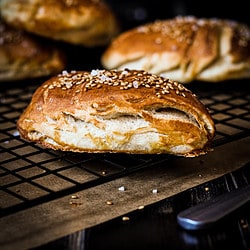 FLUFFY PRETZEL CORNERS
Fluffy pretzel corners for the perfect brunch just like the ones in German bakeries – but vegan and homemade!
Ingredients
3

cups

(360 g) flour

2

teaspoons

7-9 g of dried yeast

1/2

teaspoon

sugar

1

teaspoon

salt

1

cup

(240 ml) lukewarm water

a little plant oil

1/3

cup

(60 g) vegan butter at room temperature

2

tablespoons

boiling water

2

teaspoons

baking soda

sesame

sea salt
Instructions
First, gather all your ingredients and prepare them in the right amounts. That makes it so much easier and more fun and you're less likely to forget anything. 

Combine flour, yeast, salt and sugar in a bowl, mix, add water and knead for about 10 minutes by hand or with a machine at medium speed.

Take the vegan butter out of the fridge.

Apply a little oil to a bowl and your hands, place the dough in the bowl to let it rise for about 1 hour. I usually cover it with a damp towel and put it in the warm, switched-off oven. The temperature should be around 30°C/ 85°F. Temperatures over 40° kill the yeast.

After an hour, the dough should have doubled.

Punch it down to release the air.

Knead again for a moment, roll it into a long baguette and cut in about 12 pieces.

Roll each piece into a circle and apply vegan butter, and pile them up. Don't apply butter to the last one.

Roll the dough out carefully by only setting the rolling pin down. If you want them to turn out high and fluffy, only roll it out a little bit. If you want them flat and crispy, roll it out into a bigger circle.

Cut it in six or eight pieces and put them on parchment paper on a baking tray.

Cover them and let them rest for 20 minutes.

If you don't want to bake them right away, you can put them in the fridge after that, well covered and leave them there over night. Or you can even freeze them.

In the meantime preheat the oven to 210° C/410°F.

We need 2 tablespoons boiling water and 2 teaspoons baking soda. Stir mixture very carefully and apply to the pretzel corners.

Now apply some more butter.

Then sprinkle with salt and sesame and bake golden brown for about 15-20 minutes and serve warm.
Video
Notes
It is also possible to use fresh yeast. I dissolved 21 g (half a cube) with the sugar in the lukewarm water, let it rest for 10 Minutes and then mixed it with flour and salt in the bowl, kneaded it for 10 minutes as well. 
I sprinkle sea salt and sesame seeds on my pretzel corners, but of course you can use all kinds of seeds: poppy, pumpkin, sunflower, chia etc.
Did you enjoy this recipe?
A 5 star rating would mean the world to me and I always love to see your pictures on instagram @flymetotheveganbuffet
MerkenMerkenMerkenMerkenMerkenMerkenMerkenMerkenMerkenMerkenMerkenMerkenMerkenMerkenMerkenMerkenMerkenMerkenMerkenMerkenMerkenMerkenMerkenMerken