Every year in May, little strawberry houses show up all over Berlin and they sell fresh, red, sweet strawberries right from the fields outside the city. And every year I'm so thrilled because that means summer is coming – and strawberry cake!
Last summer I tried the vanilla cake recipe by Loving it vegan and it was great, but I also had a couple of ideas what I could do with it. I came up with a less sweet vanilla sponge cake with coconut sugar, a cream cheese frosting and lemon basil to go with the strawberries.
Lemon balm, lemon basil and all kinds of fruity herbs go very well with this recipe. Many flower shops sell these, but if they're not available, ordinary mint will be ok too.
Super tasty: strawberry cake with fresh herbs
Lemon balm is perfect for this cake, very aromatic and lemony, and also the essential oils are supposed to be calming. Alternatives are:
lemon basil
cinnamon basil
orange sage
pineapple sage
In flower shops or supermarkets you can often find at least one of these special herbs. And if not, fresh mint always works well with fruity cakes.
I also went for a pretty naked cake design. Or rather semi-naked. For that you slap the frosting on the sides too and remove them with a spatula, so you can see the cake through the frosting.
I use two 7-inch (16-18 cm) round springforms.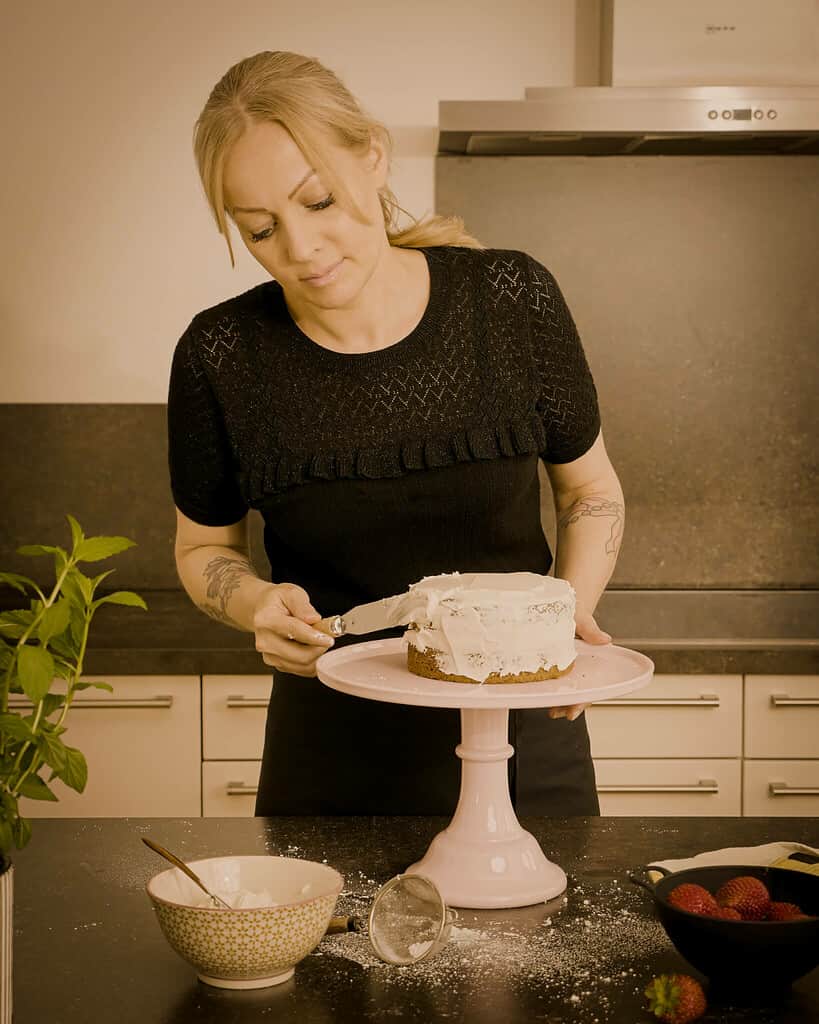 My vegan naked cake with fresh strawberries is a quick and easy, but very tasty and stunning dessert made from scratch for guests, especially for mother's day.
Of course this recipe makes delicious trifles as well.
If you want to prepare the cake before, you can just bake the cakes, mix the frosting and keep them in airtight containers in the fridge, also over night. Just assemble the cake and add the strawberries and herbs before serving.
You need the strawberry cake for a vegan brunch? Then you might also want to check out my tips for your perfect vegan brunch!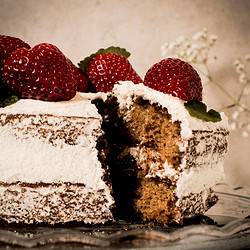 NAKED STRAWBERRY CAKE
Nothing says summer is coming like a fluffy vegan naked strawberry cake with vegan creamcheese frosting, refreshing herbs and sweet ripe strawberries!
Ingredients
2

cups

(250 g) flour

1

cup

(140 g) coconut sugar

1

teaspoon

baking soda

1/4

teaspoon

salt

2

tsp

vanilla

1,25

cup

(300 ml) plant milk

1/3

cup

(80 ml) plant oil

1

tablespoon

apple cider vinegar

100

g

vegan butter/ margarine

100

g

vegan cream cheese

150

g

powdered sugar

1/4

teaspoon

vanilla

a pinch of

salt

2

cups

(250 g) of strawberries

lemon balm or lemon basil
Instructions
Preheat the oven to 180°C/ 350° Fahrenheit.

First, gather all your ingredients and prepare them in the right amounts. That makes it so much easier and more fun and you're less likely to forget anything. 

Mix flour, sugar, salt and vanilla well and mix plant milk, oil and apple cider vinegar well, then pour together and combine quickly. Pour in two lightly greased 7inch round springform (16-18 cm) baking tins and bake for 35 minutes.

Tip: Baking strips will help keep your cake even so you don't have to cut off the top. Soak the baking strips in cold water, so they are really wet and cold, then put them around the springform tins. You can buy them* or make them yourself.

For the frosting combine vegan butter and cream cheese and mix with an electric mixer, slowly increasing speed until smooth. Mix in powered sugar, pinch of salt and vanilla. Then put in the fridge to firm up.

Wash strawberries and cut off the green.

When the cakes have cooled, turn them round, apply frosting on one cake and put the other one on top, then apply frosting on that one too. Put frosting on the sides and remove excess frosting with a spatula to get the naked effect.

Keep in the fridge and garnish with strawberries and lemon basil before serving.
Did you enjoy this recipe?
A 5 star rating would mean the world to me and I always love to see your pictures on instagram @flymetotheveganbuffet
Subscribe to my newsletter: