(Cooperation with Madrid Vegan Tours)
I was invited to this tapas tour by my friend Diana at Madrid Vegan Tours, and as you know, I love food tours. So of course I couldn't wait for my work schedule to bring me to sunny Madrid!
Can you see the french fries in the picture above? No? That is because in a perfect world, they are drowning in aioli and are still super crispy. And in a perfect world they come with vegan calamari. And a nice glass of Tinto de Verano.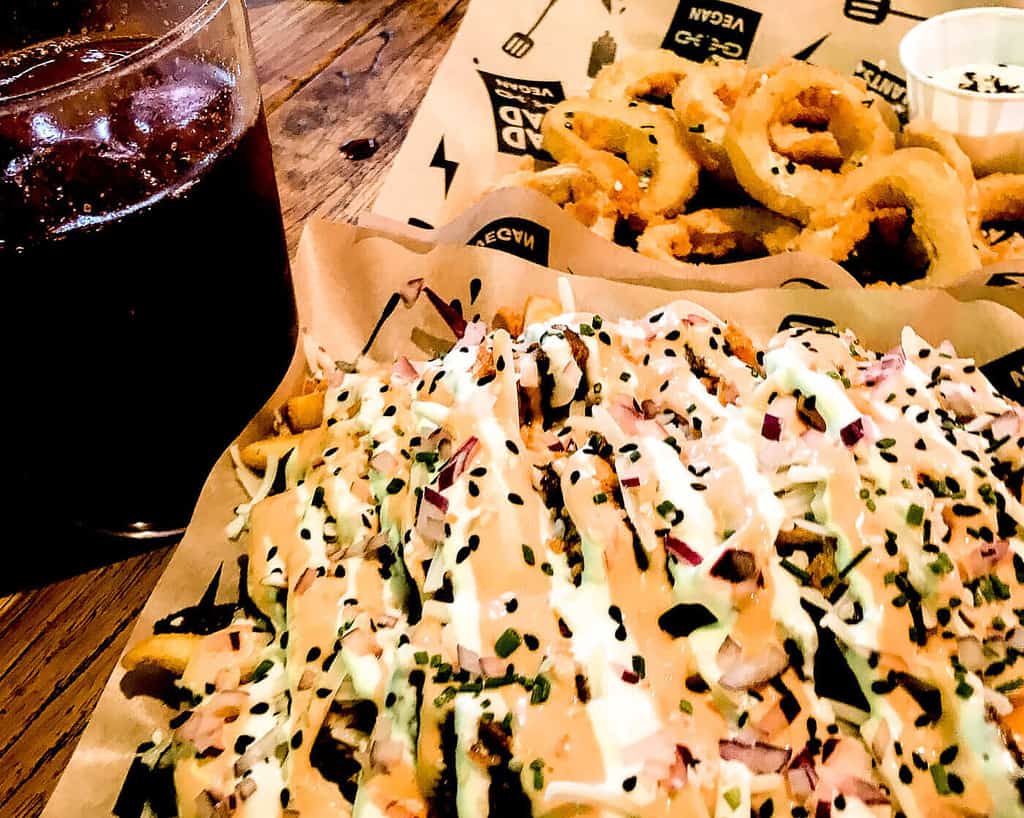 This perfect little world at our table inside the beautiful Indoor Street Food Market Mercado deSan Ildefonso is the first place Diana takes us. She tells us the story of how a historic market became this cozy tapas oasis. Now more and more vegan food has been popping up here since Mad Mad Vegan appeared, the stall from which we got our Supreme Yaya fries, Calamari and Wine. Accompanying us on this tour are a friendly mother and daughter from Florida taking a holiday in Spain.
We continue walking though the fashionable Malasaña district. We get to a really exclusive little vegan restaurant unknown to tourists, where chef Julian is personally serving his favourite creations. Tonight he's dishing up a very tasty slow food lasagna accompanied by a good cider.
Our next station is the colourful vegan pizza and pasta place Pizzi & Dixie, where we have a pizza with eggplant soft as butter and lots of garlic.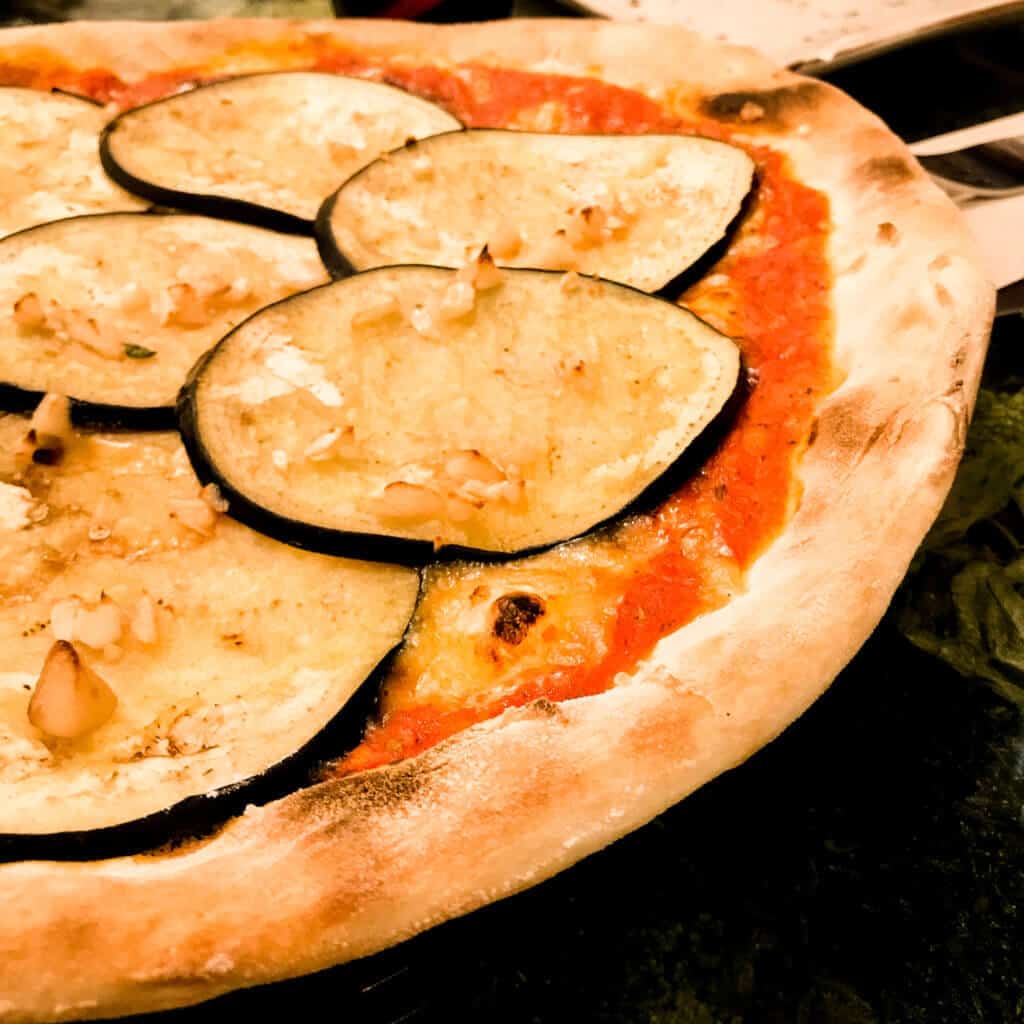 What I appreciate most about these guided tours is that I don't have to organise anything. I just have to sit down and decide what I would like to drink. The language barrier that makes it difficult in some countries to get what I would like is just not an issue, as now I have an interpreter and consultant with me who knows everything and takes care of everything. We're expected everywhere, food appears magically, and above all, we can be sure that everything is vegan. Such luxury!
At the end of my vegan tour in Madrid: Death by Cake
For the last stop we get to know the dessert paradise Freedom Cakes. The cool 1960s decor and the matching music already make this place worth visiting. And suddenly there is room for dessert.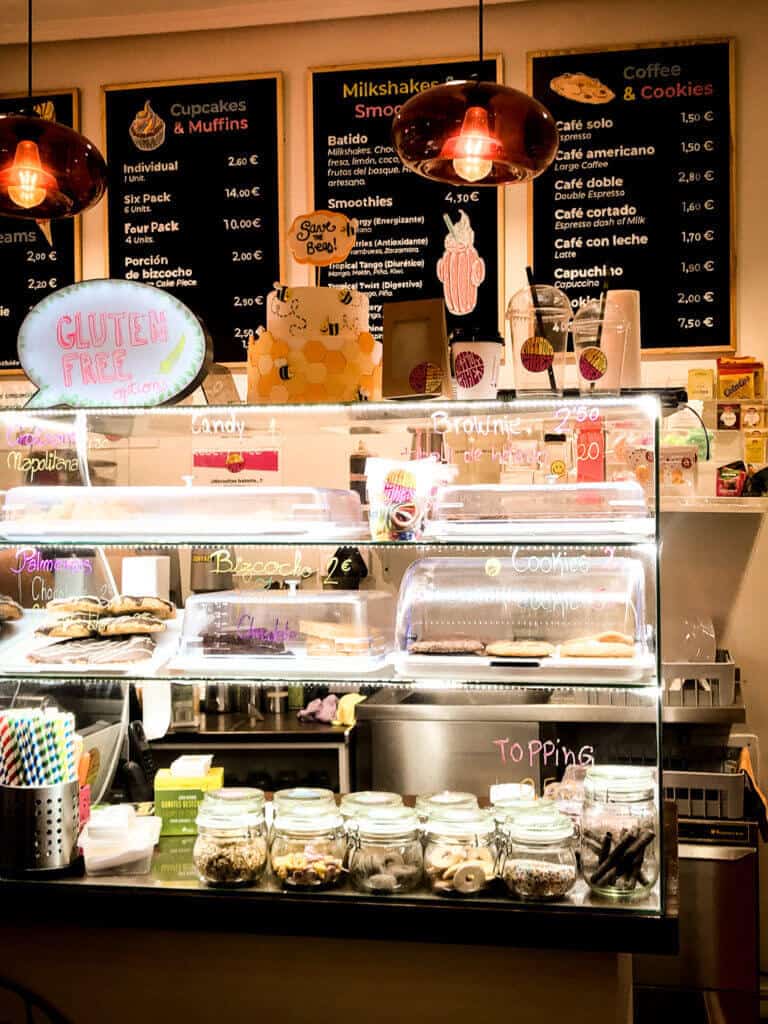 I get a decaf Cappuccino and a tiramisu cake. And then I also polish off the Death by Chocolate cake that one of the American ladies has given up on. Sometimes I wonder if I'm actually a caterpillar with the body of a person. Or maybe I'm just storing food for the exhausting workday in the air tomorrow? Anyway, I now have enough energy for the 30 minute walk back to the hotel through the warm night in beautiful Madrid 🙂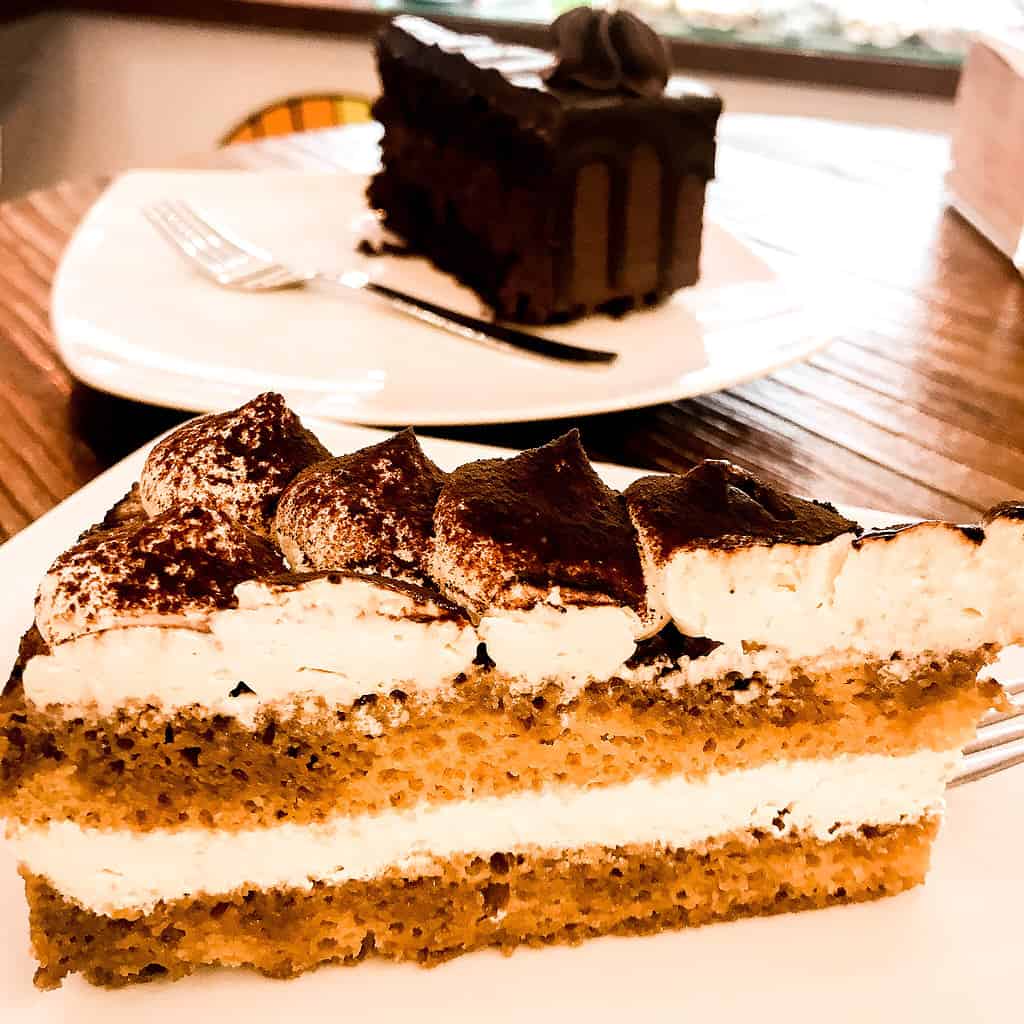 You can see all of it in my instagram highlight.
Are you planning a trip to Madrid? Then you need to have a look at Madrid Vegan Travel. Along with the vegan food tour Madrid there also is a shopping and tapas tour, cooking classes and lots more. Are you also going to Barcelona? I can recommend a tour there too. And you might also find my pinterest board useful: