I really enjoy my stay in Montreal every time. Maybe a little more when it's not minus 40 C°, but even then parts of the city are built under ground, so you don't have to be out in the icy cold that much. For me it's always a bit like a French for beginners trip: I can start a conversation in French and when it gets too difficult I can just switch to English instead of running away 🙂
I remember having a bit of a hard time finding vegan food in Montreal when I started flying years ago, but a lot has happened since then! I checked out some places that sounded interesting to me and were convenient to get to form out our hotel in the city centre in 2018, and in the end 2021 I got the chance to update this blogpost:
LEAVES HOUSE
I've been coming to the cozy Leaves House for breakfast for years now, and meanwhile the have two more outlets close by. They have amazing coffee and tea, also lots of pastries, sweet and savoury, and you can get things to go. There's lots of plants and the music is fantastic. This is their website.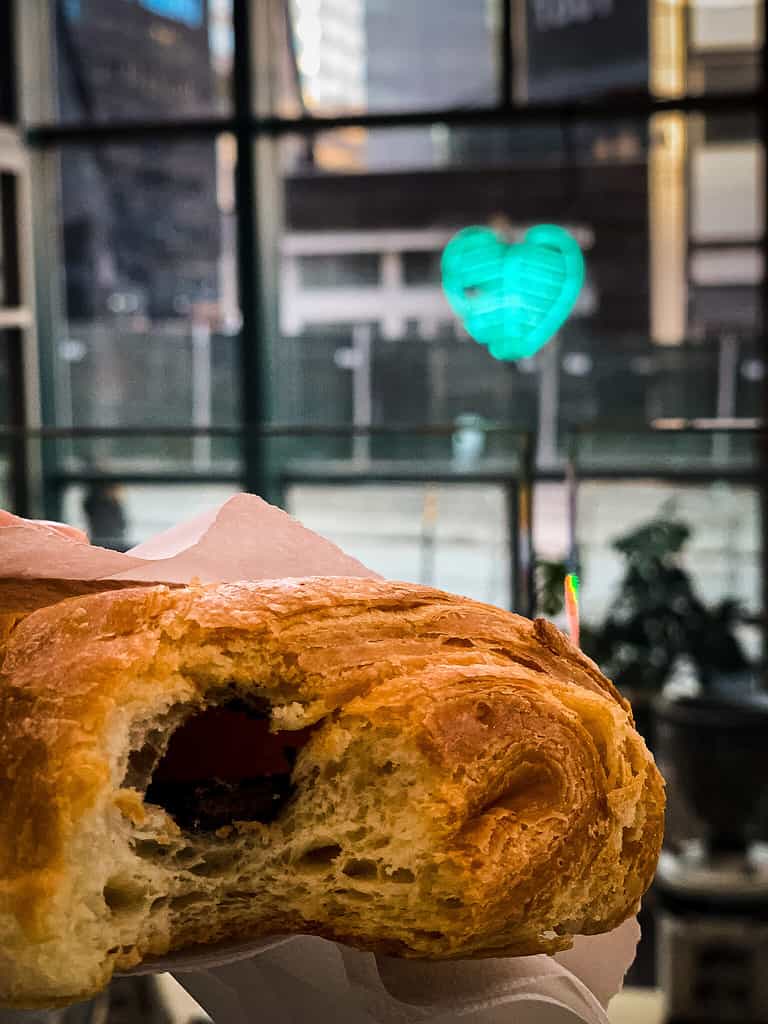 LOLA ROSA
This place blew me away with their cozy interior, super nice service and fantastic food. I had a lasagna with a caesar salad and it was just perfect!
They have more outlets, some are vegetarian. Find out more on their website.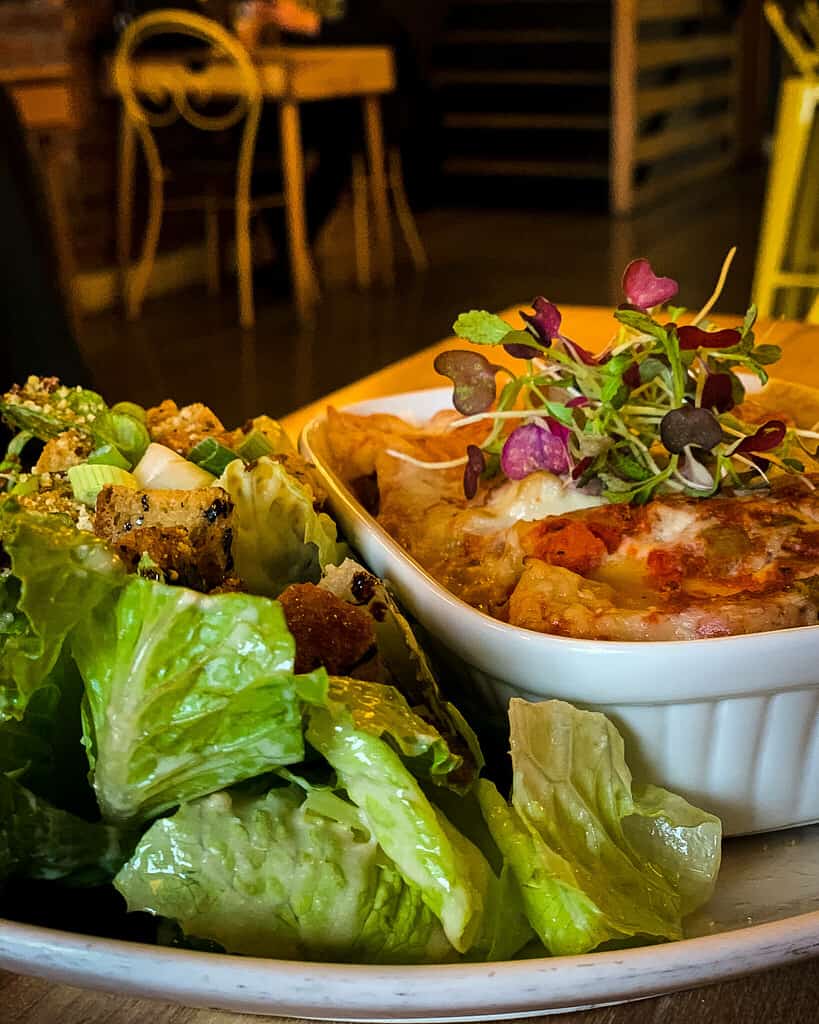 NOPALITO
This is a very small, very pretty place with super nice service and delicious Mexican tortas, fries and quesadillas. Their website is here.
The owner also runs Sushi Momo, Komomo and Casa Kaizen, which have an excellent reputation. Unfortunately the opening hours didn't work for me to check them out as well, but I'm sure it's a good idea to go there as well!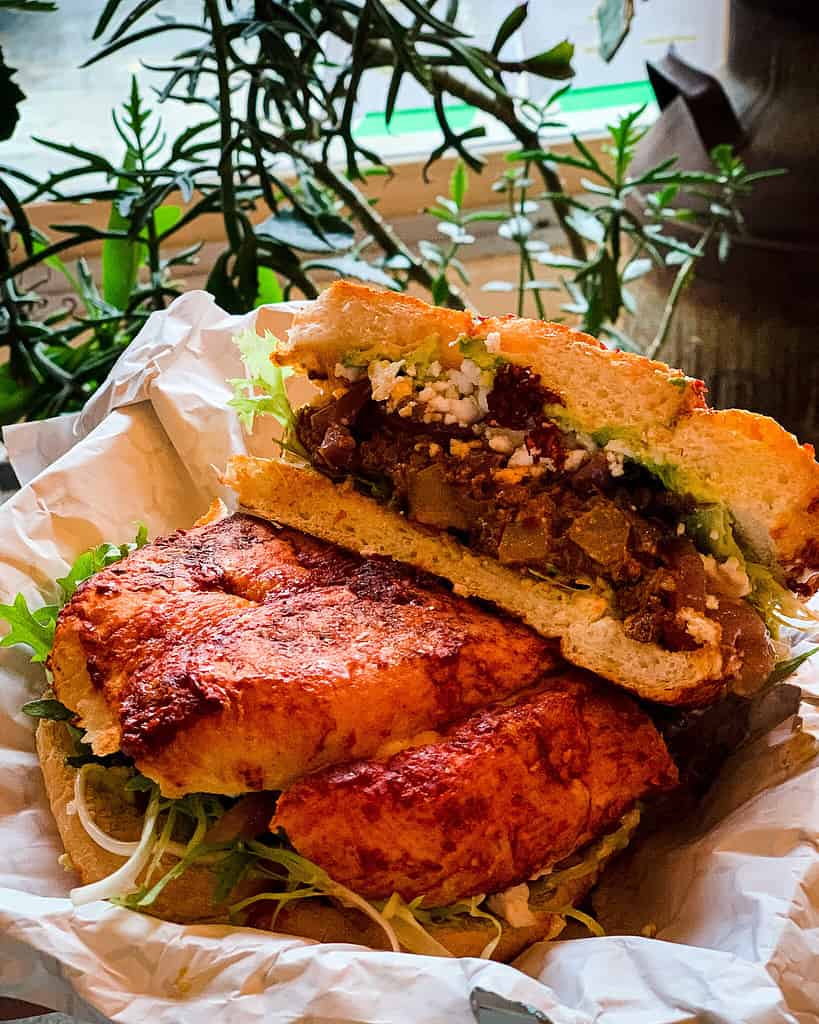 SOPHIE SUCRÉE
This is a vegan bakery that sells delicious cakes, cupcakes and sweet and savoury pastries and other baked goods with whole and often organic ingredients. No inside seating at the moment. Their website is this.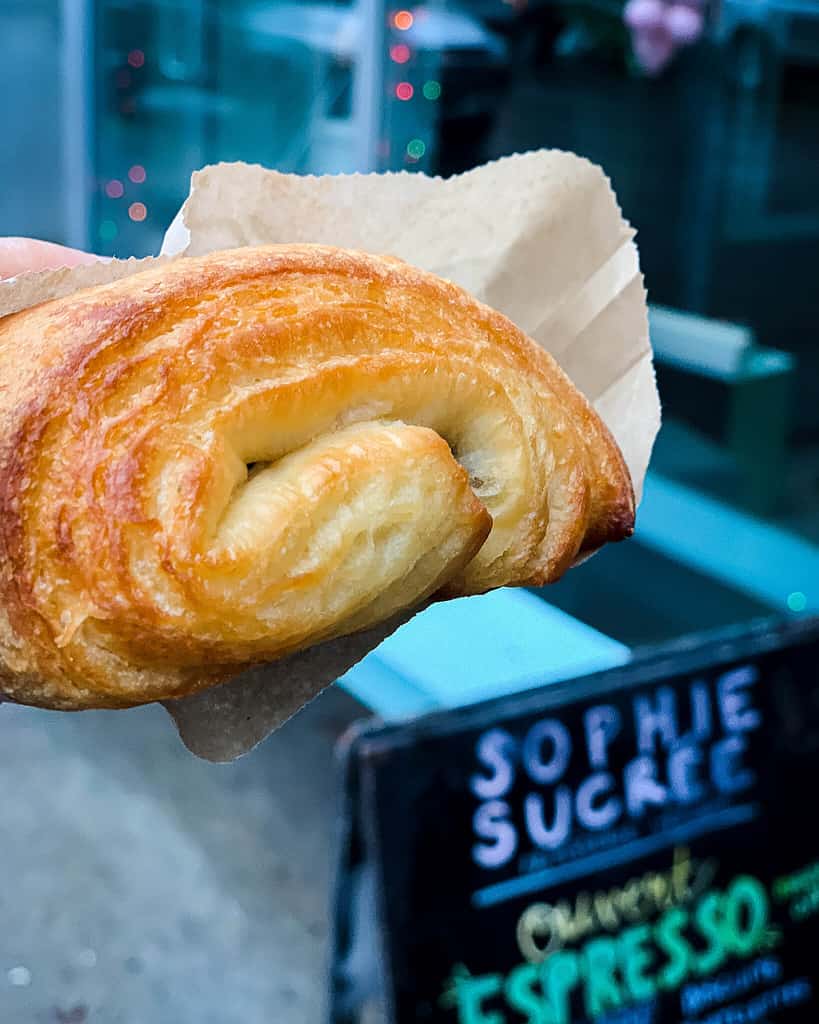 LOV
I wondered if I should even go there because everyone writes about this place, but one of the two restaurants (rue de la montagne) is really close to my hotel, so I did check it out. And it is really beautiful, with light décor, lots of lamps and tall ceilings, and as the weather was still nice (and starting to look summer-rainy)
LOV stands for local, organic, vegetarian, and most things on the menu sounded very appealing to me. I treated myself to a cheeseburger menu. I would say it was the best vegan cheeseburger I had in a long time, maybe ever. And I loved the aioli the french fries came with!
The waiter was patient enough to have each of our conversations in French That felt good, like I'm really making progress 🙂
As a dessert I finally had the first crème brûlée of my life! Can't believe it took 42 years for me to get there but oh my god that stuff was good!
Find out more about LOV on their website.
This is the only place I didn't update, because at the moment they are only open for dinner and that's too late for me to take pictures, so I relied my good experiences in 2018/19 and on the consistently good reviews on HappyCow.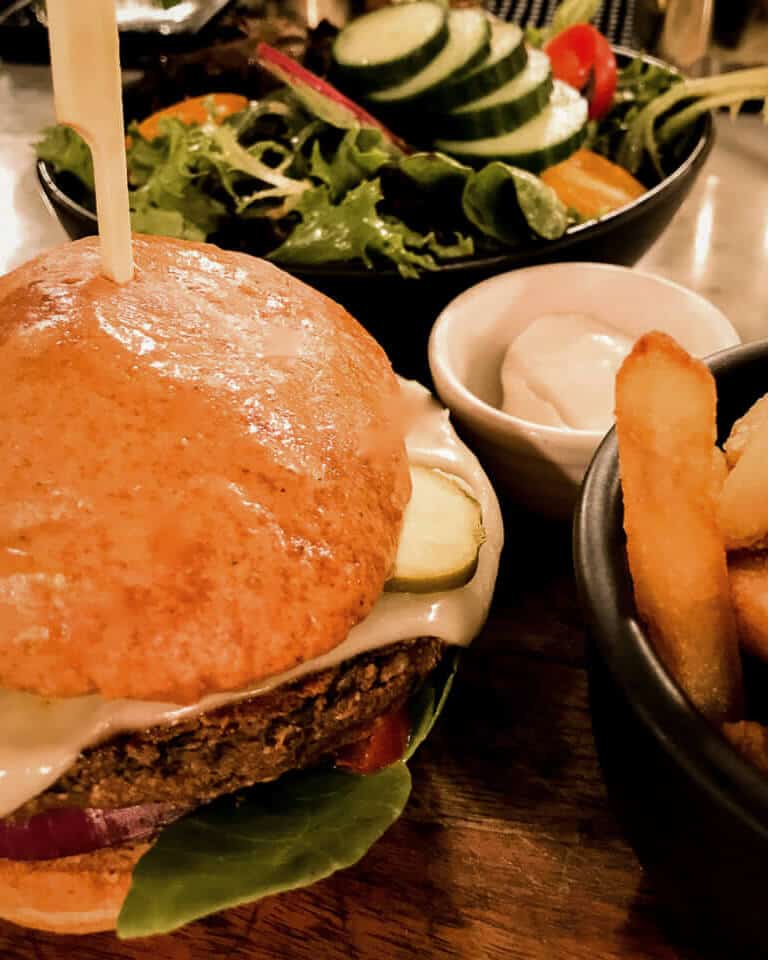 COPPER BRANCH
This is a big vegan chain expanding like crazy, even to Europe, and for good reasons. They offer superhealthy bowls and fresh smoothies, but also hearty burgers and Canadian specialty poutine. I personally appreciate that they open early to serve breakfast, around 7.00/8.00 a.m., so jet-lagged Europeans can have a nice breakfast. I went for a galette with just egg and a edison electric smoothie, which I find absolutely addictive!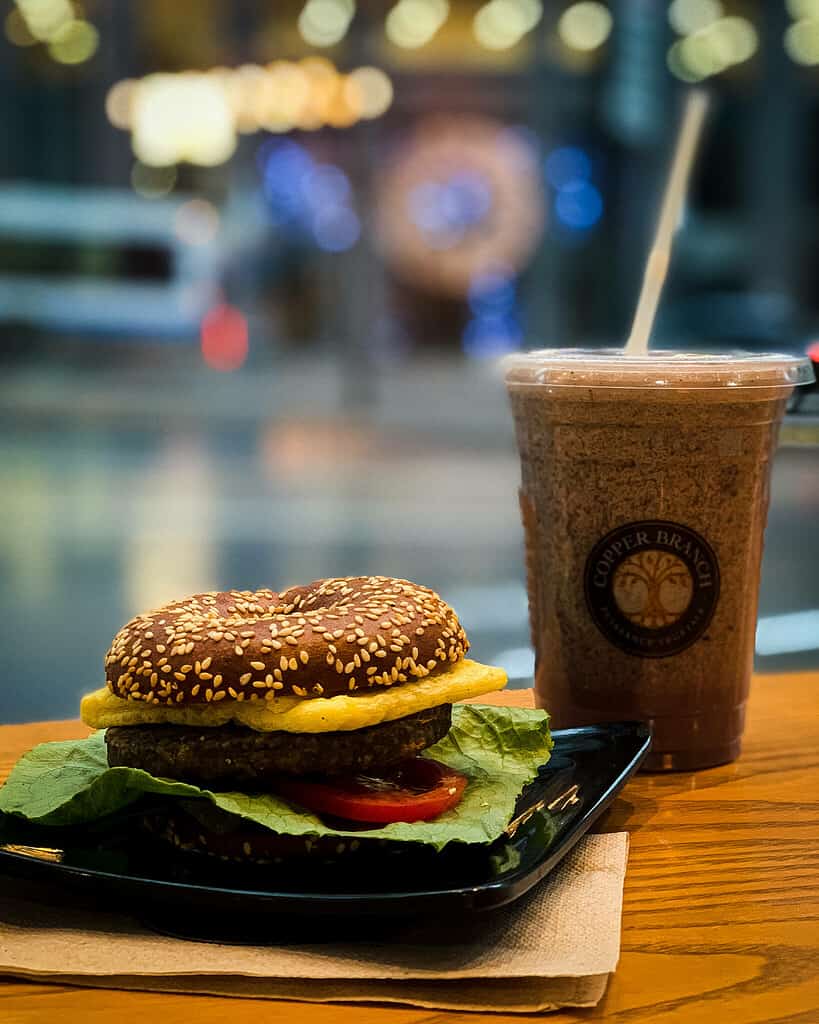 And later got a takeout aztec bowl for a cozy evening in my hotel room: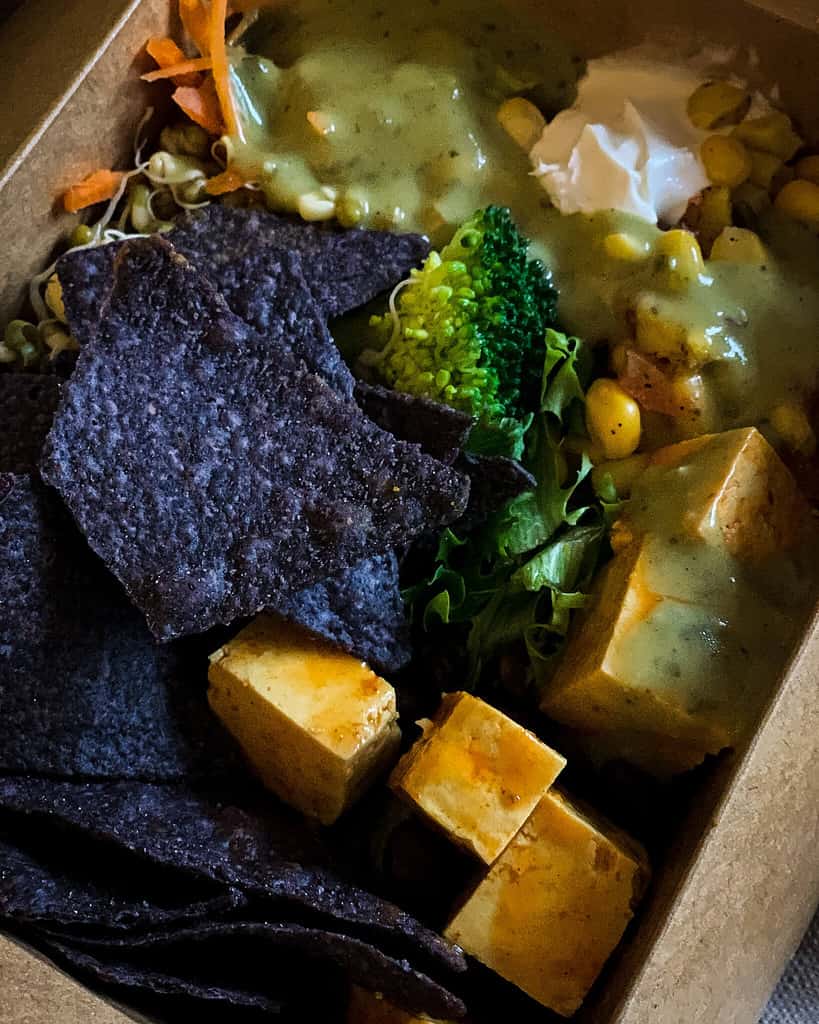 Find out more on their website.
You can see more in my story highlight on instagram.
Internet on the go
If you're traveling to another continent, I highly recommend getting a prepaid eSIM with roaming. It can be very frustrating to always search for WiFi just to scan a QR code. That's why my colleagues and I love Flexiroam! It works really well and there are different plans available, for individual continents or worldwide, with varying data volumes and valid for either half or a whole year. As a flight attendant, I use the worldwide 5GB plan for 180 days and so far it has worked out very well for me. 
You'll get a welcome discount when using code IAMNEW at Checkout with Flexiroam*. There often are big discount promotions, and here's a YouTube video with a short tutorial.
Sign up for my newsletter and get my checklist for vegan travel:
Of course there are many more places to eat vegan in Montreal that sounded interesting, and I can't wait to go back and try more. What are your experiences with Montreal? Anywhere I absolutely need to go next time?
And do you already know all these helpful apps?
MerkenMerken