(I chose all these places in Montreal myself and paid for the food, this is not a sponsored post)
I really enjoy my stay in Montreal every time. Maybe a little more when it's not minus 40 C°, but even then parts of the city are built under ground, so you don't have to be out in the icy cold that much. I was there a couple of times this summer and had a taste of the food that the home of my favourite vegan handbags has to offer. For me it's always a bit like a holiday in France, only easier: I can start a conversation in French and when it gets too difficult I can just switch to English instead of running away 🙂 
I remember having a bit of a hard time finding vegan food in Montreal just five years ago, but a lot has happened since then! I checked out some places that sounded interesting to me and were convenient to get to, and the here are the ones I liked best:
Sophie Sucrée
This charming all vegan bakery makes classic desserts and pastries with whole and often organic ingredients. Most of them are sweet, like cupcakes, cheesecake, cookies and brownies. I got a cinnamon and five-spice brioche (goes right on my try at home list!) an apple turnover and a spinach and vegan feta puff pastry to take away.
I was almost going to get one of these cupcake boxes for my colleagues to try on the return flight, but if the cupcakes are as good as the cinnamon brioche, I was afraid my colleagues would never get the chance to find out. By the way, you can get these vegan baked goods in a lot of cafés and restaurants all over Montreal, there is a map on Sophie Sucrées website.
Leaves Café
Coffee, pastries and handbags! Yes! They sell a selection of vegan handbags which line a wall in the small café, along with the countless cute little cacti and other plants. Just my taste of décor. I had this adorable blueberry danish and amazing cappuccino in my bright zine cup. You can also buy multi-use coffee cups there.
The other time I had a spinach pastry, a maple coffee (when in Rome …) and the also pain au chocolat that you can see taking a tour of Montreal in the picture at the top of the post. It's a vegetarian café, but every time I went there, all the food was vegan.
And the music! Made me feel so like home! I walked in and there was Shark Smile by Big Thief (don't know it? Listen! Warning though, has been stuck in my head for months now…!) I just love places with so much character. Will come back every time!
You can find out more info about the cafe on their Facebook page.
Update August 23 2019:
Leaves House
The Leaves Cafe just opened a second dependance called Leaves House in the same area inside a fancy office building with a waterfall! There's a lot of seats (and lots of cacti of course) and there's a shop next to it that sells vegan handbags and cosmetics. 
I went there for breakfast, had a fantastic macadamia latte and a croissant, then I had  the same things again and hung out reading while it was raining like hell outside. They also sell food to take away, a lot of it in mason jars, and I got a nice chorizo wrap for my flight home. 
Schlouppe Bistrot Nakamichi
This is a Japanese ramen place that also has a small vegan menu. I decided for kiwami ramen with truffle oil. I have never actually tried truffle oil and it was delicious! Nice little place, perfect soup.
Go to their Instagram to find out more.

La Panthère Verte & 

Eco Loco 
Right next door to Schlouppe Bistrot Nakamichi you'll find Eco Loco, a health food store that also sells vitamins, household supplies, cosmetics etc.
Downstairs there is an outlet of vegan chain La Panthère Verte for coffee and a viramisu or for a nice beer and a night snack bowl later.
I had a delicious one with tempeh and sprouts. Their take-out sandwiches and their viramisu (contains no alcohol) are my perfect return flight food and their falafel are said to be the best in town.
Their mission is to continually develop more sustainable ways of providing delicious, affordable, ethical food for people to enjoy in urban environments and also there is a really nice atmosphere at La Panthère Verte, like you can feel the good, laid-back energy.
Find out more on their website.
Copper Branch
This is the other big vegan chain you'll find all over Montreal, Quebec and soon Ontario, Alberta and even New York and France (Update 2019: I went to the one in Nice in June and it made my day) so they're obviously expanding like crazy, and for good reasons. I personally appreciate that they open early, around 7.00/8.00 a.m., so jet-lagged Europeans can have a good breakfast with nice singer/songwriter music playing in the background. My breakfast was the Piña Colada Smoothie and the crispy South West Wrap Scramble. 
I walked by again at lunchtime and the place was packed, and lots of people were getting take-out. Do you get that happy feeling too, when seeing a super-busy vegan place? Yeah. Find out more on their website.
BTW: do you like my Vegan Queen cutlery by Bright Zine? Find out more here.
LOV
I wondered if I should even go there because everyone writes about this place, but one of the two restaurants (rue de la montagne) is really close to my hotel, so I did check it out. And it is really beautiful, with light décor, lots of lamps and tall ceilings, and as the weather was still nice (and starting to look summer-rainy) I took a seat on the just as beautiful, partly covered patio.
LOV stands for local, organic, vegetarian, and most things on the menu sounded very appealing to me. But I absolutely had to try Canadian specialty Poutine, which is fries with cheese and gravy, in LOV's variation with sweet potato fries, kale chips, vegan cheese and miso gravy.
The waiter was patient enough to have each of our conversations in French (That felt good, like I'm really making progress 🙂 
While I was having my really good coffee it actually started to rain and I felt pretty cozy with my book on the covered patio.
I went to LOV again almost exactly a year later in august 2019 on another rainy day and treated myself to a cheeseburger menu. I would say it was the best vegan cheeseburger I had in a long time, maybe ever. And I loved the aioli the french fries came with!
As a dessert I finally had the first crème brûlée of my life! Cant believe it took 42 years for me to get there but oh my god that stuff was good!
Find out more about LOV on their website.
Pourquoi Pas Espresso Bar
This is a vegetarian place and all the vegan options that day were sweet. To be honest I'm more the sweet coffee and savoury carbs for breakfast type, but I went for the lemon poppy seed cake with my coffee and it was so good, it went straight on my list of things I have to try at home. They actually have their own house milk, a coconut-almond creation. So I was very happy hanging out in the window with my breakfast, watching people walk by and listening to the easy morning jazz that was playing, and the nice barista recommended I try eating at Invitation V, so that is the next place I went to.
More information on Pourquoi Pas Espresso Bar on their facebook page.

Invitation V
Actually the barista at Pourquoi Pas recommended Invitation V for a fancy dinner, but I had to fly back that night. So I only had a chance to go there for lunch, and that was a treat, too. It was extremely hot and humid outside, so this stylish and shiny place was just what I needed to cool down. With ceilings so high an additional café seating area fits in and 80s funk playing, lots of big plants, yummy looking takeout sandwiches and baked goods displayed at the counter.

Their cuisine is internationally inspired, most ingredients organic and local. I went for a Mexican burger and a ginger lemonade, and it came with lots of fresh veggies, the fries were not too greasy, and the lemonade had way more ginger than sweetener. So even though I technically had a burger with fries and lemonade I didn't feel like eating unhealthy at all.
One of their specialties is smoked inari – japanese tofu skins – which were also on my burger, and I really like the idea. Might try that at home soon.
For the return flight I got a chorizo sandwich. I put in in the oven on board for a few minutes, so the bread got crispy and it was delicious, especially the sauce. Wish I had gotten the one with the smoked inari as well for breakfast. Have a look a Invitation V's website here.
Of course there are many more places to eat vegan in Montreal that sounded interesting, and I can't wait to go back and try more. What are your experiences with Montreal? Anywhere I absolutely need to go next time?
Or are you going to Montreal soon? Then I recommend also checking out this blogpost by Mostly Amélie, a vegan travel blogger who actually is from Montreal. 
And do you already know all these helpful apps? 
MerkenMerken
You might also like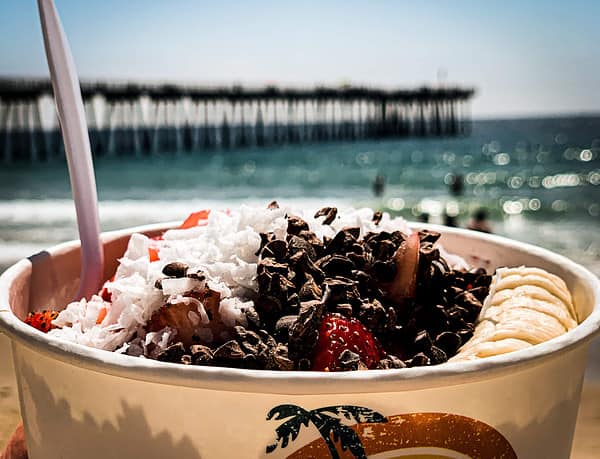 (no paid advertisement) Manhattan Beach, Hermosa Beach and Redondo Beach of Los Angeles are often referred…
21. October 2021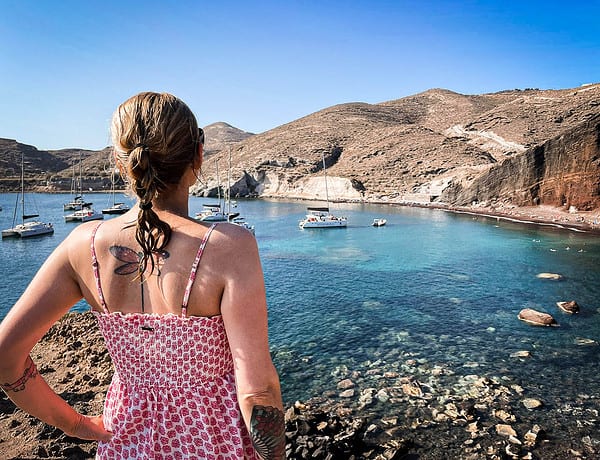 Seems like everyone I spoke to went to Greece this summer, and suddenly Tom…
20. October 2021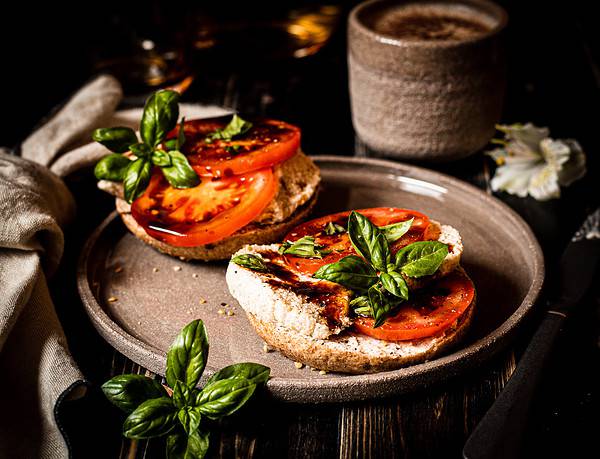 Need some sandwich inspiration? Here are my top 10 favourite vegan sandwich ideas for…
19. October 2021