This banh mi sandwich was created when my friend Anne went to Harvard for a while and I flew to Boston a lot to hang out with her.
Our ritual was having breakfast at a yoga school café. We basically worked our way through their whole menu, and everything we tried was great, but there was this one combination that turned out to be my favourite: it was the banh mi sandwich and the hyper monkey smoothie.
So I created something similar at home in my fusion kitchen and I'm very happy with the result. You can find the my version of the smoothie here as snickers shake with espresso. 
The best bread for the Banh Mi sandwich
Traditionally, the banh mi sandwich is made with a rice baguette and you can sometimes buy some from Vietnamese restaurants. If you can't get that, French Baguette is the next best thing.
I also love the banh mi sandwich with my fluffy pretzel twist baguettes that you can see in the pictures. I have to point out though, that they are not extremely stable. If you want to take sandwiches with you, maybe it's better to skip the twisting and just form 4 little baguettes.
Perfect tofu for the Banh Mi sandwich
In Vietnam the Banh Mi sandwich is usually served with meat. My version is made with a yummy marinated and fried tofu. I recommend using a tofu press* for this dish, it not only creates a much firmer texture, it also makes the tofu absorb the spices better. Whenever I cook something with tofu, I put the tofu into the tofu press about two hours before -it's super easy, just put it in, close the lid and fasten the rubber bands.
If you want to prepare the sandwich for the next day I recommend pickling the carrots and marinating the tofu over night, so the flavours can unfold.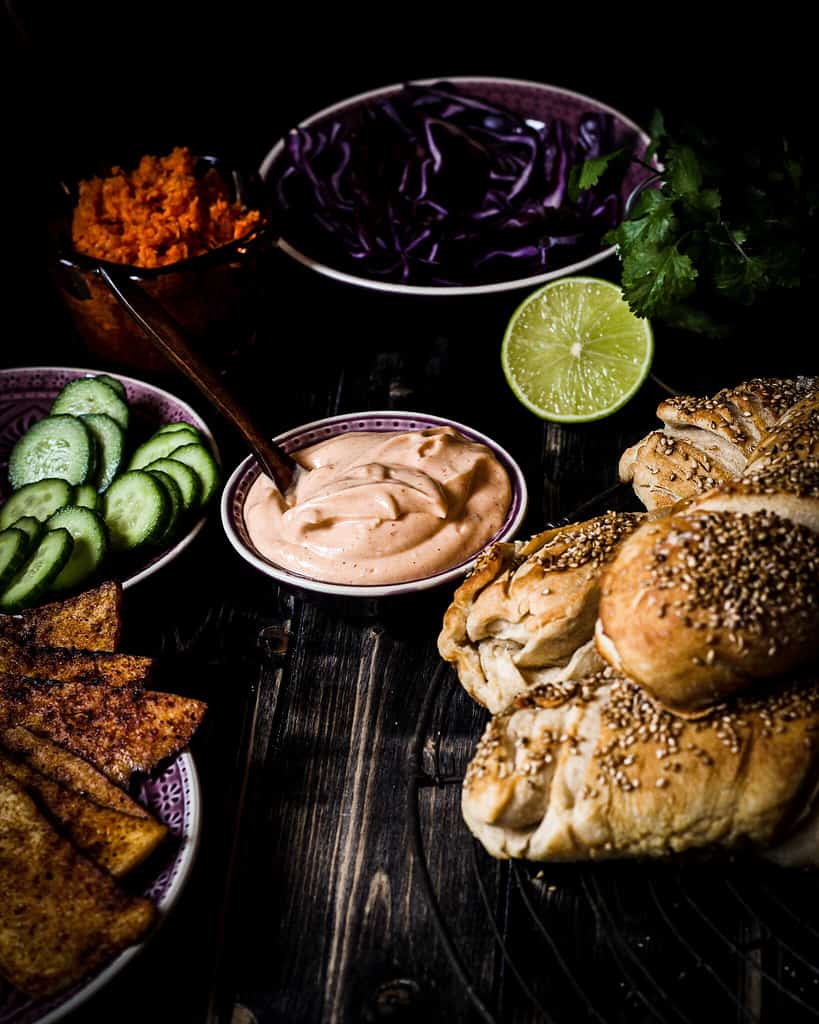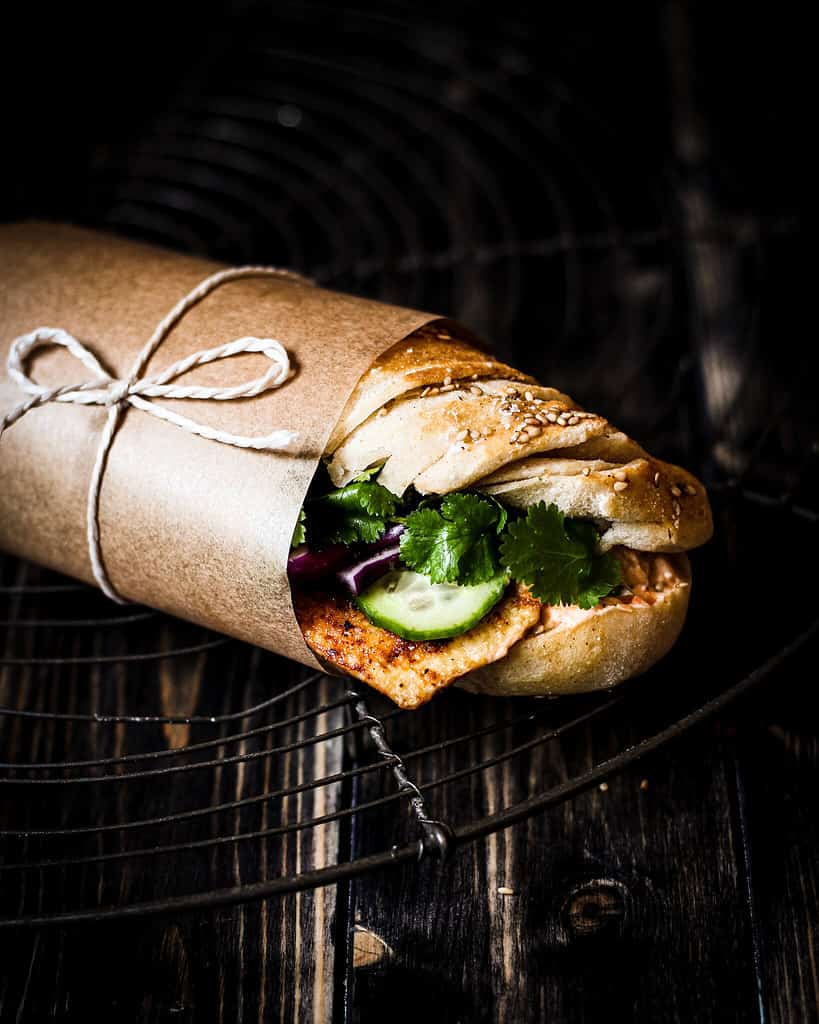 MerkenMerken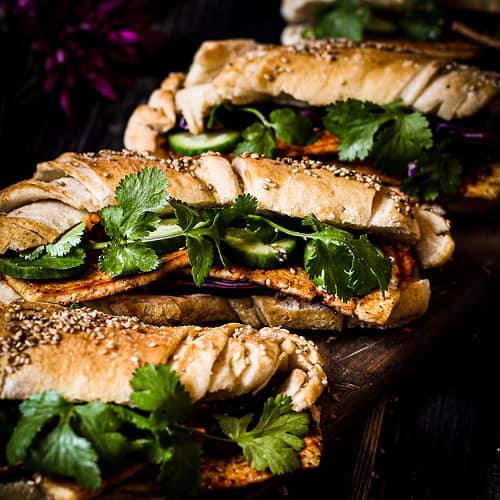 BANH MI SANDWICH
A vegan version of the Vietnamese banh mi sandwich in a homemade fluffy pretzel twist baguette
Ingredients
1

carrot

grated or cut in thin slices with a veggie peeler

juice of 1/2 lime

1

tablespoon

brown sugar

1

tablespoon

rice vinegar

1/3

cup

vegan mayo

1

tablespoon

sriracha sauce

7

oz

tofu

cut in slices (150 g)

1

tablespoon

soy sauce

1/2

teaspoon

maple syrup

1

teaspoon

rice vinegar

1/4

teaspoon

onion powder

1/4

teaspoon

garlic powder

1/4

teaspoon

smoked paprika

Pimentón de la vera

Vietnamese or French Baguette

1/4

red cabbage

shredded

1/3

cucumber

sliced

cilantro

salt and pepper
Instructions
First, gather all your ingredients and prepare them in the right amounts. That makes it so much easier and more fun and you're less likely to forget anything. 

Combine carrot, lime juice, brown sugar and rice vinegar, then put aside.

Mix mayo and sriracha sauce.

Combine garlic powder, onion powder, paprika powder, soy sauce, maple sirup and rice vinegar. Cut tofu into thin slices and fry in a little oil, applying the marinade. After 2-3 minutes, turn and apply marinade on other side.

Cut the baguettes in halves and apply sandwich sauce. Layer in drained carrot, red cabbage, tofu slices, cucumber and cilantro, then salt and pepper to taste.
Did you enjoy this recipe?
A 5 star rating would mean the world to me and I always love to see your pictures on instagram @flymetotheveganbuffet
MerkenMerken
MerkenMerkenMerkenMerkenMerkenMerkenMerkenMerkenMerkenMerkenMerkenMerkenMerkenMerkenMerkenMerkenMerkenMerken