These homemade fluffy pretzel twist baguettes are a mixture of my popular fluffy pretzel corners and french baguette. They are crispy and crusty on the outside and buttery and fluffy on the inside, and they are also easy and fun to make.
You can prepare them well in advance and put them in the fridge after the second rest or freeze them, and then just apply the baking soda mixture and bake them in the oven before serving.
I usually make this bread with spelt flour, but wheat works well for this recipe too. Instead of sesame and sea salt, you can also sprinkle them with poppy, pumpkin seeds, sunflower seeds, chia seeds or similar things.
If you're planning to take the twist baguettes with you as a sandwich, I would actually suggest you don't twist them but leave them straight, because that way they will be more stable.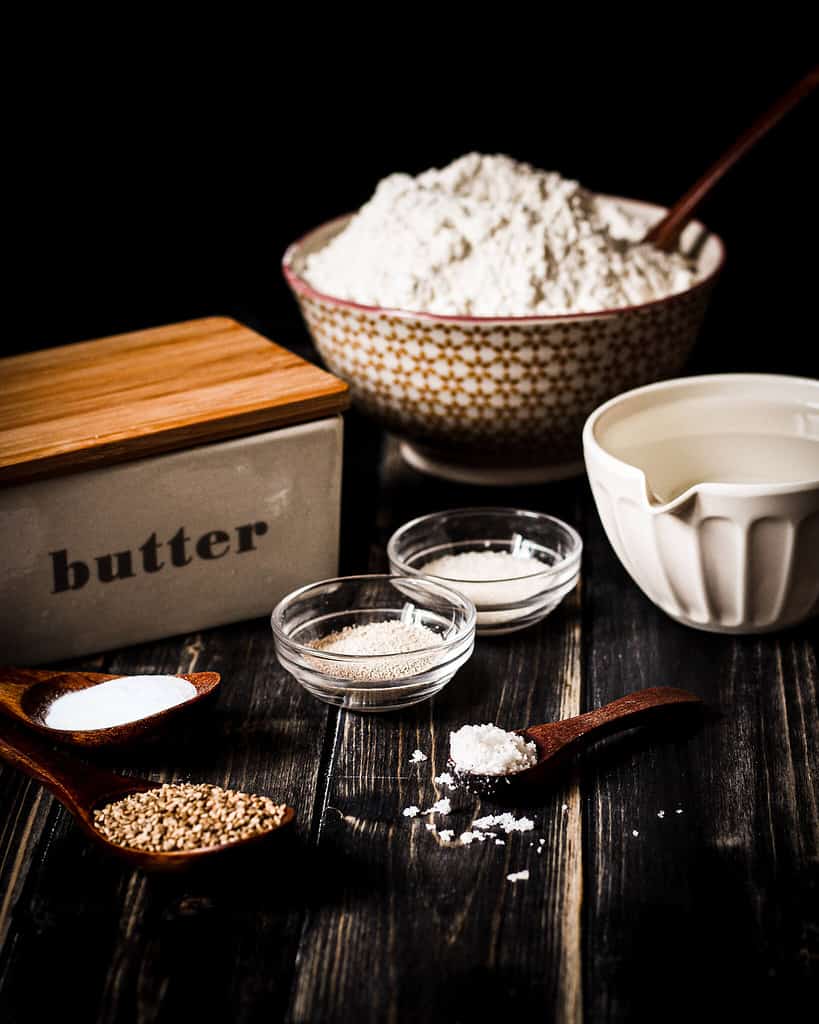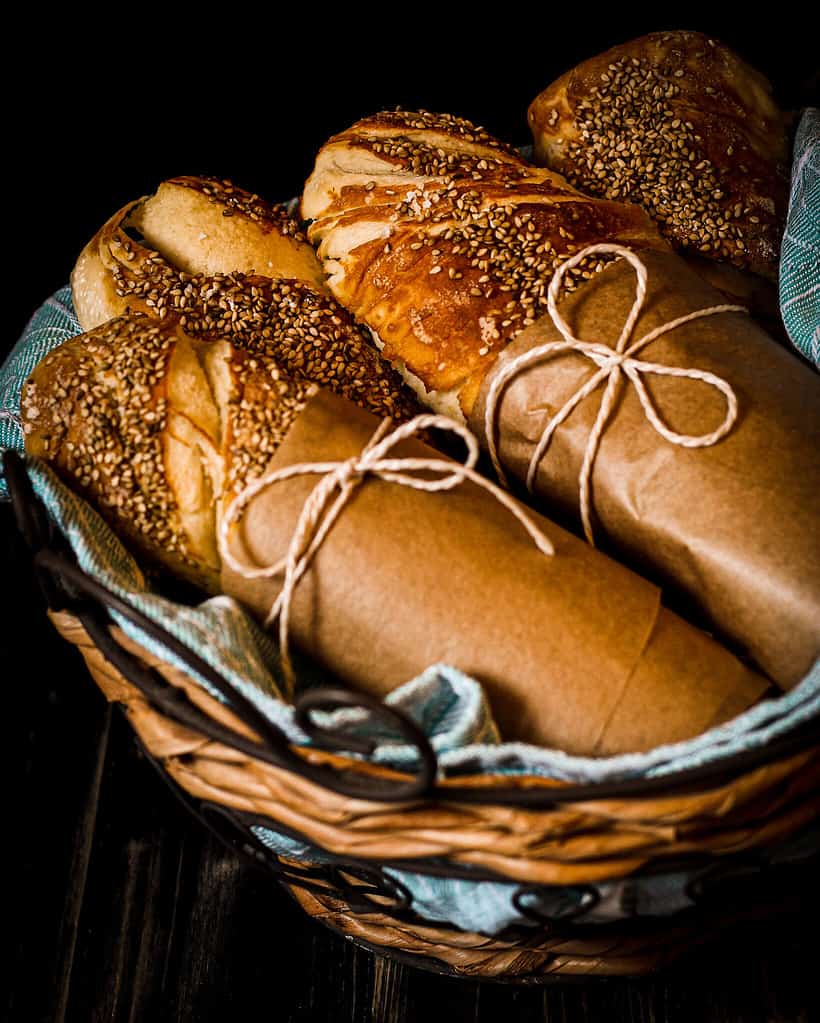 What can you put on the twist baguettes?
I created them for my banh mi sandwich, but of course they work with any other sandwich or just by themselves.
I especially like:
baked beans, sautéed mushrooms and rocket salad
avocado, smoked tofu and sprouts
vegan cheese, sweet mustard and black pepper
cashew butter, sun-dried tomatoes and alfalfa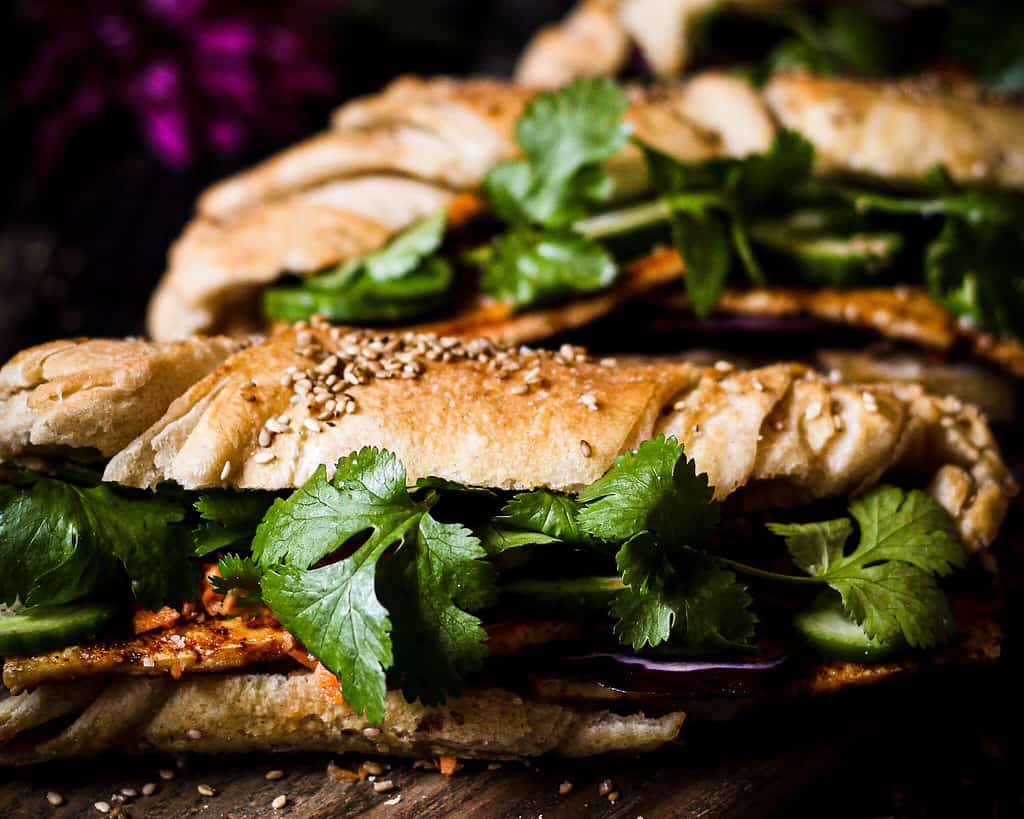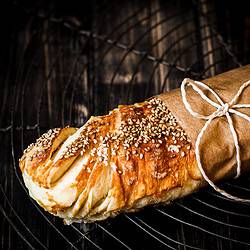 FLUFFY PRETZEL TWIST BAGUETTES
The fluffy pretzel twist baguettes are crispy on the outside and buttery and fluffy on the inside
Ingredients
3

cups

flour

360 g

2

teaspoons

of dried yeast

7-9 g

1/2

teaspoons

sugar

1

teaspoon

salt

1

cup

lukewarm water

240 ml

a little plant oil

1/3

cup

vegan butter at room temperature

75 g

2

tablespoons

boiling water

2

teaspoons

baking soda

sesame

sea salt
Instructions
First, gather all your ingredients and prepare them in the right amounts. That makes it so much easier and more fun and you're less likely to forget anything. 

Combine flour, yeast, salt and sugar in a bowl, mix, add water and knead for about 10 minutes by hand or with a machine at medium speed. Just add a little water or flour if the dough is too flaky or sticky.

It is also possible to use fresh yeast. I dissolved 21 g (half a cube) with the sugar in the lukewarm water, let it rest for 10 Minutes and then mixed it with flour and salt in the bowl, kneaded it for 10 minutes as well.

Apply a little oil to a bowl and your hands, place the dough in the bowl to let it rise for about 1 hour.

I usually cover it with a damp towel and put it in the warm, switched-off oven. The temperature should be around 30°C/ 85°F. Temperatures over 40° kill the yeast.

After an hour, the dough should have doubled. Punch it down to release the air.

Knead again for a moment, roll it into a long baguette and cut in 5 pieces.

Roll each piece into a rectangle and apply vegan butter, and pile them up. Don't apply butter to the last one yet.

Roll the pile out carefully by only setting the rolling pin down.

Apply butter and roll up from one of the long sides.

Put them on parchment paper on a baking tray, and let them rest for 15-20 Minutes.

If you don't want to bake them right away, you can now put them in the fridge, well covered and leave them there over night. Or you can even freeze them.

Preheat the oven to 210° C/410°F.

Now we need 2 tablespoons boiling water and 2 teaspoon baking soda. Stir very carefully and apply to the fluffy pretzel twist baguettes with a brush.

Then apply some more butter. Sprinkle with salt and sesame and bake golden brown for about 20 minutes. The fluffy pretzel twist baguettes are best served warm.
Did you enjoy this recipe?
A 5 star rating would mean the world to me and I always love to see your pictures on instagram @flymetotheveganbuffet