There is a vegan restaurant at Tokyo main station called T's Tantan. They have this amazing Japanese tantan soup that makes me get on a train through half the city, walk forever through the giant station and even buy a ticket for a train I don't take, to get to the area where the restaurant is.
And every time again I come to the conclusion that this delicious, slightly spicy noodle soup is absolutely worth the effort.
They were so kind to draw the ingredients on the wall, so I managed to create a recipe for a ramen soup very similar to the one at T's Tantan.
I have decided to use veggie broth, because everyone here has that at home and I wanted to make it easier. Feel free to use Japanese Dashi, which is of course what they use in Japan to make soup.
Ingredients for the Tantan soup not everyone knows
Mirin is a sweet Japanese rice wine mainly used for cooking, teriyaki sauce for example
Miso Shiro is a mild soy paste that contains a lot of beneficial bacteria, which would be destroyed when boiling it. That' s why it only goes into the tantan soup once it's not boiling anymore
Tahini is a ground sesame paste, you can grind it yourself in a mortar, which is what I did when I started making this tantan soup, but it is so much work and so I just buy it now
Chili oil is spicy and orange. You can easily make it yourself with this recipe
Bok Choy is a bit like spinach or Swiss chard. For the tantan soup I recommend mini bok choy for space reasons. I fry it a little, add it to the soup and drizzle it with chili oil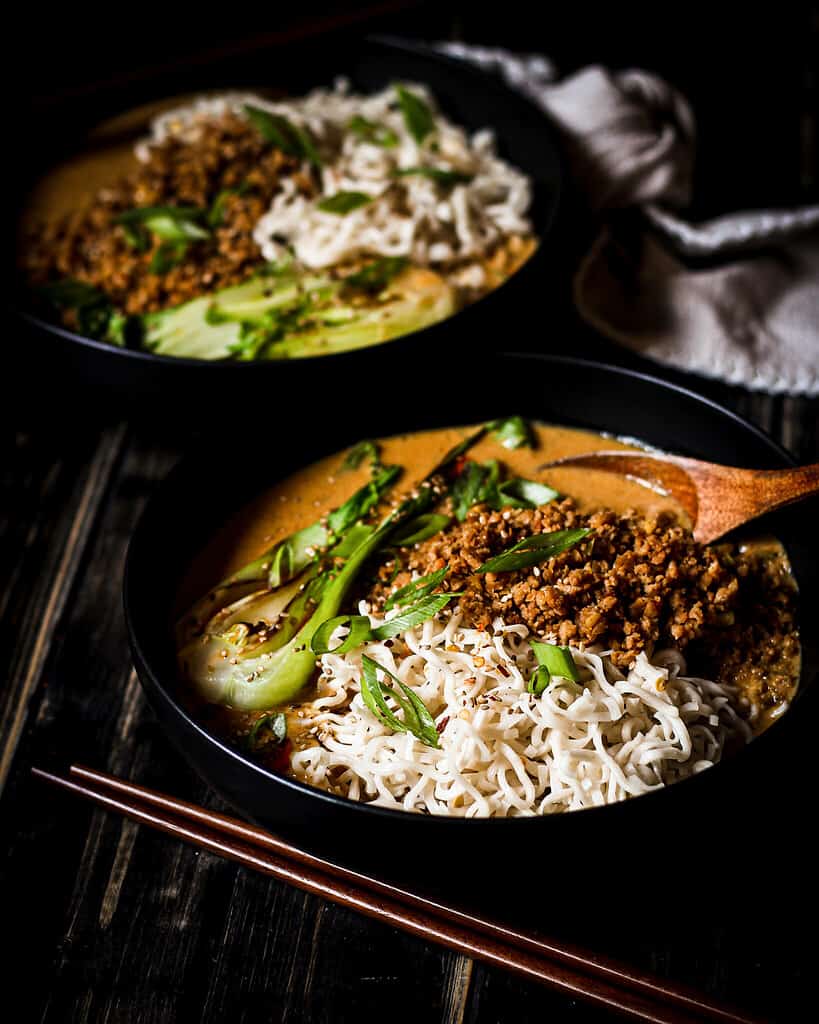 Tantan men, as this soup is called in Japanese, was inspired by the Chinese dish dandan noodles which I once tried in a Szechuan restaurant in Hamburg and was almost unable to finish it because it was so spicy!
The Japanese version is not that spicy, but feel free to add as much chili and chili oil as you like 🙂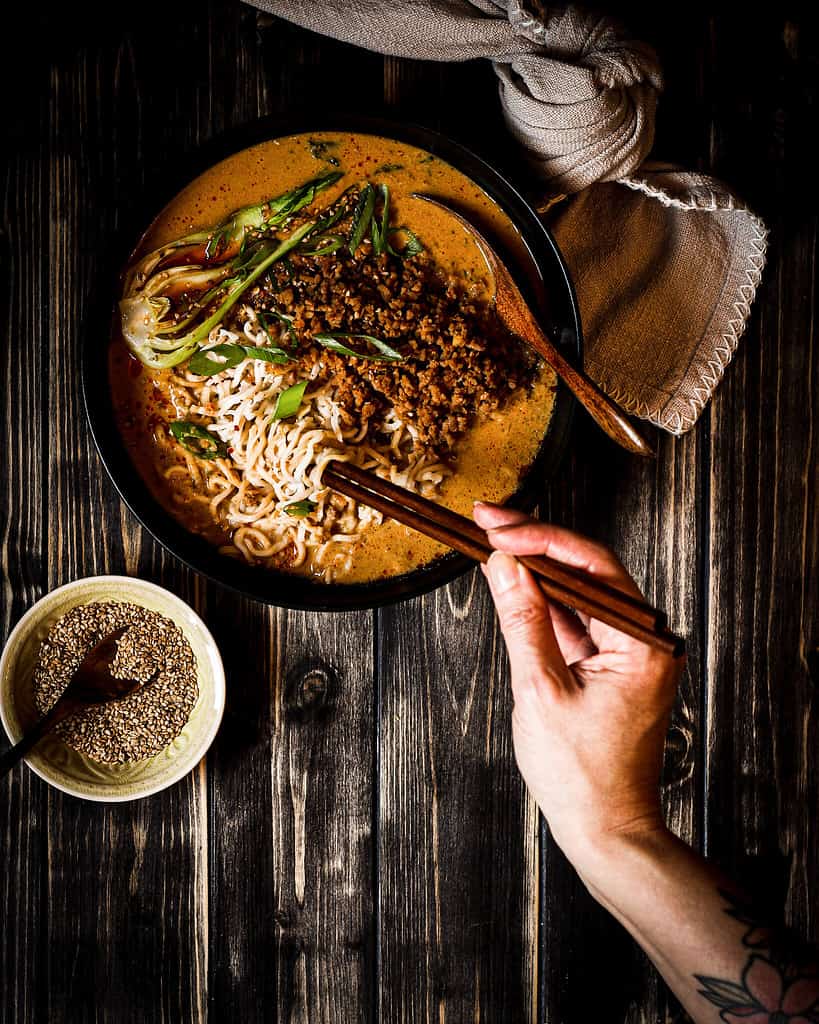 Do you already have my free checklist for traveling vegans? Subscribe to my newsletter and get it now 🙂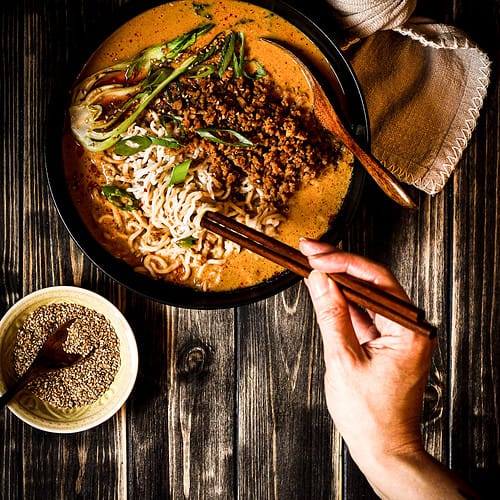 JAPANESE TANTAN SOUP
You can make a yummy vegan Japanese Tantan soup yourself – almost like in Tokyo!
Ingredients
1

cup

textured soy protein

75 g

1

cup

veggie broth

240 ml

1

scallion

white part, chopped

1

tablespoon

ginger

chopped

1

garlic clove

chopped

1

tablespoon

soy sauce

1

tablespoon

ketchup

2

cups

veggie broth

480 ml

1/2

teaspoon

sugar

1/4

cup

tahini

55 g

1/4

cup

peanut butter

55 g

1

tablespoon

soy sauce

2

tablespoons

mirin

1

teaspoon

paprika

1/2

cup

oat or soy milk

120 ml

1

tablespoon

miso shiro

200

g

ramen noodles

7 oz

2

baby bok choy

outer leaves removed, cut in halves

sesame seeds

chili oil

chili flakes or strings

scallion

green part, cut into rings
Instructions
First, gather all your ingredients and prepare them in the right amounts. That makes it so much easier and more fun and you're less likely to forget anything. 

Combine the soy protein with the 1 cup of veggie broth, stir well and set aside.

Heat salted water for noodles.

Sauté garlic, ginger and white part of scallion in a little plant oil in a skillet. Add the soy protein, 1 tablespoon of soy sauce and one tablespoon of ketchup and roast at moderate to high heat, stir frequently.

Combine 2 cups of veggie broth, sugar, tahini, peanut butter, 1 tablespoon soy sauce, mirin and paprika in a small pot and bring to a boil.

Switch off the heat and stir in plant milk and miso shiro.

Cook noodles according to instructions.

Move the soy protein to the sides of the skillet and put the bok choy face down in the middle. Roast for about 3 minutes.

Turn the bok choy to roast a little from the other side.

Drain the noodles and put them into two bowls, add soup, soy protein and bok choy.

Garnish with sesame seeds, chili oil, chili flakes or strings and green part of scallion.
Did you enjoy this recipe?
A 5 star rating would mean the world to me and I always love to see your pictures on instagram @flymetotheveganbuffet
You love Japan or are planning to go there? You can check out my blogpost WHERE I ATE AS A VEGAN IN TOKYO and have a look at my Pinterest Board VEGAN IN TOKYO/ JAPAN
Do you already have my free checklist for traveling vegans? Subscribe to my newsletter and get it now 🙂