There is a lot of discussing in Germany whether potato salad should be made with or without mayonnaise. At our work canteen in Munich, they are serving both options in order to prevent kerfuffle I guess. I like them both, but as the mayo at work is not vegan, I only ever get the other one.
It only consists of potatoes, onions and gherkins, nicely marinated in a tasty dressing.
The potato salad is really delicious, and that's why I based my healthy vegan new recipe on it. I added apples, radishes, pumpkin seed oil, lentils, celery and lots of parsley. You'll find out more about the health benefits these ingredients might have below.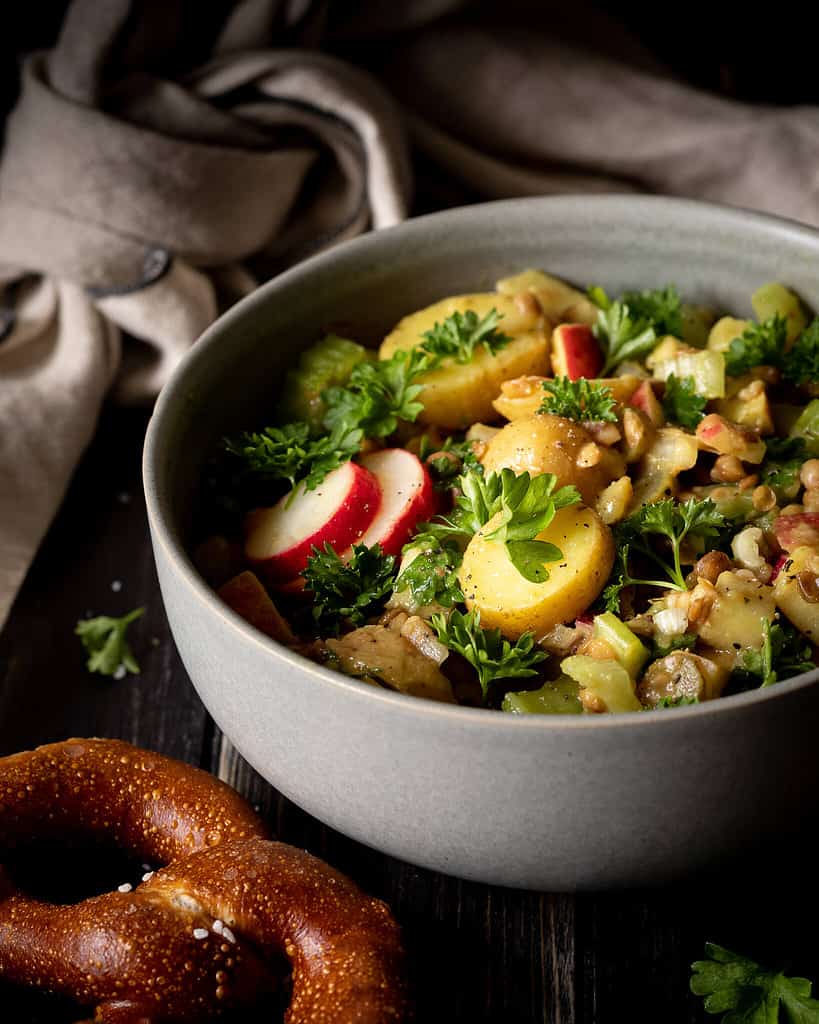 What makes this potato salad a superfood bomb?
Cooked and cooled potatoes
They are a rich source of resistant starch, which feeds our good gut bacteria and helps to maintain better blood sugar levels. They are also very filling, full of vitamins and minerals, particularly B and C vitamins, potassium, and antioxidants that keep us healthy and beautiful. Regular consumption of potatoes may even raise our serotonin levels, which can improve our mood in the long run. Whether or not you peel the potatoes for this potato salad is up to you. I personally like potatoes with the skin and prefer to buy new potatoes. If the skin is very dirty and has many spots, I also peel it, especially if there are first sprouts or green spots. These should be cut out. If there are many and long sprouts, I would dispose of the potato.
Lentils are one of the most protein and fiber-rich foods. They contain vitamin A, E, magnesium, manganese, folic acid, and many other nutrients, including iron, which can be well absorbed through the vitamin C in this salad. In combination with cereal or rice, they provide all the important amino acids. So, if that's not a reason to eat a pretzel with the potato salad, I don't know what is. But a sourdough whole-grain spelt bread would be even better.
Celery also covers a broad spectrum of nutrients and contains antioxidants and polyphenols. It is even said to protect against cancer. Unfortunately, celery belongs to the Dirty Dozen, the fruits and vegetables that are the most contaminated. Therefore, it is better to buy organic and at least regional celery.
I chose red onions for this potato salad recipe for aesthetic reasons, but I found out during my research that red onions have about twice as many antioxidants and valuable organic sulfur compounds as other onions. These suffer from being heated, so we should also eat raw onions more often – but most people don't like the resulting onion breath. For this salad, we soak the onions in apple cider vinegar for about 20 minutes, which removes their biting aroma, making them delicious and healthy. I learned this from the recommended book "Salt Fat Acid Heat" by Samin Nosrat* and it works quite well, especially since the salad is left to marinate in the refrigerator for several hours and the layer of apple cider vinegar around the onions continues to work.
No spring salad is complete without radishes! After all, they are in season now. They are rich in vitamin K and C, and the mustard oil that gives them their delicate spiciness has a beneficial effect on sugar metabolism. Radishes are also said to fight fungi, and the sulfuraphane they contain is said to have a cancer-preventive effect.
Parsley is rich in chlorophyll, which can help the body eliminate toxins and heavy metals. The essential oil apiol also has a stimulating effect on the genitals, which is why parsley was considered an aphrodisiac in ancient times. In large quantities, apiol can even trigger contractions, so pregnant women should not overdo it with parsley.
Pumpkin seed oil contains a range of vitamins and minerals, and it is said to boost metabolism, strengthen the immune system, and slow down cell aging. You can use other oils for this potato salad, but I find the nutty taste to be excellent.
Pickles are also rich in antioxidants, which are preserved through fermentation. They contain probiotics that are good for our gut flora. The water we use for this potato salad recipe also contains electrolytes, which are what the body loses when sweating.
Whole books have been written about the health benefits of apple cider vinegar, which is considered liquid gold. It is important to buy unfiltered, organic apple cider vinegar, not the pasteurized, filtered products.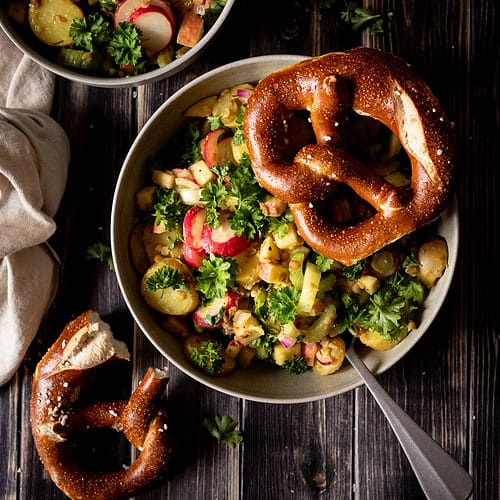 POTATO SALAD WITH APPLES
Delicious recipe for potato salad with apples, gherkins, radishes, celery, lentils, pumpkin seed oil and parsley. An absolute superfood for many occasions!
Ingredients
500 g potatoes

3,5 cups

1 red onion

5 tablespoons apple cider vinegar

5 gherkins

1 big red apple

3 celery stalks

5 radishes

1/2 can brown lentils

1 tablespoon vegetable broth powder

2 tablespoons gherkin water

2 tablespoons pumpkin seed oil

1 tablespoon mustard

1 teaspoon salt

1 bunch of parsley

freshly ground black pepper
Instructions
Cut potatoes in thick slices and boil for 10 minutes in salted water. Then set aside to cool off.

Now, gather all your ingredients and prepare them in the right amounts. That makes it so much easier and more fun and you're less likely to forget anything. 

Chop onion, mix with apple cider vinegar and set aside.

Cut gherkins, apple, celery and radishes and combine in a big bowl with lentils and potatoes.

Mix veggie broth powder, gherkin water, pumpkin seed oil, mustard, salt and the onion vinegar mixture and pour over the salad. Mix well.

Add chopped parsley and black pepper.

Put in fridge for at least 5 hours and stir at least once.
Did you enjoy this recipe?
A 5 star rating would mean the world to me and I always love to see your pictures on instagram @flymetotheveganbuffet
This potato salad is perfect for picnics, potlucks, barbecues, as a takeout lunch or on a cold buffet, especially when you also have guests that eat gluten free.
If you like German potato dishes, you want to try my hearty sauerkraut skillet.
Find more buffet inspiration in my blogposts with ideas for your perfect vegan party buffet or 7 ideas for your perfect vegan brunch.