This seitan satay is inspired by the satay that originates in Indonesia, and which is served in many Southeast Asian countries in regional variations. The grilled meat skewers are often dipped in peanut sauce.
In the colonial era, the dish was adapted by the Dutch cuisine and became extremely popular in the Netherlands. That way I got to know satay as a child and have worked a lot on vegetarian and later vegan versions for many years.
The seitan satay can also be prepared in advance and taken to a barbecue to put on the grill, and I also like them cold from the lunchbox.
What equipment do I need to steam seitan?
I use my Instant pot* to steam the seitan for my satay, but before I had it, I used to put a vegetable steamer* in my old rice cooker, that worked well too. It should also be possible to steam the seitan in a regular saucepan with the vegetable steamer, but I haven't tried that. I would steam the seitan a little longer in that case. Steaming a little longer is no problem, but if you don't steam it long enough, you might end up with chewing gum.
I also have a delicious soy satay on my blog, it is a bit quicker and easier than steaming the seitan.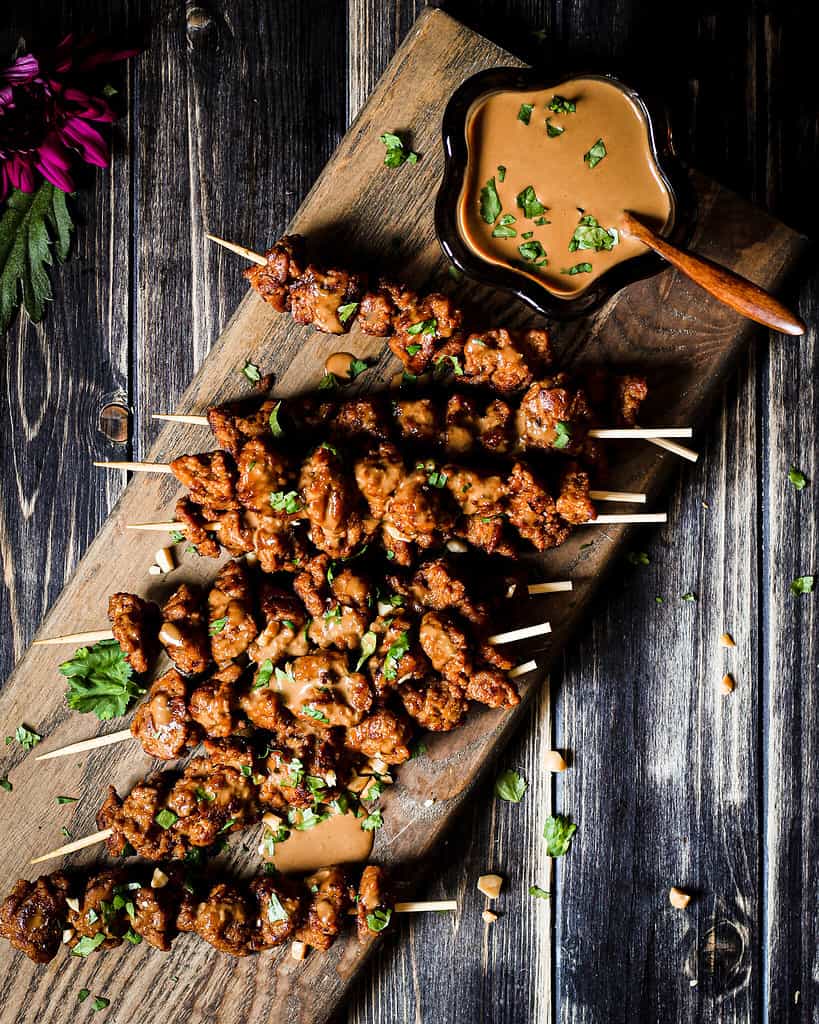 What can you add to the seitan satay skewers?
Sambal Oelek (Indonesian chili sauce)
Ketjap Manis (Indonesian dark sweet soy sauce)
limes
vegan kroepoek, which you can find in some vegan specialty stores. In Germany it's called Java Chips and in the Netherlands it's avialable in almost every supermarket called cassava kroepoek.
What other dishes go well with the seitan satay?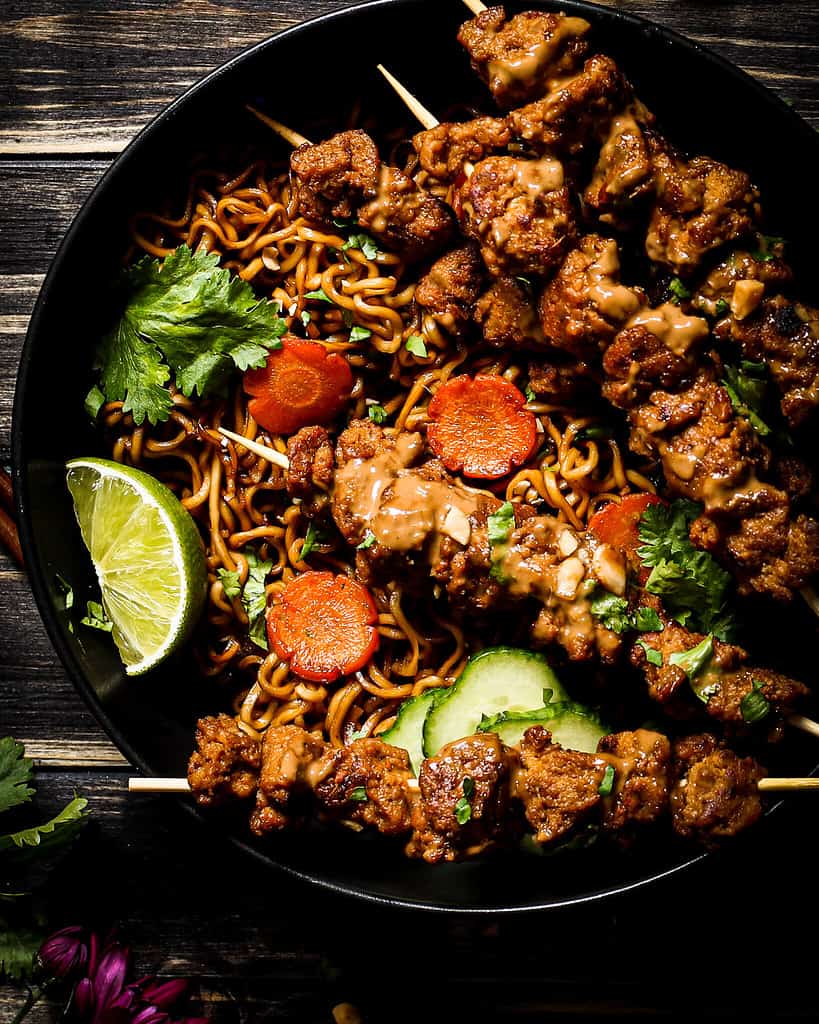 SEITAN SATAY
You love vegan fusion cuisine? Make this yummy seitan satay with spicy peanut sauce yourself with my recipe and video!
Ingredients
1

cup

(120 g) vital wheat gluten

1

teaspoon

smoked paprika

pimenton de la vera

1/4

cup

(30 g) nutritional yeast

1

teaspoon

cumin

1

teaspoon

onion powder

1

tablespoon

veggie broth powder

2/3

cup

(160 ml) lukewarm water

1

tablespoon

apple cider vinegar

1

teaspoon

soy sauce

lime, cilantro and peanuts to serve with
Instructions
First, gather all your ingredients and prepare them in the right amounts. That makes it so much easier and more fun and you're less likely to forget anything. 

Mix vital wheat gluten, nutritional yeast, smoked paprika, onion powder, veggie broth powder and cumin well. Then mix water, apple cider vinegar and soy sauce well in a separate bowl.

Combine dry and liquid ingredients and knead into a soft dough for about a minute, then put it aside for about five minutes.

Knead again and tear into little pieces, then steam it tightly wrapped in parchment paper. I use one sheet cut in halves and wrap half of the seitan in each of them. This is the way it worked best for me.

If not wrapped, the seitan has too much room to expand and can get spongy, and if wrapped all in just one sheet, the middle pieces take too long to cook and can become too chewy. Steam for 20 minutes if your steamer has a pressure cooker function or 40 minutes if not. Steaming a little longer is no problem, but if you don't steam it long enough, you might end up with chewing gum.

Take the seitan out, let it cool off for a moment, pull the pieces apart and roast them golden brown in a pan. I usually add a little peanut sauce to glaze them. Then put them on skewers and serve with the sauce.

Serve with peanut sauce and garnish them with lime, peanuts and cilantro.
Did you enjoy this recipe?
A 5 star rating would mean the world to me and I always love to see your pictures on instagram @flymetotheveganbuffet
Do you already have my free checklist for traveling vegans? Subscribe to my newsletter and get it now 🙂